Week 2 of Explore the Flavors i will be doing Lunch box recipes. Last week i did a series of Breakfast recipes, now this week it is going to be lunch box menu. Deciding what to give for lunch is a big confusion in many houses, including mine sometimes. Recently i have started meal planning, so i won't be repeating my dishes for the week atleast. Meal planning has many advantages, firstly you avoid confusion, no staring at the ceiling, during the week thinking what to make?, you shop ahead, no overbuying, no running out of stock, less wastage and most importantly i give my kids a chance to decide what they want to eat. It is a win-win situation for all.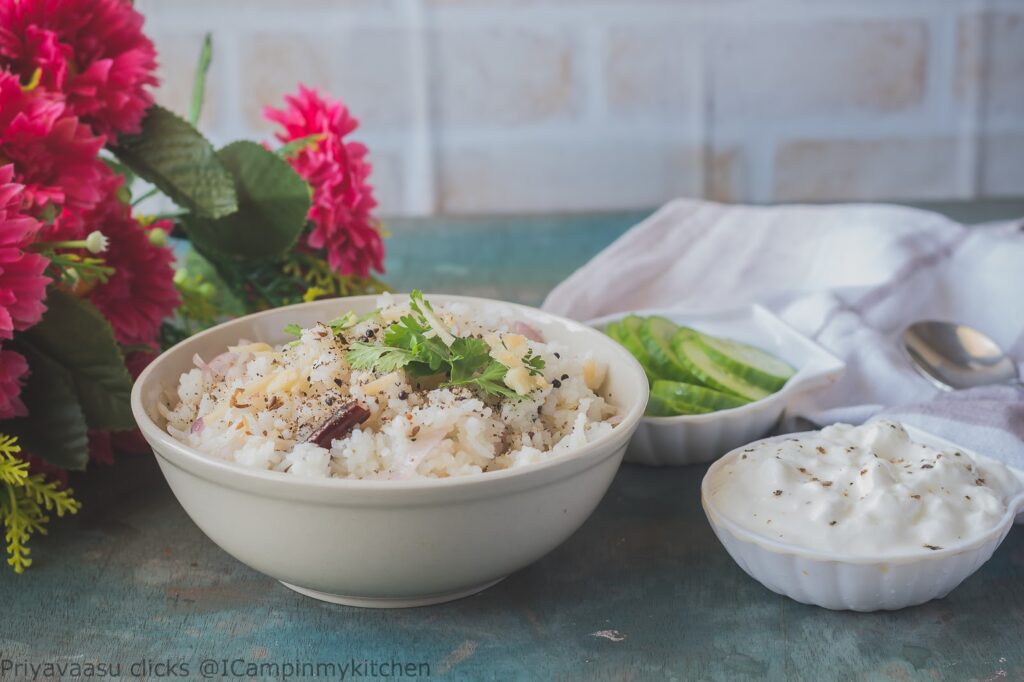 I pack
rice dishes once a week for my hubby's lunch dabba. This ginger-garlic rice is his favorite. Since,I pack his lunch in Vaya tiffen box, it keeps food hot for more than 6 hours, curries will be piping hot, rice will be warm. The addition of ginger and garlic with freshly pounded pepper when had warm, gives a toasty feeling. My goto recipe whenever i run out of vegies and have only onions. Do try and let me know how you liked it!
If you would like to see the Breakfast Recipes, i did for Explore the Flavors, here is the list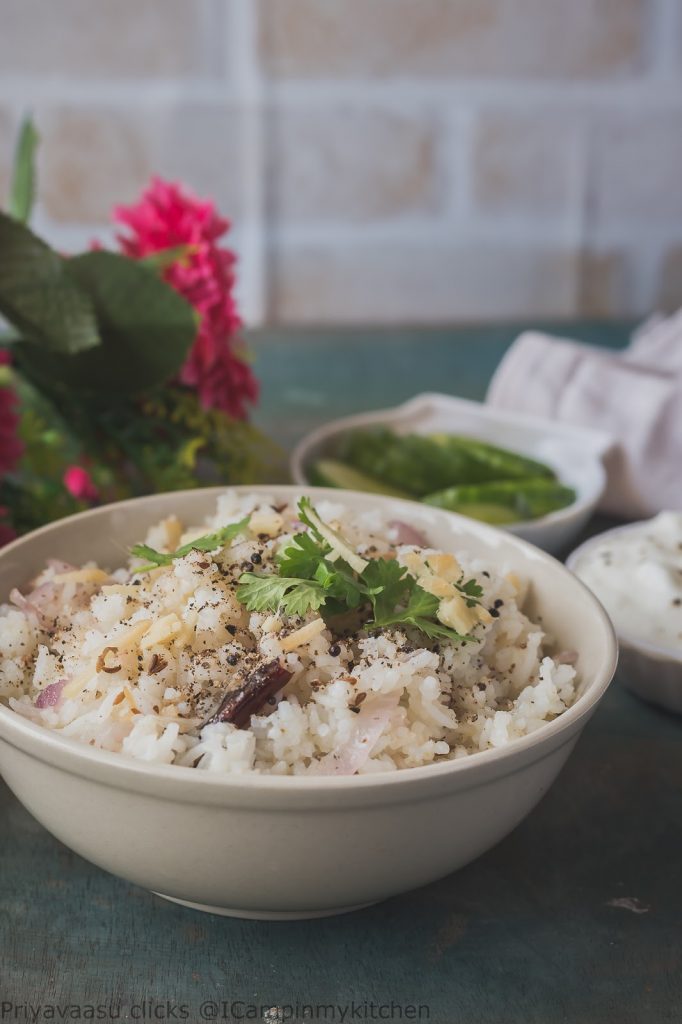 Ingredients
1.5 cups of cooked rice, i use sona masuri, leftover rice can also be used
1 medium onion, finely chopped
3 cloves of garlic, finely chopped
1 tablespoon ginger julieness
¼ teaspoon freshly pounded black pepper powder
Tempering
2 nos red chilies, broken into two
4-5 curry leaves, torn into pieces

Method
If you are cooking rice fresh for this, cook according to your method. I usually prefer stove-top method, i drain starch once the rice cooks. I find it easy to get fluffy cooked rice this way.

Leftover rice can also be used for making this rice. If the rice is refrigerated, remove the rice from the fridge, steam it on the stove-top or in the microwave. If using microwave, take the rice in a microwave safe bowl, rinse it well with water, drain the water fully. Now microwave cook it at high for 8-10 minutes, the rice will turn fluffy. Once ready, keep it aside until use.
Heat a pan with oil, splutter mustard seeds, add chilies and curry leaves, now add chopped onions to it and saute until translucent. To this add chopped garlic and ginger and saute until the garlic turns golden brown. Add cumin finally and take it off the heat.
Now add the cooked rice to this and mix well. Adjust salt. Serve warm. I usually pack this rice for my hubby's lunch box and my elder one's lunch when he has stay back at school.