We are starting our Mega Marathon today, yes from today we will be posting regional special of indian states everyday. 
Rightly named as Indian Food Odyssey, we have virtually traveled the length and breadth of our Nation, to bring the culinary treasures of this culturally rich land. The thought process of this started towards the end of 2013, many of us have started researching and cooking from that time. 
A lot of research has gone in to pick one particular dish from each state and needless to say we had a tough time. Hope you all enjoy what we present to you!!!
The First day, we begin with Andhra-pradesh, the cuisine of Andhra Pradesh is one of the spiciest of all Indian cuisines. There are many variations to the cuisine based on geographical regions, caste and traditions. Rice is the staple food and is used in a wide varieties of dishes.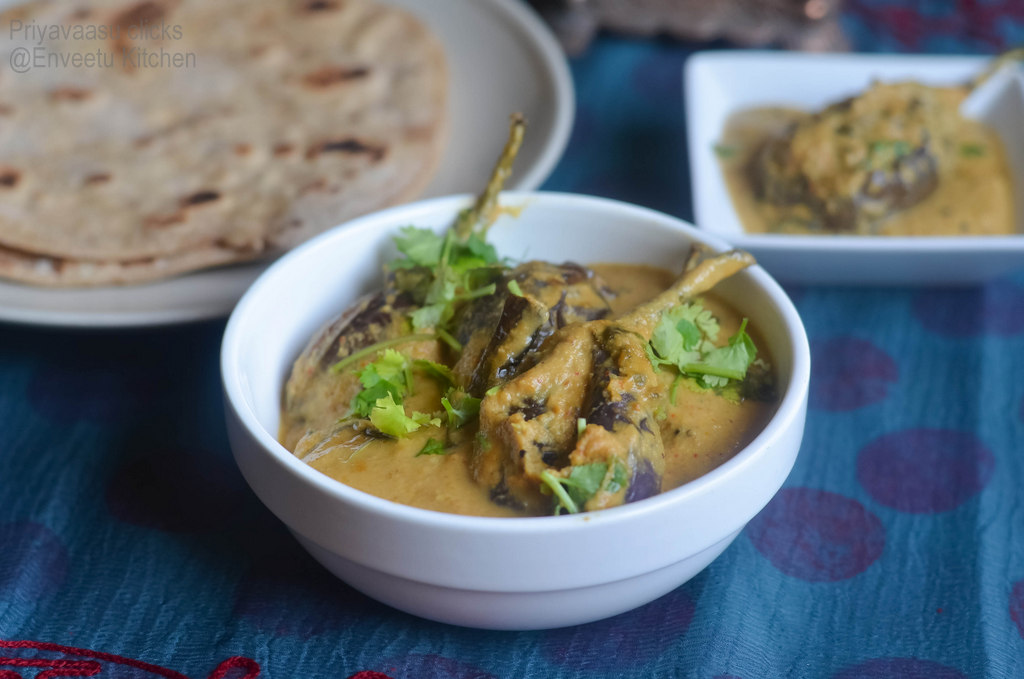 Pickles and chutneys, locally known as thokku and pachadi in Telugu, are popular in Andhra Pradesh, many varieties of pickle and chutney are unique to the State. Chutneys are made from practically every vegetable including tomatoes, brinjals (eggplant), and roselle (Gongura). Aavakaaya (mango pickle) is probably the best known of the Andhra Pradesh pickles.
I chose to make the famous hyderabadi bhagara baingan. Hyderabadi cuisine is highly influenced by Mughlai and to some extent by French, Arabic, Turkish, Iranian and native Telugu and Marathwada cuisines.Other popular native dishes include nihari,chakna, and the desserts qubani ka meetha, double ka meetha and kaddu ki kheer. 
Though the name looks big, the bhagara baingan is such a flavorsome dish with minimal spices. The sesame and tamarind plays the flavoring role in the dish, i actually made this dish thrice to finally get a picture, coz everytime i make, it vanishes before i can save some for the lens.


Recipe Source : Tarla Dalal 
Ingredients
8 to 10 brinjals/eggplants
¼ teaspoon fenugreekseeds/methi seeds
¼ teaspoon nigella seeds/kalonji
3 green chillies, slit lengthwise
¼ teaspoon turmeric powder 
2 tablespoon white sesame seeds 
2 tablespoon grated coconut
1 teaspoon chopped ginger 
1 teaspoon garlic, chopped
1 teaspoon coriander seeds
1 teaspoon tamarind (imli) pulp
For the garnish
2 tablespoon chopped coriander (dhania)
Slit the brinjals, lengthwise, into four, but leave the stems on, so the eggplants remain joined at the stem. Keep aside.

Combine the sesame seeds, coconut, peanuts, ginger, garlic and onions in a pan and dry roast them over a slow flame till the flavors are released and the ingredients are lightly browned.
Add coriander seed, cumin seed,red chillies, saute for another minute or two.Take it off the flame,let it cool, add tamarind paste and grind it to a smooth paste using ½ cup water. Keep aside.

Heat the oil in a deep bottomed pan, add the mustard seeds, fenugreek seeds and nigella seeds.
When they crackle, add the brinjals, curry leaves and green chillies and sauté over medium heat for a couple of minutes. Remove and keep aside.

In the same pan, add the coconut and sesame paste and cook till the mixture leaves the sides of the pan.
Add the cooked brinjals, ½ cup of water and salt and cook covered over a slow flame till the brinjals are soft. Garnish with fresh coriander leaves and s

erve hot with roti's.