Modagam/Modak is the favorite Neivedhiyam/Offering to Lord Ganesha. This Post was due before Ganesha Chathurthi, but due to some personal work i couldn't do it on time.
Neverthless, we don't need a reason to enjoy these cute lil dumplings. Making of the dough is the trickiest part in Modagam/Modak. If you get the dough right, you have it all right.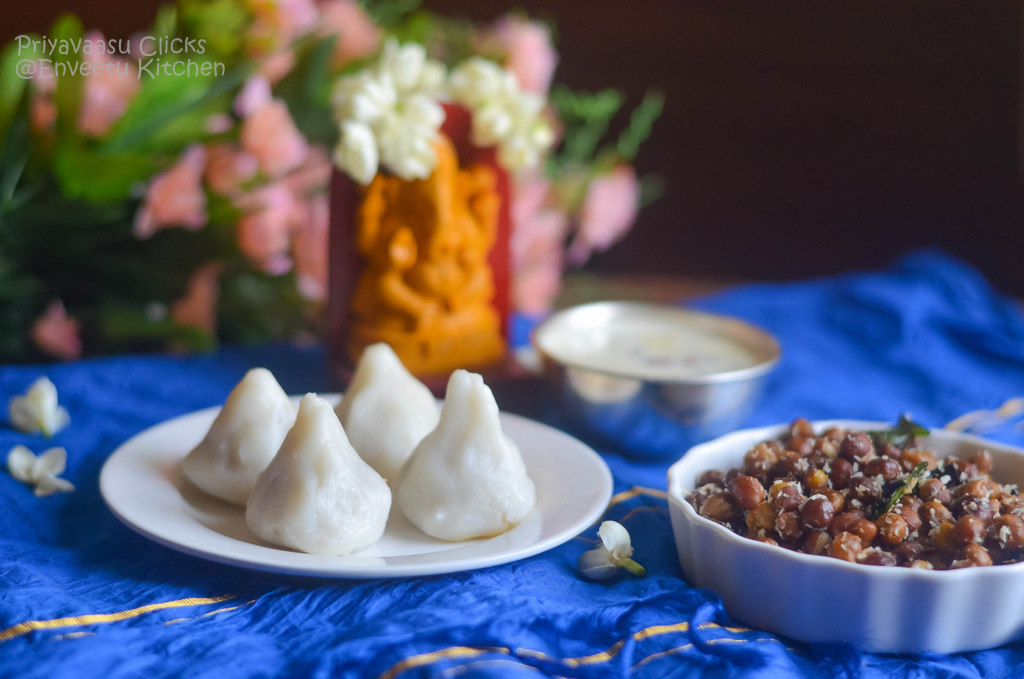 The traditional way making the flour, is to soak rice, dry it in shade and grind it in a grinder called Eyanthiram/Ghatti or our very own Mixie. But now, since people find little time, we have ready-made flour available in the market.
Ingredients
1.5 cups Modak Flour or Kozhukattai Maavu/Rice Flour (If using Rice Flour, Please See notes)
Method
In a wide pan, boil the given amount of water. Add salt and a teaspoon of gingely oil.

When the water starts boiling, reduce the flame, add the rice flour, little by little and keep stirring. Or else take the boiling water out of the flame, add the rice flour, mix well to form a sticky dough without lumps and return it to the flame again.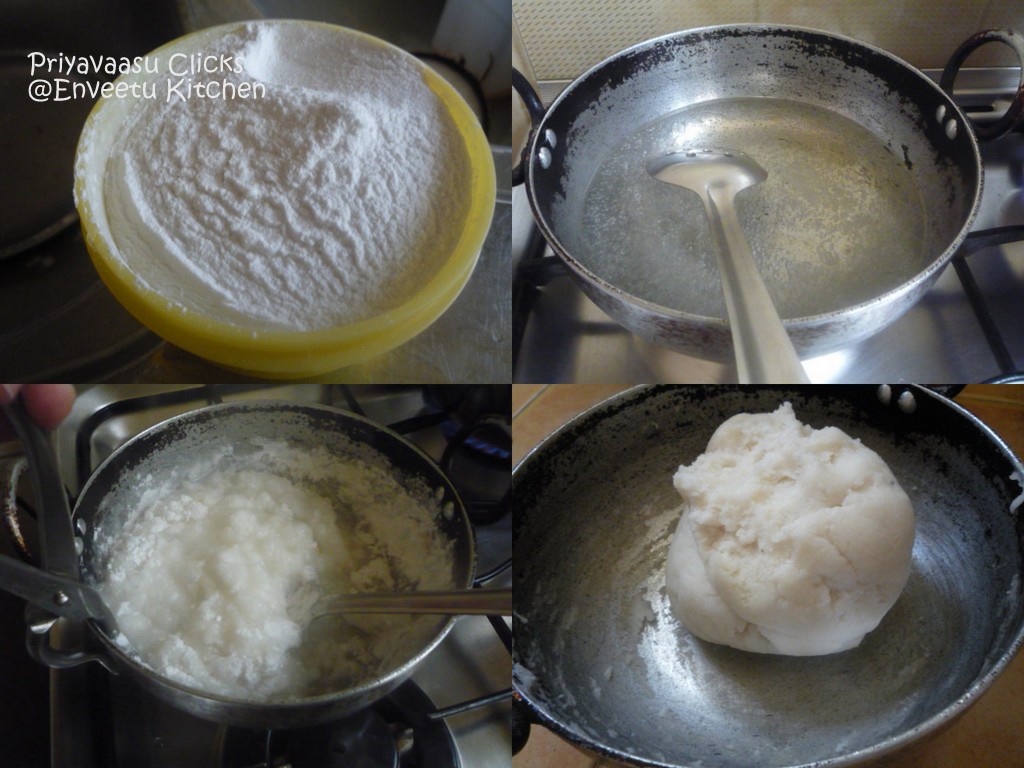 Let it sit on the flame for another 8-10 minutes. Add another teaspoon of gingely oil and keep stirring. The Dough might still be sticky. Take it off the flame, Keep it Covered until it becomes warm enough to touch.

When it is warm, Knead it well to form a pilable dough, Keep it covered it until use.
To Make Thengai Pooranam/Sweetened Coconut
1.5 Cups of Freshly grated Coconut
1.5 Cups of Grated Jaggery
4-5 pods of cardamoms, crushed
In a Pan, add grated coconut, grated jaggery and crushed cardamom pods. Keep Stirring.

It will first leave out some water, after 5-8 minutes, it will come together, leaving the sides of pan. Take it off the flame. Let it Cool.
Divide the Dough into 25 equal-sized balls. Take the dough and Shape it into a small bowl. use your thumb, index finger and ring finger of both your hands to shape it. I have attached a Video, hope it helps.
Fill the modagam/mothagam with a teaspoon ful of Coconut filling, bring the ends together and close it with a pointed edge.

Repeat the same for rest of the dough.
Steam Cook in a Steamer or in a pressure cooker without Whistle for 8 -10 minutes.
Take it off the stove, Serve it to Lord Ganesha and Hog!!!
Notes
During Ganesh Chathurthi we get Modak/Modagam Flour or Kozhukattai Maavu in Indian stores here. We can also use the normal Rice Flour/Idiyappam Flour for making this. The Difference is the amount of water it needs.

If using regular rice flour the ratio of Flour and Water is 1 : 2, if using Modak Flour/Kozhukattai Maavu then it is 1.5 : 2.