Sweet Potato & Chana dal Modagam, a steamed dumping made of rice flour. traditional sweet offering made especially during Ganesh Chathurthi.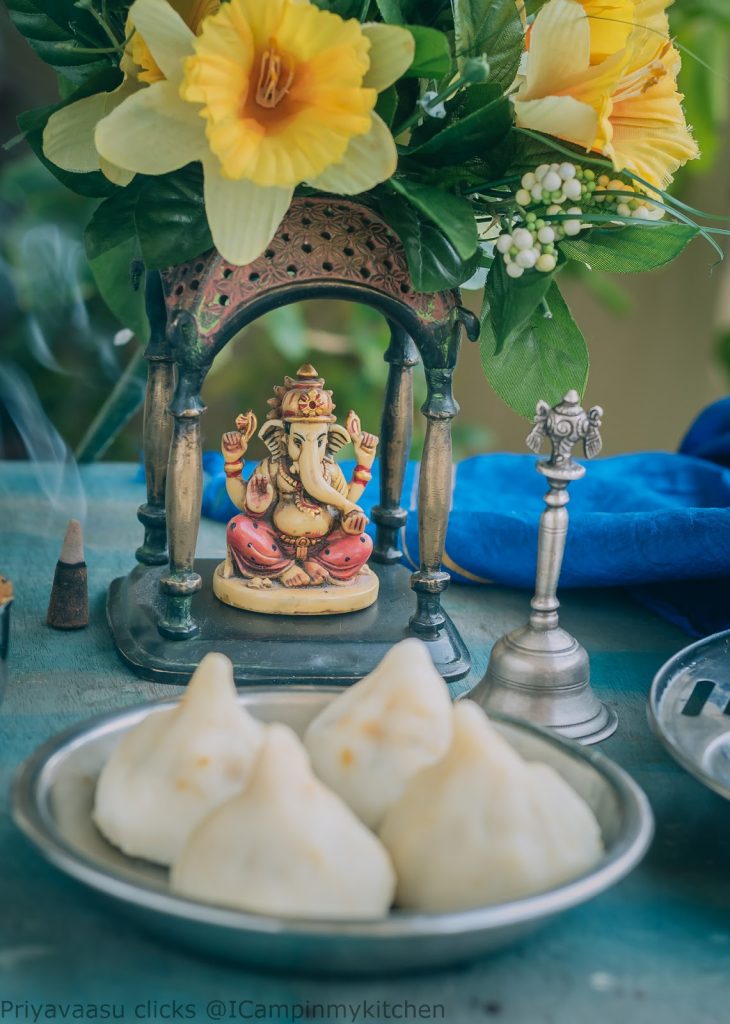 Modagam
Modagam | Modakam is a steaming sweet dumpling made of rice flour and a very popular food made during Ganesh Chathurthi.
Modak/Modagam, first face that pops up when you utter this word is Ganesh ji. He is fondly called Modagapriya, one who loves modagam. Why not, modagam | modakam is such an healthy snack, made of rice flour and stuffed with subtly sweet coconut and jaggery filling.
A traditional modagam is made of coconut and jaggery filling. Many have the tradition of making Ellu Kozhakattai, Sesame seeds filling and savory ones with urad dal stuffing.
Sweet Potato & Chana Dal Modagam
For a healthy change, I made a Chana dal modak/modagam with sweet potato & coconut, sweetened with jaggery.  Trust me, it is like eating puran poli. None will identify the sweet potato in the stuffing. And you can enjoy a healthy dessert guilt-free.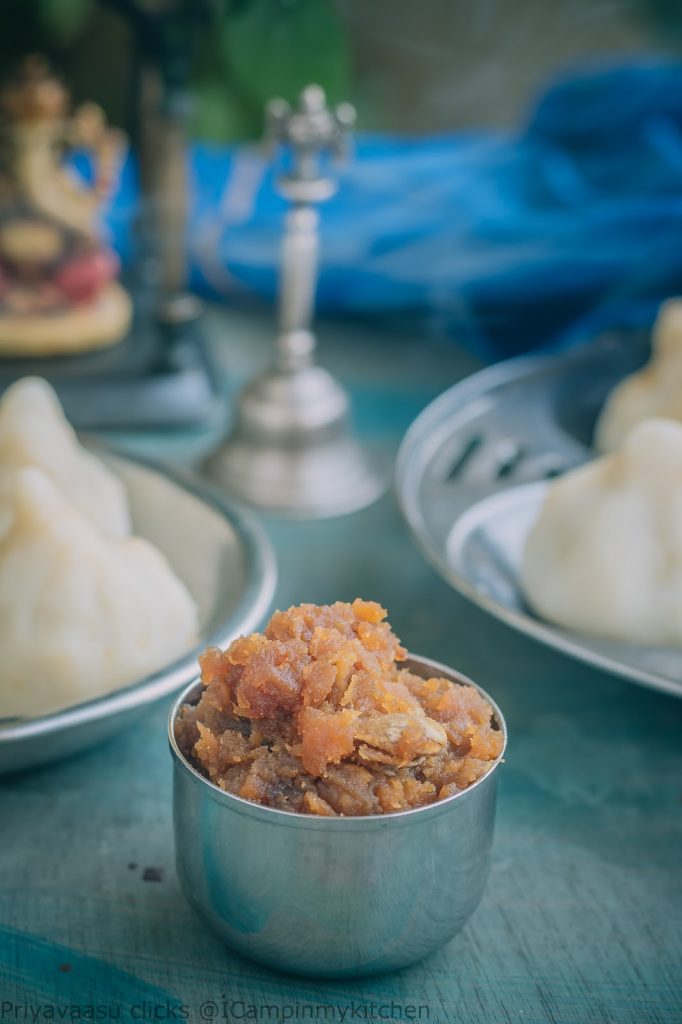 About Rice flour
Rice flour is traditionally used for making kozhukattai/modagam/modak outer shell. I have used the regular idiyappam flour. One has to be careful with the flour & water ratio to get a pliable dough.
I normally use 2.5 cups water for a 1 cup of flour. This will vary slightly according to certain brands.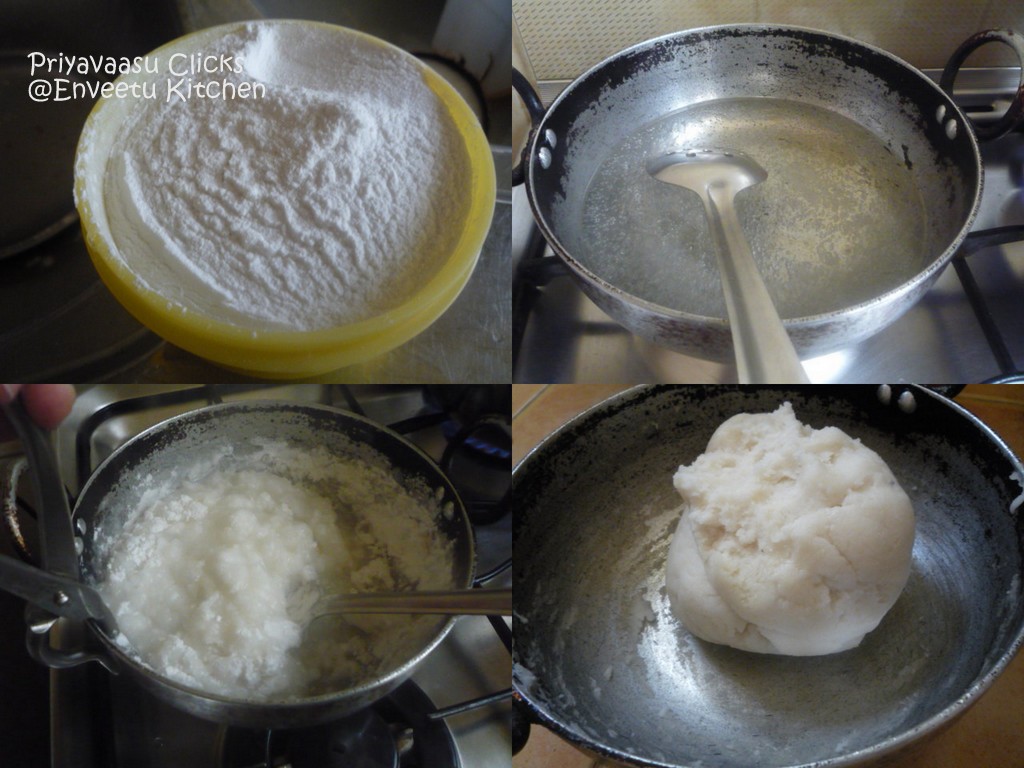 Here in UAE we get Modak flour in Al adil specially during Ganesh chathurthi. You might also find Anil brand kozhukattai flour in South-Indian shops.
Ingredients to Make Chana dal Modak
Rice flour, used to make the outer shell of the modagam.
For the stuffing, I have used chana dal, coconut, sweet potato & jaggery.
Flavoring, I have used cardamom to flavor the kozhukattai.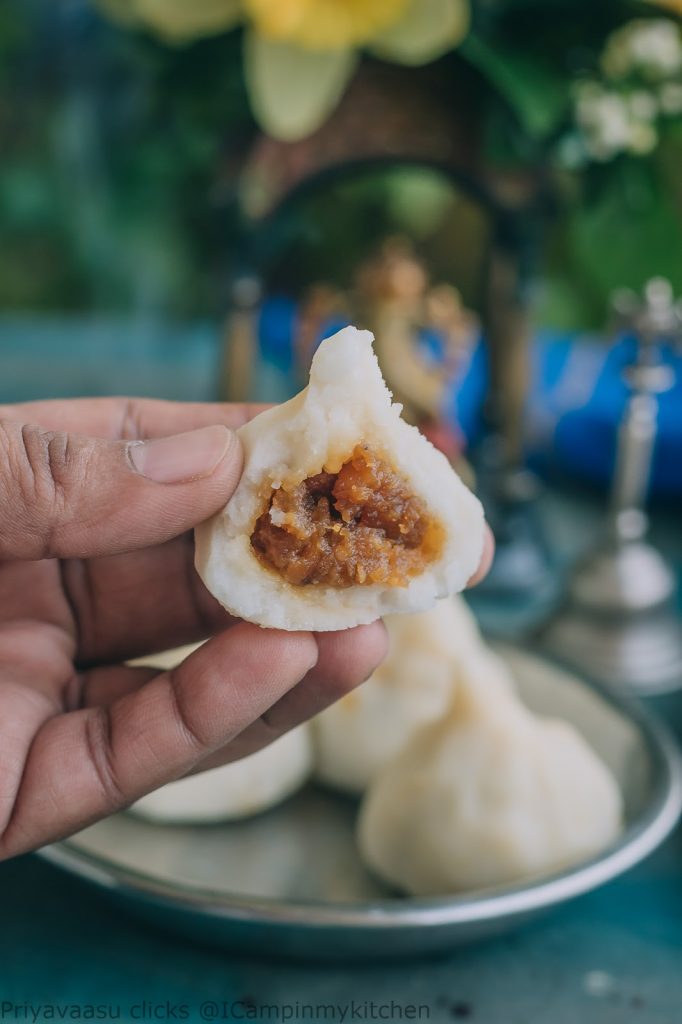 If you have tried this recipe and like it, give it a star rating or let me know in the comments below. You could also share it with me on Instagram using #icampinmmykitchen and tagging me @priyasrinivasan. You could follow me and my recipes on  Facebook |  Instagram  | Pinterest  | twitter
Vinayagar Chathurthi Offerings
Recipe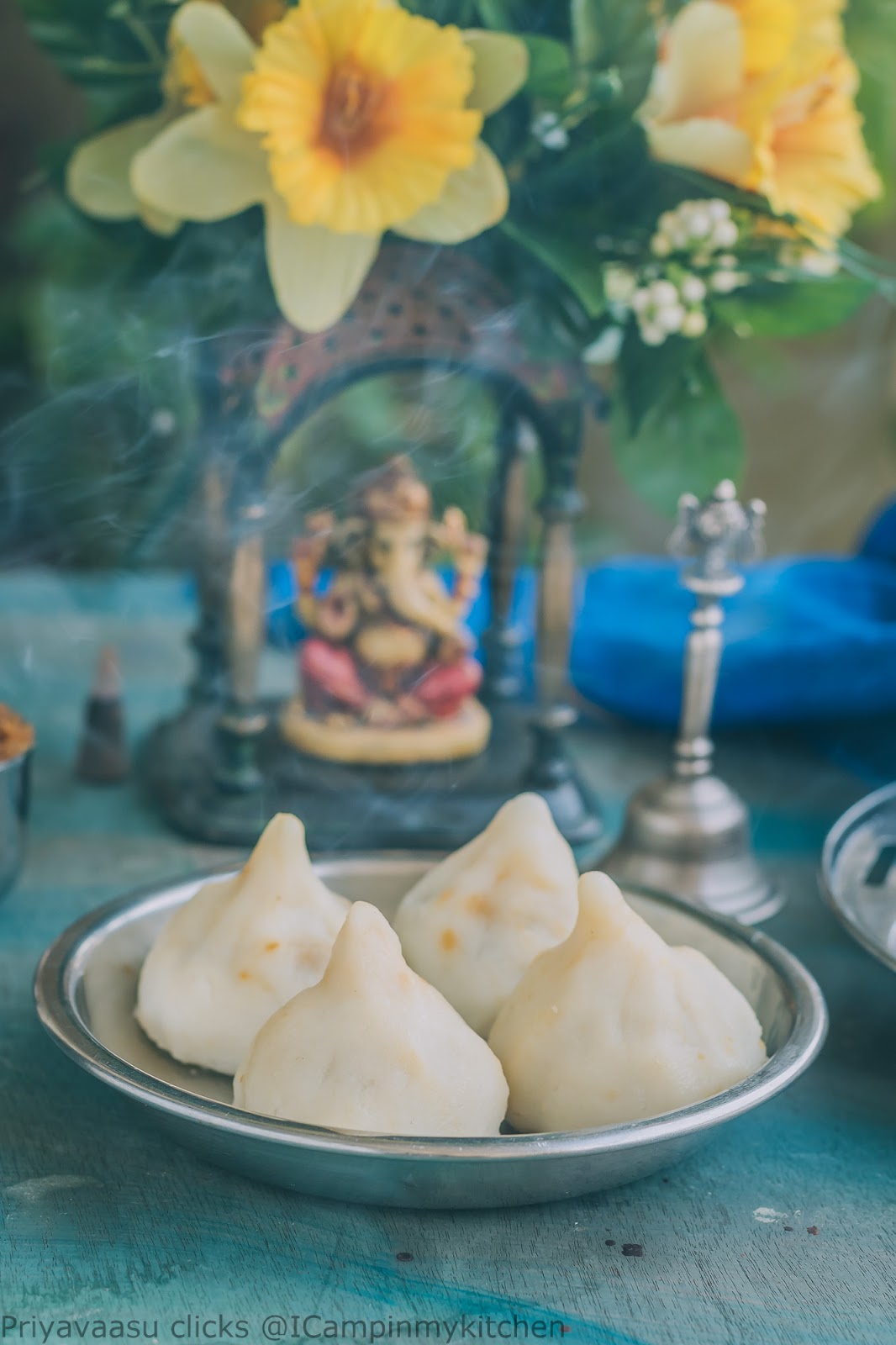 Sweet Potato & Chana Dal Modagam | Modakam
Sweet Potato & Chana dal Modagam, stuffed and steamed dumping made of rice flour. A traditional sweet offering made especially during Ganesh Chathurthi.
Print
Pin
Rate
Ingredients
Ingredients
¼

cup

chana dal

½

cup

sweet potato puree

⅓

cup

powdered jaggery

½

teaspoon

cardamom powder or 3-4 nos cardamom pounded

¼

cup

freshly grated coconut
For the outer cover
1

cup

rice flour

i used store bought idiyappam flour

2.5

cups

water

a pinch of salt

2

tablespoon

of oil
Instructions
Soak chana dal in ½ cup of water for an hour. Then drain the soaked water, add fresh water to it and pressure cook for 4-5 whistles or until soft. 

Let the pressure fall on its own, remove the cooked dal, drain the excess water. Do not throw away the water, use it making the outer cover of the modagam.

For the Sweet potato puree, Wash and peel a medium sized sweet potato, chop it roughly into big cubes. Take it in a microwave safe bowl, add enough water to immerse the potatoes, microwave cook it for 7-8 minutes or until it is fork tender

Drain the excess water.  Let the sweetpotatoes cool completely. Mash it roughly. Keep aside until use.
Make the stuffing
Take jaggery in pan, add ½ cup of water to it, let it boil and the jaggery dissolve completely. Strain any impurities and take the jaggery back to stove. let it boil. 

To this boiling syrup, add cooked chana dal and mashed sweet potato puree, cardamom powder and coconut. 

Let this mixture cook together and all the liquidbe absorbed. Once the liquid dries up, remove it from heat and set aside untiluse.
Let us make the outer cover
Take 2 and ¼ cups of water in a big sauce pan and let it boil. To this add pinch of salt and oil. Once it gets to roiling boil, reduce the flame and now add the rice flour to it and whisk well. A whisk works well than a laddle. 

Once the flour is added, it will absorb all the water and turn into a soft dough. Keep whisking, add another tablespoon of oil to it and take it off the stove. Keep it covered. 

Let it come down to touchable warm, then knead the dough with greased hands.  Now your outer cover and stuffing is ready, let us make the modak
Let us make the modagam | Modakam
Pinch a ping-pong sized ball from the dough, grease your fingers with oil and start making a small bowl shape with the dough. Stuff it with a tablespoon of sweet-potato filling, gather the ends, pinch and close it to make a modak shape. I m attaching pictures of coconut filling modak, here for an idea.

Repeat the same with rest of the dough. Once done, steam cook the modak, in a steamer or pressure cooker for 5-8 minutes. Once done, remove it from the steamer/cooker, let it sit for a minute outside, then remove it from the plates. Offer it to Ganesh ji first and then enjoy.
Disclaimer
I m not a Doctor or a Nutritionist The Nutrition information provided above comes from the plugin and is only an estimate.
Enjoy this healthy and delicious kozhukattai | Modagam made of sweet potato and chana dal. Make this chana dal modagam this Ganesh Chathurthi and enjoy it guilt-free.
Refrigerate any leftover chana dal modagams upto 2 days. Microwave it for 30 seconds before serving and serve it warm.
Do you like the Recipe? PIN IT