Neiappam, also known as sweet appam, a traditional sweet made of jaggery. Rice and dal soaked and ground to a batter with jaggery and coconut. A delicious sweet, made for many festivities like Krishna Janmashtami, Avani Avittam and karthigai deepam.
Neiappam | Neyappam | Sweet appam | Jaggery based sweet | Avani avittam appam recipe | Krishna Jayanthi appam recipe | Karthigai Deepam appam recipe | Vellam appam | Traditional Appam recipe | Unniyappam Recipe | Coconut and Jaggery based sweet | Vinayagar Chathurthi Appam recipe | Neiappam without baking soda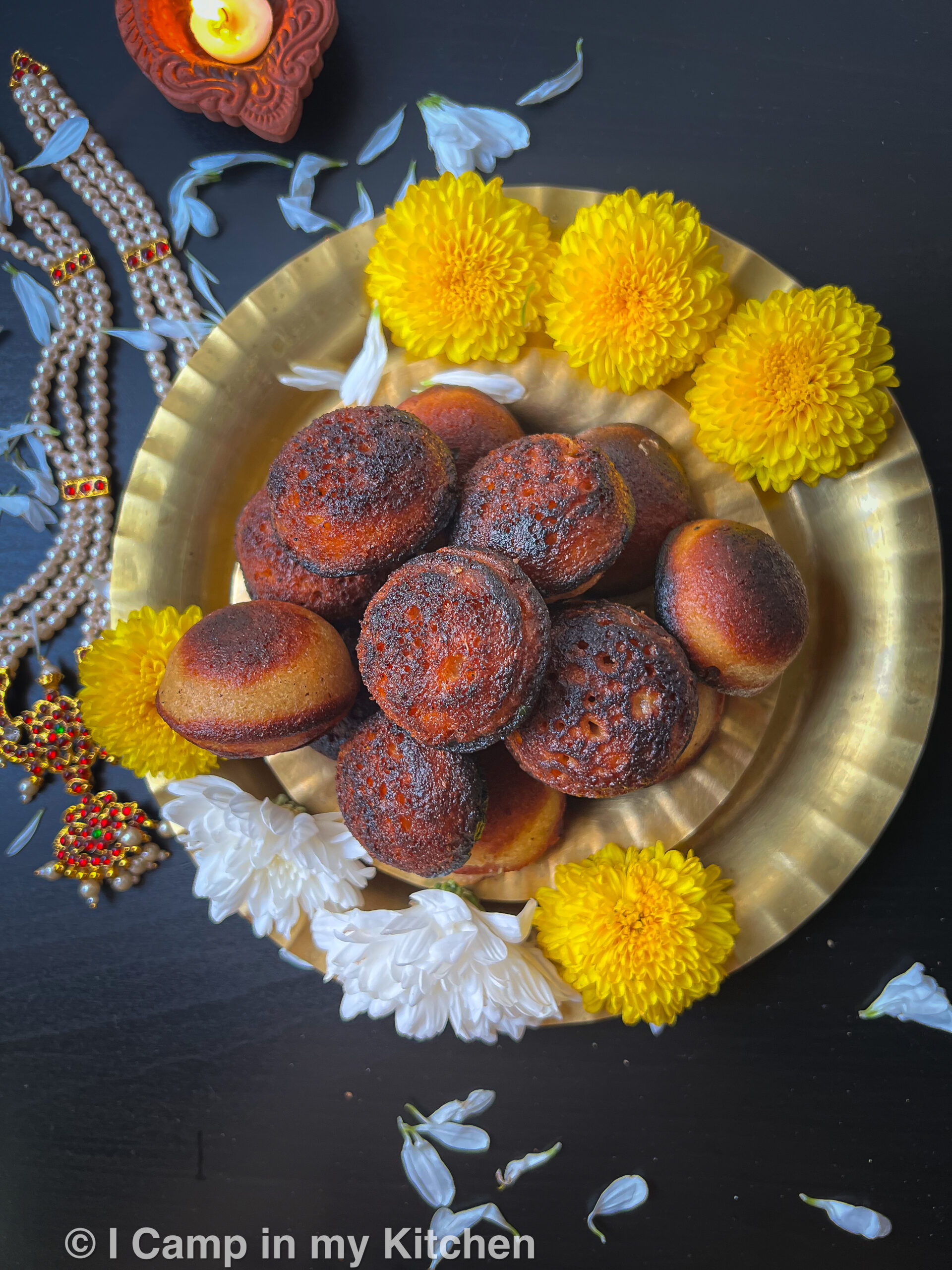 What is Neyyappam | Neiappam
Neiappam or neyyappam are fritters, fried in ghee. Nei means ghee in Tamil. Some might use a mix of oil and ghee to fry these sweet appam, but i would suggest to use ghee. Authentic desserts should be made accordingly and enjoyed responsibly.
I have made this delicious Kerala style unniyappam in a 7 hole cast iron, appam pan/ableskiver pan. I have used 1 tablespoon for each batch of appam. A total of 40 appams were made with the above measurements and have used around ½ cup ghee.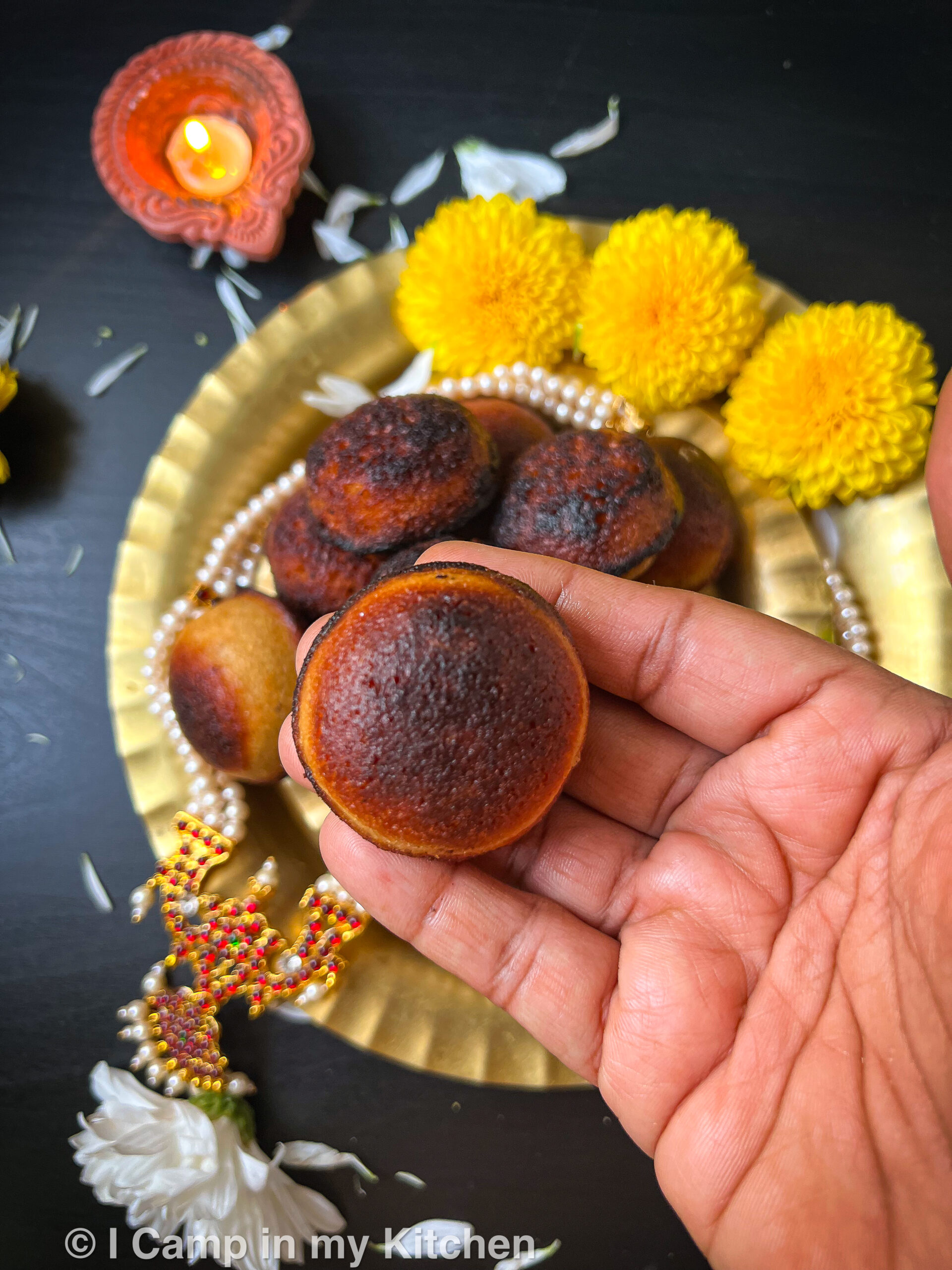 These bite-sized unniyappams, make a wonderful finger food for get-togethers' and parties. This neyyappam can be easily made for big crowds, so saves time and energy.
This traditional neiappam is made by soaking rice and dal, and without using any baking soda. If you are looking for an instant version, check this Instant wheat flour appam recipe , or this stylish danish style apple ableskivers.
If you want to try a delish exotic sweet appam, check this jackfruit sweet appam made with foxtail millet.
Ingredients to make Kerala Style Unniyappam
Main ingredients : Raw and Urad dal are the main ingredients in this neyyappam recipe.
Sweetener : This delish portion controlled sweet appam, uses jaggery as sweetener.
Flavorings : Cardamom and cloves are added to make this avani avittam special sweet appam more delish and aromatic along with ripened bananas. I prefer to use over-ripened ones to appam, it gives a distinct aroma and taste to the vellam appam.
Add-ons : To make the texture of this karthigai special appam brilliant, fresh coconut is added while grinding the batter.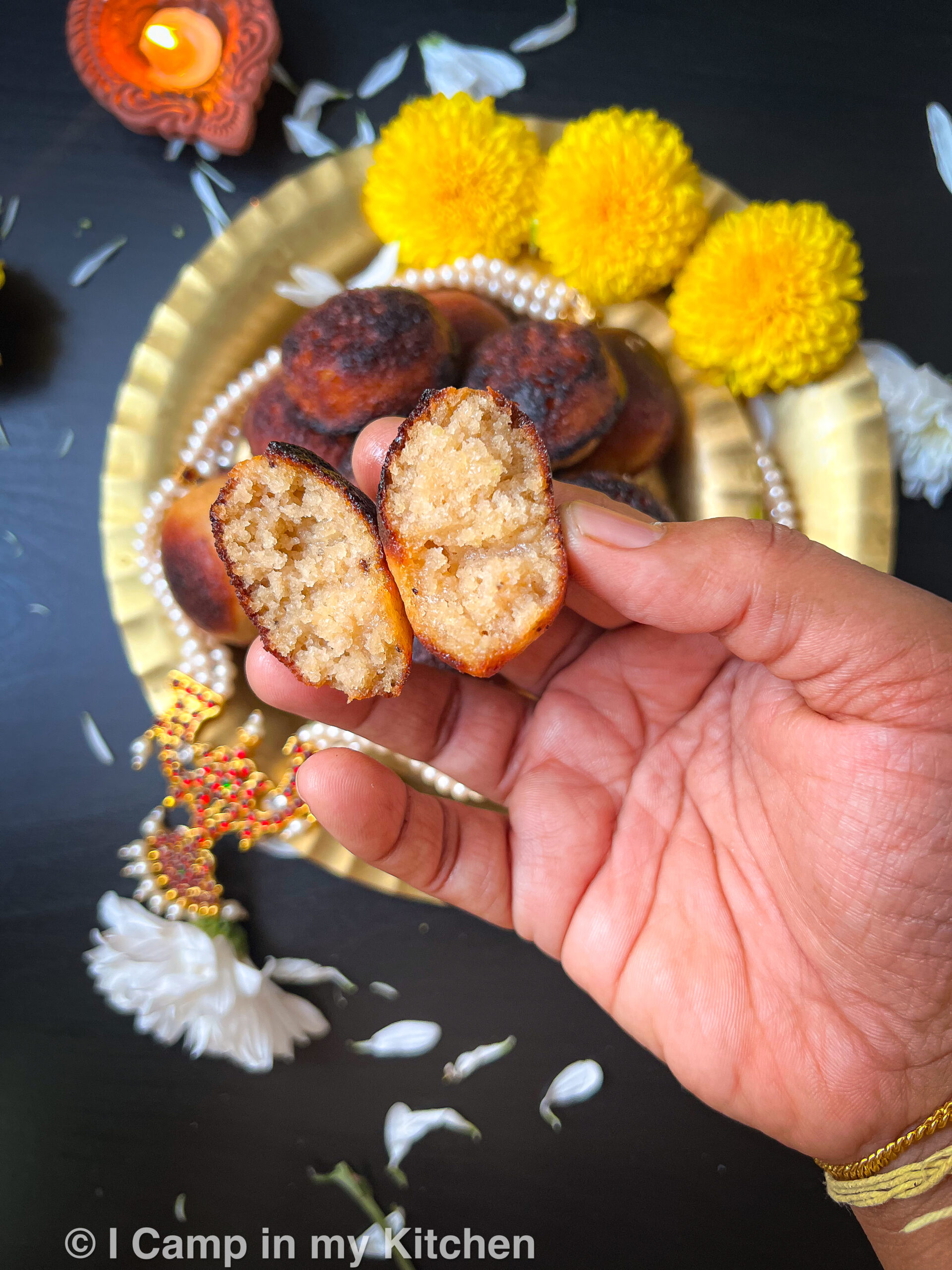 Stepwise Instructions to Make Sweet Appam
Please check recipe card below for exact measurements of each ingredient used and also for the detailed instructions
Take rice, dal and methi seeds together in a bowl. Wash 2-3 times in plain water, drain excess water. Soak it fresh water for 3-4 hours.
After the soaked time, drain the excess water, divide the rice mix to 2 batches . Take first batch into the mixer and grind it smooth using ¼ cup - ½ cup water.
Transfer the batter to a vessel. Take the second half of rice mix, add banana, fresh coconut, cardamom and cloves to this and grind coarsely.
Add grated jaggery to this and continue to grind to almost smooth texture. Transfer the batter to the vessel. mix well. Let the batter rest for 10 minutes.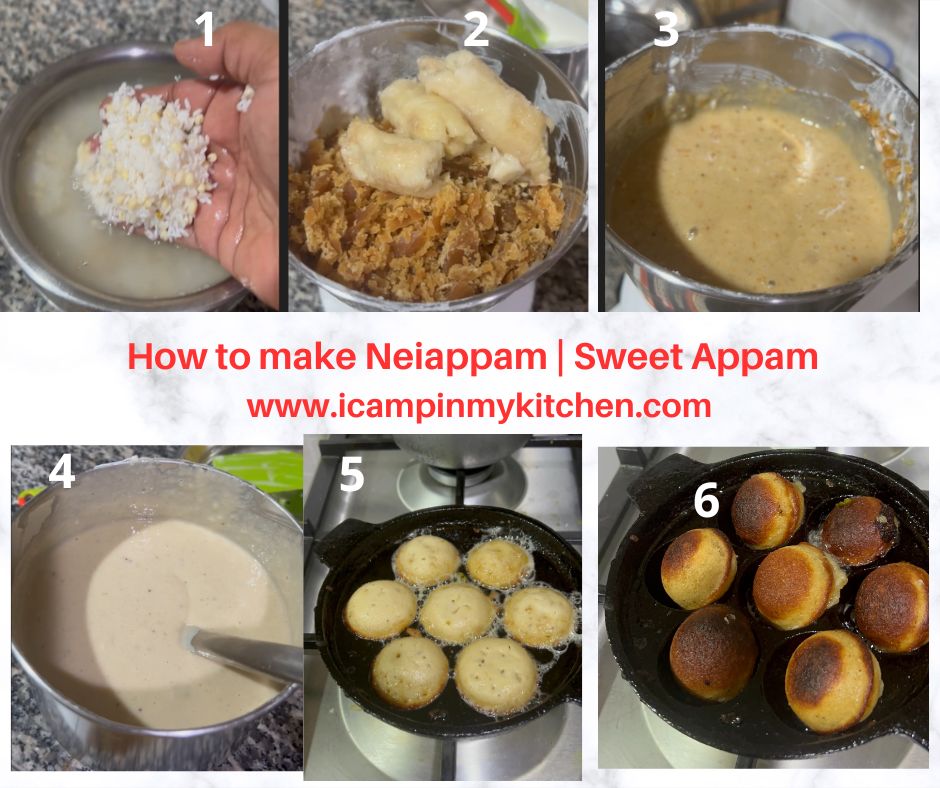 Heat a paniyaram pan, add ghee, brush each hole with that ghee. Keep flame simmer. Fill ¾ th of each hole with batter, add ghee. cover and cook for 3-4 minutes. open cover, flip each paniyaram with a skewer, add ghee and cook the other side too.
Remove the paniyarams from the pan. Repeat the same with rest of the batter.
Enjoy sweet appams warm.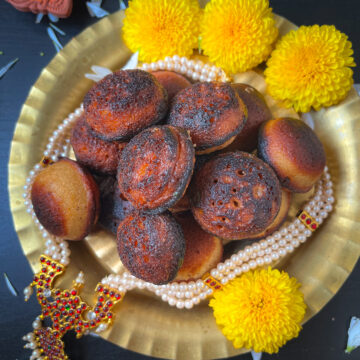 Neiappam | Sweet Appam | Janmashtami Recipe
Neiappam, also known as sweet appam, a traditional sweet made of jaggery. Rice and dal soaked and ground to a batter with jaggery and coconut. This delicious sweet is made for many festivities like Krishna Janmashtami, Avani Avittam and karthigai deepam.
Print
Pin
Rate
Equipment
Indian style mixie or any heavy blender

Paniyaram/ableskiver pan
Ingredients
1.5

cups

raw rice

i used ponni raw rice

6

tablespoon

whole urad dal/black gram dal/Uluntham paruppuu

½

teaspoon

methi seeds /fenugreek seeds/venthayam

¼

cup

freshly grated coconut

1.5

cups

grated jaggery

equal to that of rice measurement

2

small ripened bananas

poovan or elakki variety banana

4

pods of cardamom

with the skin

3

cloves

½

cup

ghee for frying the appams
Instructions
Take together rice, dal and methi seeds in a large bowl. Wash it with plain water 2-3 times and drain. Soak them together, in plain water for 3-4 hours.

After the said soaking time, drain any excess water from the rice and dal. Measure the other add-ons like coconut, cardamom and cloves and jaggery.
Let us Grind the batter
Divide the rice mixture into two batches for grinding. Grind the first batch soft with ¼ cup of water. Transfer the ground batter into another vessel.

Take the second batch of rice mixture, to this add fresh coconut, cardamom pods, cloves and banana. Grind it to a coarse texture.

No need to add water to the second batch as we have banana to ease grinding. After grinding to a coarse texture, add the grated jaggery to the batter and grind again.

Do not grind it very smooth. We need a bit of coarseness to get the crisp and crunch. Transfer the ground batter to the vessel and mix well. Let the batter rest for 15 minutes.
Let us Make Sweet Appam
Heat a paniyaram/ableskiver pan. I used my cast iron paniyaram pan. Keep the heat simmer.

Add ghee to each of the holes and brush the hole with the melted ghee using a silicon brush.

Pour half a ladle of batter into each hole or fill ¾ of the hole with batter. Add more ghee on top. Cover and cook for 2 minutes. Make sure to keep the flame simmer.

Remove the cover and check, the appams will be cooked with beautiful holes on top and bottom will be brown. Using a skewer, turn the paniyaram and cook on the other side too for a minute without cover. Add more ghee.

i have a 7 hole paniyaram pan. I use a teaspoon of ghee to brush the pans and another 2 teaspoon of ghee for cooking the paniyaram both sides. So a 1 tablespoon of ghee shared with 7 paniyarams.

Remove the paniyaram from the pan with the skewer. Repeat the process for batter. I got around 40 paniyarams for the above measurement.
Storing Instructions
Leftover batter can be refrigerated for 3-4 days. I have kept it only for 4 days. Leftover paniyaram can be refrigerated in an air-tight container for 3 days. While serving, reheat the paniyaram in bursts of 20 seconds and serve.

Be cautious while reheating, there is a chance of paniyarams bursting if you do it continuously. First time reheat for 20 seconds, then reheat for another 10 seconds if you prefer more hot.
Notes
Keep the flame sim while cooking the neiappam. If you try to increase the flame high to cook fast, the outer of the appam will cook and burn quickly.  So have patience. Keep flame simmer and cook. 
This soaking and grinding of batter doesn't need any leavening agent to get the paniyaram fluffy. In case by any chance, you find the paniyaram dense, add 2 pinches of baking soda, mix well and make paniyaram. 
Nutrition
Calories:
183
kcal
|
Carbohydrates:
32
g
|
Protein:
2
g
|
Fat:
5
g
|
Saturated Fat:
3
g
|
Polyunsaturated Fat:
0.2
g
|
Monounsaturated Fat:
1
g
|
Cholesterol:
12
mg
|
Sodium:
2
mg
|
Potassium:
67
mg
|
Fiber:
2
g
|
Sugar:
17
g
|
Vitamin A:
8
IU
|
Vitamin C:
1
mg
|
Calcium:
14
mg
|
Iron:
1
mg
Disclaimer
I m not a Doctor or a Nutritionist The Nutrition information provided above comes from the plugin and is only an estimate.