There is so much fond memories attached with this one particular murukku. As kids we never thought, it is such a big task to make them at home, that too for a crowd. Amma, being a working woman, religiously makes tins of these delicacies for every festival.Not only for us, but for neighbours, relatives and office colleagues.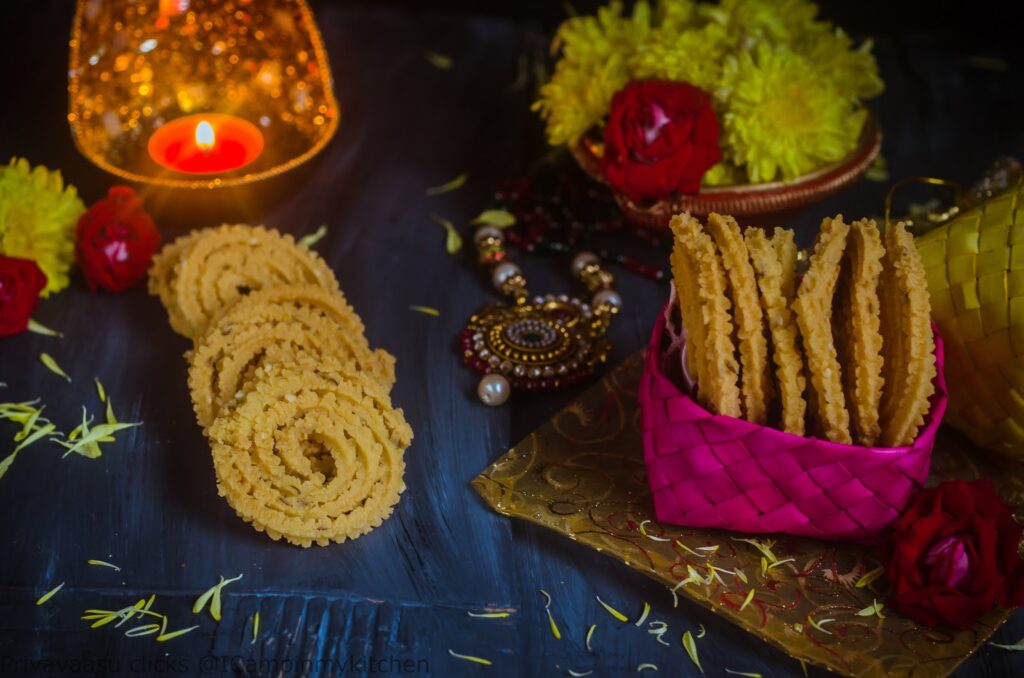 Those big biscuit tins, just the thought of them, makes me nostalgic. I become pretty emotional, during Diwali, i miss home so much. Though i m here with my little family, though we meet friends that day, but nothing beats like being at home(Chennai) with mom & dad, amongst that loud noise, smell of diwali sweets wafting through the air,  ladies ramping up and down in their new sarees, kids fighting for their share of crackers, ohh my, there is truck loads to add to this list, sob, sob!!! 
Ok, now coming to the recipe of this yumm snack, i make them in  batches, about 1 cup everytime. So, this is the ingredients i use for making a batch, though the dal mixture i make it for around 4 batches.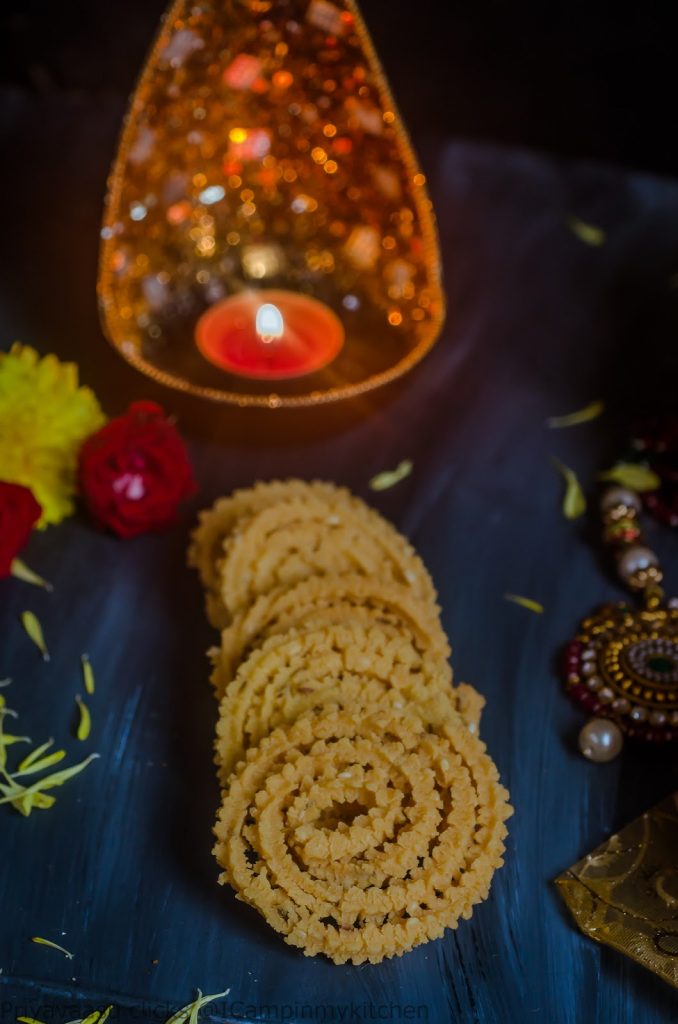 Ingredients (Makes around 20 Murukku)
1 cup rice flour, store bought
2 tablespoon moong dal/dehusked green gram dal
2 tablespoon Chana dal/Gram dal
¼ teaspoon white sesame seeds
½ tablespoon melted butter
a generous pinch of hing/asafoetida
About ¾ cup of warm water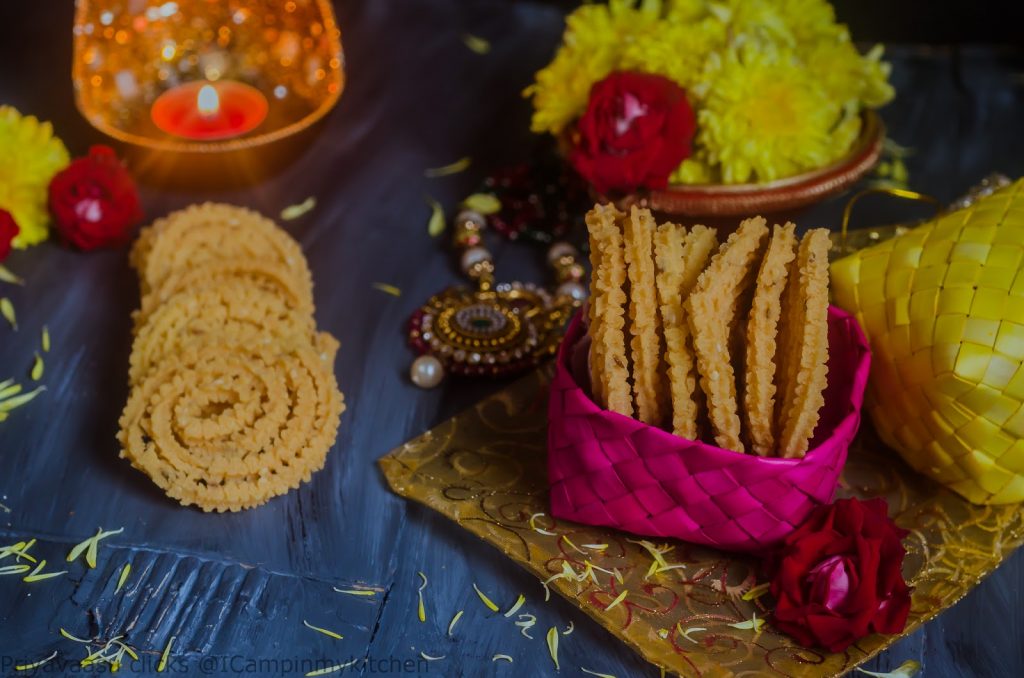 Method
If using store bought flour, warm it slightly on the stove . Let it cool

Take moong dal and Chana dal in a pan, dry roast it in a simmer flame until it is aromatic. Take care not to burn it. Let it cool completely. Take it in the small mixer jar and grind it to a fine powder. Sieve the powder well to remove any coarse dal mixture. Try grinding the coarse dal mix again in a smaller mixer jar and sieve it again.
To make the dough for the murukku
I normally make the murukku in batches, that is 1 cup rice flour at a time. This ensures the dough doesn't dry out.

Take the flour in a wide bowl, add the ground dal mixture. Add cumin and sesame seeds on top.
Add salt and hing and mix well. Add butter to the flour and mix well. Now slowly add water and make a soft dough. Do not add all the water at a time. Keep the dough covered with a cotton cloth.

Divide the dough into 3 portions. Take one portion at a time into the murukku press with single star plate.

Press the murukku on a parchment paper.  After making around 10 murukkus. Heat oil for deep frying.

Once it is hot enough, drop 3-4 murukku at a time and fry on  both sides until golden brown. While frying keep the stove in medium flame.  Once the sizzling sound ceases, remove the murukku using a slotted spoon on to a plate lined with kitchen towel. Let it cool completely, then store it in an air-tight container.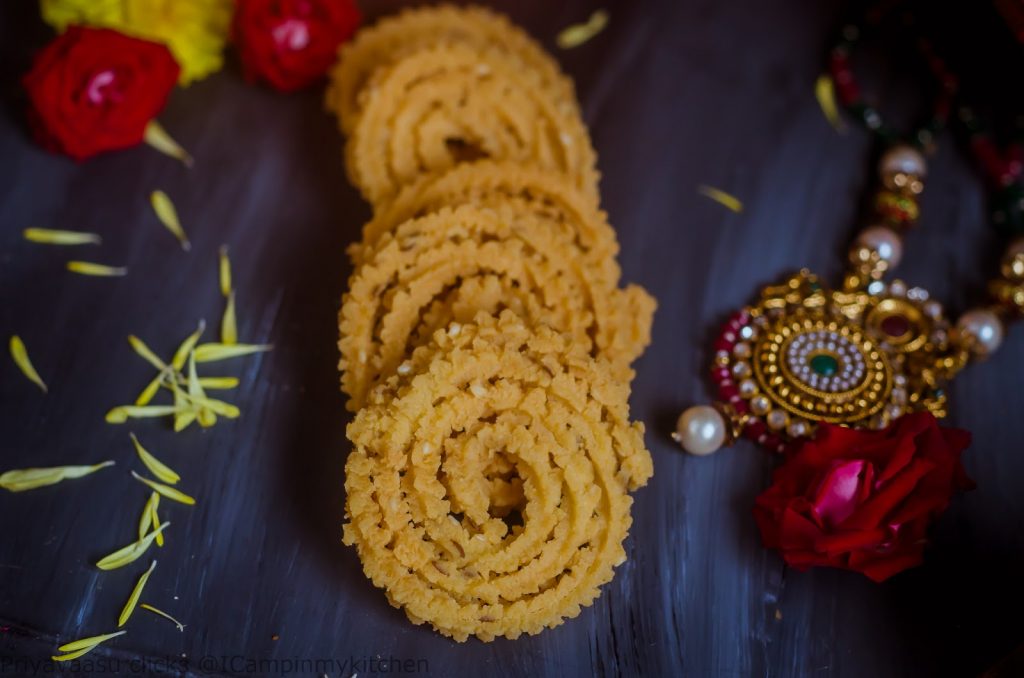 Notes
Keep the dough covered if working with a large batch. The dough might dry and it might be difficult to press. If it happens, sprinkle warm water, little at a time, and make it soft.

Do not add more butter, the murukku might break. if it happens, add little rice flour to the dough and knead again and try.