We are stopping by Gujarat for a quick snack today. Gujarati cuisine is primarily a vegetarian cuisine,
due to the influence of Jain vegetarianism and traditional Hinduism.
Gujarati cuisine varies widely in flavour and heat, depending on a given family's tastes as well as the region of Gujarat they are from. North Gujarat, Kathiawad, Kachchh, and Surti Gujarat are the four major regions of Gujarat that all bring their own style to Gujarati food. Many Gujarati dishes are distinctively sweet, salty, and spicy at the same time.
Farsan is a collective term used for a type of snacks in Gujarati cuisine,Some of the popular farsan's include
Dhokla
, Ragada, khandvi, patra,
khichu
etc.
I personally prefer dhokla's much, coz they are so versatile. You can literally make it most of the veggies and lentils. I make Khaman/Gram flour steamed cake often for my breakfast/snack in Microwave. I decided to bring the Khaman upma/Amiri Khaman from this part of the country as today's snack.
Quick to make, similar to our idly upma, but with the pomogranate seeds added, which makes it colorful to the eyes too.


Ingredients
20 khaman dhoklas
1 tablespoon groundnut oil
1 teaspoon mustard seeds
1 medium sized onion, finely choppped
2-3 cloves of garlic, finely chopped
2 green chillies, finely chopped
¼ teaspoon asafoetida/hing
2 sprigs of curry leaves (optional)
fistful of fresh coriander, chopped
Crumble the dhoklas in a bowl and keep aside.

Heat the oil in a kadhai and add the mustard seeds.

When the seeds crackle, add onion, garlic, curry leaves and asafoetida and sauté on a medium flame for a few seconds.

add the crumbled dhoklas to this and mix well. Saute for a minute for the flavors to mingle. Take it off the flame.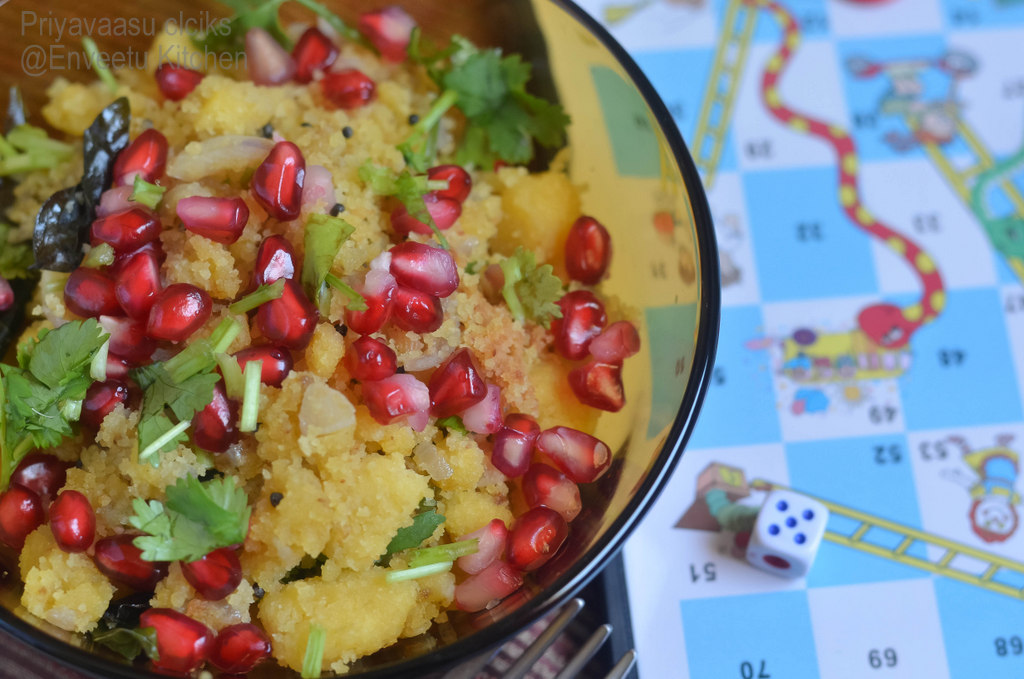 Add the pomegranate seeds, fresh coriander and mix well. Serve Immediately.