The last day of Explore the Flavors, i m ending it with a rich and luscious paneer gravy. I started the marathon with a humble dish Poha and today it is rich and luxurious zaffron/saffron. I planned to do a flatbread with zaffron, but then there is something else coming up in September, if at all i m participating i needed that time, so i postponed it and proceeded with a gravy. I planned to do a potato and cauliflower gravy with zaffron, but then hubby prefers paneer gravy, so i changed it to zaffron paneer!
It was one rich gravy and the suttle aroma of saffron was scintillating. Hubby prefered it to be little more spicy, so next time i might pep up the heat a bit. It paired so well with hot roti's and my elder one relished that gravy. It is a perfect dish for lunch box and also for any party. Do try it and let me know how you liked it.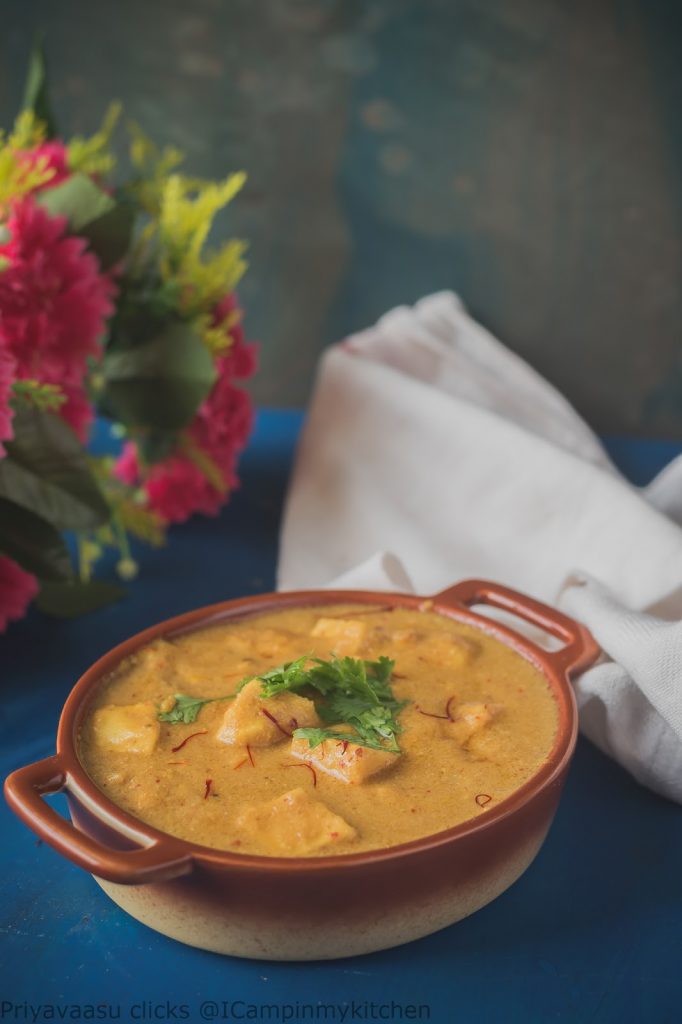 Here is the list of lunch box dishes i did this week. Will post a round up of all the themes i covered during Explore the flavors in a day or 2.
2 generous pinches of saffron
½ teaspoon coriander powder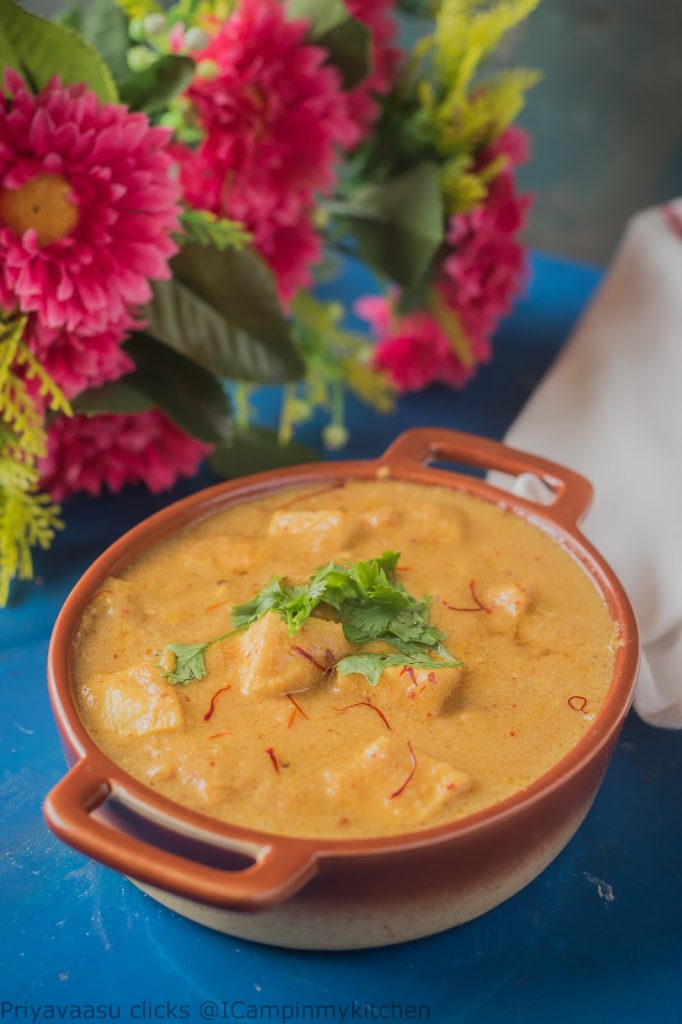 Method
If using frozen paneer, remove the paneer from the freezer and keep it outside before you start making the curry.

In a pan, heat oil, add chopped onions, green chilies, garlic and ginger and saute until onions turn translucent. Add cashewnuts to it and saute for a minute and take it off the heat.

Let it cool completely. Add ¼ cup of water and grind it to fine paste. Take the ingredients listed under spice powder in a mixer and grind it to a fine powder.

In another sauce pan, heat oil, add the ground paste, saute for a minute. Now add the ground powder to this and mix well.

Let the mixture cook in a medium flame for a minute or two. To this add whisked curd and ¼ cup of water, salt and a generous pinch of saffron. Mix well and let this cook for 5-8 minutes.
The gravy will start thickening. Add paneer cubes to it and cook for another 8-10 minutes in a simmer flame for the flavors to infuse well in the paneer. Take it off the stove, add another pinch of saffron to this and garnish with coriander leaves and serve it with roti

.
Day 26