Alfajore are two buttery crisp shortbread cookies sandwiched together with a sticky, gooey, yummy Dulce de Leche filling . Another Mouth-Watering and a Fool-Proof Recipe from Joy of Baking. Alfajores (al-fah-HOR-ays) are very popular in Latin America. Which makes sense as they are filled with another Latin American favorite, Dulce de Leche (DOOL-say day LAY-chay).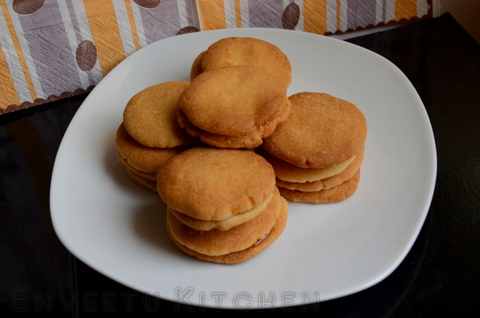 To Make them even more rich, you can Sprinkle some Confectioner's Sugar on top and Roll them on to some Sweetened coconut Flakes or Dip them in Chocolate to make them Even more sinful. But, tell you what, they taste amazing without all these rich toppings and you would definitely bake them often for you kiddo and also for yourself.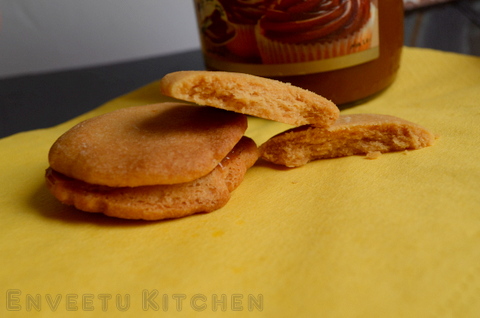 Ingredients
1 Cup All-purpose flour
⅛ teaspoon salt
½ Cup Crisco Shortening
1 tablespoon of Water
¼ Cup Powdered Sugar
½ teaspoon pure vanilla extract
Dulce de Leche for Making the sandwich


Method
Preheat Oven to 200C. Line a Baking tray with Parchment paper.

Whisk together Flour and Salt. Using an Electric mixer, Beat Crisco shortening, vanilla extract, water and Sugar together, until smooth and creamy.

Add Flour-Mix to Crisco Mix little by little and knead well to make a soft,pilable dough. Refrigerate the dough for 30 minutes.

After 30 minutes, take the dough out and Roll them out and Cut into desired shape using a cookie cutter. I simply, Pinched out small balls out of the dough and flatten them to make small disc.

Place them on the baking tray and Bake for 12- 13 minutes or until edges start to brown.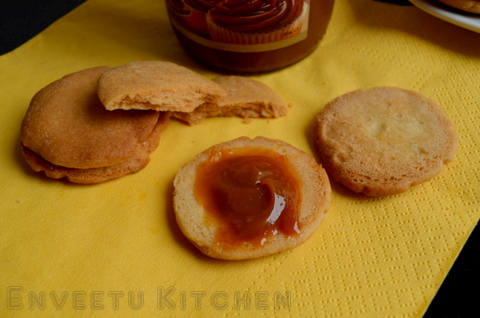 Take it out of the Oven, Let it cool on the Wire Rack.
Once it is Cooled, Make the Sandwich!!!! Take a Shorbread, apply ½ teaspoon of Dulce de leche on the inside and press it with another shortbread. Enjoy!!!!