Deepavali legiyam/marundhu, a traditional ayurvedic medicine made for deepavali festival. This medicine contains more than 15 varieties of medicinal herbs.
Jump to Recipe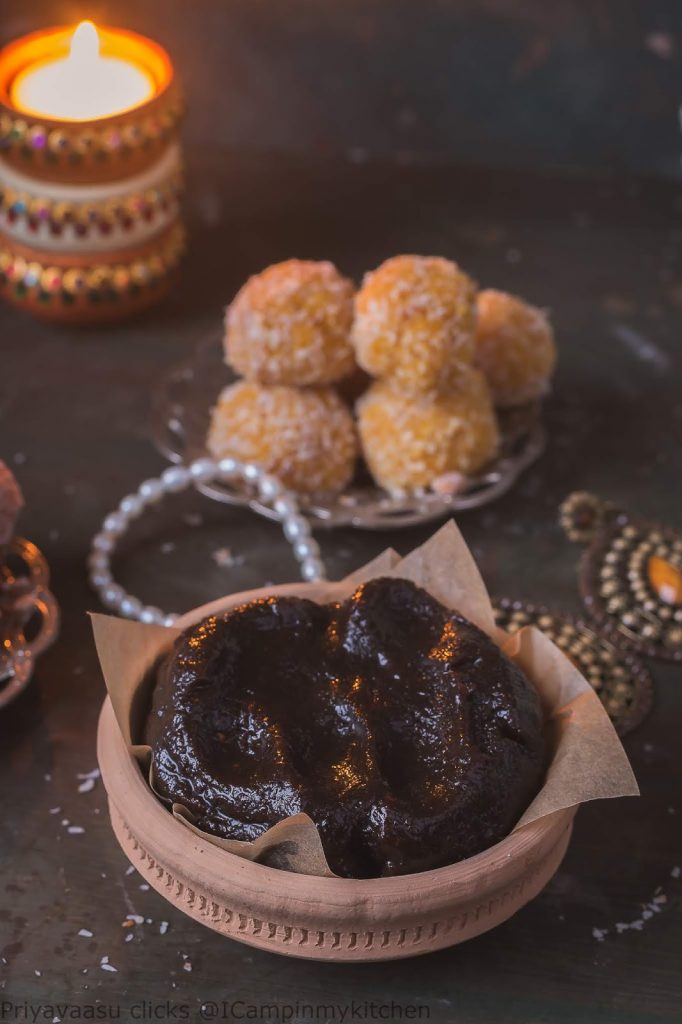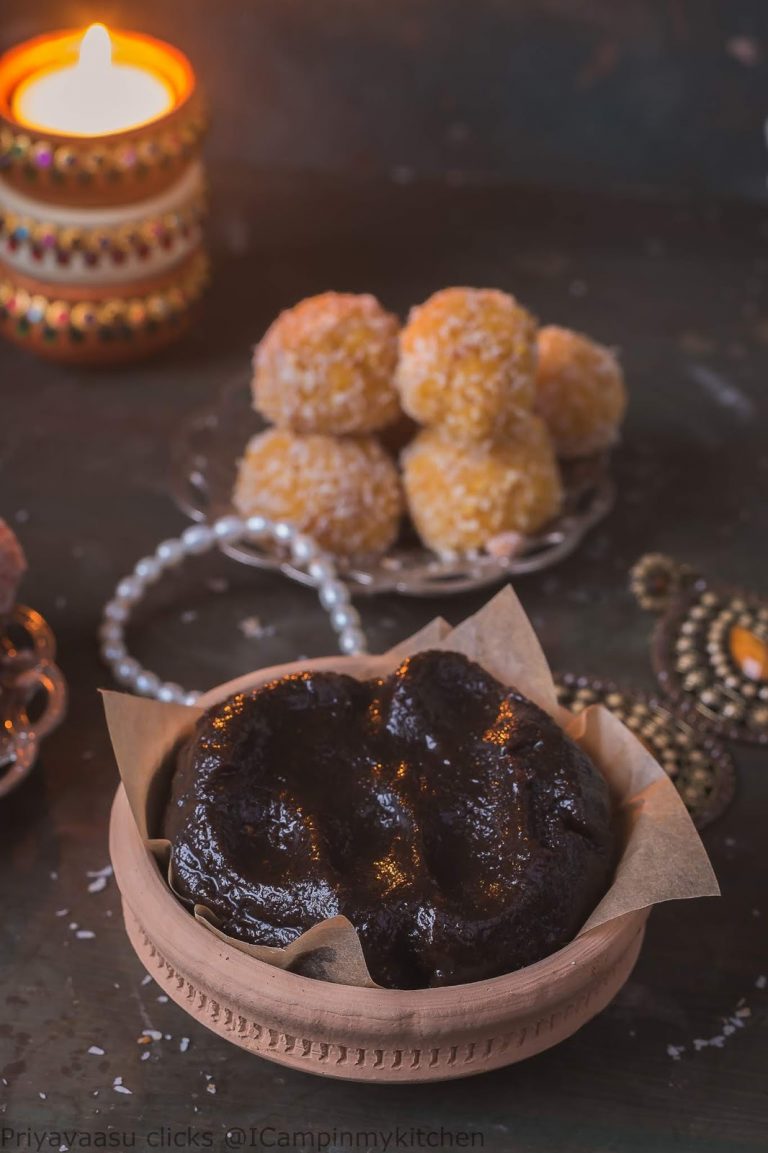 What is Deepavali Legiyam/Marundhu
Deepavali legiyam/marundhu, a traditional medicine made during Diwali and exchanged with the sweets we share with our friends.
During festivities, we do tend to over indulge on the festive food and run behind aerated drinks and keep burping the whole evening. Indulging a bit more in sweets and savories, is common during festivities. Deepavali legiyam/marundhu, a special preparation made in many Tamil households to aid digestion of the rich food consumed this time of the year.
On Deepavali day, after the ritual head bath, we are offered a marble sized ball of this Deepavali legiyam. That is the first food we eat that day, which goes and prepares the gut for the avalanche of sweets and savories, one may eat that day.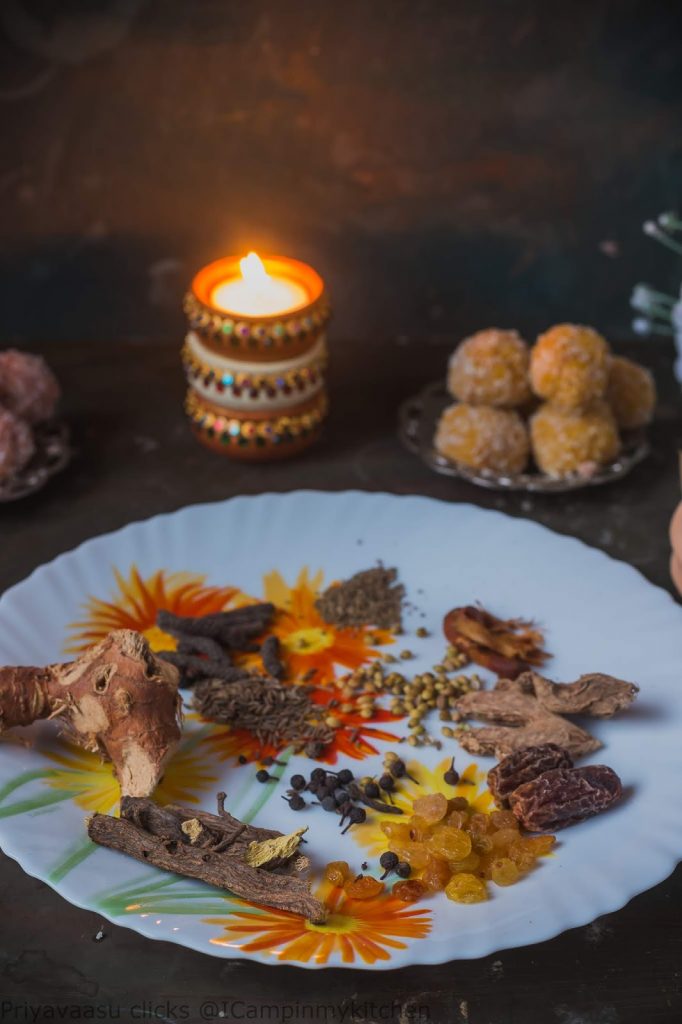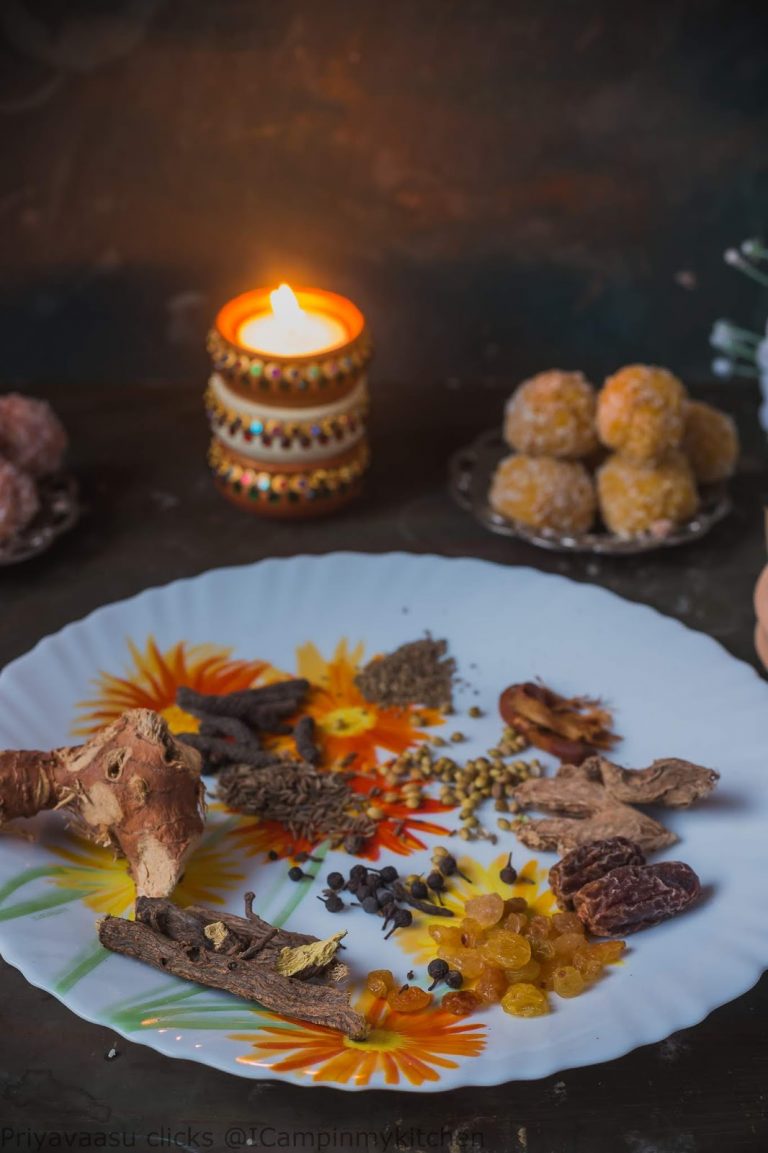 Why Deepavali Marundhu
Deepavali, the festival of light, falls during the seasonal change from summer to winter in India. That is also the time, our body is susceptible to colds and other climate-related infections.
Deepavali marundhu, a mixture of 16 or more medicinal herbs, aids the digestive system by fighting the ill-effects of the foods that one may indulge at this time. It is also offered to lactating mothers, to keep minor ailments at bay, and give them strength.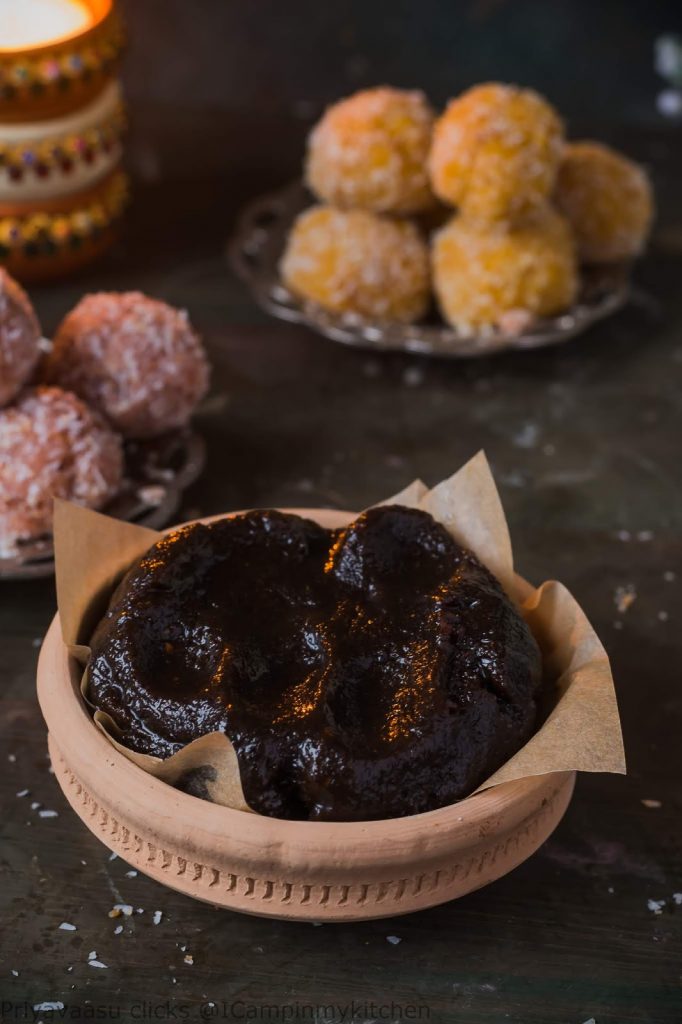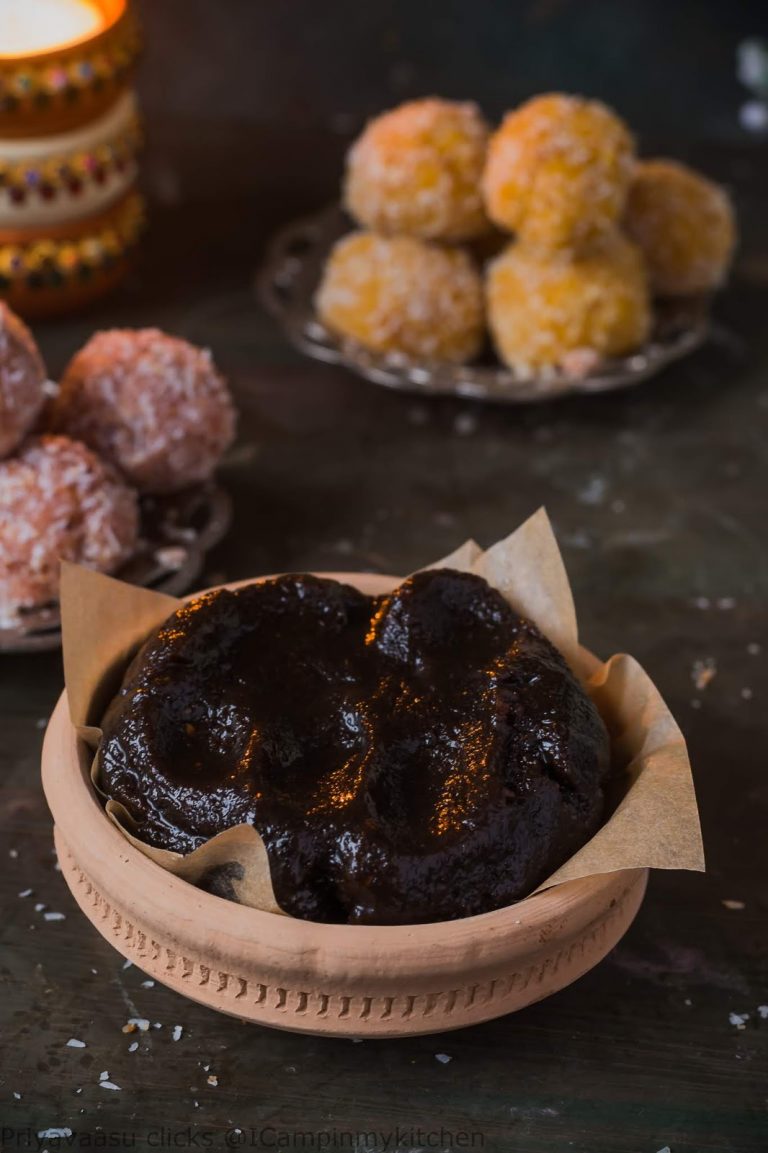 That doesn't mean you can eat a spoon of this everyday morning and go about eating everything you see. Moderation is the key when it comes to enjoying food, on anyday. But when you indulge that one day, go for this diwali marundhu first before you reach that aerated drink bottle.
If you find the list of ingredients intriguing in this Diwali marundhu, then check this simple Milagu Marundhu post for a quick and easy pepper legiyam.
Other Ayurvedic Recipes
If you have tried this recipe and like it, give it a star rating or let me know in the comments below. You could also share it with me on Instagram using #icampinmmykitchen and tagging me @priyasrinivasan.
You could follow me and my recipes on  Facebook |  Instagram  | Pinterest  | twitter
Diwali Recipes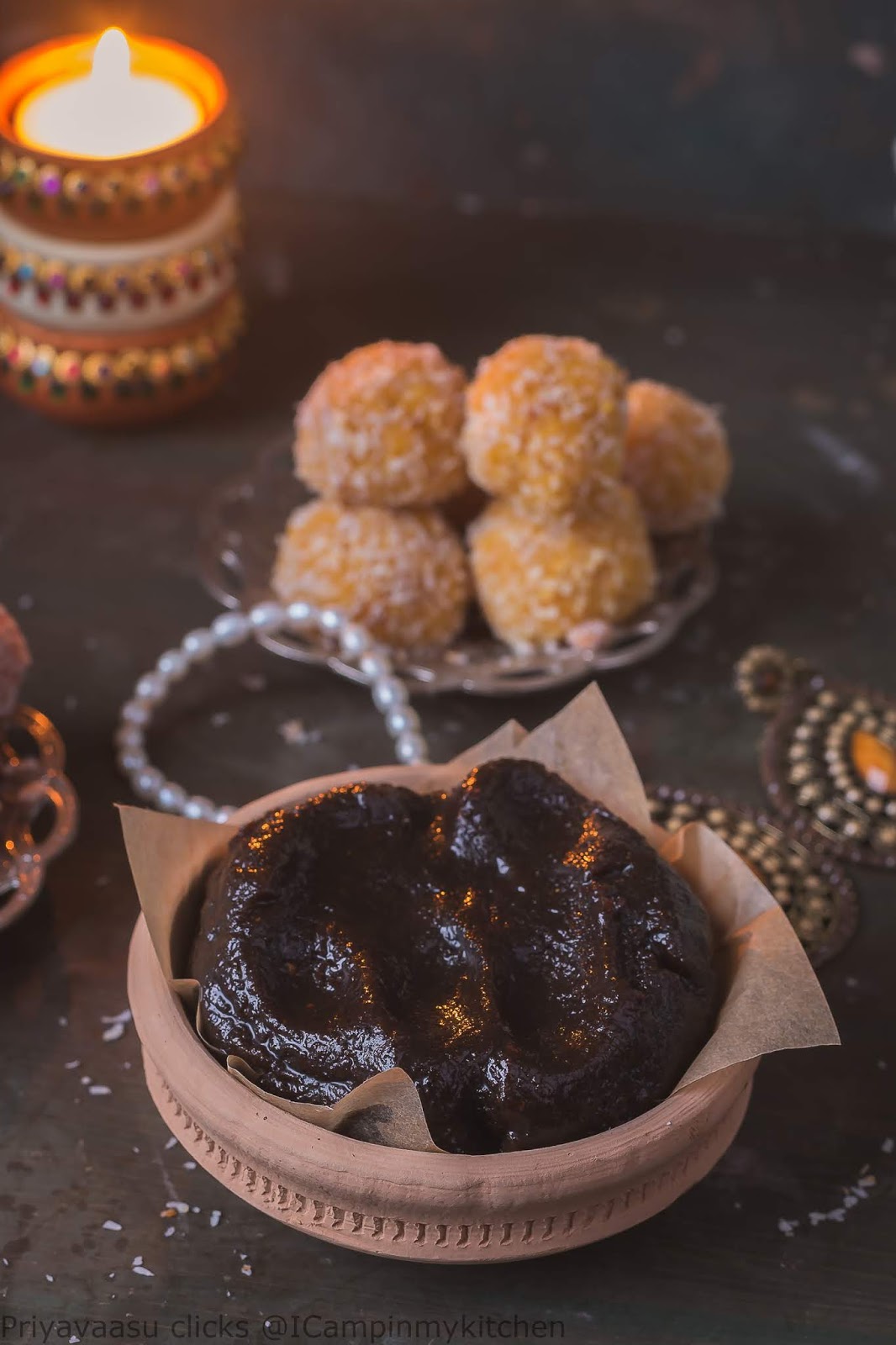 Deepavali Legiyam | Marundhu | Ayurvedic Medicine
Diwali marundhu/legiyam, a traditional medicine made during Deepavali and exchanged with the sweets we share with our friends.
Print
Pin
Rate
Equipment
indian style mixie for grinding the herbs

Heavy bottom pan for making the medicine.
Ingredients
30

grams

Sukku/dry ginger

20

grams

Adhimathuram/liquorice root

20

grams

Sitharathai/thai ginger

20

grams

Kandan thippilu/dried root of long pepper

20

grams

ajwain/omam/carom seeds

20

grams

cumin/jeera seeds

20

grams

coriander seeds/dhaniya

4

tablespoon

black peppercorns/milagu

20

grams

vaal milagu/tailed pepper

15

grams

arisi thippili/dried long pepper

20

grams

jaavithri/mace

100

grams

dried dates/karjuraikai

50

grams

raisins

650

grams

jaggery

250

grams

ghee
Instructions
Take all the ingredients from 1 to 4, measure correctly and in a large pan, dry roast them.  Take care not to burn, just dry roast to get a nice aroma of the spices. Remove from the pan and let it rest and cool down. Once it cools down, using a mortar-pestle, roughly pound them. These are big roots, if grinding them at home, they might not budge for the mixer-grinder at home. So roughly pound them and try breaking them into small pieces. Soak them in water for 6-8 hours or even overnight. The water should be immersing the spices well. It is better to soak these separately, as it is easy to grind these bigger roots separately.

Now dry roast the ingredients from 5-11 in the same pan until you get a nice aroma of all the spices. Now soak these again in water for 6-8 hours or even overnight. 

Pit the dried dates and soak it along with raisins for the same time 6-8 hours or overnight.

Once you have soaked for the required time, now we have to grind them all.

First let us grind the smaller spices (5-11). Take them along with soaked water and grind to a fine paste. Remove the ground paste to a separate bowl.

Next comes the monstrous looking roots. I ground them in batches. So grind in small batches to get a paste.Even then you might find lot of fiber in the paste, simply squeeze the juice out of them and discard the fiber.

Remove this ground paste also to the same bowl in which we have first set of paste.

 Now grind the soaked dates and raisins and remove it to the same bowl.
Let us make the marundhu
Take jaggery in a pan,add 1 cup of water and let it melt and come to a boil. Strain the jaggery andkeep aside.

Heat a large, heavy bottom pan, add 100 grams of ghee, when it is hot, add the ground paste to it and saute for 5-8 minutes. The ground paste would be in darker green in color. As you saute you feel the aroma of the traditional diwali legiyam/marundu in your kitchen.

After sauteing for 8minutes, add the strained jaggery,  to it and mix well. Now start theprocess of stirring frequently. Reduce the flame to medium, and let thismixture boil and reduce in quantity, it took around 90 minutes for me to getthe final consistency

I covered the pan with a splatter guard plate from IKEA, saves you from lot of scrubbing later. Keep stirring the mixture frequently. Once it reduces to half its volume, add 100 grams of ghee to it and keep stirring. 

First it might look the ghee is floating on top, must as it cooks, the marundhu absorbs and ghee and turns glossy. 

The marundhu/legiyam/medicine will come to halwa consistency, add the remaining ghee and stir again. By now the marundhu will comes from the sides of the pan and follows the ladle whenever you stir, you can touch and roll it into a soft ball, then it is done. 

  Let this cool down overnight completely. First when you taste straight from the stove, you might feel it is very sweet, but onces it cools and the spices mingle and marry together the taste will be right.

The legiyam/marundhu/medicine can be left on the kitchen counter in an air-tight container for more than 10 days. More than that i refrigerate (see notes below)

Enjoy a spoonful of this early morning and any time you feel little indigestion or cold fuzzy feeling. The medley of spices will immeidately make you feel warm.
Notes
You get powders of all the above mentioned ingredients in the market these days. If you get powders you can proceed from Making the legiyam step.
The marundhu takes around 1.5 hours to  2  hours in the making. Once all is mixed, it is stirring job for the remaining time. But it is all worth it, when you have the glossy black legiyam. 
Regarding storage, it is ok to leave it on the kitchen counter for 10 days. I usually keep it in a glass jar. H

owever if your place has lot of humidity or you havent sterilized the jar properly, there is a chance of fungus, so after 10 days, i usually refrigerate the legiyam, and whenever needed, warm it in the microwave for a 30 seconds and enjoy it.
Disclaimer
I m not a Doctor or a Nutritionist The Nutrition information provided above comes from the plugin and is only an estimate.
Make this traidtional ayurvedic medince at home and enjoy the warmth of the spices. The ingredients list might be little intriguing, but any ayurvedic shops or dabba chetty shops will have all of them.
Do you like the recipe? PIN IT