Fresh strawberries are in season, i bought 2 boxes each for 3 dhs. Normally it would cost 5 dhs each packet, it is almost ½ the price. The nearby grocery has offer on Wednesday's. When you enter the shop around 10, you can find the neighbourhood ladies, busy picking up the fresh stock. We are so regular to these shops, so when we don't find fresh stock in the basket, we ask them to bring from the store room.
This week, there were huge pallet boxes full of fresh strawberries, i couldn't resist myself, even though i bought 2 boxes last week. As soon as i come home, i rinse them well in vinegar water, wipe them in a dry towel and refreigerate.
With Bake-a-thon running this month, i was doubly happy seeing these fresh berries. I immediately knew what to bake with them. Recently while looking for ideas, i came across beulah's page Full scoops and there was this beautiful strawberry loaf, couldn't take my eyes off it!
Today's cake is inspired from there.
I have used white chocolate and reduced the sugar used in the cake to just half cup. If you are planning to use dark chocolate, i would recomend using ¾ cup of sugar.
The cake came out super delicious, i had my elder one and his friends at home after their evening play and they got to enjoy most of the cake, almost ¾th of the cake vanished in minutes. It is a great hit amongst kids and none bothered about the fresh strawberry chunks inside, the white chocolate balanced the flavors so well.
1.5 cups of whole wheat flour
1 cup chopped fresh strawberries
100 grams white chocolate, chopped into chunks
1 teaspoon vanilla extract

10 nos fresh strawberries
3 tablespoon of palm jaggery syrup
1 teaspoon fresh ginger, shredded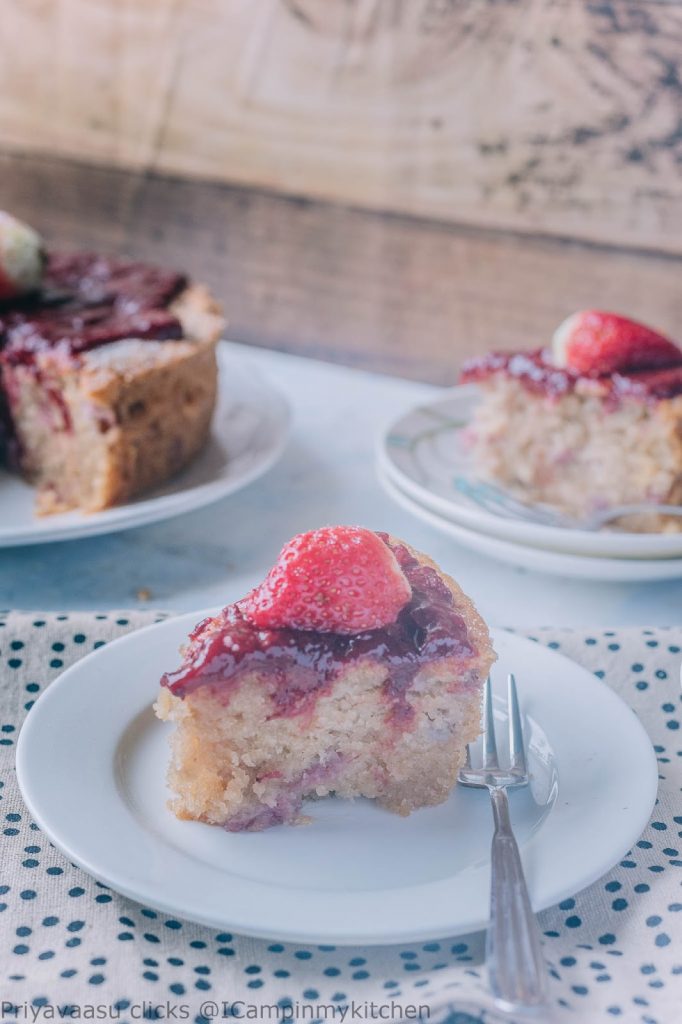 Method
To Make Fresh strawberry compote
Wash and hull the strawberries. Chop them roughly. Take the chopped berries in a sauce pan and heat.

Once they start cooking, add palm jaggery syurp, ginger and cloves to it. Let this simmer, until the berries lose their shape and turn into a mush.

It takes around 15- 20 minutes. Using a potato masher, mash the berries roughly. Take it off the stove, let it cool completely. Store it in an air-tight container and refrigerate.
To Make the Cake
Grease an 8 inch round cake tin, lay it with parchment paper. Preheat the oven to 170C

In a large bowl, take together flour, baking powder and soda and whisk them well together.

In to the same bowl add sugar, chopped strawberries and white chocolate and mix them well into the flour mixture.

Mix together buttermilk, vanilla extract and oil in a measuring jug, whisk well and add this liquid to the flour mixture.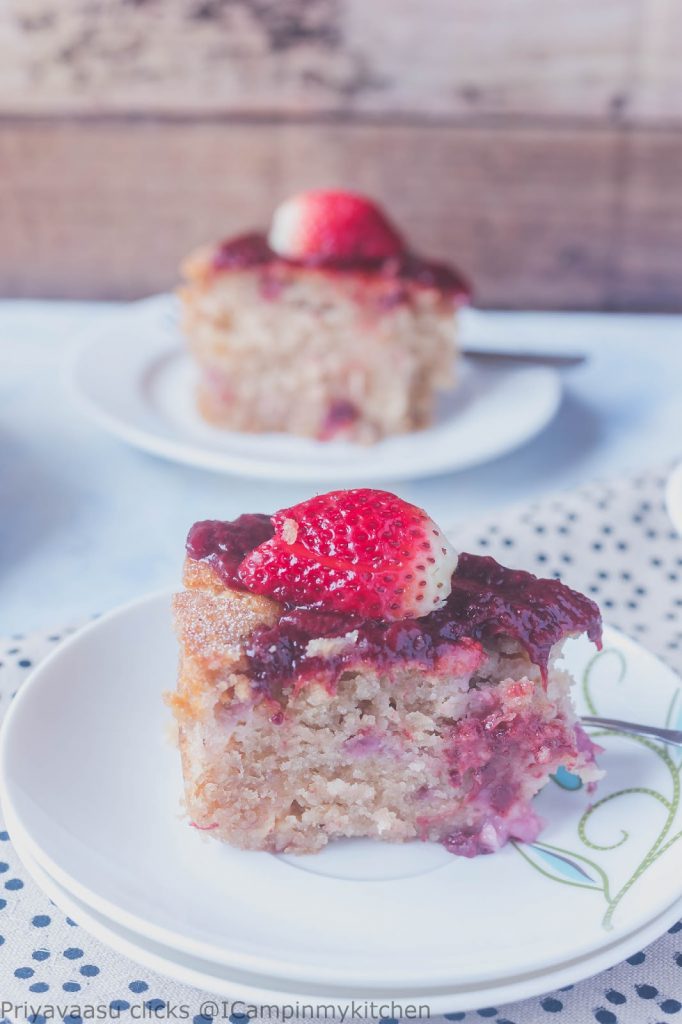 Using a spatuala, mix the contents in one direction. Slowly add ¼ cup of water and mix well. Pour the batter into the prepared tin.

Bake the cake for 50-60 minutes or until a skewer inserted in the center comes out clean. Remove the cake from the oven, let it sit for 5 minutes, then carefully remove it to a wire rack. Let it cool completely.

I spooned some fresh strawberry compote on top and served the cake.