Banana and coconut cake with chocolate ganache. I really wanted to do a caramel and banana cake, but I wasn't sure whether my kids would love the flavors. So I  stick to their favorite chocolate. 
The final cake has a beautiful flavor of coconut and people didn't know it has bananas. I felt it a success, many don't like the flavor of banana in cakes, my own kids are ok with banana muffins  and in quick breads which they enjoy for breakfast or a snack but when it comes to a dessert cake, they don't want banana taste. I have few friends who cannot stand the taste of ripened bananas, when one of them tasted the cake, she was amazed to know it has  bananas, she even helped herself with another small slice.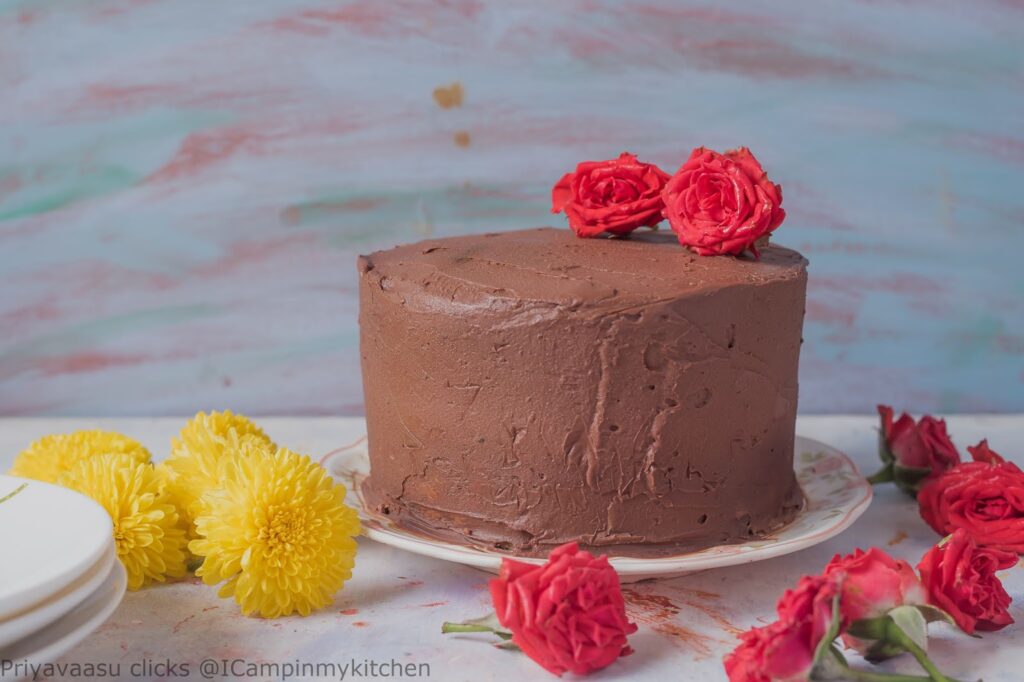 Nevertheless this is a delicious coconutty cake ,  Enjoy the tropical flavors of banana with toasty  coconut and delicious dark chocolate 


Ingredients
1.5 cups whole wheat flour 
1/2 cup dedicated coconut
2 pinches of nutmeg powder 
1/2 cup milk or warm water 
Sift together flour, baking powder and baking soda in a wide bowl to this add desiccated coconut, cinnamon powder and nutmeg and whisk well.

In another bowl, take the roughly  chopped bananas along with brown sugar and oil and using a stick blender, blend it smooth.

To this now add dry flour mix in 3 batches. Using a spatula slowly mix the dry into the wet. Take care not to mix vigorously. 

If you feel the mixture is dry, add milk/water to this and mix. I added milk.

Pour the batter in the prepared pan and bake in the preheated oven for 40-45 minutes or until a skewer inserted in the middle comes out clean. 

Once done, remove the cakes from the oven and let it sit in the pan for 5 minutes. Then slowly remove them from the pan and let it cool on the wire rack completely.

If serving as such, serve it warm. I was planning to ganache it, so I cooled it well and cling wrapped and refrigerated it.
200 grams Lindt 70% dark chocolate 
Chop the chocolate roughly, heat the cream in a saucepan, do not boil. Pour the hot cream over the chocolate and let it sit for 2-3 minutes.

Use a spatula, whisk the chocolate and cream together.if the chocolate is at room temperature then it would have beautifully melted with cream, if you find small chunks of chocolate in your ganache, then, use the microwave and heat it for 10 seconds and whisk again to smooth silky chocolate ganache.

Cling wrap the ganache, let it rest until use. I usually make the ganache an hour ahead of filling/frosting the cake.
Remove the cake from the refrigerator, torte  the cakes.

Put a blob of ganache in the  center if cake board/plate your decorating your cake 

Place a cake layer on the board, brush the cake with simple syrup, fill the layer with ganache.

Add the second layer of cake on top. Brush it again with syrup and fill in the ganache.

 Spread The ganache to the sides  of the cake. I tried by best to achieve a smooth texture. But then I making it for my folks at home, i know the flavors are great so didn't worry much when I couldn't get smooth  ganache!

Let the  cake sit for 10 minutes before serving.