If you are a regular reader of my blog, you will know how i m, for healthy breakfast. This is yet another smoothie recipe to make your morning meal quick, interesting and healthy. I always have a packet of frozen berries in my freezer, to whip up a smoothie, incase i dont have time to make an elaborate one. I m not for cereal from box for breakfast, somehow, it doesn't fit my list. This smoothie is what i had for my weekend breakfast and today while making i added a heaped teaspoon of flax-seed meal. Adding flaxseed meal, not only improves the healthy factor, but also keeps you full for longer time.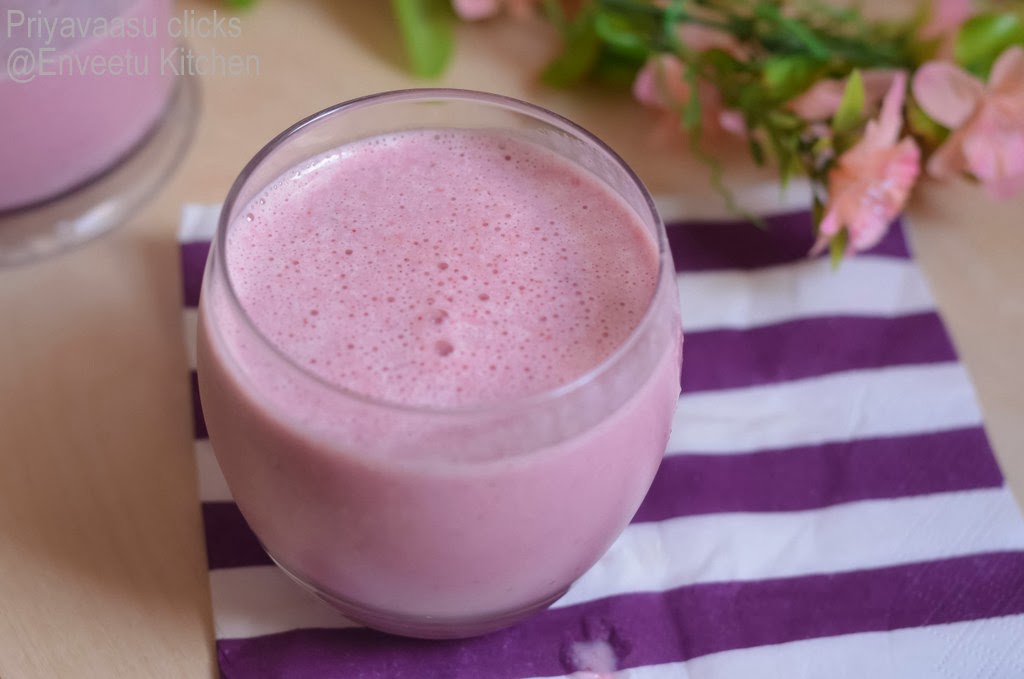 Ingredients (serves 2)
1 cup frozen strawberries
½ a Banana (i used dole variety)
1.5 Cups of Milk, Chilled
Take everything in a blender jar and blend until smooth and frothy. Serve immediately
The addition of banana adds a little extra volume to the smoothie, so it makes two glasses as shown in the picture.
I never add any sweetener to smoothies to taste them naturally. In case you prefer to add, try honey/date syrup
Increase the strawberries to 2 cups to get a pinky pink smoothie, if your kiddo loves the color in, Since, i was making it for myself, i just used 1 cup.
Try adding flax-seed meal/ Oatmeal for a filling smoothie or 4-5 nos almonds or walnuts to add a nutty crunchy.