Kolkatta/Calcutta is the only place in North-India, i have visited in India, My maternal uncle was working there so, we cousins along with my mom and aunty visited calcutta, i dont remember how long we stayed, but the fun we had is still fresh!!! There used to be a room for drying clothes, and will always be wet, wet , wet!!! We used to play hide n seek in that room, and make sure that entrance to the room is full of soapy water, so the person with the eyes closed, poor thing will usually slip and fall and there will be a huge ohhoooo!!! Though i dont have any food memories, since we rarely go out for food. I fadely remember tasting litchi there for the first time. Since, it was looking rather unusual for us, we ate as if we were starving for days and ended up with bad stomach!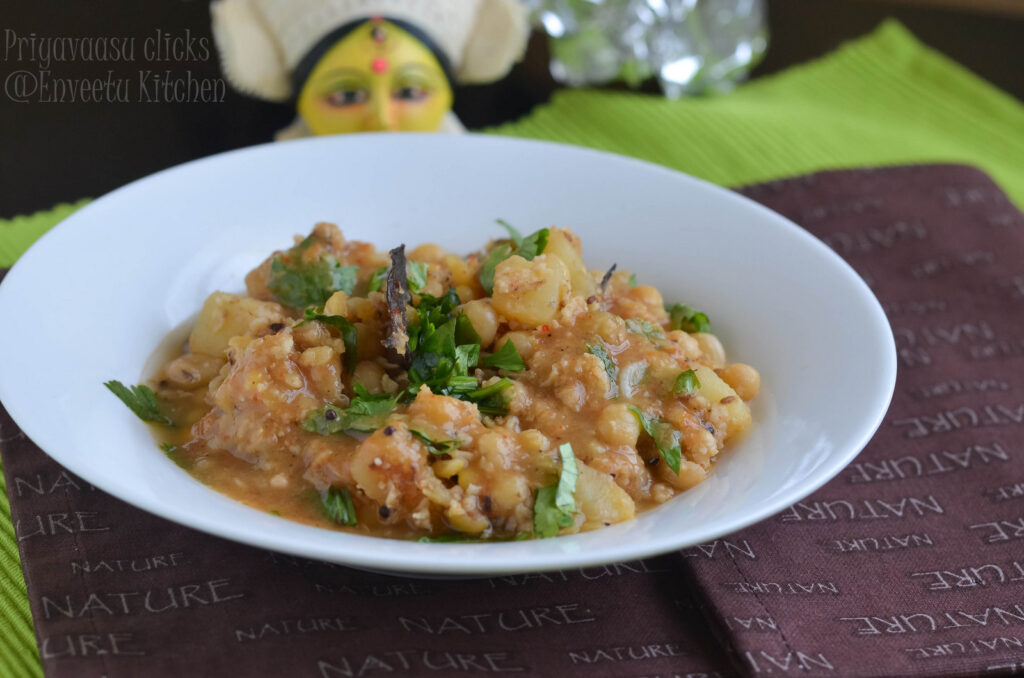 Coming to today's recipe, though i wanted to post a sweet recipe to the last day of Indian Food Odyssey, nobody at home was ready for sweet. After tasting Narkol Naru, Mishti Doi, i wanted to try something chatpata from West Bengal. So, i settled with this simple ghugni recipe from Sayantani's Space.
It is supposed to be a street-food, served along with toasted bread as breakfast in the bong city. Oh it was yum, as such, that too with a generous squeeze of lime, it is out of the world.
source here
Ingredients
1 Cup dry yellow peas/Matara
½ Cup freshly grated coconut
2 teaspoon freshly grated ginger
1 teaspoon freshly pound cumin powder
1 teaspoon freshly pound coriander powder
½ teaspoon garam masala powder
Salt to taste
fresh coriander leaves for garnish
generous squeeze of lime
Tempering
2 tablespoon Groundnut oil
2 green chilies, slited lengthwise
Method
Soak the peas for 3-4 hours. Drain the soaked water, add 2 cups of water to the peas and cook in a pressure cooker for 10-12 minutes WITHOUT WHISTLE. yes, yellow peas cook very quick and for this dish we want the peas to retain their shape as well. So, cook without whistle for 10-12 minutes, when the cooker releases steady steam, switch it off and put the whistle on. Let is sit until the pressure drops down. Drain the excess water and set aside until use.

Peel the potato, wash and cut in small cubes. Keep aside. Mix the ginger paste, cumin- coriander powder, chilli powder with ¼ cup water and keep aside until use.

Heat a teaspoon of oil given under "

Tempering"

i

n a kadai or a big pan. Fry the grated coconut till golden. Remove and keep aside.

In the same pan add the remaining oil add the whole clove, cinnamon, bay leaf. Once they splutter add the slited green chili and cumin seeds. When the aroma rises add the cubed potatoes and pinch of salt. Reduce the flame to medium and fry the potatoes till they turn golden brown in colour.

Next pour in the mixed spices along with another ¼ Cup of water and keep frying on low for couple of minutes. When the oil starts to on the sides, add the boiled peas, ¼ cup of water and turmeric in it and mix thoroughly.

Add salt and let it come to a boil, then add the fried coconut pieces. Add another ½ cup water coz the end dish should have thick gravy, so adjust the water accordingly.
Once the peas soak the flavours, add the sugar and adjust the seasoning, sprinkle the garam masala powder and mix. Serve with fresh coriander leaves garnished on top and a generous squeeze of lemon