Godhumai rava upma, a hearty dish with mixed vegetables and broken wheat . Godhumai rava is also called as emmer wheat or khapli wheat.
Jump to Recipe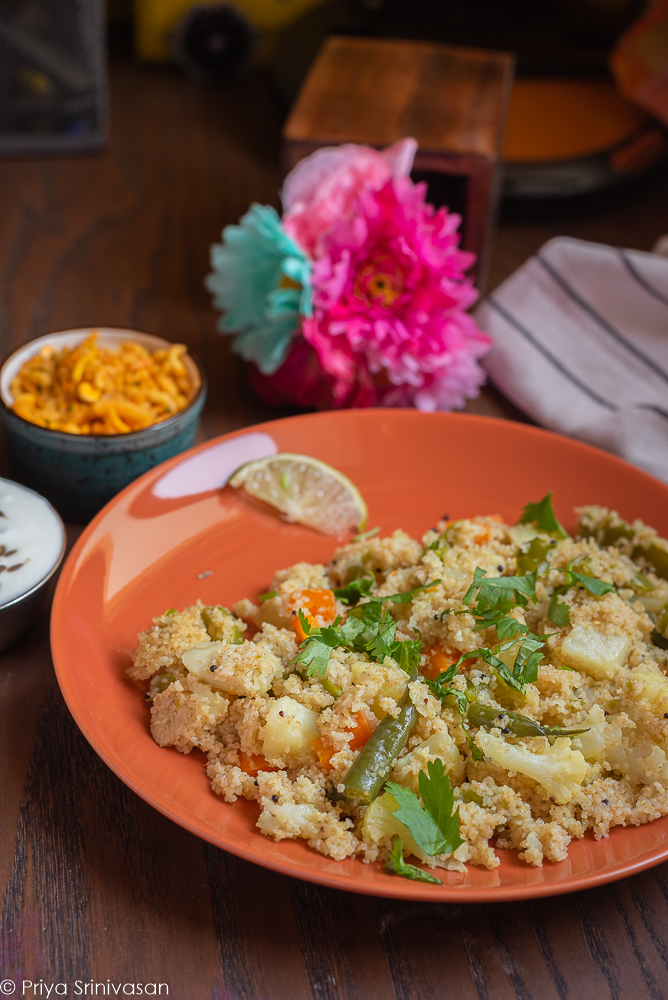 Upma Love
I can feel few making weird faces as you read the heading. If you are someone who cannot stand the name upma, i feel for you. It shows that you have never tasted a nicely made upma. The amount of liquid added along with the fat makes a lot of difference while making upma.
Upma is last resort at many south-indian household when they run out of any meal ideas or when they need a quick meal to close the kitchen for the day. A well made rava upma or rava kichadi is a bliss on your plate. It should be served hot straight from the stove.
Upma can be made with other grains too, like this simple Kande poha upma. Here is a delicious kodo millet upma and a gluten-free buckwheat groats upma. I prefer to serve and enjoy upma hot straight from the stove. Both my kids enjoy it with curd and pickle.
What is Samba Rava?
Samba wheat rawa is made from pure Samba variety wheat/ Emmer Wheat / Khapli Wheat, including the skin of the wheat which contains many B Complex Vitamins and the sooji wheat rawa is made from ordinary wheat.
Emmer wheat has complex carbs and a low GI food, it is a great grain for diabetics and anyone looking for low-carb meal options.
Khapli wheat is rich in niacin/Vit B3, which is great for your heart and cholesterol levels. Emmer is also a rich source of magnesium and iron.
Khapli wheat has twice the fibre and twice the protein , hence It will fill you faster and will reduce hunger pangs, thus aiding weight loss.
It is said that the Gluten molecule is weak in khapli wheat and is also suitable for people with gluten intolerance.
Pregnant women and women post pregnancy can also benefit by including emmer wheat in their diet, because of its rich nutrient profile.
As a personal belief I consider every food group as healthy, they provide nutrients to your body. Just because we frame a food healthy, doesn't mean we can eat them without any limits. So enjoy all food groups within limits.
More Recipes with Samba Rava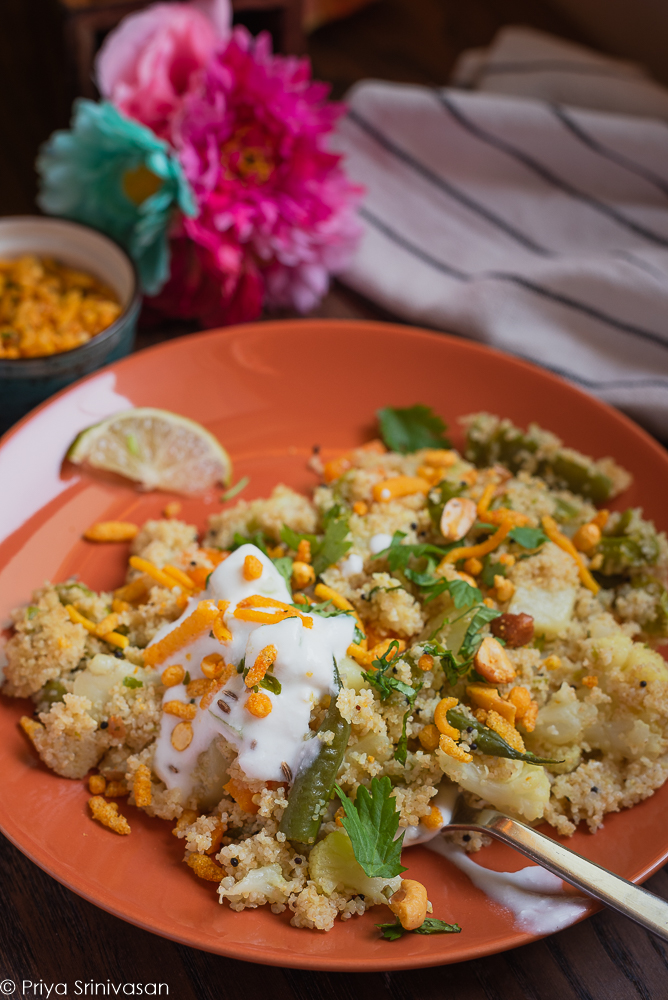 Ingredients to make Samba Rava upma
Samba rava, Godhumai rava /Khapli wheat rava is the main hero of this recipe
Mixed vegetables, I have used potatoes, cauliflower, beans, carrots etc.
I personally make my upma with vegetables. Some might like it plain without any vegetables. So this is a personal preference. If allowed my kids would prefer plain upma, served with curd. But their mom is a monster!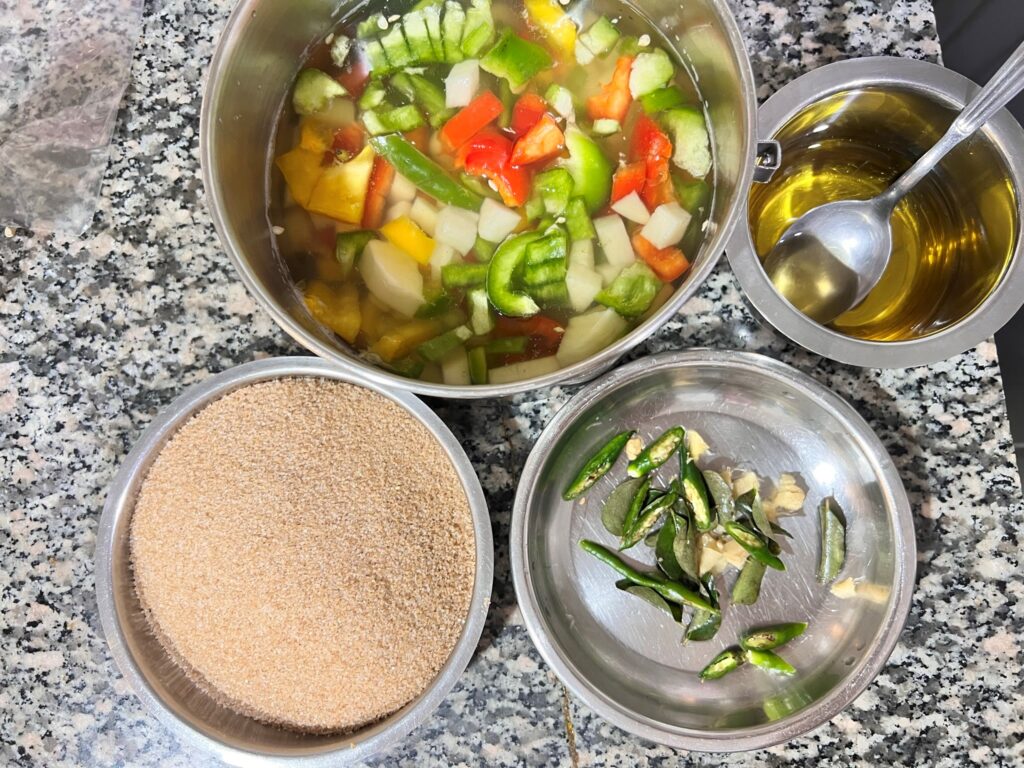 Spice, I have used green chilies for the spice in the upma, red chilies can also be used.
Tempering, regular south-indian tempering like mustard, hing and curry leaves are used.
Garnishes, finely chopped coriander leaves, some crispy sev or crispy peanuts are welcome.
Step by Step instructions to make Godhumai Rava Upma
Please check recipe card below for exact measurements of each ingredient used and also for the detailed instructions
Wash, peel and chop the veggies and keep it ready. Heat a pan with oil, splutter mustard seeds, hing, throw in the chilies, ginger and curry leaves.
Add the chopped vegetables to the hot tempering. Saute for a minute. Add ½ cup of water, add salt and turmeric powder to this. Mix well, cover and cook for 10 minutes until vegetables are ¾th done.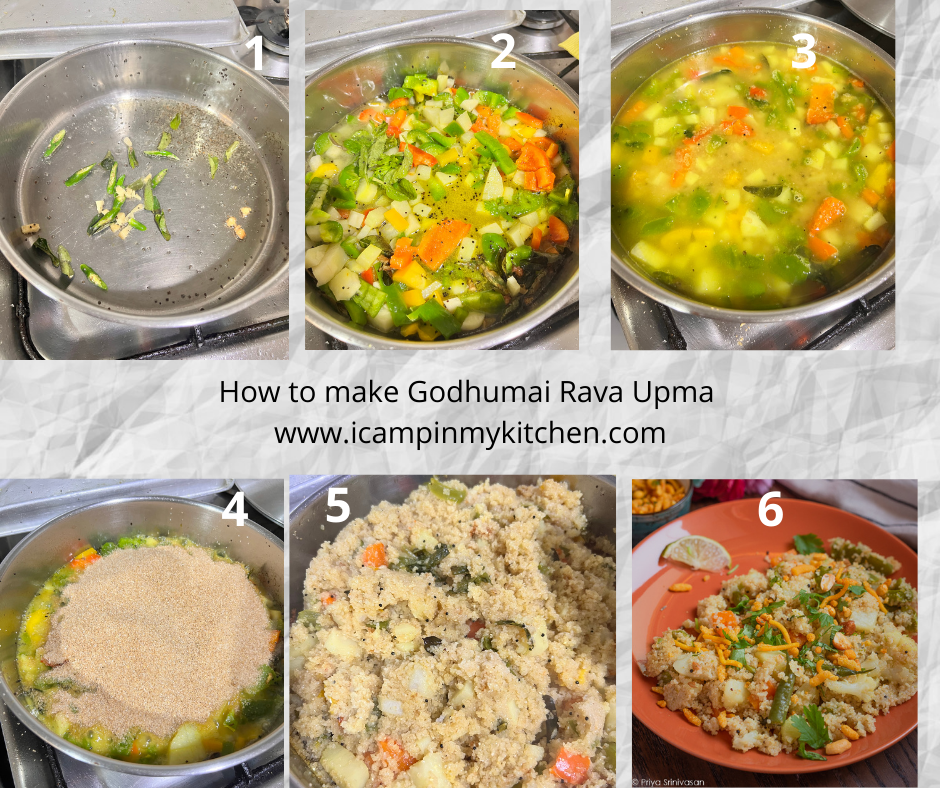 After the said time, open the cover, mix the vegetables. Add the measured samba rava to this, mix and add double the amount of water. Mix well. Cover and cook for another 10-12 minutes.
After the said time, open and mix the upma well. Add 2-3 tablespoon of generous ghee on top, mix, garnish with fresh coriander leaves. Let it rest for 2-3 minutes.
Serve it warm with your favorite side. I usually serve it with curd, pickle and some crispy garnishes.
If you have tried this recipe and like it, give it a star rating or let me know in the comments below. You could also share it with me on Instagram using #icampinmmykitchen and tagging me @priyasrinivasan.
You could follow me and my recipes on Facebook | Instagram | Pinterest | twitter
Recipe card for Wheat Rava Upma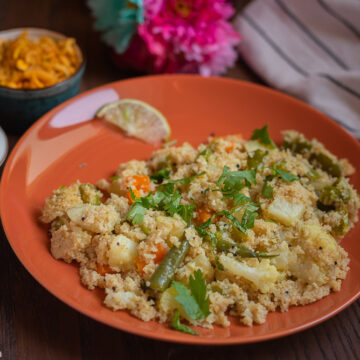 Samba Rava Upma | Khapli Wheat Rava Upma
Godhumai rava upma, a hearty dish with mixed vegetables and broken wheat . Godhumai rava is also called as emmer wheat or khapli wheat
Print
Pin
Rate
Equipment
Measuring cups and spoons

Wide pan to make the upma
Ingredients
1.5

cups

samba rava / Khapli wheat rava

3

cups

mixed vegetables

I have used potatoes, colored capsicums, cauliflower, beans and carrots.

4

nos

green chilies

½

teaspoon

chopped ginger

3.5

cups

water

1

tbsp

oil

any cooking oil

1

teaspoon

salt or to taste

¼

teaspoon

hing/asafoetida

2

tablespoon

ghee/Clarified butter

fresh coriander for garnish
Instructions
Wash and prepare all the vegetables. Adding vegetables here is purely optional. I prefer my upma loaded with vegetables, you can simply make with only onions and green chilies too. We will be adding hot water to the upma, so keep the kettle on or boil and keep a 3 cups of water ready.

Heat a wide pan with oil, when hot splutter mustard seeds, add hing, cut green chilies, and curry leaves.

Now add the chopped vegetables to this hot tempering. Sauté for a minute.

Add ½ cup water for the vegetables to cook. Top it with turmeric powder and salt. Reduce the flame to medium, cover and cook for 10 minutes for the vegetables to be ¾th done.

After the 10 minutes, open the cover and check the veggies. poke it with the ladle to see if they are soft, they should be fork tender by now with a slight nudge.

Now reduce the flame further and add the godhumai rava and mix well. Add 3 cups of water to this. I prefer adding hot water direct from the kettle.

Mix this nicely. Do this in simmer flame as we have added hot water to hot pan of vegetables there is a chance of spluttering, so keep the flame simmer to prevent any mishaps.

Cover and cook this for another 10-12 minutes in simmer flame. After 10 minutes, open the cover, mix it well. Add generous drizzle of ghee. Turn off the heat.

Let this sit for another 4-5 minutes covered. Open cover, garnish with fresh coriander leaves and serve it along with curd, pickle and some crispy garnishes.
Disclaimer
I m not a Doctor or a Nutritionist The Nutrition information provided above comes from the plugin and is only an estimate.
Serve this delicious and hearty samba rava upma with curd and pickle. I served with cucumber raita and some mixture.
Do you like this Recipe? PIN IT