We are starting another week of Blogging Marathon from today. This week's theme is to pick one veggie and cook 3 dishes with it. After too many confusion i picked our favorite Brinjal/Aubergine/Eggplant.  Today i m presenting a simple side using this less loved vegetable. Many have a hatred towards these purple cuties as they believe to cause itching. Even my own brother used to avoid this vegetable. But then, as he tasted my Brinjal rice once, he started to like it. In our house, we all love eggplants. Aloo-baingan ki subzi  and Lip-smacking Bhagara Baingan is our favorite and recently Bhaigan ka bharta. Later is my favorite as it needs very less cooking :).
I think i have some decent sides for brinjal in my site, hmmmm!! So, as i was looking for another simple brinjal sides recipe, i came across this Upponkai, @ Raks Kitchen. Seriously i don't know which language it is, and even Google couldn't come up with a proper meaning!!!  But the recipe sounded delicious. I have never cooked brinjals with coconut and green chilies. 
I paired it with Rice for my lunch and with roti's for my hubby. Give it a try, you will surely like the taste,apart from the taste, this is a quick cooking curry, you don't need a better reason to try! 😉
Ingredients
1 Big Brinjal/Bharta ka baingan
Salt to taste
Fresh mint leaf for garnishing
To grind
½ Cup of freshly grated coconut
Tempering
Source : Raks Kitchen
Method
Chop Onion, brinjal and garlic finely. Keep the brinjal in water until use. Heat a pan with oil, splutter mustard seeds, add curry leaf, hing and turmeric. Now add chopped onion and garlic and saute until onions turn translucent.

Drain water from the brinjal and add it now. Cover and cook for 10 minutes or until the brinjals turn soft. 

While the brinjals are cooking, take the ingredients under

To grind

 and grind it to a fine paste using little water. Add this paste to the cooked brinjals. Wash the mixer with ¼ cup of water and add that water also to the curry.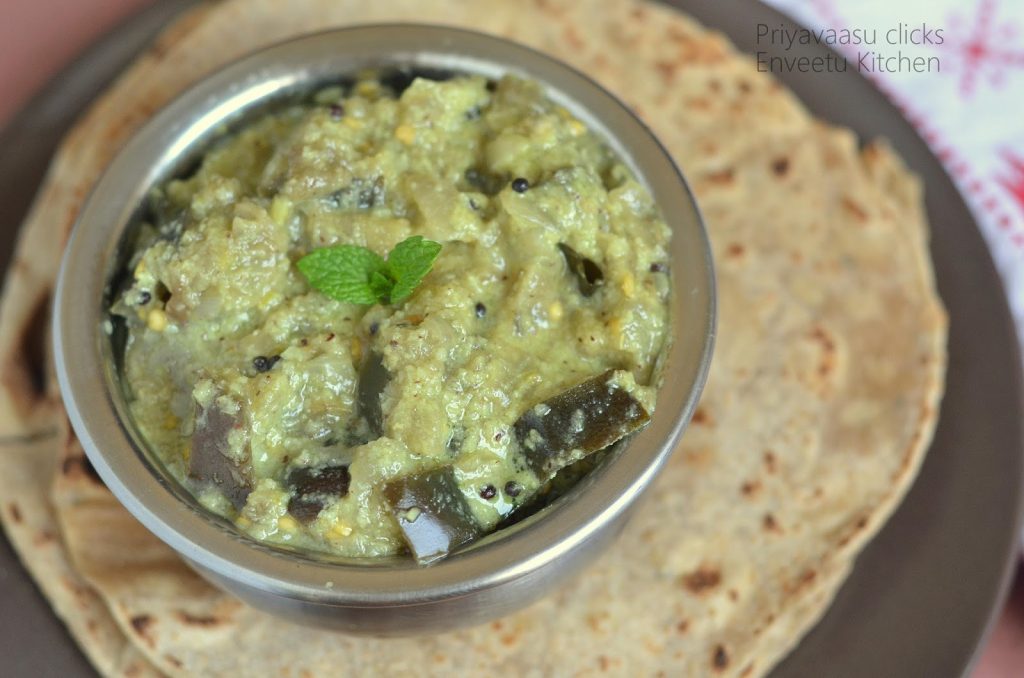 Let the curry simmer uncovered until the rawness of ground paste vanishes. Takes about 8-10 minutes. The amount of gravy soley depends on you. I prefer semi-solid gravy for my roti, if you  prefer dry curry then let the curry simmer until it is dry. 

Once done, take it off the stove, garnish and serve warm with Roti/rice. I enjoyed it for my lunch and serving it for dinner for my hubby.