For the last week of the marathon, i am gonna Revisit my old posts and refurbish them with new coat of poly!! ha, effects of watching Cars, Cars2 for a 7 days!!! 🙂 Holidays on, for my kiddo so t is Movies, Park, Play all the time!!! 🙂
For the next 3 days, i will be editing my old posts with new pictures. I 
have chosen
 recipes, which i make often. Once such is, Brinjal Rice, Quickie Mixed Rice, if you try once, you will definitely make it often, for its combo of masala's and even the brinjal-hating kiddo's too would love it for that Kick of spice.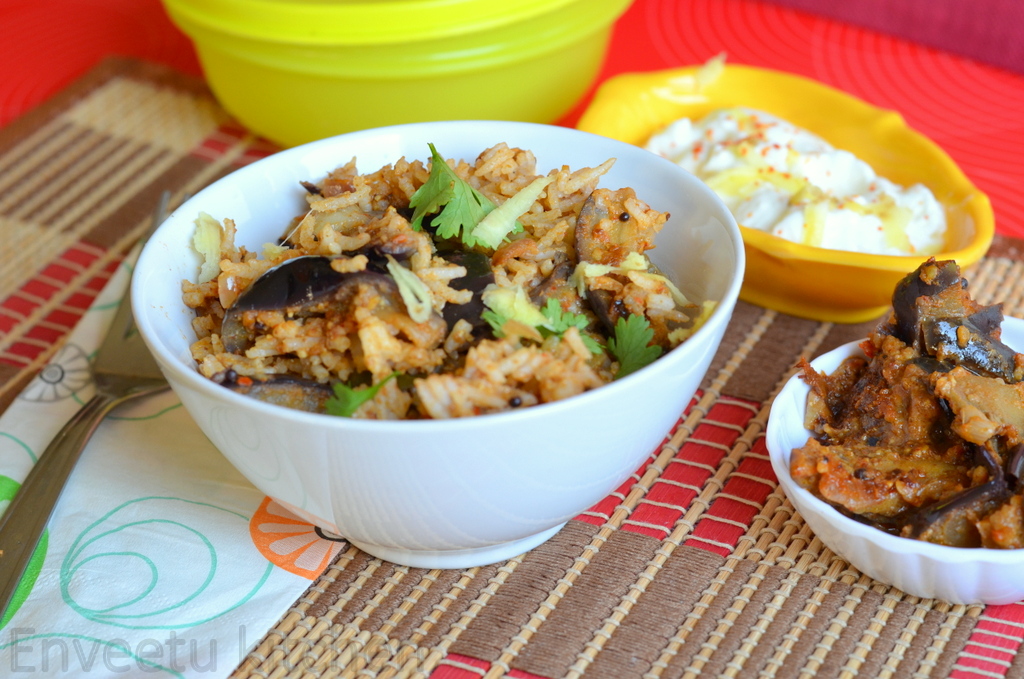 Fresh Coriander for garnishing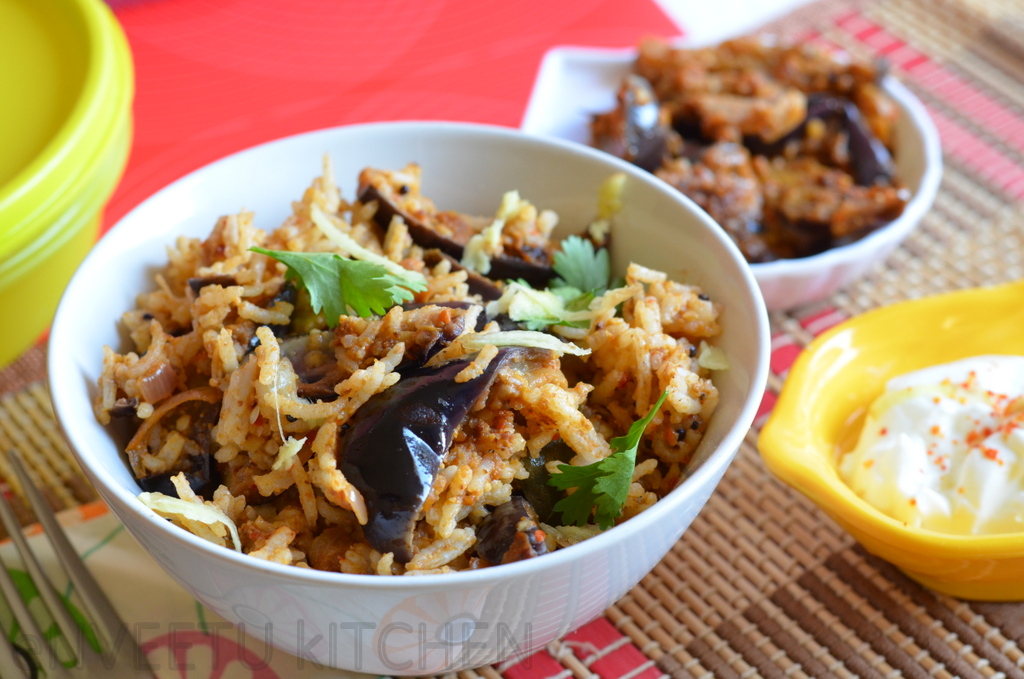 2 tbsp Chana Dal/Gram Dal
1 tbsp Fresh grated Coconut
1/2 tsp of shredded ginger
1/4 tsp each, cumin powder and Red Chili Powder
Whisk the curd well. Add Ginger, cumin and red chili powder, Mix well. 

Add Salt just before serving, mix well and Serve along any mixed rice.
Making the Brinjal Rice
Dry Roast the ingredients under Roast n Grind, except tamarind and coconut. Grind the roasted ingredients along with tamarind and coconut Coarsely.

Remove the stem of the brinjals and slice them lengthwise.

Heat oil in a Non-stick Pan, Splutter mustard seeds, add hing and Curry leaves.
Add onions and saute until translucent, next add tomatoes, add 1/4 cup water and let Tomatoes Cook and become soft and ooze oil.

Next add Brinjals, Mix  well.Cover and cook in a low flame for 10 minutes.

When the Brinjals are half-cooked, add the grounded masala powder and salt to it.Mix well.

Cover and Cook in a Simmer flame until done, takes about 8-10 minutes.

Take it off the stove,  Add the Cooked Rice and mix well.  Garnish with Coriander leaves and shredded ginger. Serve Warm with Spiced Yogurt.