After trying out a snack and a sweet from chettinadu, i m here with the recipe of the famous mandi. Yup, Mandi is nothing but rice washed water. Amma used to use mandi to bathe kuttu when he was a baby, that too when he started walking, she used tp massage his legs with warm mandi/rice washed water. It is supposed to have so much of nutritional benefits. 
We used to drink Arisi Vadicha Kanji/Water drained from cooked rice along with buttermilk, it is said to cool our body during summer. No doubt, the grammathu samayal/Traditional village cooking, has so many health benefits hidden. And that was the reason, our ancestors were able to lead a healthy life till their end. My Paati even at the age of 9
3, never had any health complaints, and now me in my early 30's have a dozen health complaints, It is high time, we all  go back to the basics!!! 🙂
20 nos Small onion/Shallots
1 pod of Garlic-(i used the big variety, had around 10 big cloves)
1 medium-sized tomato, chopped
4 nos green chillies, cut into two
2.5 Cups Arisi Mandi/Rice-washed water
1/4 Cup Mochai/Dried green beans, soaked overnight
a small goose-berry sized tamarind
Tempering
2 pinches of hing/asafoetida
Method
Soak Mochai/green beans overnight.  Next day, drain the water, Pressure cook  with a cup of water, for 2 whistles, drain and keep aside. Soak tamarind in 1 cup of Arisi mandi/rice washed water. Soak shallots

Heat a oil given under "Tempering" in a Kadai/Pan. Splutter mustard seeds, add curry leaves, fenugreek, hing and turmeric powder.
Next add chilies, chopped onion and garlic pieces and sauté for 2 minutes. Now add the ladies finger and sauté nicely for another 3 minutes.Next add chopped tomato, mochai /green beans, and 1 ½ cups of Arisi mandi and cook in medium flame.

In the meantime, extract juice from the tamarind soaked in the arisi mandi/rice washed water. When the okra/lady's finger  is 3/4 th cooked, add  salt and tamarind extracted Arisi mandi/Rice washed water. Let the mixture boil for 5-8 minutes after tamarind is added.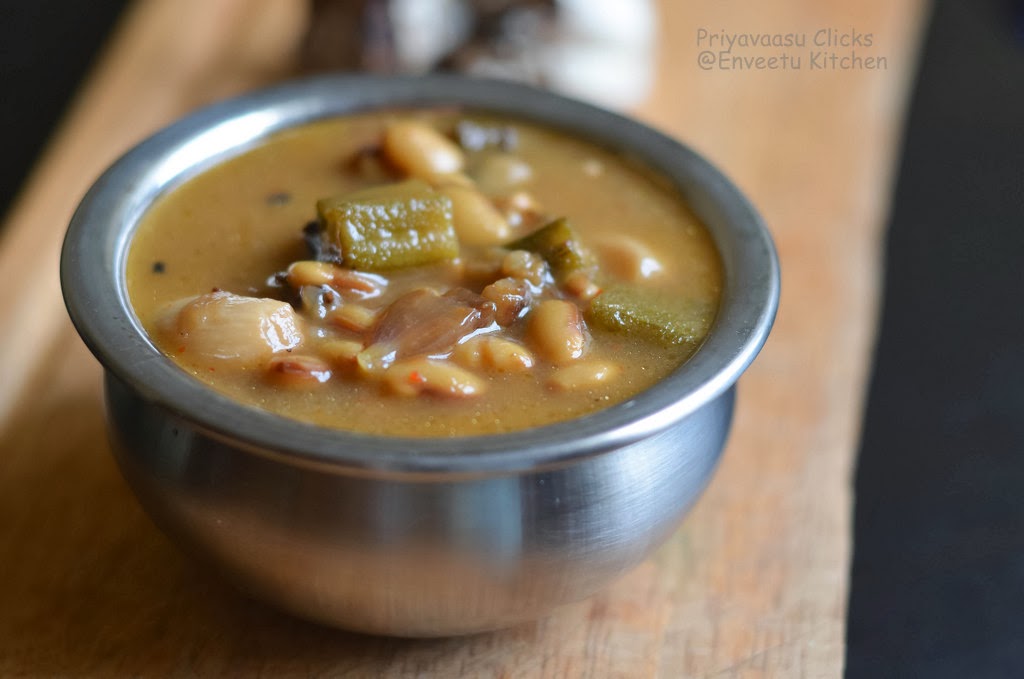 Take it off the flame, the gravy will not be too thick or too thin. Serve it warm with rice or as an accompaniment to Idly/Dosa. 

The mandi adds a unique texture and taste to the gravy.It tastes yum, when served the next day. We enjoyed it with hot rice and also with dosa.