Vendaikaai Puli Mandi, a Chettinadu cuisine specialty. A tangy tamarind gravy made with rice washed water.
Jump to Recipe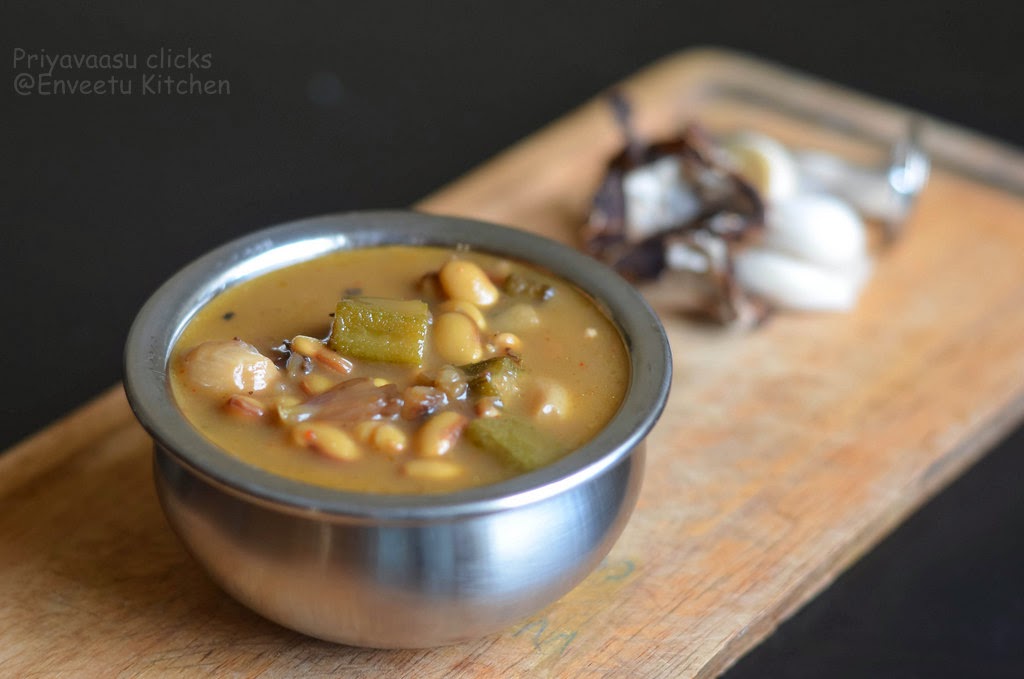 Chettinad Cuisine
Chettinad cuisine is the cuisine of a community called the Nattukotai Chettiars, or Nagarathars, from the Chettinad region of Tamil Nadu state in South India. Food from this state is predominantly vegetarian due the majority of Tamil Brahmins.
It uses a variety of freshly ground spices including cumin, fenugreek, fennel, clove, bay leaf, turmeric and tamarind. The cuisine is well known for the complexity of flavors.
Here is small compilation of some famous Chettinad Dishes from my blog and my fellow bloggers
If you are still looking for more chettinad dishes, then check this Wedding Special Lunch.
What is Mandi in Chettinadu Cuisine
Mandi in Tamil refers to sediment, we even call it kasadu/kasandu in colloquial language. Mandi here refers to the rice washed water. The starchy water we get while washing the rice for cooking is Mandi.
You can read more about this mandi kuzhambu here @Kannama Cooks
This simple rice-washed water has so many benefits. There are numerous skin care, hair care websites that swear by the rice washed water. We use rice washed water while bathing babies, it is said to strengthen the bones and tissues of the new born. I have followed this routine for both my boys.
No doubt, that traditional village cooking, has so many health benefits hidden. And that was the reason, our ancestors were able to lead a healthy life till their end. My grandmother lived till the age of 93 and never had any health complaints except for her knee pain which was of course age related. At my early 40's I can't even place myself next to her in health for comparison.
What is Okra Mandi
Vendaikaai mandi, Okra mandi is nothing but soft tender okra cooked in a tamarind soaked rice water with shallots and green chilies. The starch in the rice washed water/mandi adds a nice gravy like consistency to the dish.
The final dish is not too thick nor too thin. A perfect gravy to enjoy with rice. Steaming hot rice and ladles of gravy is such a bliss to experience.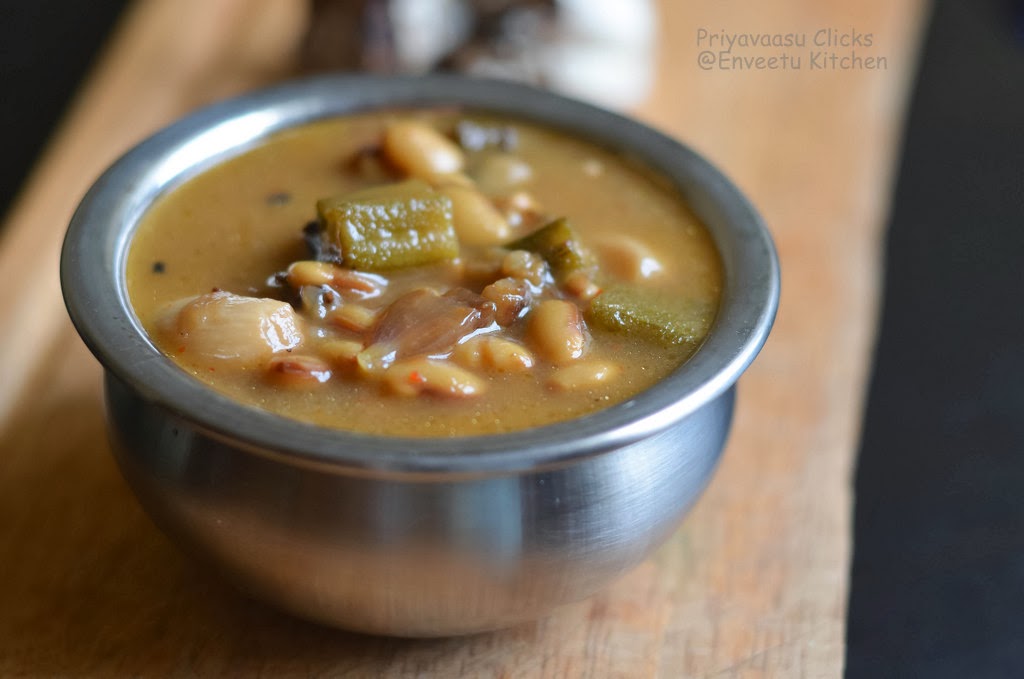 Ingredients to Make Chettinadu Mandi
Rice washed water, is the main ingredient. If you are rice eater, then it is pretty simple for you to make, just retain the rice washed water when you cook rice. If you don't cook rice and want to make mandi, pretty simple mix in 1 teaspoon of rice flour with a cup of water to prepare instant mandi.
Okra, tender okra preferred. How to chose tender okra without crushing the stem? Press and see the okra they should be soft and fuzzy to touch. The matured ones usually are pretty stiff on the outside.
Tamarind, for the tangy gravy. I normally soak dried tamarind and extract water. If using tamarind paste, you can directly add it to the water and mix.
Mochai | field beans, good quality of fresh field beans, if using dried soak them overnight and keep it ready for cooking next day.
Shallots, green chilies and garlic - are the other ingredients needed for the tangy gravy.
How to make Chettinadu Puli mandi
Please check recipe card below for exact measurements of each ingredient used and also for the detailed instructions
I have used dried field beans. Soak them overnight, next day pressure cook them until soft and keep it ready.
Soak tamarind in a cup of rice mandi for 20 minutes. I usually prefer warm water to soak tamarind as it will be easy to extract. So warm the mandi for 20-30 seconds in a microwave or stove top and soak the tamarind. If using paste, just add it to the mandi and keep it ready.

Wash and prep shallots, green chilies, garlic and okra. Heat a kadai/pan, temper it with mustard, hing and curry leaves.
Add onions, green chilies, and garlic and saute until the onions are translucent. Add okra, chopped tomato and pressure cooked field beans to this and add 1.5 cups of rice mandi.
Let the okra cook ¾. To this now add tamarind rice mandi. Let this cook for another 5-8 minutes. take it off the flame and serve it warm along with rice or idly/dosa.
Recipe Card for Chettinadu Mandi kuzhambu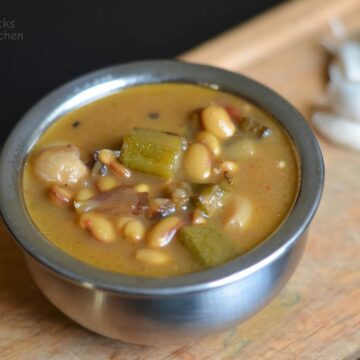 Vendaikaai Mandi | Puli Mandi - Chettinad Special
Vendaikaai Mandi, a Chettinadu cuisine specialty. A tangy tamarind gravy made with rice washed water.
Print
Pin
Rate
Ingredients
10

nos

Ladies finger

20

nos

Small onion/Shallots

1

pod

Garlic

i used the big variety, had around 10 big cloves

1

no

medium-sized tomato

chopped

4

nos

green chillies

cut into two

2.5

cups

Arisi Mandi/Rice-washed water

¼

cup

Mochai/Dried green beans

soaked overnight

a small goose-berry sized tamarind

salt to taste
Tempering
1-2

tablespoon

Gingely oil

½

teaspoon

mustard seeds

¼

teaspoon

fenugreek seeds

½

teaspoon

turmeric powder

2

pinches

hing/asafoetida

2

sprigs

curry leaf
Instructions
Soak mochai/green beans overnight.  Next day, drain the water, pressure cook  with a cup of water for 2 whistles, drain and keep aside. I m using dried beans, which has to soaked and pressure cooked, if using fresh field beans, skip this step.

Arisi Mandi

In a south-indian household as regular rice eaters, we just need to save the rice washed water when we cook rice. If you don't eat rice regularly and want to try this, mix 1 teaspoon of rice flour to 1 cup of water thoroughly, to make instant rice mandi.

Soak tamarind in 1 cup of Arisi mandi/rice washed water. Soak shallots in plain water to ease peeling them.

Heat a oil given under "Tempering" in a Kadai/Pan. Splutter mustard seeds, add curry leaves, fenugreek, hing and turmeric powder.

Next add chilies, chopped onion and garlic and sauté for 2 minutes. Now add the ladies finger and sauté nicely for another 3 minutes.

Next add chopped tomato, mochai /green beans, and 1½ cups of Arisi mandi and cook in medium flame.

In the meantime, extract juice from the tamarind soaked in the arisi mandi/rice washed water. Since i have used dried tamarind, i had to soak and extract juice. If using tamarind paste, add the paste directly to the mandi and mix it.

When the okra/lady's finger  is ¾ th cooked, add  salt and tamarind extracted Arisi mandi/Rice washed water. Let the mixture boil for 5-8 minutes after tamarind is added. 

Take it off the flame, the gravy will not be too thick or too thin. Serve it warm with rice or as an accompaniment to Idly/Dosa. 

The mandi adds a unique texture and taste to the gravy. It tastes yum, when served the next day. We enjoyed it with hot rice and also with dosa too.
Disclaimer
I m not a Doctor or a Nutritionist The Nutrition information provided above comes from the plugin and is only an estimate.
Enjoy this amazing chettinad puli mandi kuzhambu with rice. We loved it the next day for idly/dosa too. Tamarind gravies develop more taste as they rest. So make it previous day to enjoy amazing flavors.
Do you like the Recipe? PIN IT