After 3 continuous days of soup, i wanted to do a salad today. But today i had to take the lil fella for vaccination too. you all know vaccination days, are cranky days, so didn't want to spend much time on dish and click. And all i had in the fridge was just carrots and cucumber, this is what i came up with them. A creamy carrot salad served on cucumber boats. It can be served as an entree, along with some crisp bread sticks. While my lil one enjoed the bread sticks, i had them with a glass of chilled strawberry lassi.
Ingredients
2 tablespoon peas (I used frozen)
2 tablespoon sweet corn (I used frozen)
2 tablespoon cream cheese (i used Almarai, spreadable)
½ teaspoon freshly ground pepper
½ teaspoon finely chopped coriander leaves/dill leaves
Grate the carrot using a fine grater. since i used frozen peas and corn, i just immersed them in hot water for 10 minutes, drained and used in the salad. If using fresh peas and corn, cook until soft and use.

Take the grated carrot, peas and corn, add cream cheese, pepper and mix well. Refrigerate until use.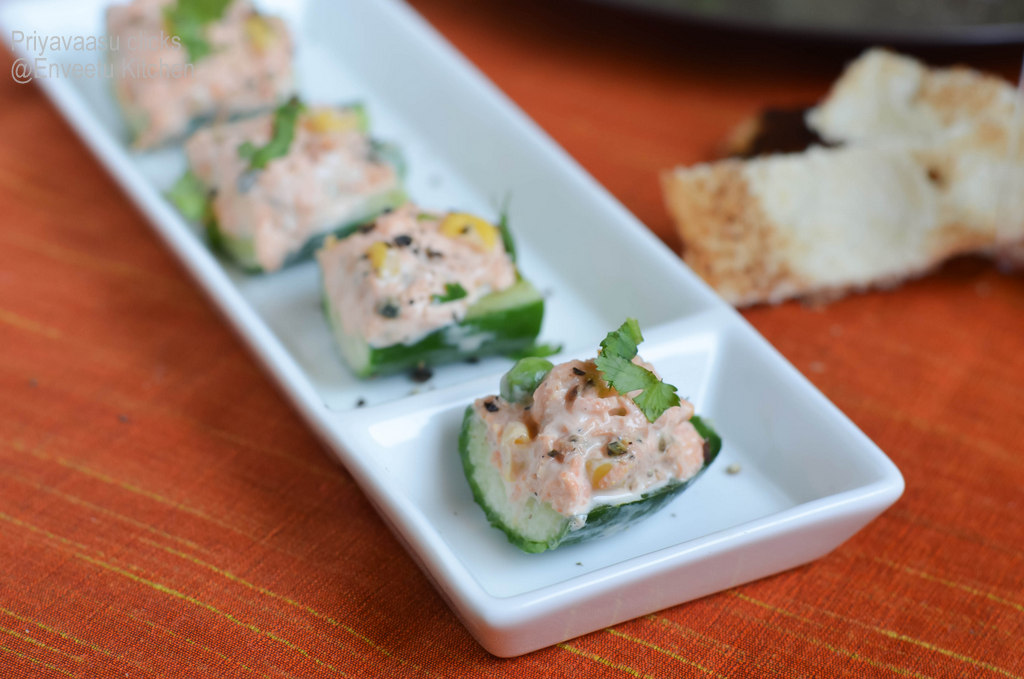 Just before serving, wash the cucumber well, cut them into two vertically, then cut each half into eight small pieces. Remove the seeds from the center, do not scoop out the flesh. 

Place the cut cucumber on a serving plate, top it with spoon of  carrot cream cheese mix. sprinkle little ground pepper on top and chopped fresh coriander. Serve immediately.

I served it along with some crisp bread sticks and a glass of strawberry lassi.