Chocolate & black pepper sable, French butter cookies that are melt in mouth. Black pepper adds a nice zing along with chocolate in this recipe.
Jump to Recipe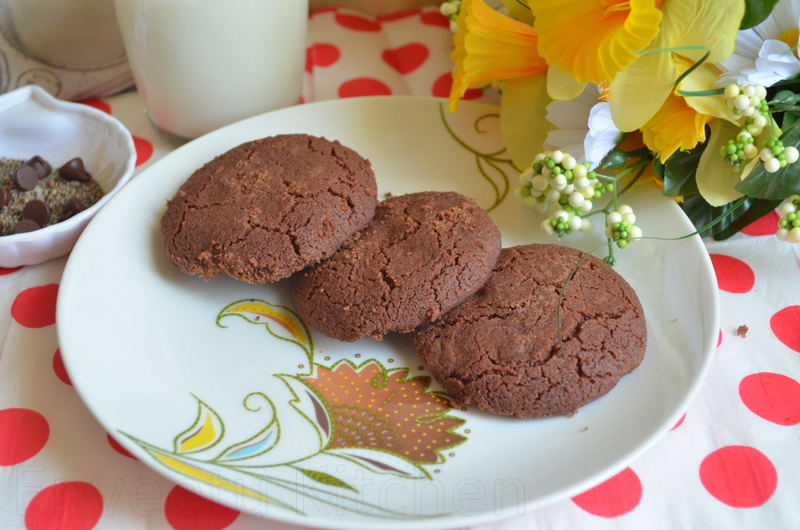 What is Sable ?
Sablé is a French round shortbread cookie that originates in Sablé-sur-Sarthe in Sarthe. They are also known as a French Butter Cookie or Breton Biscuit. The name 'Sablés' is French for "sand", which refers to the sandy texture of this delicate and crumbly cookie.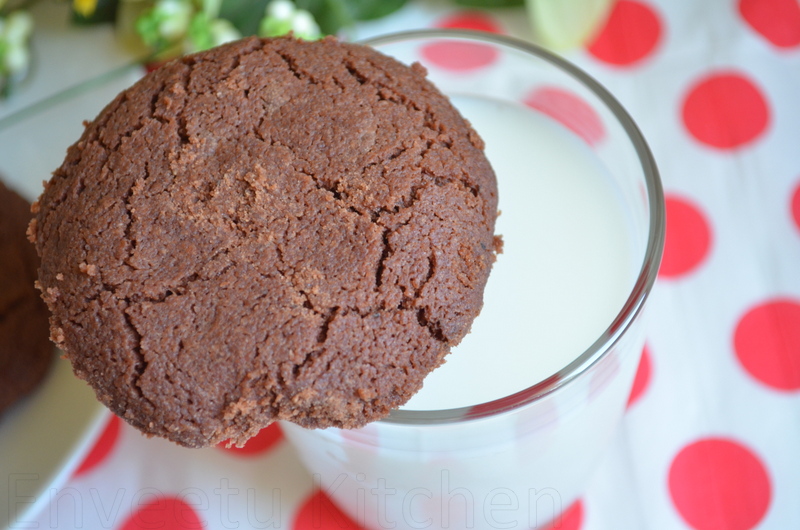 With the little home baking knowledge I have , the difference I noticed between shortbreads and these sables are the former is a dense cookie, holds it shape well. Whereas these aren't as dense as shortbreads and as mentioned they have this sandy texture, crumbly and flaky.
It is said the original sable recipe has good amount of eggs. Well, we don't eat eggs at home, so these are eggless French Sable cookies. They might not be the authentic French cookies, but they sure are fabulously tasty. Look at that beautiful texture on top, aren;t they pretty! 😍
Why Should you try these Cookies?
I could list a million reason for you to try this chocolate & black pepper sable, will start with one that is totally tempting and inviting reason to bake
It is chocolate 🍫!!! To add to this ultimate reason. These cookies are
Buttery, Flaky, Crumbly
Perfectly sweet
Has a peppery sting
Easy to bake as a family
Wonderful gift for any occasion.
If you are still not convinced to try these incredibly delicious French chocolate sable cookies, then try this Oats & almond sables.
Ingredients to make these French Sablés
Flour, I have tried this French sable cookies with both All purpose flour & whole wheat flour, use as per your choice.
Cocoa & Chocolate chips, ohhh double chocolate, more reason to bake!
Black pepper , for the spice kick, can be omitted and made into just plain chocolate. No pressure at all!
Brown sugar, white sugar can also be used.
Flavorings, either cinnamon or vanilla can be used.
Finally baking soda
Some Regional Cookies
Here is a small list of Indian cookies.
How to make these French Biscuits
Please check recipe card below for exact measurements of each ingredient used and also for the detailed instructions
Mix together flour, baking soda, black pepper and cocoa together.
In a bowl cream together butter and sugar until fluffy.
Add in the dry flour mix and chocolate chips to the creamed butter sugar mix and make a soft dough.
Shape the dough into a log, cling wrap and refrigerate, minimum of an hour. I prefer to do this overnight, so I can bake it first thing in the morning, waking up to aroma of freshly baked cookies!
Once the dough is stiff enough, take it out, cut them into ¼ inch thick roundels. Place it on a baking tray lined with parchment, 2 inches apart.
Bake them in an preheated oven @ 180C for 14-15 minutes. Let it cool down completely on a wire rack. Store these chocolate cookeis in an air-tight container.
If you have tried this recipe and like it, give it a star rating or let me know in the comments below. You could also share it with me on Instagram using #icampinmmykitchen and tagging me @priyasrinivasan. You could follow me and my recipes on Facebook | Instagram | Pinterest | twitter
More Chocolate Cookie Recipes
Recipe Card for Chocolate & Black Pepper Sables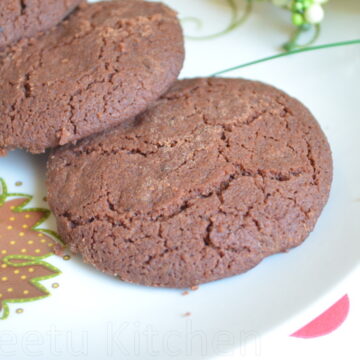 Chocolate & Black Pepper Sable | French Cookies
Chocolate & black pepper sable, French butter cookies that are melt in mouth. Black pepper adds a nice zing along with chocolate in this recipe.
Print
Pin
Rate
Equipment
Convection oven

Measuring cups and spoons

Whisk and spatula
Ingredients
½

cup

+ 2 tablespoon All Purpose Flour

¼

cup

Unsweetened Cocoa Powder

½

teaspoon

Freshly Ground Black Pepper

¼

teaspoon

Baking Soda

6

tablespoon

salted butter

½

cup

brown sugar

½

teaspoon

cinnamon powder

Vanilla Extract

½

cup

mini chocolate chips
Instructions
Mix Together flour, cocoa, pepper and baking soda using a whisk.

Using a electric beater, beat butter and sugar together in a bowl, until creamy and fluffy.

Add the flour mixture and chocolate chips to the butter-sugar mixture and form a soft dough.

Roll the dough to a log shape, cling wrap it and refrigerate for an hour. I shaped it to 2.5 inch diameter log. 

I sometimes make the dough and let it rest overnight in the refrigerator. This way i can bake it first in the morning.

Just before pulling the cookie dough logs from the refrigerator, preheat the oven to 180C. Line a baking tray with parchment paper.

Take the cookie dough log out of the refrigerator, cut it ¼ inch thick disc and place it on the prepared tray, 2 inch apart.

Bake for 14-15 minutes or until no longer wet looking. Let it sit in the oven for a minute. 

Take it out and cool it completely on the wire-rack. Store in an air-tight container @ room temperature.
Notes
I have halved the given recipe and i personally felt the amount of pepper could be more to feel the zing. May be ¾ teaspoon  -1 teaspoon for the above measurement.
Do not bake the Cookies more than the given time they might crumble. First batch i baked for 17 minutes, thinking my oven might need a longer time, my cookies crumbled, while taking out of the oven. So i would suggest you to keep a watch from 14th minute.
Disclaimer
I m not a Doctor or a Nutritionist The Nutrition information provided above comes from the plugin and is only an estimate.
Enjoy these double chocolate sable cookies with your evening cup. They make an excellent snack for your kid's snack box and also a wonderful gift to your family friends.
Do you like the Recipe? PIN IT