Being a Ardent Food Fan, the first thing i look for, in my weekend Magazine is the Recipe Section, later i read go for the other sections of the magazine. This Weekend, i got some cookies recipe in the Tabloid!!! Loved the Title of that "From the Spice Jar to the Cookie Jar!!! I immediately went into Kitchen armed with my baking equipment's!!!! No Joy is Bigger/Better than Baking on a Weekend Morning!!!! The cookies came out gorgeous!!! Loved the taste of pepper and the bite of the choco chips in-between!!!!
Ingredients
1/2 Cup + 2 tbsp All Purpose Flour
1/4 Cup Unsweetened Cocoa Powder
1/2 tsp Freshly Ground Black Pepper 
(Look @ the notes)
6 tbsp Crisco Vegetable Shortening (if you dont mind the Calories, use Butter)
1/2 tsp Cinnamon Powder (Vanilla Extract)
1/2 Cup Finely Chopped Chocolate or Mini Chocolate Chips( i used Chocolate Chips)
Mix Together Flour,Cocoa, Pepper, Baking Soda using a Whisk.

Using a Electric Beater, Beat Butter/Crisco and Sugar together in a Bowl, until creamy and fluffy.

Add the Flour Mixture and Chocolate Chips to Butter-Sugar Mixture to form a soft dough. Roll the dough to a log shape, cling wrap it and refrigerate for 15-20 minutes. I shaped it to 2.5 inch diameter log. 

Preheat Oven to 180C. Line a Cookie Tray with Parchment Paper.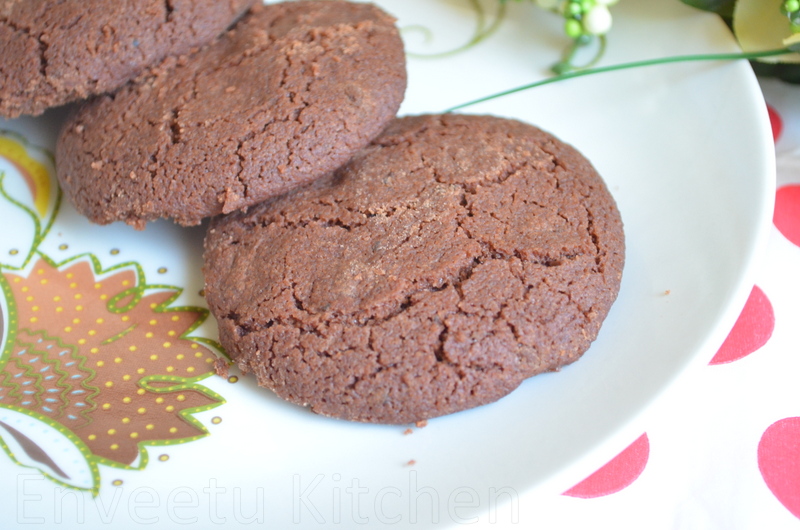 Take it out of the Fridge, Cut it 1/4 inch thick Disc and place it on the prepared tray, 2 inch apart.

Bake for 14-15 minutes or until no longer wet looking.Let it sit in the oven for a minute. 
How about some for SANTA???
Take it out and Cool it completely on the wire-rack. Store in a air-tight container @ room temperature for a Week.
I have halved the given recipe and i personally felt the amount of pepper could be more to feel the zing. May be 3/4 tsp  -1 tsp for the above measurement.

Refrigerating the dough is an optional step. The original recipe didn't require it. Since i have used Crisco in place of butter, i thought my dough was little soft to be handled immediately. 

Do not bake the Cookies more than the given time or the mentioned texture, they might crumble. First batch i baked for 17 minutes, thinking my oven might need a longer time, my cookies crumbled, while taking out of the oven. So i would suggest you to keep a watch from 14th minute.