Second Week of Blogging Marathon#17, starts today. For this Week i will be posting Deep Fried Fritters. This Vegetable Pakoda/Fritters, a signature recipe of my Father-in-Law. yeah, you read it right my FIL. My In-laws have a Full Lunch by Morning 8:30 am and will have tiffen around 2-3 PM in the evening. So, naturally these fritters/deep fried delights make into the Evening Tiffen Menu. There are some few recipes which i call as Sydoji Lane Samaiyal/Cooking (My FIL's Street Name), This Fits right in that bill.
I too Make them often, that too when i have guest for Weekend Lunch. This is a Light Snack, coz the flour usage is very minimal, just to coat the veggies and When you take a bite, all you taste is the veggies and not the Batter.
Ingredients
1 Large Potato
1 Medium-Sized Capsicum
1 Large Carrot
10 nos Cauliflower Florets
3 tbsp Gram Flour/Besan
2 tbsp Corn Flour
1 tbsp Sambhar Powder
or
2 tsp Red Chili Powder ,1 tsp Coriander Powder
1/4 tsp hing/Asafoetida

Oil for Frying
Salt to taste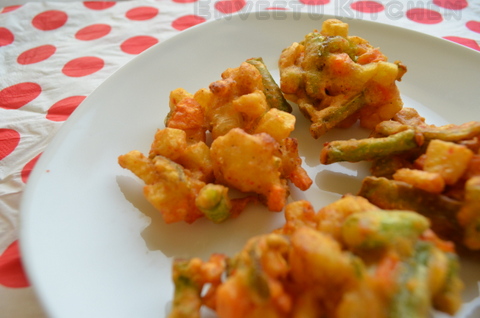 Method
Wash all the Veggies. Peel Potato and Carrot and Cut them into small Cubes.

Soak Cauliflower florets in Warm Water for 10 minutes. Drain and Keep aside.

Wash and Cut the Capsicum into small Chunks.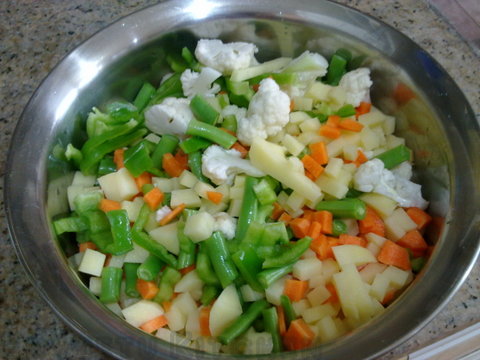 Take all the Veggies together in a Big Bowl. Add Besan, Corn Flour, Chili Powder, Corinader Powder, Salt and hing.
Sprinkle little water and Mix them together. The Flour and the Veggies should mix well and it should not be runny. The Flour mixture should just coat the veggies.

Let this Sit for 15 minutes.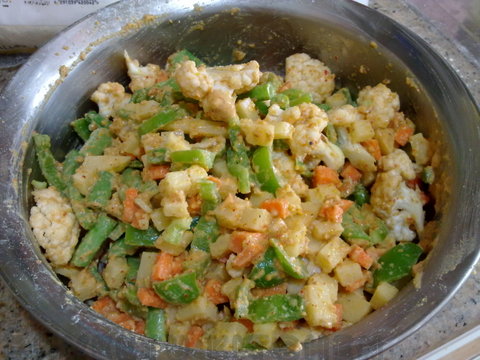 Heat Oil in Big Kadai/Pan. When the hot is hot enough, Take a handful of the Veggies, press them with your fingers and drop them in the Oil. Depending upon the size of the Pan, you can add 3-4 fists of veggies at a time.
Deep Fry them in batches, When it turns golden brown, Take it out using a slotted spoon and drain on a kitchen towel.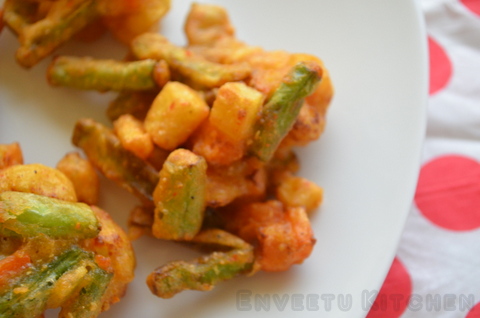 Serve them hot with Rice or as a Evening Snack with Coffee.