Masala poli, a savory flatbread stuffed with spicy potato and peas masala. This savory stuffed bread is cooked with a mixture ghee and oil, sprinkled with gun powder on top and studded with herbs and cashew nuts.
i grew up in Chennai and KK Nagar specific. This masala poli is a famous snack at Krishna Sweets. When you taste it hot served straight from the tava, it is an experience to enjoy.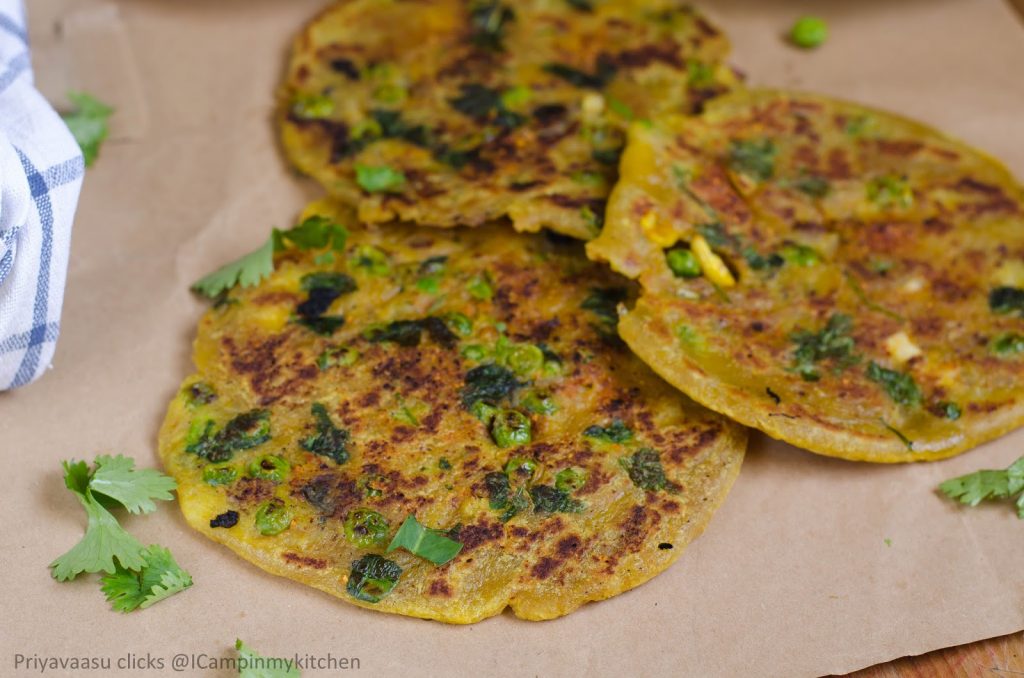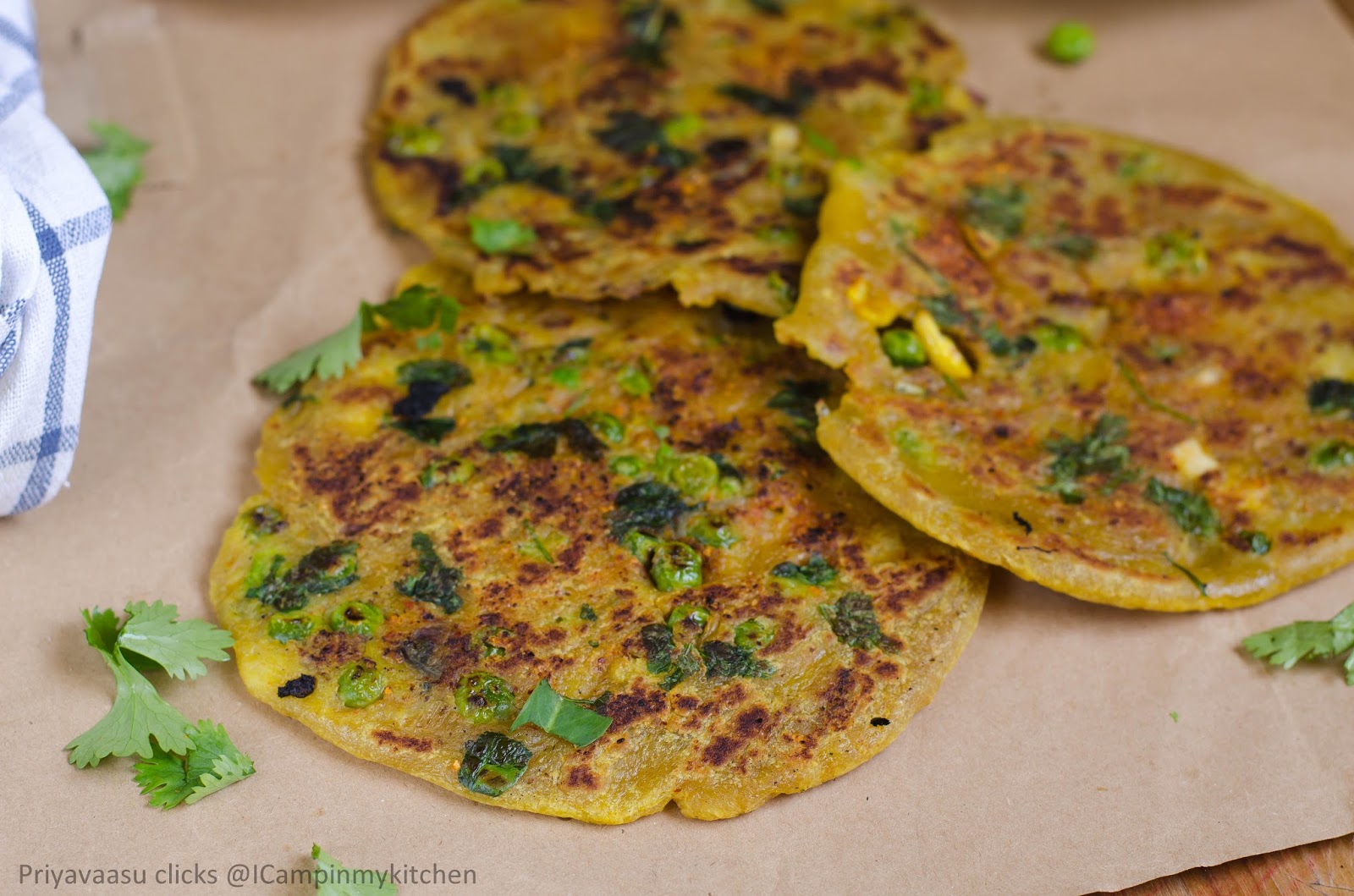 Coming to why i wanted to try this delicious masala poli? , #Breadbakers. When Anshie our host for February 2016, announced the theme Griddle breads, i decided what i m going to make. Spicy potato masala stuffed poli, i made it for our weekend snack in January, then i completely forgot. The other day i saw the post reminder, and ahhh it struck, i need to draft the post. Since then i m drafting, drafting and drafting. I was ready with this post almost a month ahead, but i will be the last person to post in our group. Uff!! will i ever learn, nope.
Okies, masala poli/Spicy potato masala stuffed flat bread is one of the favorite snack from Krishna sweets, we do have a branch here in Karama, Dubai, but i m not sure, whether they make this delicacy here. Back home, in Chennai, this is one of the delicious snack we fall head over heels.  It's definitely not for the calorie conscious, since it is made with ghee-oil mix. If you are like me, you would definitely taste it, then run for 30 minutes tomorrow or 60 sun salutations. Oh yes, it is definitely worth it, the taste is to die for.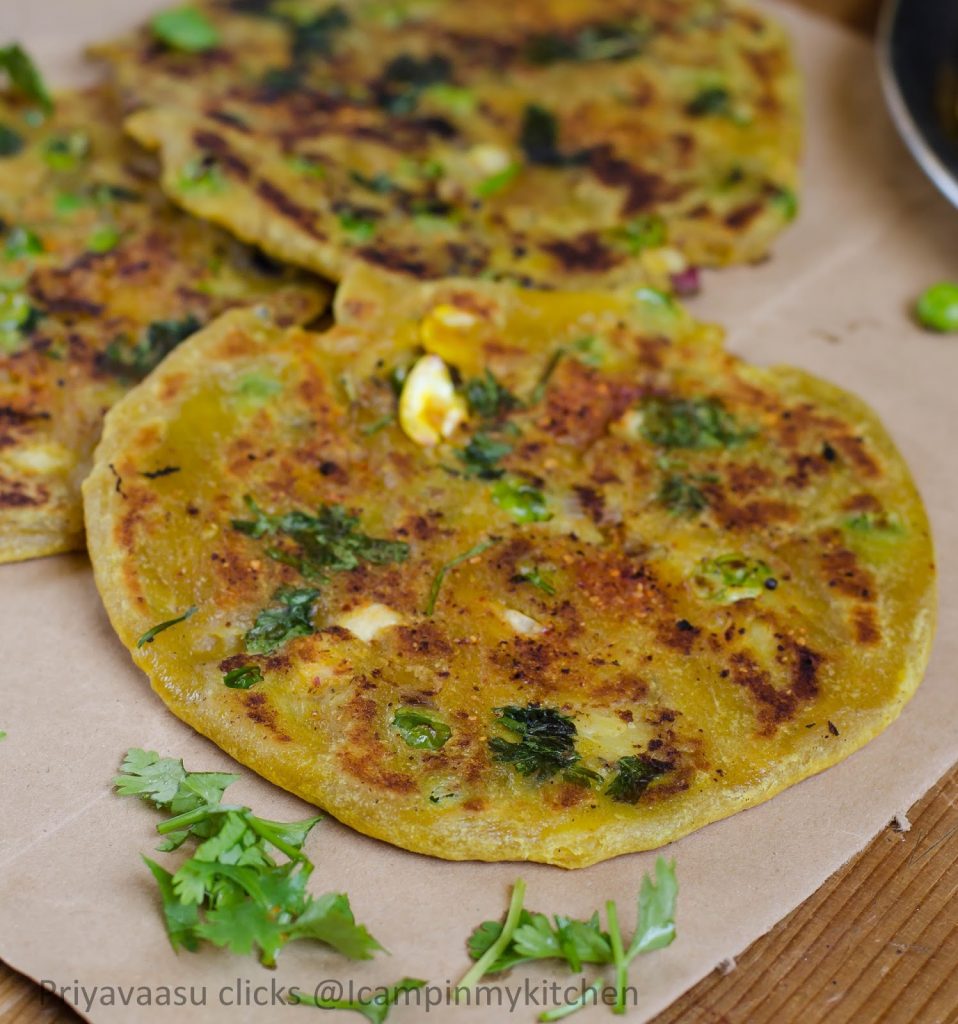 Originally made with All purpose flour, i have used 50-50 all purpose and whole wheat flour to make this savory, stuffed bread . That definitely affects the texture, mine was a bit flaky while the original would be super soft, melt it mouth. But taste-wise, the best stuffed bread you would ever make and taste.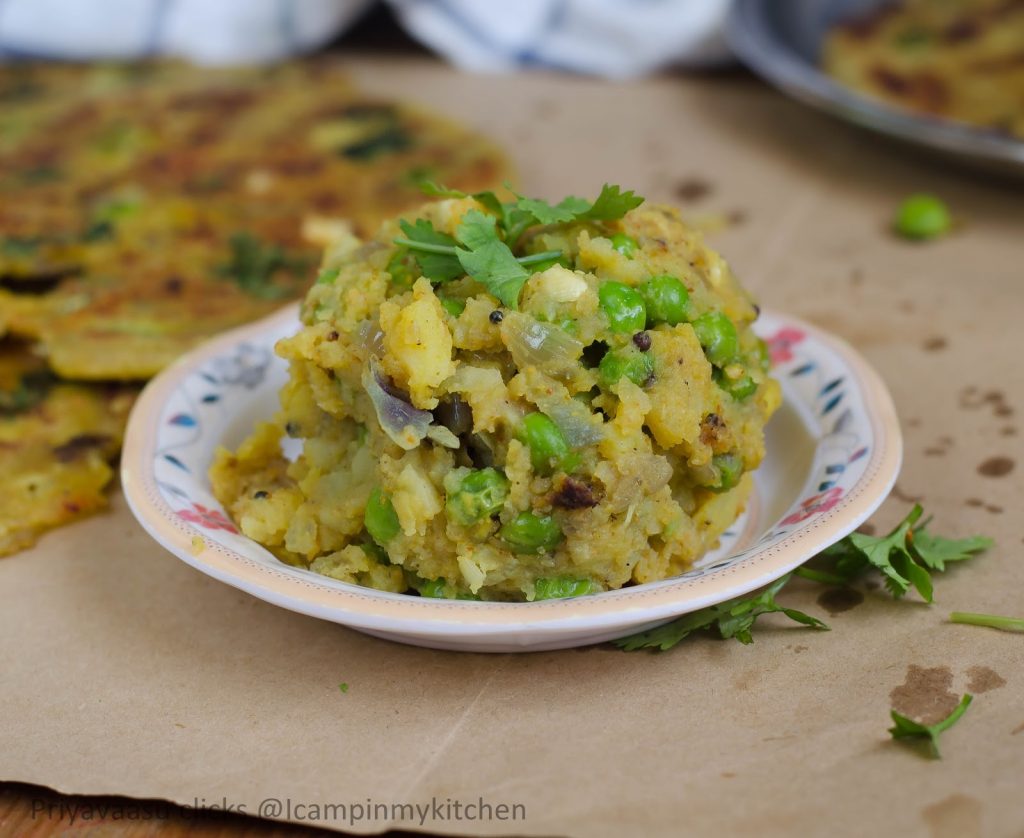 The ingredients
The Bread, as i said originally it is made with 100% All purpose flour/maida. But i have made the dough with 50-50 all purpose and wheat flour. Definitely there is a difference in the texture.
The Krishna Sweets masala poli would be super soft, since i made with a combination of maida and wheat flour, it was a bit flaky.
The Stuffing, I have made a spicy potatoes and peas masala as stuffing. If you wish you can go ahead and make it as a mixed vegetable filling too.
The Toppings, gun powder and fresh herbs and used while rolling bread, so it kind makes a lovely aroma and texture when cooked.
Cooking oil, usually ghee is prefered,you can also use any vegetable oil of your choice.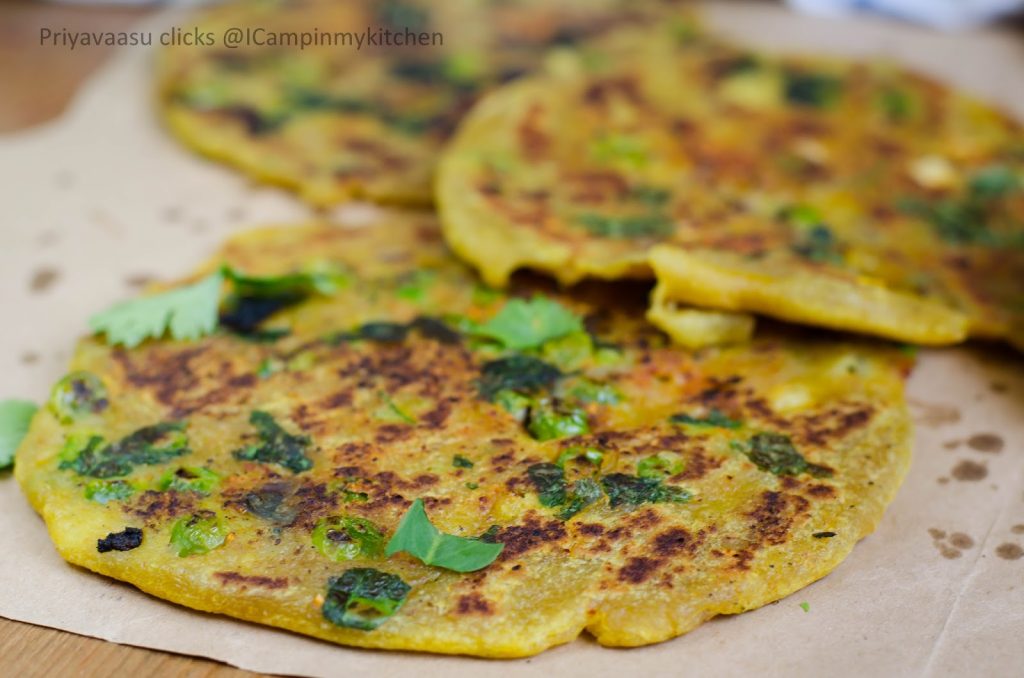 Some Interesting snack recipes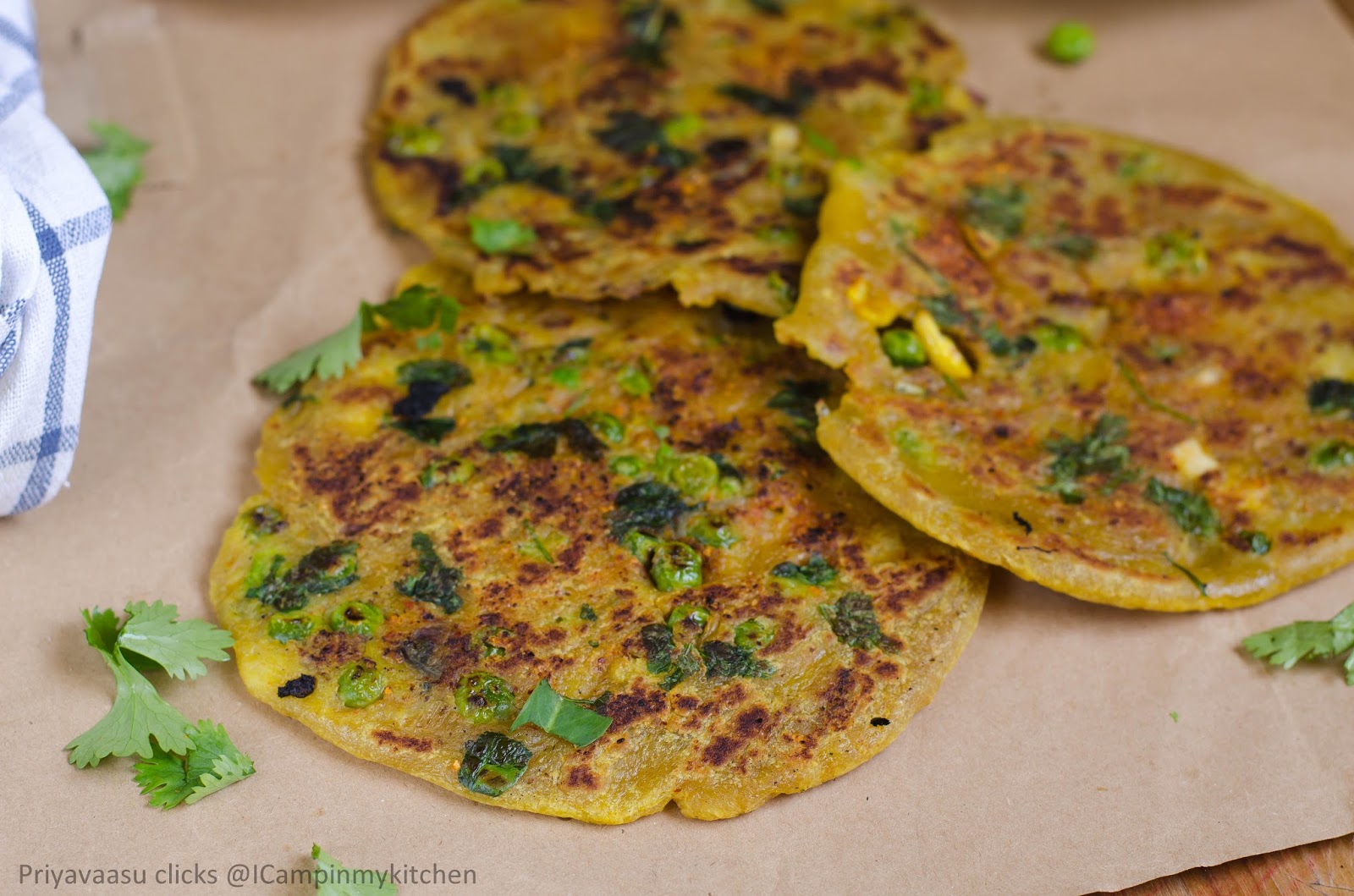 Masala Poli | Spicy Potato masala stuffed flatbread
Masala poli, a savory flatbread stuffed with spicy potato and peas masala. The flatbread is cooked with a mixture ghee and oil, sprinkled with gun powder on top and studded with herbs and cashew nuts.
Print
Pin
Rate
Equipment
Rolling Pin

Flatpan/griddle for cooking the flatbread
Ingredients
1

cup

All purpose flour

1

cup

Whole wheat flour

¾-1

cup

Warm water

½

cup

oil

any vegetable oil

1

teaspoon

salt

or to taste

½

teaspoon

turmeric powder

1

tbsp

gun powder

idly milagai podi

fresh coriander leaves for garnish

oil for making the poli/bread
For the Filling
2

nos

large potatoes

½

cup

green peas

i used frozen

1

no

large onion

finely chopped

¾

teaspoon

red chili powder

½

teaspoon

coriander powder

¼

teaspoon

turmeric powder

¾

teaspoon

salt or to taste
Tempering
2

teaspoon

oil

¼

teaspoon

mustard seeds/kadugu

⅛

teaspoon

hing/asafoetida

tablespoon

broken cashew nuts

sprig of curry leaf
Instructions
Let us make the dough
Mix together both the flours in a large bowl, add salt and turmeric powder mix well. Add half the oil to the flour mix and knead to form crumb-like dough.

Now slowly add warm water to this and knead a smooth, elastic dough, add the remaining oil in batches while kneading and knead a super soft dough.

Originally the dough is made of all purpose flour, since we are using a combination of all purpose flour and wheat flour, we might not get that elastic consistency. Knead a soft dough and Let it rest covered for 30 minutes.
Let us make the filling
Peel and cube the potatoes, add enough water for the potatoes to immerse microwave high for 10 minutes for them to cook. you can also cook on stove-top, until soft.

Drain the excess water. Let it cool for a minute or two and then mash the potatoes well, while it is still hot .

Heat oil, splutter mustard seeds, broken cashews, hing, curry leaf. Next add onion and saute until translucent.

Now add the mashed potatoes and peas to it. Add red chili powder, coriander powder, turmeric and salt

Cover and cook in simmer flame for 8-10 minutes for the flavors to mingle and the rawness to escape. Take it off the heat and let it cool completely.
Let us make the Poli
Divide the dough into 7-8 portions. Divide the filling into ping-pong size balls. There might be some filling leftover, its  fine, they can be made into sandwiches. 

The bread is usually patted/shaped on banana leaf and cooked, since i couldn't find one, i used my steel plate with little grease on it.

Grease your plate or use a ziploc cover, take a ball of dough, grease your hands with little oil, pat the dough to make a disc.

Place a ping-pong sized filling in the middle of the patted disc and make it flat. Bring the edges of the dough together , covering the filling

Drizzle a teaspoon of oil on top, pat it flat into thin disc. Since i have used wheat flour- all purpose flour mix, i couldn't get it very thin. If using All purpose flour alone, you can stretch it pretty thin. 

Add a dash of gun powder and few coriander leaves to the shaped disc and pat again, 

Heat a griddle, once the heat is high, reduce the flame to simmer,  carefully remove the patted poli/flatbread on to the hot griddle, drizzle with ghee/oil and cook both the sides until done.

It takes around 1 minute to cook one side. Be patient, don't burn the bread. Once done, remove it on to a flat plate.

Repeat the same with rest of the dough. Serve warm. This bread doesn't need any accompaniments, if you insist, i might serve it along minty yogurt, to balance the flavors.
Notes
I have made the dough with a combination of wheat flour and all purpose flour. 
You can choose to make the dough with either of these flour completely. 
Masala poli made of all purpose flour can be stretched thin while rolling and so will be soft once cooked. 
Ghee is prefered for cooking the masala poli,you can also mix ghee and oil for cooking. 
Disclaimer
I m not a Doctor or a Nutritionist The Nutrition information provided above comes from the plugin and is only an estimate.
If you have some leftover stuffing, you can enjoy it for breakfast with this masala dosa or with this bombay style masala toast . I prefer to make some extra filling to enjoy the toast next day.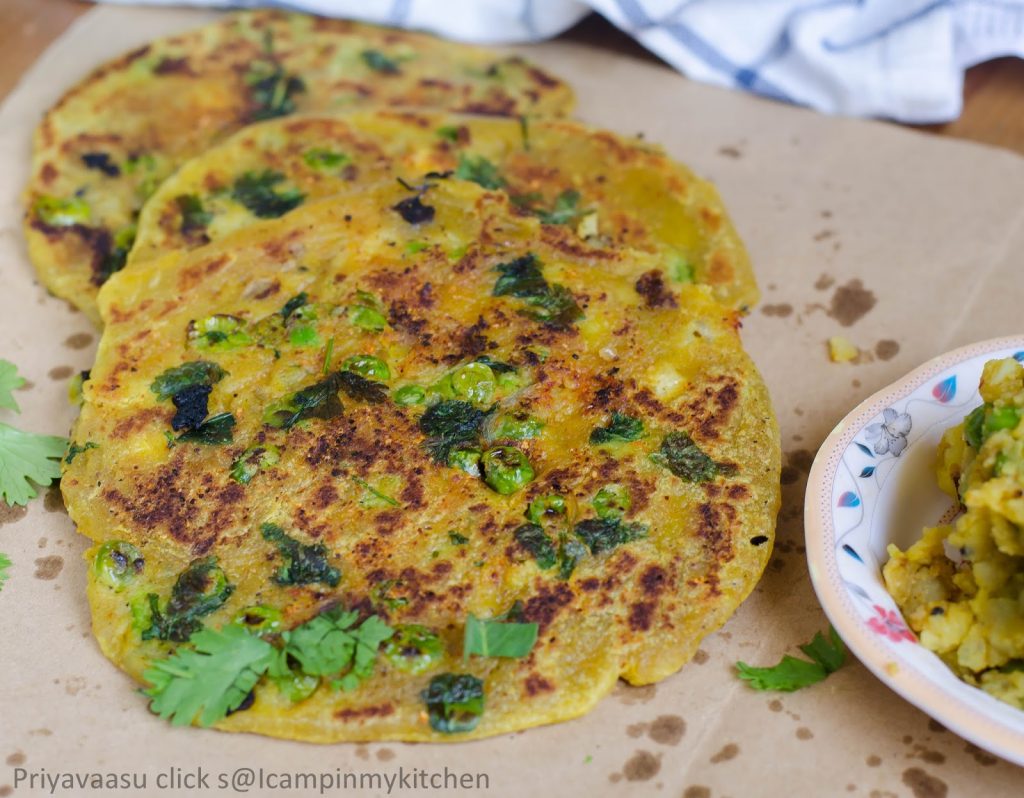 If you have tried this recipe and like it, give it a star rating or let me know in the comments below. You could also share it with me on Instagram using #icampinmmykitchen and tagging me @priyasrinivasan
You could follow me and my recipes on Facebook |  Instagram | Pinterest | twitter
Do you like the recipe, PIN IT