Maavilaku – Traditional Hindu ritual done during Aadi(july – August), Thai(Jan-Feb) and Purattasi(Sep-October) Months of the Tamil Calendar. Rice is soaked in milk for an hour or two and then ground using traditional grinding stone "Eyanthiram/Ghatti". Next day it is Sweetened using Honey, Jaggery and Coconut Scrappings, Offered to God/Goddess and distributed to everyone.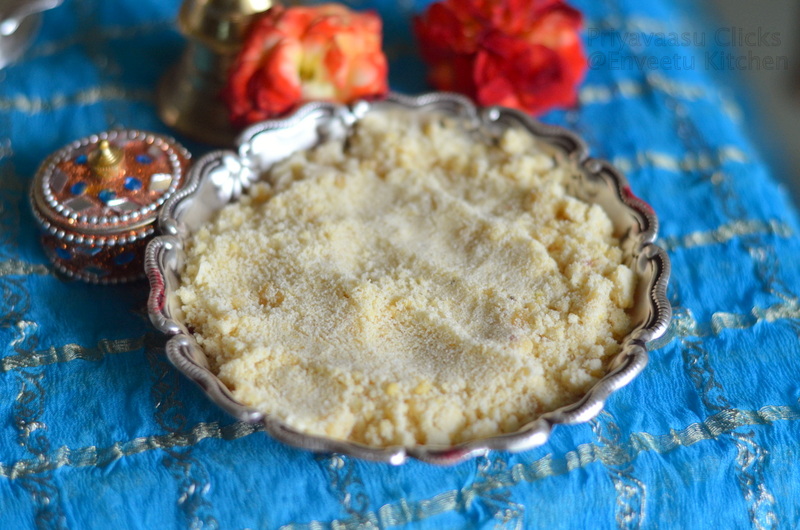 Amma does Maavilaku for Thai Velli, Aadi Velli, Thai Krithigai, Aadi Krithigai, Purattasi Saturday and Aani Ammavasai. She uses to grind the rice using the traditional grinding stone, but then now since her age n health are not supporting her enthusiasm, so she gets help of the modern technie Mixie!!! 
The Measurement of Rice is more important while doing Maavilaku, it is often 1/4 padi + oru Pidi, meaning Quarter a Padi(yesteryear's measuring Cup) + one fistful. 1/4 a Padi is nothing but 2 Cups, and a fistful of rice goes into the making of Maavilaku Maavu.  Whereas while doing the same Maavilaku for Goddess/Shakthi, it is often only one cup of rice is used. Now, Let's go the recipe now.
Ingredients
2 Cups + one fistful of Raw Rice (1/4 Padi + one Pidi)
1/4 Cup Milk + 2 tbsp Milk
Method
Take Rice in a Bowl, add 1/4 Cup of Milk to it and Mix well. Let this Mixture sit for an hour. Stir it 2/3 times during that time. This is done for the Rice Mixture to remain wet uniform or else the top portion will get dried and the moisture will settle 

@ the bottom. 

Take the Soaked Rice in a Mixer and Grind it to a fine powder. Now while grinding, use a Flour Sieve/Salladai/Channi to get a fine powder. The Coarse Rice can be ground again to get a fine powder. After Grinding n Seiving for 4 times, you will be left with a handful of coarse rice, which cannot be ground further fine, that can be used to make Kheer/Payasam later. Store it in a Air-tight Container.
Wash your hands well. Take the Fine Rice Powder in a Wide Plate, add honey, powdered jaggery and the ghee and mix well with your hands.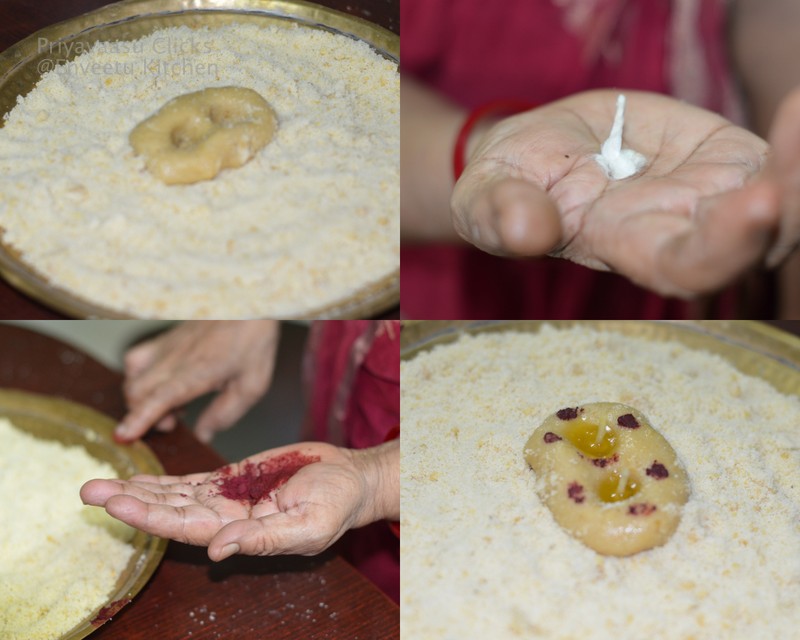 Now to make Diya-shaped dough, add the 2 tbsp milk little by little to the center of the Plate and form a ball out of the flour. 

Make a Oval Shaped Dough ball and Poke two finger in the middle to make a dent for holding the ghee for the Diya. 
Decorate the plate and Diya-shaped dough with Vermillion. Shape Cotton to a Wick and place in the diya's, Add a tsp of Ghee and prepare for the Pooja.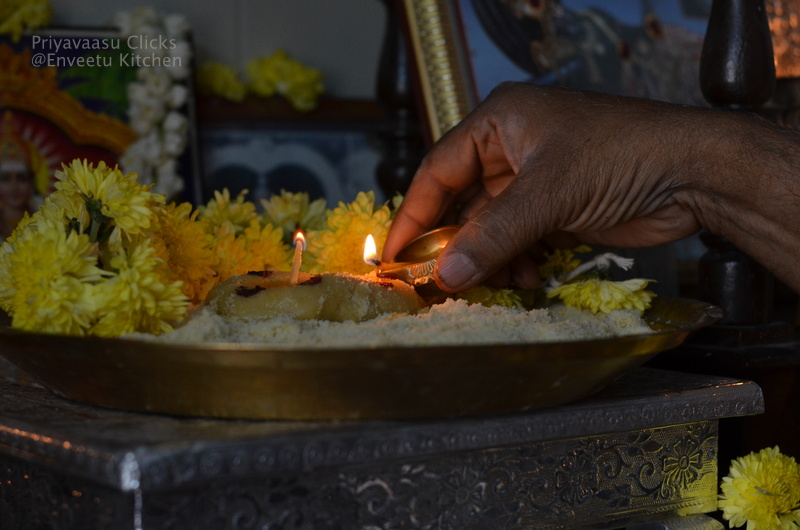 Since amma was doing the Maavilaku for Aadi Krithigai which is special to Lord Muruga, she decorated accordingly and did the pooja. 
After the Pooja, while distributing the prasadam, add 1/4 Cup grated coconut to the Rice-Jaggery Mixture, Mix well and distribute.