Alsi pinni, aka flaxseed ladoos, a delicious energy ball made with wheat flour, flaxseeds and edible gum. A winter delicacy from the state of Punjab, India.
Jump to Recipe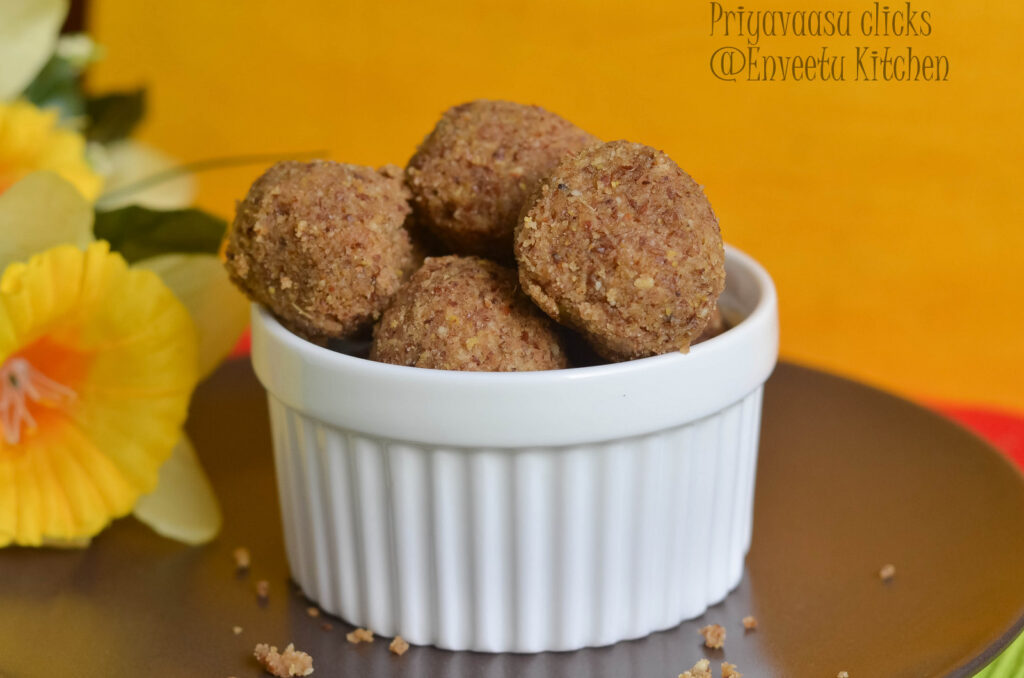 Flaxseed in Indian Cuisine
Flaxseed, called as alsi in Hindi and aali vidhai in Tamil. Though the name looks very foreign, flaxseeds are used in Indian cuisine from a long time. Today's recipe Alsi pinni, flaxseed ladoo, is a winter delicacy made in Punjab, the land of Golden Temple. A traditional recipe that shows that flaxseed were in use in Indian cuisine for a long time.
You can use flaxseeds in whole lot of way in Indian cooking. Below is a small list of recipes using whole flax.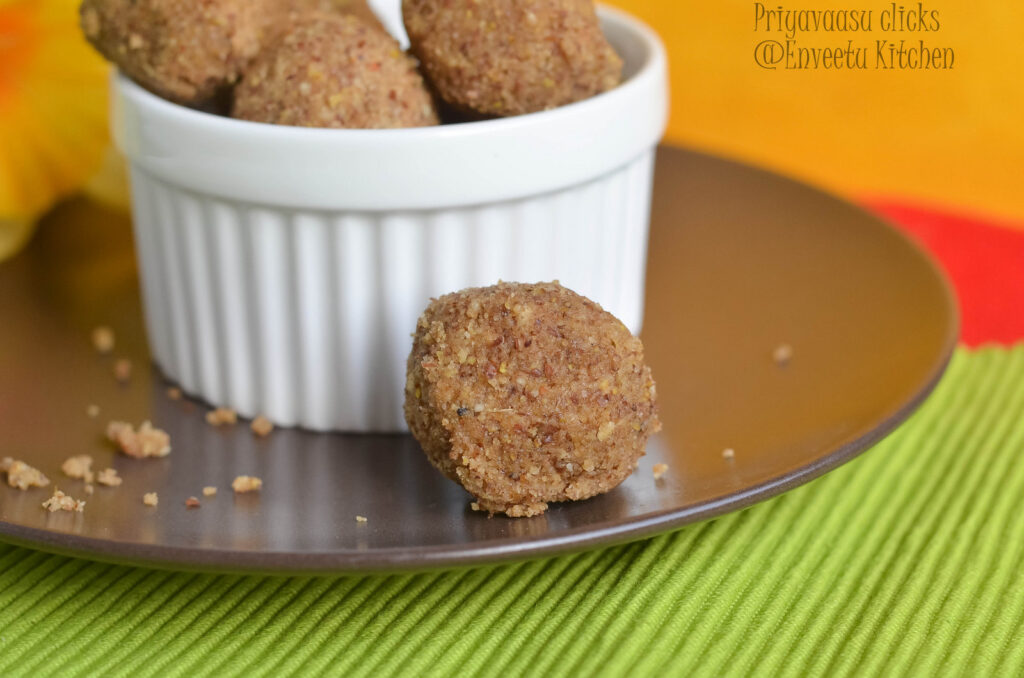 Baking with Flax
Flax meal when mixed with water turns into a gel like consistency resembling the texture of egg. Since i bake eggless, I extensively used Flax eggs in my cakes and muffins.
Below is a small list of bakes with flax-eggs
Apart from cakes, you use flax egg to make pancakes too, like this delicious looking Apam Balik from Malaysia.
Some interesting ladoo recipes
Benefits of flaxseeds
Flaxseed is a good source of many nutrients, including protein, fiber, omega-3 fatty acids, thiamine, and copper.
With so much fiber,

It promotes regular bowel movements and improve digestive health,
help lower cholesterol levels and improve heart health.
Though it is healthy, flax seeds should be consumed in moderation. The healthy marker of it being high in fiber can cause bloating and gas issues if consumed more.
Our digestive system cannot break the thick outer shell of flax easily, so it is advised to consume milled flaxseeds. And ground flaxseeds tend to get rancid pretty fast, I suggest to grind small amounts and store it in the freezer.
Ingredients to make Alsi ladoo
Flaxseeds, the hero ingredient, I have used regular flaxseeds in this recipe.
Whole wheat flour, adds volume to the flaxseed ladoo.
Edible gum, is the binding agent in the alsi ladoo recipe.
Jaggery, sweetener used in making these delish flaxseed ladoos.
Flavoring, cardamom powder is used to flavor the flaxseed ladoo.
Ghee, adds wonderful aroma and used to roast all the ingredients in the alsi pinni recipe.
Nuts, I have used only almonds in the recipe.
Recipe card for Flaxseed Ladoo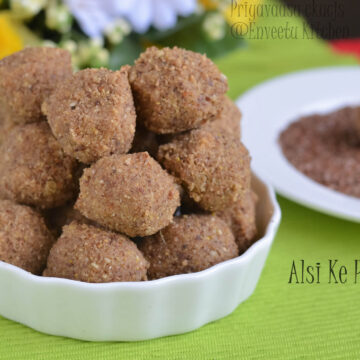 Alsi Pinni | Alsi Ki Pinni | Flaxseed Ladoo
Alsi pinni, aka flaxseed ladoos, a delicious energy ball made with wheat flour, flaxseeds and edible gum. A winter delicacy from the state of Punjab, India.
Print
Pin
Rate
Equipment
Measuring cups and spoons

Indian style mixie or any heavy blender

Pan to roast the ingredients
Ingredients
½

Cup

Flax-meal

½

Cup

Whole Wheat flour

½

Cup

Powdered Jaggery

½

Cup

Ghee

3

tablespoon

gond/edible gum

½

tablespoon

cardamom powder

¼

cup

chopped almonds

mixed nuts can be used
Instructions
Heat 3 tablespoon of ghee in a kadai. Add Whole Wheat flour to this and roast in a medium flame, until it gives out a nice aroma. Take care not to burn the flour. Transfer to a flat plate.

Next add another 2 tablespoon of ghee, add the edible gum/gond and fry it in a medium flame, until it flowers up nicely. Take care while roasting, the flame must be medium to ensure proper frying or else you will end up with gum that is still raw in the center. Transfer to a flat plate. Crush it well using a roller-pin to powder. Set aside until use.

Next add 2 tablespoon of ghee, add flaxmeal to this and saute for a minute. remove on a flat plate and set aside until use. In the same add the nuts and roast them with a teaspoon of ghee.

After roasting all the ingredients, add powdered jaggery to the pan, add ¼ cup of water, let it dissolve, boil until it reaches 1-string consistency. 

How to check this : When the jaggery syrup bubbles up and froths nicely, check a drop of syrup with a ladle, stretch it between your thumb and index finger, it should easily form a single-string.

Once this stages reaches, act fast, remove the pan from fire, add all the roasted ingredients to this and mix well. 

Let it cool a little, Start making golf-sized balls out of the mixture, by pressing it tightly in your palms. If needed, decorate each ball with a roasted cashew on top

Store in an air-tight container and enjoy them.
Notes
Remember to switch off the flame, once the jaggery syrup reaches single-string consistency or else the syrup will reach hardball consistency fast and the mixture will turn hard.
In case the mixture turns hard, do not worry, run it in the mixer once, it will return to powder form. Add litte ghee and make the pinni/balls.
You can even make squares out of the mixture, just keep it on the stove for 2 more minutes, the mixture will start coming together, immediately pour it on to a greased flat-plate and smooth-en the top and make markings for squares using a serrated knife, once it cools, cut into squares.
Disclaimer
I m not a Doctor or a Nutritionist The Nutrition information provided above comes from the plugin and is only an estimate.
These tempting alsi ladoos are easy and quick to make. These ladoos are a wonderful edible gift to your friends and family.
More Ladoo Recipes
Do you like the Recipe? PIN IT