Hello everyone, a new post after sometime, i usually update my old meal plan post, with every week new plan, but this week onward i thought why not make it a new post, so i can also give links to the recipes i have in my blog. 
Coming to this week meal plan, i have made a simple breakfast menu, since most of the kids will sleep atleast till 8/9 am and will not be ready to wake up anytime sooner, atleast my elder one will not up before 8:30 am. So i have the kept the breakfast really simple.
This week in lunch meal plan, i have included some mixed rice recipes,which are quick to make, considering the fact the kids will be home for winter break, and mommies will be already busy thinking what to feed them for their frequent hunger pangs.
Snacks, is what kids will be asking for more, so i have tried to include some filling snack options this week, like banana crumble, carrot vadai etc.
Dinner again i have kept it simple in the meal plan, since after a long day of run and play, TV and games and also some indulgent snack, they wont be voraciously hungry but still need something to fill them up, so here is what i have done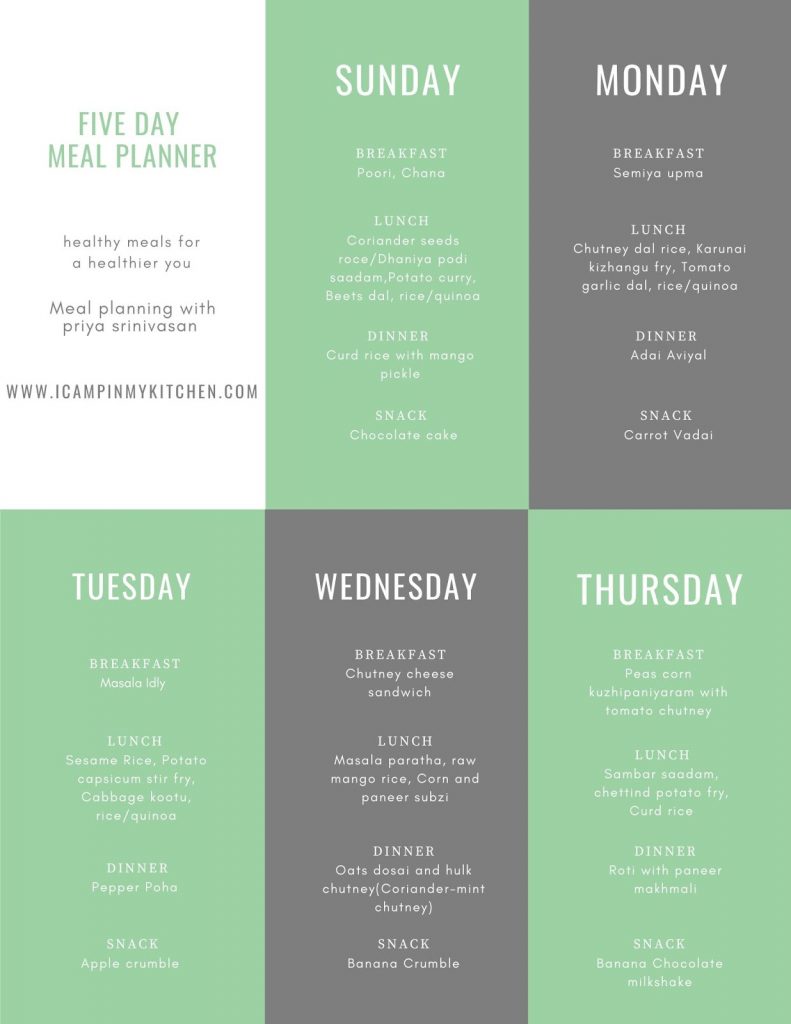 If you are interested to know my previous meal plans, please click the link here
If you like my meal plans, do give a thumbs up and share this post on your social media and tag my page I Camp in my Kitchen. You can find me in instagram #icampinmykitchen, #icampinmykitchenmealplans


See you next week with a different meal plan, till then,  Eat healthy and Enjoy Food.