Happy Navrathri to all my friends. Navrathri, 9 days of
Celebration, always brings a special joy to me. I love every part of
Navrathri, Starting from Arranging the
Stairs(Golu Padi), Placing the dolls, Selecting a Theme for the Extra
Arrangement!!! Inviting Guest, thamboolam, SUNDAL!!!! Loads of Fun!!!! So the Preps begins a month before it actually starts!!!
This Year, I have one more reason to Celebrate it Grand, My
Bala Kutty!!! This Navrathri, for the First Time, I am announcing my Own Event
and a Give away.
Spread the Word, Share this Announcement in your FB Page.

Cook and Post a Recipe for Navrathri from 15th October 2012 – 31st October 2012. Link it to my Event Page

1st Week of November i will pick up a Random Winner and they will be getting Either one of these 2 books and Mail you Wherever you are!!

Sanjeev Kapoor's Vegetarian Magic (or)

Tarla Dalal's Easy Chinese Cooking
document.write('
Navrathri 2012 Event Round-Up and Winner of the Give Away
Thanks a ton to everyone who made this Event and Give-Away a Big Success!!! Got 63 Awesome Entries!!!
Below is the Roundup of all the entries.
Now it is time to chose the Winner of the Give Away. About 20 bloggers contributed their delicious delights to the Event. I have used Random Number Generator to Pick up the Winner, so, here it comes
4

cookcookandcook@gmail.com
6

sarathephysio@gmail.com
11

mamta.deshmukh@gmail.com
13

ahomemakersdiary@yahoo.in
14

madhusindianrecipes@gmail.com
15

thoushaltcook@gmail.com
16

nilanjana.bhattacharya@gmail.com
17

namak.shamak@yahoo.com
18

cookbookjaleela@gmail.com
19

paricash2007@gmail.com
20

janu.krishna@gmail.com
And the Winner is Soumya of Nivedhanams Food Blog!!!!
Congratulations Sowmya!!!!!!
Please do send me your Mailing Address within 2 days so i can send you the Cookbook!!!
Once Again, Thanks a lot to all the bloggers for making this Event a Great Success!!!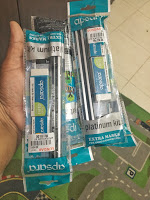 Navrathri Golu Festival, How i celebrate my Navrathri & Neivedhiyams
Navrathri is next week,how many of you 

 

are excited! 
One of the festivals I look forward with so much excitement is navrathri! 
The 9 days of pooja, meeting friends and foods excites me even more. 
I plan and visualize it months before,  what decoration to do? What theme shall we add this year, and I go for my navrathri shopping when I m in India both for new dolls and also for the thamboolam. 
A small packet of pottu/bindi or a pair of hair bands make them squeal with joy. I gift even the boys who come, i keep a stash of stationery(2 pencils, a scale, eraser and sharpeners) for them. 
While buying gifts, please keep in mind the utility of it, try avoiding plastic, my manni/co-sister once gave a good 

 

agarbathi/incense stick in thamboolam, something that is useful and will be gone in 10 days. 

I don't gift blouse pieces with my thamboolam, all of us know it gets circulated, instead I give small face towels which can be carried by kids with their lunch box or by adults for gym/workouts/walks. 
Once I got some magnetic holders that can be stuck to fridge or doors and can hold utilities like scissors, knives in kitchen or pencil/pen in living room. 

For the past 3 years I m getting SS utensils from Chennai.
Coming to poojai, I m sharing what i do in my home, hoping a few would find it useful.
First and foremost, don't get tensed or overly worked up, you are celebrating Ambal, a supreme power, a lady who knows everything and also you. 

The shradhai with which you do the pooja matters more than how many hours you do it or what you offer for neivedhiyam.
I chant Ashtothrams(Durga, Lakshmi and Saraswathi) and do the pooja,  usually around 9:30 -10 in the morning. 

I do neivedhiyam both morning and evening. Mornings I usually offer freshly cooked rice, paruppu and payasam, as it is made everyday during navrathri, even otherise rice and paruppu are staple at home.

If you dont have time to make the above, a glass of fresh milk in the morning is good as neivedhiyam. If offering boiled milk, add a tsp of sugar and offer.  

Evenings are mostly Sundal, that too, just a cup of any lentil/legume .
While there might be days where I have to goto another pooja in the evenings , those days I offer fruits and a mix of nuts with rock candy or milk with sugar.

If expecting a big crowd any of the days, I keep their thamboolam ready a day ahead, make a big batch of sarkaraipongal/payasam and sundal. So I don't spend much time in the kitchen, and enjoy the golu with my friends. 

Golu/navrathri is all about enjoying the goddess at home, do pooja and chant naamas everyday, be positive all days, do poojai/neivedhiyam with shraddhai and loads of love, for that is what will be measured by her not, what you offer and in what you offer !! 

Have fun ladies, for it is your 9 days!!
Here is the list of Neivedhiyams
Navrathri Mixed Rice Neivedhiyams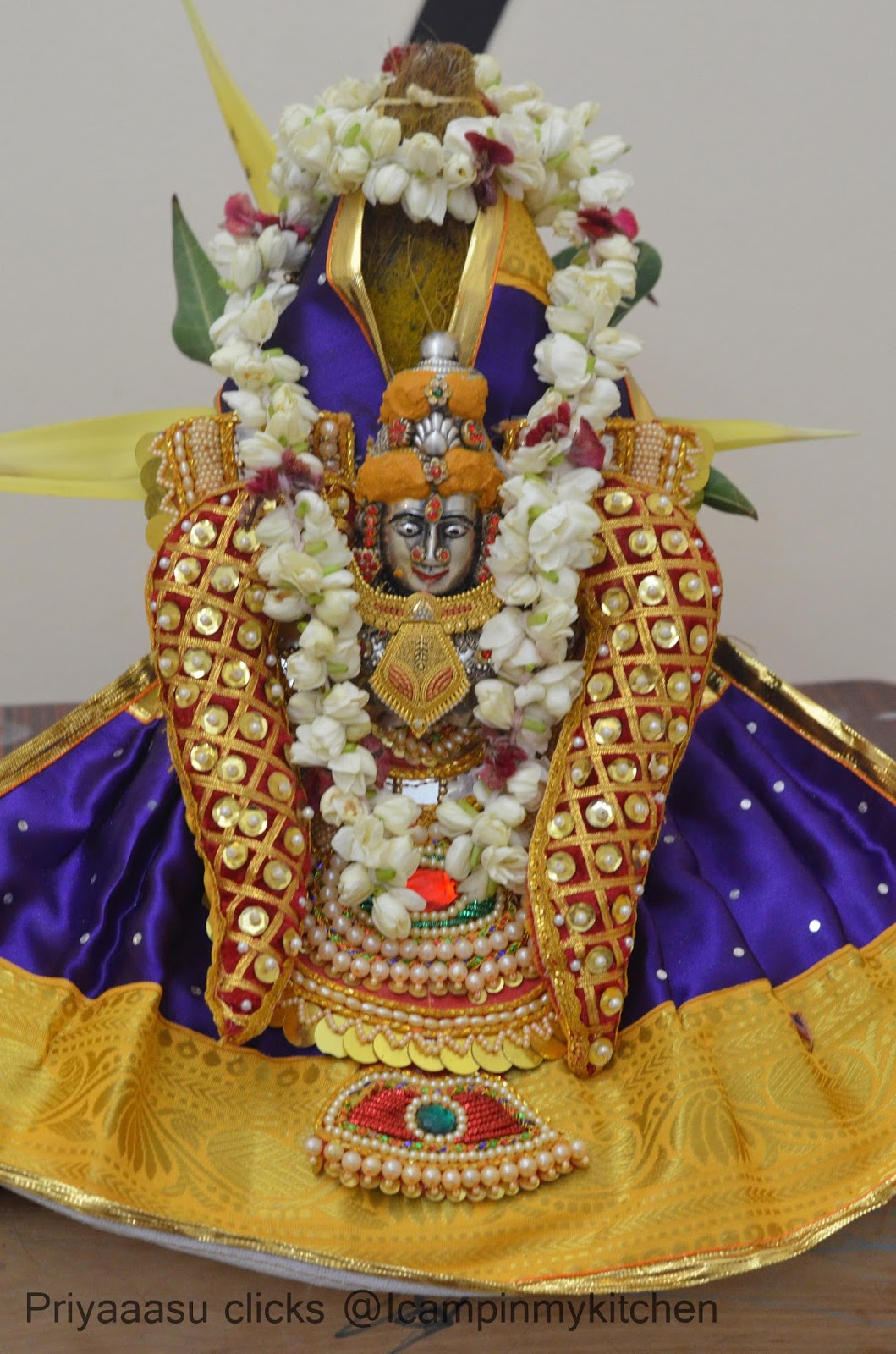 Varalakshmi Vratham & Navrathri Kalasam Jodanai/Decoration and Pooja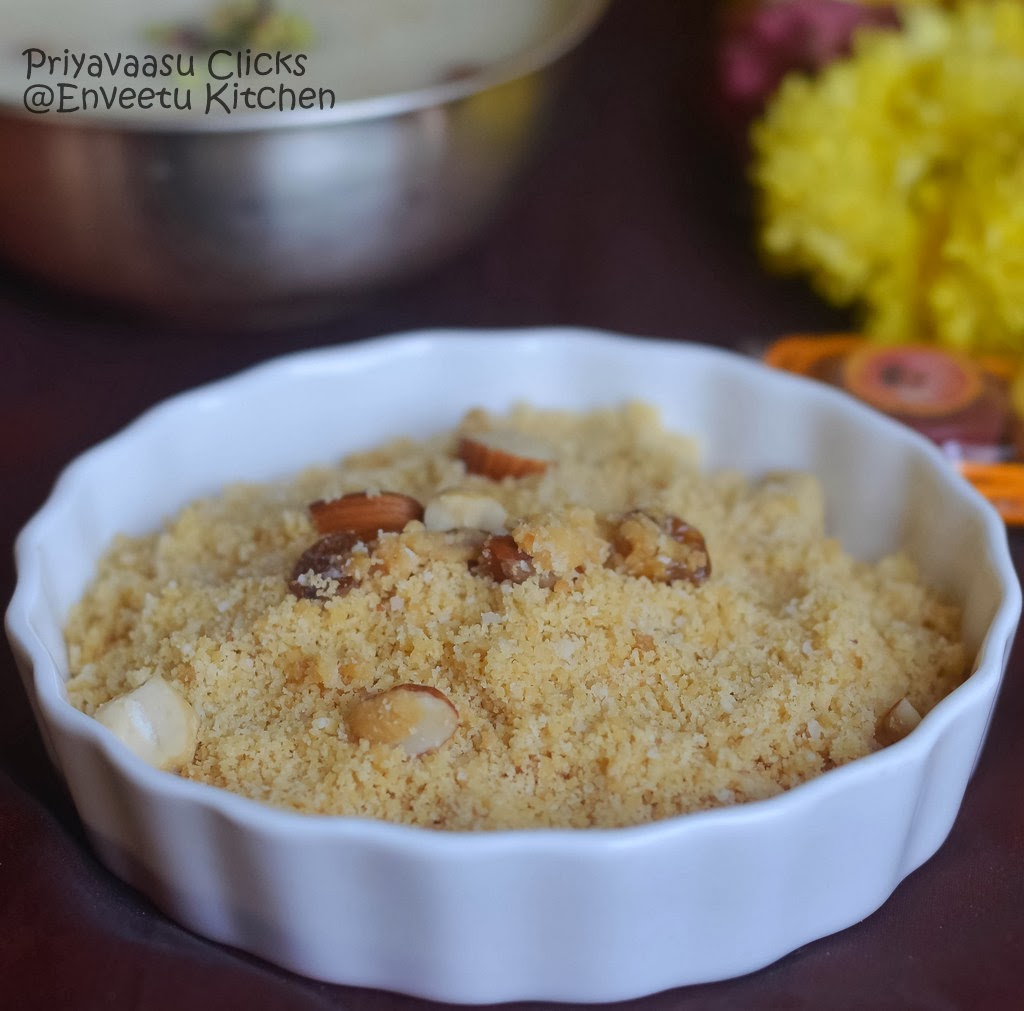 Vellam Puttu/Steamed Rice Flour Sweetened using Jaggery – Navrathri Neivedhiyam
Vella Puttu/Steamed Rice flour, sweetened using Jaggery. A Traditional Neivedhiyam/Offering done during Navrathri Friday. All these years, i have made only Sundals, Kheer/Payasam or other sweets these days. But this year, i learned how to make this from Amma and planned it for this friday. It is a quick and easy to make recipe. Usually, they use home pounded Rice flour for this. But i have used Store-bought Rice Flour.
Ingredients
2 tbsp Freshly grated Coconut
2-3 pods of cardamom crushed
3 nos each Almonds and Cashews
Method
Dry roast the Rice flour in a pan to just make it hot. This will take just 2 minutes. We don't want the rice flour to change color.

Take the warm rice flour and spread it on a plate. Mix the salt in 2 tbsp of water, sprinkle little salt-water on the flour and mix well with your hands. The Water mixed flour should hold if you hold it tightly, and collapse if you break it.
Take the Salt mixed flour in a bowl/steamer plate and steam cook it for 5-8 minutes. I used my Idly Steamer.

After the given time, take it out of the steamer, spread it on a flat plate. Heat Jaggery with 2 tbsp of water and prepare a syrup of single-string consistency.
Pour this Jaggery syrup on the steamed rice flour and mix well. Add grated coconut, cardamom and roasted nuts and raisins . Mix well and Serve.
Notes
There is a chance of the Jaggery syrup getting into ball-like consistency, in that case, the puttu might become little clumpy. Do not Worry, let the puttu rest for sometime, then take it in a mixer and pulse it 2-3 times and transfer it to a flat plate, the puttu will separate and become powdery.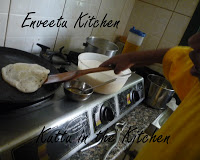 Kuttu in Kitchen – His Cooking Event
Kuttu is my Son, 4 years old. Yes, 4 years old and he cooked something, well not for me but for himself. I posted these pics in my FB page, jokingly said i m going to send this to Priti's Event and to my surprise, she asked me to send it.
This Lovely scene happened on this weekend. Weekend Mornings are always Lazy!!!! My Son wakes up only by 10 or 10:30. But this time, he happened to wake up early and asked for some breakfast. I had some Dosa Batter in the fridge, I kept it out and was heating up the tava, he suddenly came with a stool and said "Amma, Kuttu Dosai Pannanum!!". I didnt want to say No to his curiosity. I just stood besides me, jus to make to sure he doesnt get himself hurt!!! But, Mummy the ignorant, Son made 3 small cute dosas and had all it by himself. I m jus posting the pics and giving you the measurements for the dosa/idly batter.
Ingredients
3 cups Parboiled rice
1/2 cup urad dal
1 handful of raw rice
1 tsp Methi seeds
Method
Soak Rice and Dal separately for 3-4 hrs. Methi seeds with the dal. Grind urad dal and methi first and then grind Rice to a smooth battter. Then mix them together.I normally use Mixie to Grind. If you are going to make dosa, you can just take the required batter and add salt and make it immdly. It has a good taste. Many, like my hubby doesnt like dosa's to be sour.
To make idlies, let the batter sit outside for a day. If you are grinding it in the morning, leave it out for the day, you will get good idlies for night.
Sending these cuties to Festive Food – His Cooking Event hosted @ Indian Khana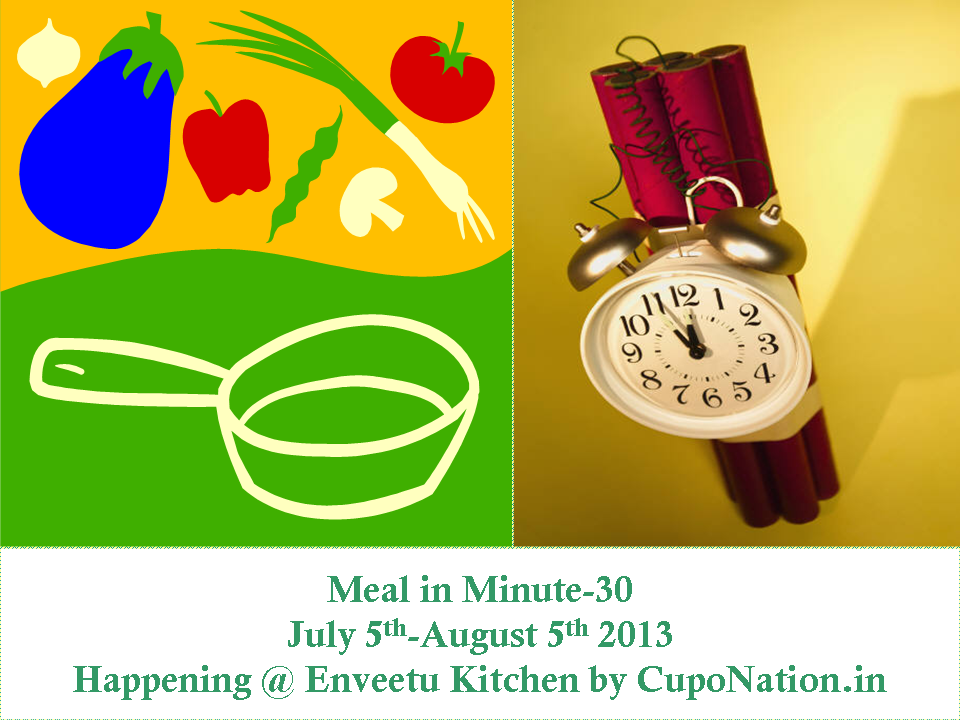 Meal in Minute-30 Event and a Giveaway
At-last
i m in Chennai after two years, Vacation, finally!!! But it doesn't look that way for me, both my kiddo's were sick,and my younger one is suffering a very bad allergy!!! Poor fellow and poor mommy!!! With his First Birthday nearing next week, we are so busy with shopping, i couldn't find time to sit and look my blog baby!!! Finally today, when everyone in the house is busy looking @ our Shopping Loot, i m here tending my Virtual baby!!!
I m happy to announce another Event in my Kitchen!!! Meal in Minute-30, Do you like the name? Courtesy: My Hubby.
Yes, with so many things happening around us, we find so less time to cook something healthy and delicious too. So, let's make something healthy and filling in 30 minutes. What do you get to cook something in 30 minutes? Yes, you have a Prize too!!! Not one, but two!!! 2 Lucky Winners will get Rs.500 Flipkart Vouchers and a Surprise Gift for one from me.
The 2 vouchers are by CupoNation.in. CupoNation is a publishing website which offers a variety of home and kitchen related discount coupons for a number of leading online retailers in India like flipkart, snapdeal, homeshop18 and many more.
What you have to do to get one of these Vouchers
Cook any Vegetarian Meal in 30 minutes, No Eggs Allowed. The Cooking time of the Dish should be 30 minutes apart from the Preps, like vegetable cutting, Preparing the Ingredients like Soaking, fermenting etc.

Use the linky tool below to add your entries.

While Sending the recipe to the Event, Mention that it

is for the Recipe Contest happening @ Enveetu Kitchen by CupoNation. No Archived Entries please.

Do Check the RaffleCopter Window to qualify for the giveaway.

The Contest runs till August 5th 2013. By August 10th, i will post the roundup and pick the winners through random.org.

Non-Bloggers too are welcome to send in your entries, Mail me your entries to Vaasu.vrg@gmail.com with your Name, E-mail and Name of the Dish and a Photo of the dish.

Use of Logo is Optional, But would help to spread the word about the event, More the Merrier
So, Lets get creative and cook delicious in 30 minutes.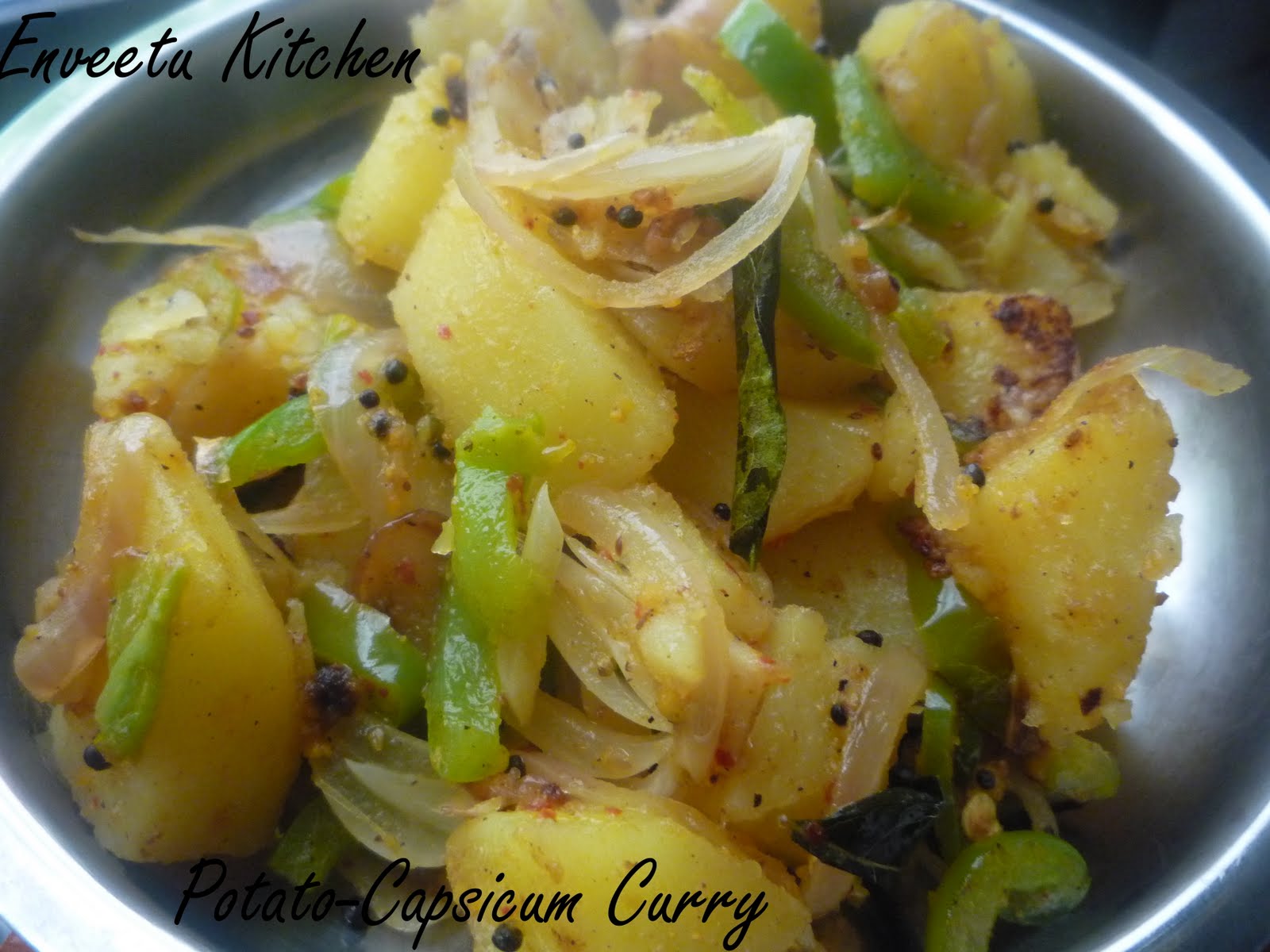 Potato Capsicum Curry – His Cooking Event
Blessed are those Wives, Whose Husband Knows Cooking and also does it sometimes. A heartfelt appreciation to Priti for hosting an Event like this, to showcase our better half's Talent!!!! My hubby is a Good Cook, not to exaggerate, all the 3 brothers cook very well. An art they adopted from there Father. My Father-in-law in his late sixties, Enjoys cooking even now. He makes Lip-smacking Puri-Aloo!!!! All the puri's will be of the same size and we call the Aloo as Traditional Sydoji Lane Recipe!!!!! Sydoji Lane is the name of the street .where my in-law's live 🙂
Now Coming to this Aloo-Capsicum Curry, this is one of the tasty recipe from my dear hubby. When i was pregnant with my Kuttu, he used to cook for me every weekend!!!! But the problem is, he is a Perfectionist!!!! VIRGO!!!!! If he is cooking, he needs things his way and takes all the time on Earth, which makes my BP go sky-rocket.
Now, that's a lot of story there, let us get to the recipe.
2 medium Onions, thinly sliced
2 green chillies, finely Chopped
2 tsp Sambhar powder/Red Chilli Powder (He used Sambhar Powder)
Hing, turmeric each a pinch
Method
Wash, peel, cut the Potatoes to small cubes and Boil them until soft, but firm, Don't over-boil it or else you will get mashed potatoes!!!!. Wash the capsicum and Chop them to thin Slices. Heat oil in a Wok, Splutter mustard seeds, add hing and turmeric, curry leaves, green chillies. When the chillies are slightly roasted, add Onions and sauté till translucent. Now add the boiled potatoes, add Sambhar powder/Red Chilli Powder, salt and Mix well. Let it cook in a slow flame for 10-15 minutes or till the rawness of the chilli/sambhar powder escapes. Then Add capsicum and Mix well and cook for 7-8 more minutes.Take care of c
apsicum, it shouldn't be over-cooked.
Take it off the flame garnish with some fresh coriander and E
njoy with Rice/Roti's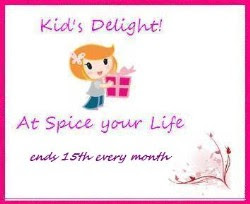 Announcing Kids Delight Event December 2015
Hello Friends, i will be hosting December Edition of Kids Delight, an event by our very own +Srivalli Jetti . The Theme for this edition is Party Pleasers- Finger Food. December is a month of festive spirit. Kids at home for Winter holidays, Meeting friends and family. Family reunions, Family dinners for Christmas and New Year and many more. Why not, make something special for our lil masters, who make our lives so special!!!
Some important guidelines to follow :
Cook, fry, saute, bake or blend any Vegetarian Dish that fits the theme finger food for parties. Since this is a Vegetarian blog, i cannot accept meat entries. However, Eggs are allowed in a Baked Dish.

The dish prepared should have been accepted by your own kid, kid from your family or friends. Or even something that you loved eating as a kid.

Entries need to be posted in your blog between 15th December 2015 and 15th January 2016.
Kindly link up this event announcement(this post link) and Valli's Kid's delight announcement.

Bloggers kindly link your entries in the linky tool below.

Non-bloggers are also invited to participate, kindly send in your entries along with the picture to enveetukitchen@gmail.com.