Navaratri, or Navrathri 9 day festival celebrated all over India and by Indians all over the world. It is a 9 day festival celebrating Goddess Shakthi.
How to celebrate navrathri | Navarathri Celebrations | Navarathri gift ideas | Navrathri gifts | Navarathri Neivedhiyams | Navarathri Kalasam | How I celebrate Navarathri | Navarathri Celebrations and Neivedhiyams | Simple poojai for navrathri | Golu Celebrations | How to Celebrate Golu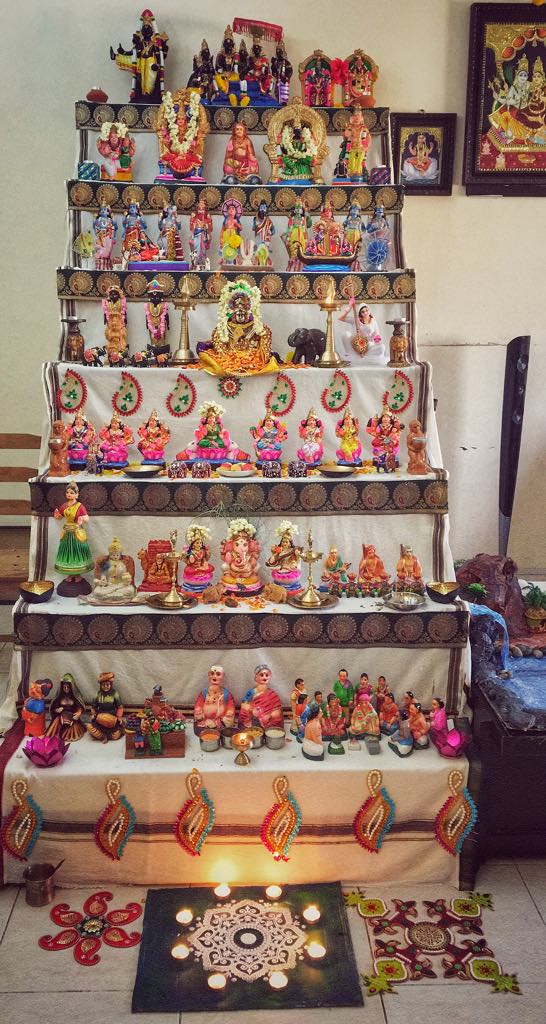 Jump to:
The Festival
Navrathri one of the festivals I look forward with much excitement. The 9 days of pooja, meeting friends, chanting of slokas, dressing up in saree and of course the food excites me more.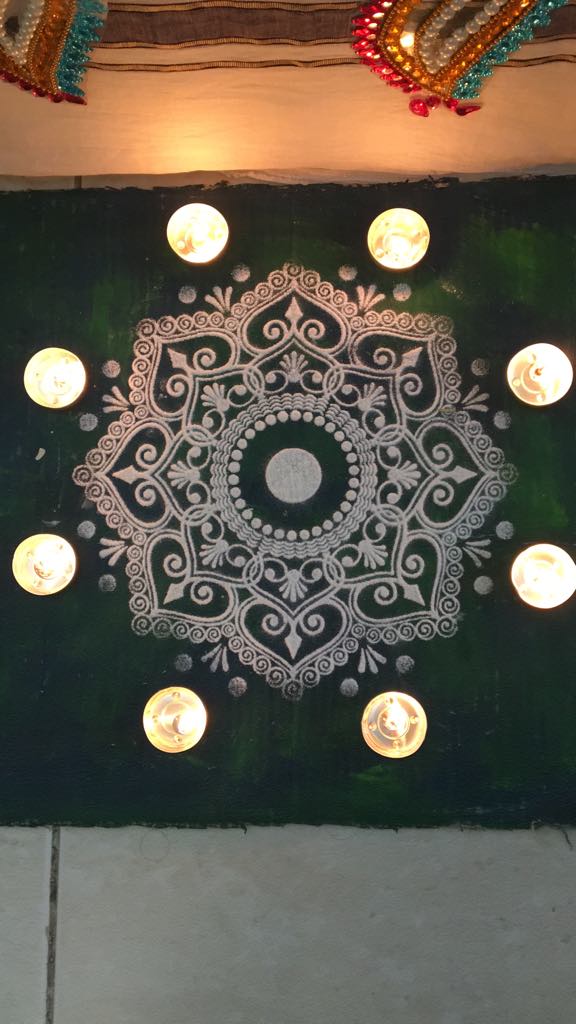 Navarathri festival also called Golu or Bommai Golu in South-India is a 9-day festival celebrating Goddess Shakthi.
This festival is celebrated all over India and by Indians all over the World. Kolkata is particularly popular for Durga Pooja. In South-India, navarathri is celebrated as Bommai Golu, where we arrange dolls of gods and goddess in steps. The 9 days are split into batches of 3 days, first 3 days celebrating Durga, second 3 days celebrating Goddess Lakshmi and last 3 days celebrating Goddess Saraswati. And the last day Celebrated as Vijayadasami/Dasami.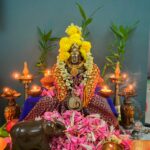 Print
Navrathri Golu Celebrations | How I Celebrate my Navarathri
Navaratri, or Navrathri 9 day festival celebrated all over India and by Indians all over the world. It is a 9 day festival celebrating Goddess Shakthi.
Instructions
Prepare the guest list, 10 days ahead of the festival. This way you will know how many ladies, kids will be attending your festival.

Having a guest list in hand, helps in thamboolam shopping, especially if you have kids at different age levels.
Check you Golu Bommai
A week ahead of the Golu, open you golu boxes and check your dolls. Remove any broken or damaged dolls.

If you set the steps on your own, then keep the rods and planks cleaned and ready and start assembling 4 days ahead. In my experience if you have a bigger golu like 7-steps or 9-steps, it is better to start assembling the steps 3-4 days ahead.

Wash/dry clean the top cloth used to cover the golu steps. I usually use Cotton veshti, which will be washed and pressed well.
Grocery Shopping
Shop all the neivedhiyams requirements like lentils, legumes, sugar for kheer, nuts for garnishes etc.
Enjoy the Festival
If you plan ahead, you can avoid the last minute tension. Try to enjoy the festival and the time with your friends. For many navarathri is the time they get to meet. So have fun.
Notes
How to do Navarathri Poojai
Gift Ideas for Navarathri Thamboolam
Places to shop for Navarathri Gifts in India/UAE
Navaratri Kalasam
Navrathri and Varalakshmi pooja are two important festivals, as a tambrahm, i eagerly look forward to. Reason is, I personally get to decorate this kalasam/Kalash. The Woman of the house-hold does the decoration/jodanai of the Kalasam. If it is a joint-family, elders in the family will take incharge and rest will take care of other preparations for the pooja.
Every house-hold has different tradition and ritual for the kalasam jodanai/decoration, i m listing the way i do. For us, the kalasam is important for varalakshmi vratham and navarathi.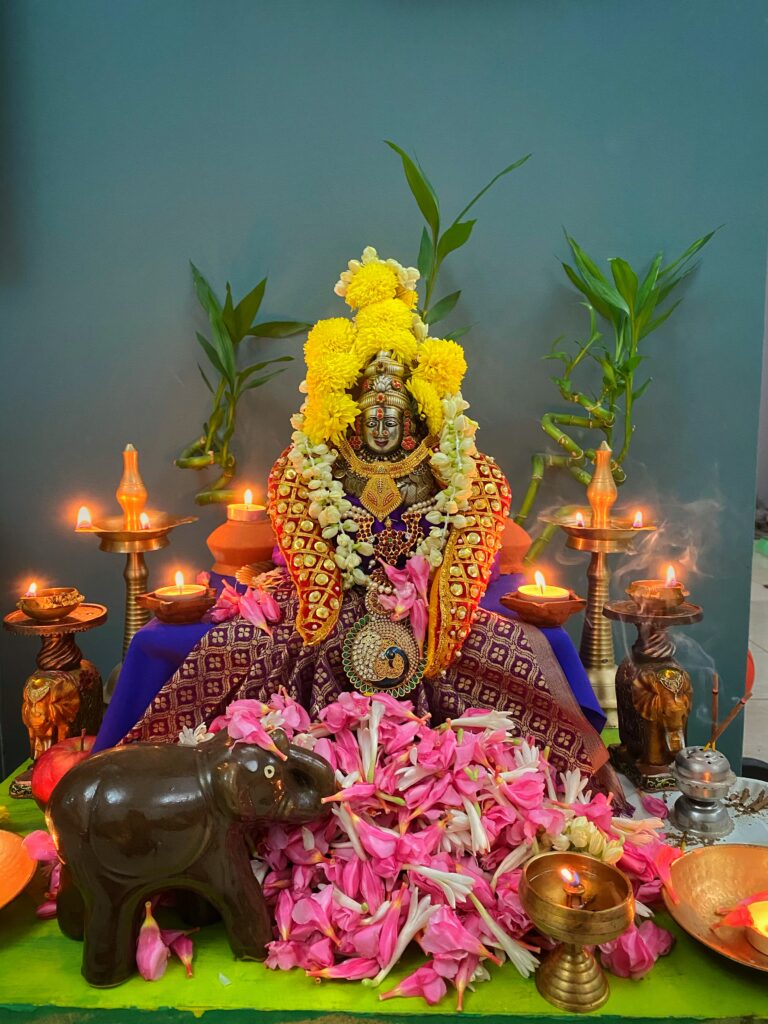 Difference between Navaratri & Varalakshmi Kalasam
The exception for navrathri would be the fresh mango leaves and the thazhampoo/Fragrant screw pine flower, because they would dry, during the 9 day festivity.
Navarathri Kalasam Jodanai
Kalasam is the symbolic representation of the God/Goddess for whom we perform the pooja. Every big pooja/function in Hindu tradition involves the use of Kalasam.
Check out this recipe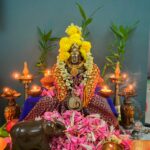 You Tube Video on How to Decorate the Kalasam
Navarthri Poojai
I plan and visualize my Navaratri celebrations months before. The decorations, any particular theme etc, and the interesting part, my Navratri shopping all this is done when i m in India during our annual vacation in July-August. A perfect time, where most of the shops in Chennai, too start to stock dolls, decorations, etc especially for Navaratri.
Coming to poojai, I m sharing what i do in my home, hoping a few would find it useful.
First and foremost, don't get tensed or overly worked up, you are celebrating Ambal, a supreme power, a lady who knows everything and also you. The shradhai with which you do the pooja matters more than how many hours you do it or what you offer for neivedhiyam
I chant Ashtothrams (Durga, Lakshmi and Saraswathi) and do the pooja, usually around 9:30 -10 in the morning.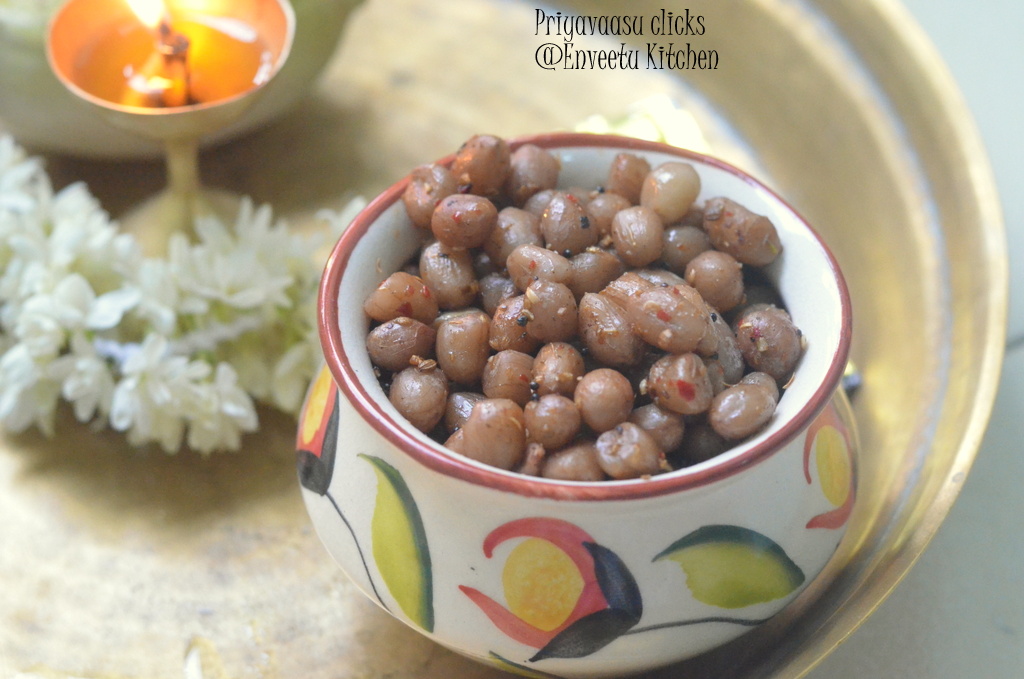 I do neivedhiyam both in the morning and evening. Mornings I usually offer freshly cooked rice, dal/paruppu and kheer/payasam, as it is made everyday during Navratri, even otherwise rice and dal/paruppu are staple at home.
If you make payasam everyday for navarathri poojai, then this Instant Kheer mix will be very handy for you.
When you dont have time to make the above, a glass of fresh milk in the morning is good as neivedhiyam. If offering boiled milk, add a teaspoon of sugar and offer. Evenings are mostly Sundal, that too, just a cup of any lentil/legume .
Sundal Recipes
Kheers & Kesari Recipes
Navarathri Neivedhiyam & Snack Ideas
God's grace till date I have one or the other coming for thamboolam all days so I offer the neivedhiyam done in the evening to them and coffee/tea and there will be snacks if I m expecting lot of people. Usually vadai/salad/poha etc along with the Sundal and coffee.
Many people club one or two places together for their evening golu visit, so don't expect them to be eating a big bowl of sundal or a big cup of coffee at every place. Serve less, so they also don't feel guilty about wasting food and you too don't feel bad about them not finishing what you offered.
While there might be days where I have to goto another pooja in the evenings , those days I offer fruits and a mix of nuts with rock candy or milk with sugar.
If expecting a big crowd any of the days, I keep their thamboolam ready a day ahead, make a big batch of sarkaraipongal/payasam and sundal. So I don't spend much time in the kitchen, and enjoy the golu with my friends.
Golu/navrathri is all about enjoying the goddess at home, do pooja and chant naamas everyday, be positive all days, do poojai/neivedhiyam with shraddhai and loads of love, for that is what will be measured by her not, what you offer and in what you offer !! Have fun ladies, for it is your 9 days!!
Navarathri Neivedhiyam
Gift Ideas for Navaratri Thamboolam
I love to pick gifts for thamboolam, for my lady friends and also to all the kanya ponnu/girls who tag along their mommas.
I take extra care and loads of love when I buy something for them, it might not be big or lavish but the love and thought behind it counts a lot. A small packet of pottu/bindi or a pair of hair bands make them squeal with joy. I gift even the boys who come, i keep a stash of stationery(2 pencils, a scale, eraser and sharpeners) for them.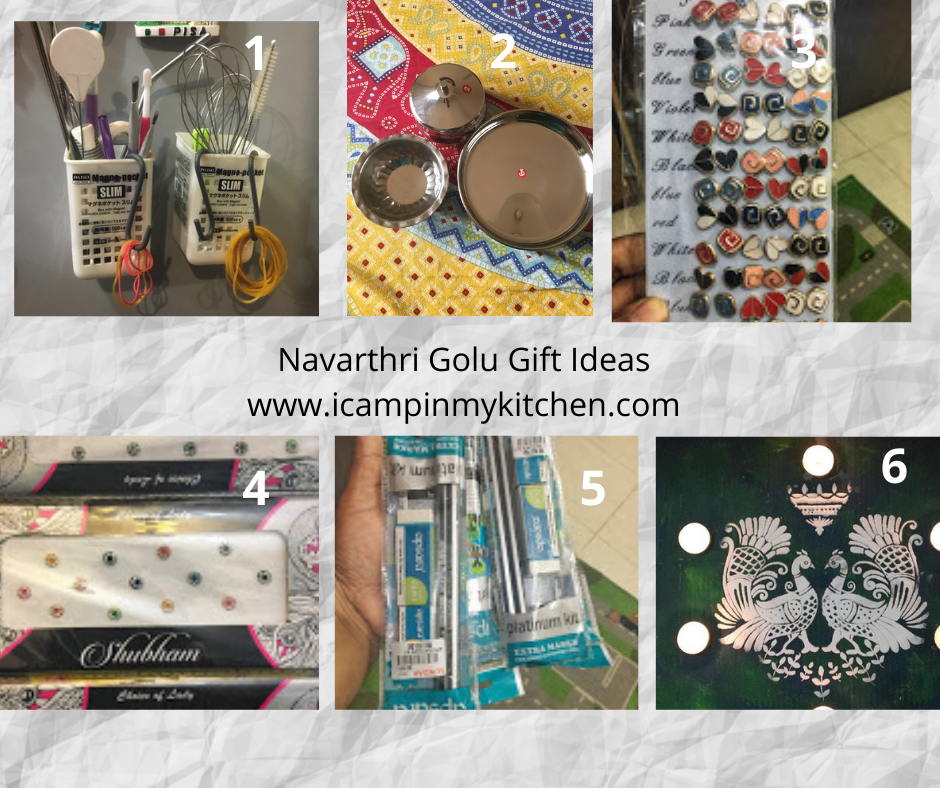 While buying gifts, please keep in mind the utility of it, try avoiding plastic, my manni/co-sister once gave a good agarbathi/incense stick in thamboolam, something that is useful and will be gone in 10 days.
Keep the size of your gift in mind. Do not buy big plastic bowls, large plates or anything huge and decorative. Not everyone will have the space required to keep your gift away or the utility.
I don't gift blouse pieces with my thamboolam, all of us know it gets circulated, instead I give small face towels which can be carried by kids with their lunch box or by adults for gym/workouts/walks
Once I got some magnetic holders that can be stuck to fridge or doors and can hold utilities like scissors, knives in kitchen or pencil/pen in living room. For the past 3 years I m getting SS utensils from Chennai.
Places to find Gifts in Chennai/UAE
As I mentioned above, I do my Navaratri gifts shopping in Chennai during my july-august vacation every year. Listing some of my favorite places from where I purchase gifts.
If you are in Chennai, you will find Parry's corner the best place to find gifts in bulk. You will find lot of varieties and also pocket-friendly. You have separate streets for each category of gift. Like you have a street full of stationary shops. Another street full of Bags, all varieties, starting from small thamboolam bag given in wedding functions to beautifully handmade bags, jacquard designs etc.
If you are into gifting Stainless Steel utensils as gift, then Tnagar ratna stores, saravana stores is your place. I get mine from Santhosh Stores, Anna Nagar.
If you are in UAE you have LULU for stainless steel utensils. Daiso for everyday items, small but very useful items to gift.
Then you have the Day to Day, Gift Center shops where you get almost everything i have mentioned above. You will also find plants in these two shops, in case you are inclined towards gifting them.
I personally avoid giving plants, not everyone is a plant person.
Hope you all find this post useful for the upcoming festivity. I have shared how I celebreate these 9 days and some tips for useful gifts.
Wishing you all a very happy navarathri. Have a blissful celebration.
Pooja Kolam Videos