Apple Kesari, a delicious South-Indian dessert made with fresh apples and rava. A quick and easy halwa to make for pooja and festivities.
Jump to Recipe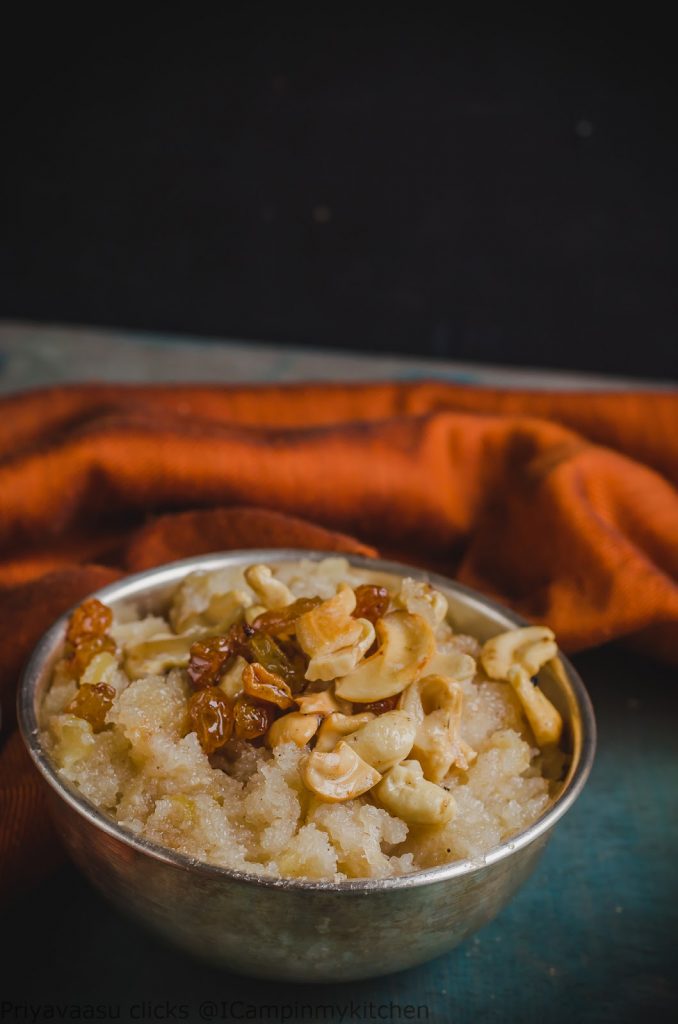 🥣 What is Kesari Dessert?
The ingredient used in making the dessert Sooji/semolina is called rava in South-india. The term 'kesari' refers to saffron color. Since this dessert is made with sooji/semolina and has an orange color it is called rava kesari.
Kesari, one of easiest desserts made in Indian kitchens. You have sudden guests, some pooja at home or simply wanted to have something sweet, kesari comes to rescue. It takes less than 30 minutes to make and it is so versatile.
Kesari is known as Sooji ka halwa, sheera , kesari bath etc. There might be a slight change in the cooking method, but they all taste delicious.
The general proportion for getting a perfect kesari, is 1:2:3, for a cup of sooji/rava, 2 cups of sugar and 3 cups of liquid. Ensure the liquid is warm when you add it to the sooji, so there will be no lumps.  Along with ghee use little oil to get a glossy kesari.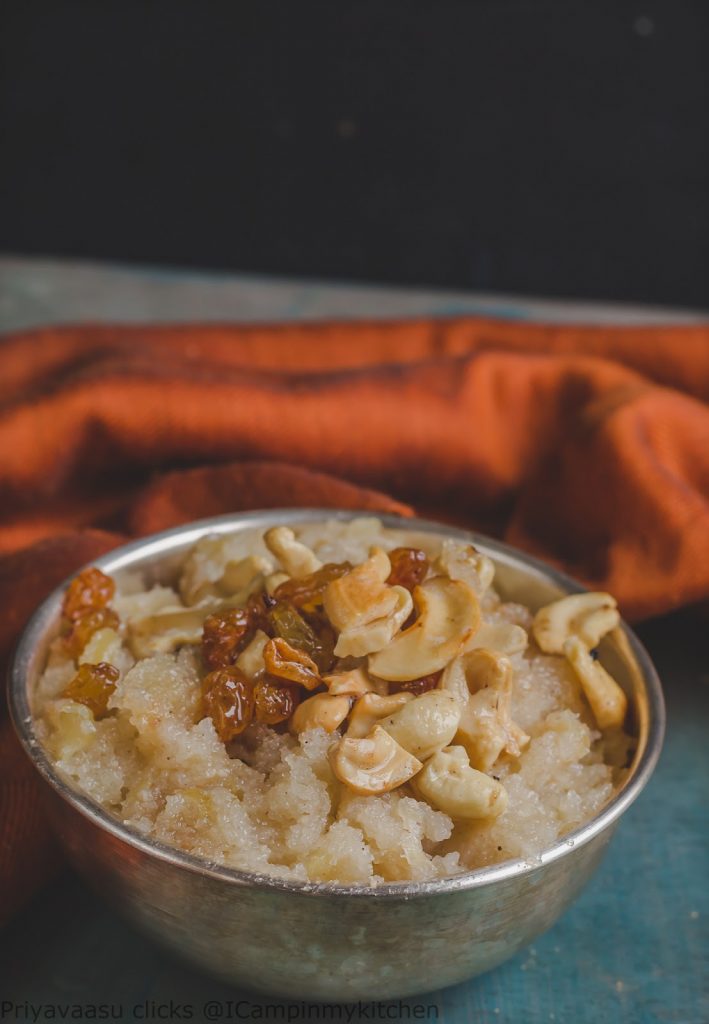 🍎 Apple Kesari
I have an affinity towards kesari. It is an easy and versatile dessert to make. I have made quite a lot of kesari varieties. The simple rava kesari, beets kesari, exotic mango kesari. I even made a strawberry kesari for Rafeeda's blog as guest post.
Today's Apple kesari is yet another twist to this traditional dessert. Soft cooked apples sauteed in ghee and cooked with semolina for a soft texture. Usually cardamom or saffron is added to flavor this dessert. Since, this is apple kesari, i have used Cinnamon, the best spice with apples.  The mild flavor of cinnamon, along with apples, takes this dessert to another level. 
I don't use artificial colors in my kesari, so for this apple kesari, i didn't add any other color and left the apples and cinnamon naturally bring their hue to the halwa.
💭 How to make Apple Kesari
Please check recipe card below for exact measurements of each ingredient used and also for the detailed instructions.
Roast the rava/sooji/semolina in ghee. This is an important step and not to be missed. Even if you are using roasted semolina, roast it again in ghee.
Remove the rava/sooji/semolina. In the same pan, add ghee and sauté the shredded apples. Tip in the roasted sooji and warm milk and water to this and let it cook until rava/sooji is soft.
Add sugar and cook until all the liquid is absorbed. Finally add ghee and roasted nuts to the kesari and take it off the stove.
If you have tried this recipe and like it, give it a star rating or let me know in the comments below. You could also share it with me on Instagram using #icampinmmykitchen and tagging me @priyasrinivasan.
You could follow me and my recipes on  Facebook |  Instagram  | Pinterest  | twitter
Kheers & Kesari
📖 Recipe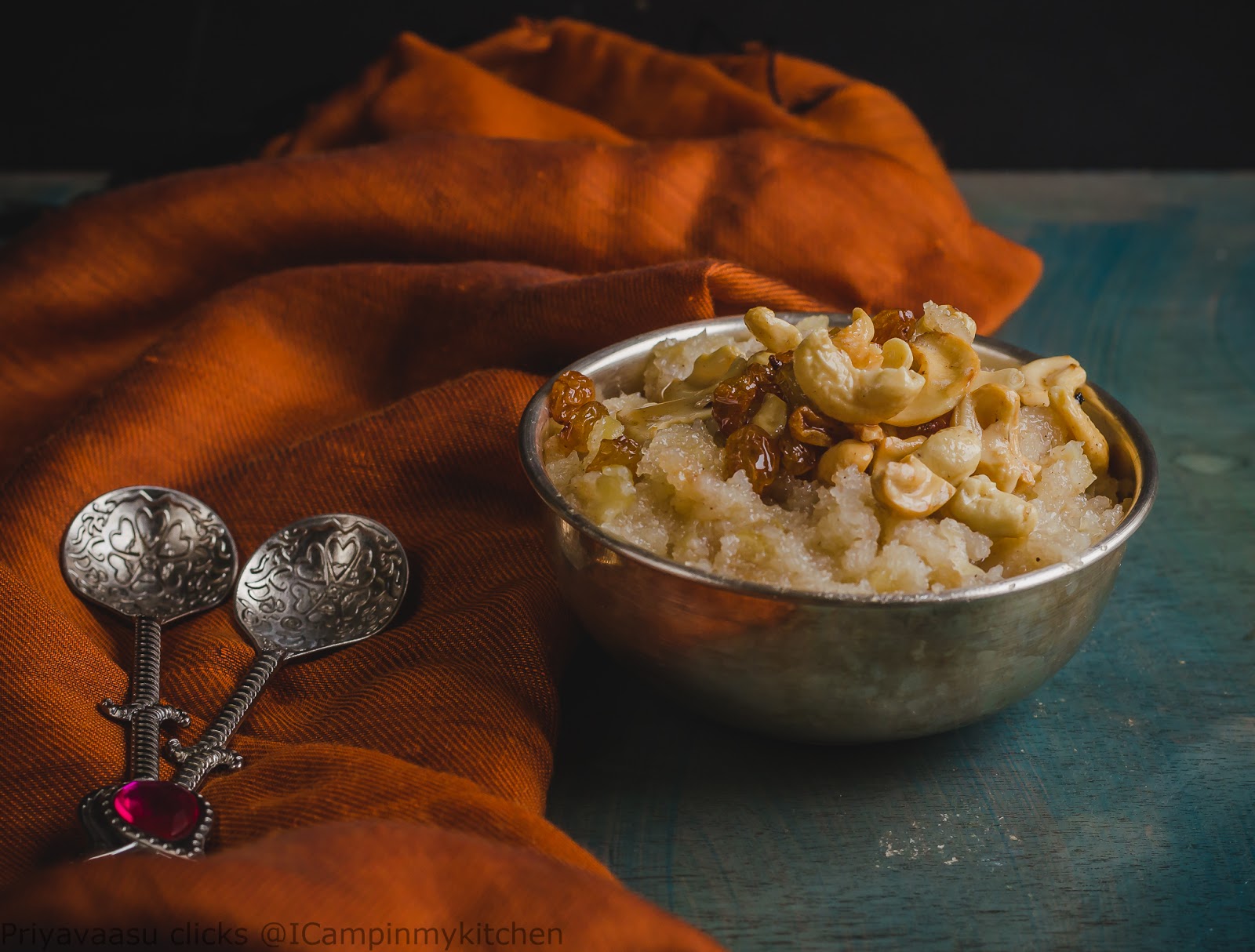 Apple Kesari |Apple Sheera |Easy Dessert
Apple Kesari, a delicious South-Indian dessert made with fresh apples and rava.
Print
Pin
Rate
Ingredients
1

cup

sooji/semolina/rava,

2

nos

soft apples, washed and grated

¾

teaspoon

cinnamon powder

2

nos

clove, crushed

1½

cups

sugar

1

cup

warm milk

2

cups

water

5

tablespoon

ghee

1

tablespoon

oil

3

tablespoon

cashew-nuts

3

tbsp

raisins
Instructions
Before we start with our kesari, in a sauce pan take milk and water mixed together and heat it in a low flame. When we add this liquid to the kesari it should hot. Adding hot liquid is important to get a good texture rava dish.

Heat a heavy bottom pan, add a teaspoon of 2 of ghee, roast cashew-nuts until golden and remove. Add raisins to the hot ghee, when it plumps up, remove it from ghee. Set both aside until use.

To the same pan, add 1 tablespoon ghee, and roast the rava/sooji in a simmer flame, until it is golden brown. Even if you are using pre-roasted rava, do not skip this step. Transfer the roasted rava/semolina/sooji onto a clean plate.

In the same pan, add 2 tablespoon of ghee, add the grated apples, cloves powder and cinnamon powder and sauté for 5 minutes, until apples release a nice aroma. To this now add the roasted rava and saute for 2 minutes.

Now add the hot milk and water to this and mix well. Take care while adding the liquid to hot pan, it will splutter. Reduce the flame, add the liquid slowly,

Keep stirring to avoid lumps. If the liquid is hot enough, there won't be any lumps. If you get lumps, don't worry, just take your potato masher and mash it well.

Keep the flame simmer. Let the rava/semolina cook well. As it cooks, it will absorb all the liquid. So keep the flame simmer and stir frequently or else it might burn at the bottom. It might take around 10-15 minutes for the rava/semolina cook soft.

Once the rava is cooked, add sugar to this. When sugar is added, the kesari/sheera might liquify a bit, do not worry, it will get absorbed.

Now add the remaining ghee and oil and mix well. Once all the liquid is absorbed and the kesari follows the ladle as you mix, it is done.

Add the roasted cashewnuts and raisins. Take it off the stove. serve warm and enjoy this flavorsome dessert.
Disclaimer
I m not a Doctor or a Nutritionist The Nutrition information provided above comes from the plugin and is only an estimate.
This delicious apple kesari is a delicious dessert to make for any occasion. They are quick and easy to make during pooja and other traditional festivities as offering.
📌 Do you like the recipe? PIN IT