Kesari, one of easiest desserts made in Indian kitchens :). You have some sudden guests, some pooja at home, or simply you wanted to have something sweet, kesari comes to rescue. It takes less than 30 minutes to make and it is so versatile. I even thought of making 3 different types of kesari for all 3 days of the theme.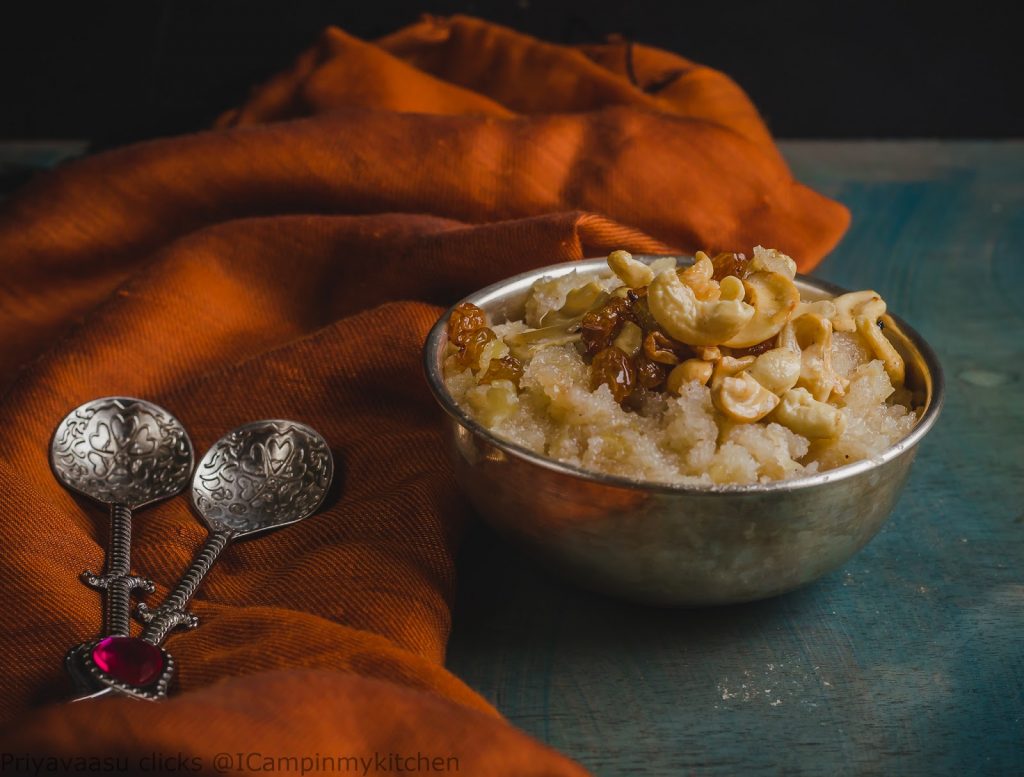 The general proportion for getting this right is 1:2:3, for a cup of sooji/rava, 2 cups of sugar and 3 cups of liquid. Enusre the liquid is warm when you add it to the sooji, so there will be no lumps.
For today, i m bringing you the simple kesari with apples. Usually cardamom or Saffron is added to flavor this dessert. But since, i m using apples here, i have used Cinnamon, the best paired spice with Apples. The mild flavor of cinnamom, along with apples, takes this dessert to another level.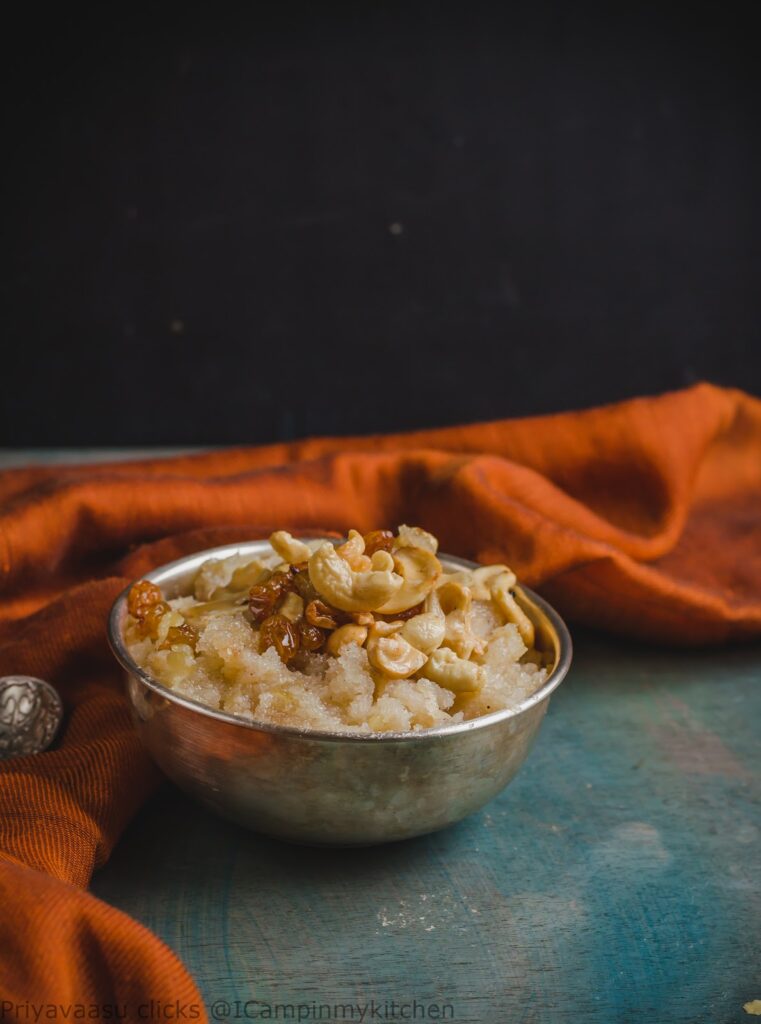 1 cup Sooji/Semolina/Rava
2 nos soft apples, washed and grated
3 tbsp of roasted cashewnuts
3 tbsp of roasted raisins
In a non-stick pan, dry roast the rava/sooji in a simmer flame, until it is golden brown.Even if you are using pre-roasted rava, do not skip this step. Transfer the roasted rava onto a clean plate.

In the same pan, add 3 tbsp of ghee, add the grated apples, cloves and cinnamon and saute for 5 minutes, until apples release a nice aroma.

To this now add the roasted rava and saute for 2 minutes. Now add the warm milk and water to this and mix well. Keep stirring as you add the sooji, to avoid lumps. Do not worry, if you get lumps, just take your potato masher and mash it well.
Keep the flame simmer. Let the rava cook well. As it cooks, it will absorb all the liquid. So keep the flame simmer and stir frequently or else it might burn at the bottom. It might take around 10-15 minutes for the rava cook soft.

Once the rava is cooked, add sugar to this. When sugar is added, the kesari/sheera might liquify a bit, do not worry, it will get absorbed.

Now add the remaining 3 tbsp ghee, once tbsp at time and mix well.Once all the liquid is absorbed and the kesari follows the ladle as you mix, it is done.

Take it off the stove. Garnish it with roasted cashewnuts and raisins, serve warm and enjoy this flavorsome dessert.