Its actually mid-night, nearing 12!!! i m sitting before my laptop, hearing the snores of my kid and hubby!!!! Weekend Dear, so had a bit of shopping/outing, reached home just now. Today's recipe is from Nithya's Fourth Sense Cooking Eggless Vanilla Tutti Frutti Muffins. Muffins were awesome, though the top turned a bit crispy, due to my over-enthu, over-baking!!!! 
Nithya has sprinkled some tutti's on the top too, i havent done that, coz my Kid, never likes anything propping out of his cake except for Nuts/Choco-chips. so, i have hidden them inside the muffins.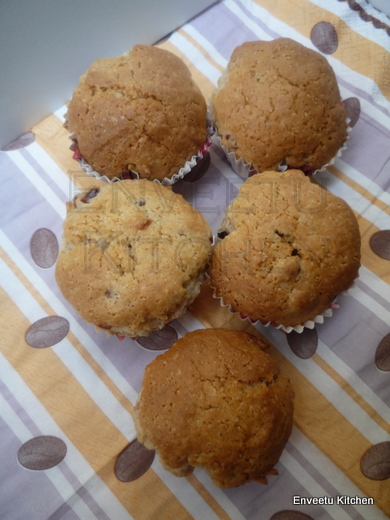 Ingredients
¾ Cup All purpose flour/Maida
¾ teaspoon Corn starch/flour
¾ teaspoon Baking powder 
Salt a pinch
6 tablespoon Powdered sugar 
2 tablespoon Butter 
6 tablespoon Milk 
½ teaspoon Vanilla essence
3 tablespoon Tutti frutti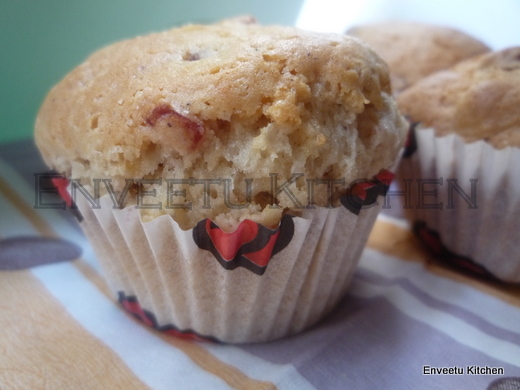 Method
Sift the all purpose flour, corn flour, baking powder and salt together and keep it aside. Preheat oven to 180C. I have used individual silicon muffin cups. Line the Muffin cups with liners.
Cream the butter and sugar in a bowl using a beater/whisk till it becomes light.  Mix in the vanilla extract to the milk. Add the milk and flour alternatively to the creamed butter mixing it well.  Finally Fold in the tutti frutti to the cake batter. Fill the batter upto ¾th of the cup. Bake it for 20 mins.
Do the Tooth-pick test to confirm the done-ness of the muffins. Baking time varies from Oven to Oven.  Keep a watch after 18 minutes.  I have acutally baked it a bit more, and top of the muffins have turned a bit crispy. 


Check out my Blogging Marathoners doing Group 3 BM#4 along with me 
Diabetes Diet/Management: Kamalika, Smitha, Suma 
Kid Friendly Recipes: Anusha, Cool Lassi(e) 
Seven Days of Soup: Priya Suresh 
Seven Days of Indian Bread: Jayasree, Pavani 
Seven Days of Cakes:  Me
Seven Days of Preserves: Gayathri Kumar, Vaishali 
30 Minutes Meals: Priya Mahadevan, Srivalli