For the Day 3, of Blogging Marathon, I tried the Bookmarked recipe
WholeWheat Choco-chip Pumpkin Bread from Kalyani's
. It on my bake-list for a long time. This is the first time i m trying a bake using Pumpkin puree and i m sure to make it quite often. my kiddo loved this bread. He finished the nuts on top first and then gobbled the bread later!!!!
1 tablespoon of All Purpose flour
1 Cup Fresh Pumpkin Puree
1 tablespoon freshly grated Coconut
½ teaspoon Cinnamon powder
¼ Cup Almonds & Walnuts mixed
Method
To make Pumpkin Puree
Peel the Pumpkin and remove all the seeds.

Cube them and Take them in a Pan and Cook it in a low flame with ¼ Cup Water for 10-15 minutes.

Take it off the flame and keep it covered for 10 minutes.

Drain well and Puree the cubes in a blender.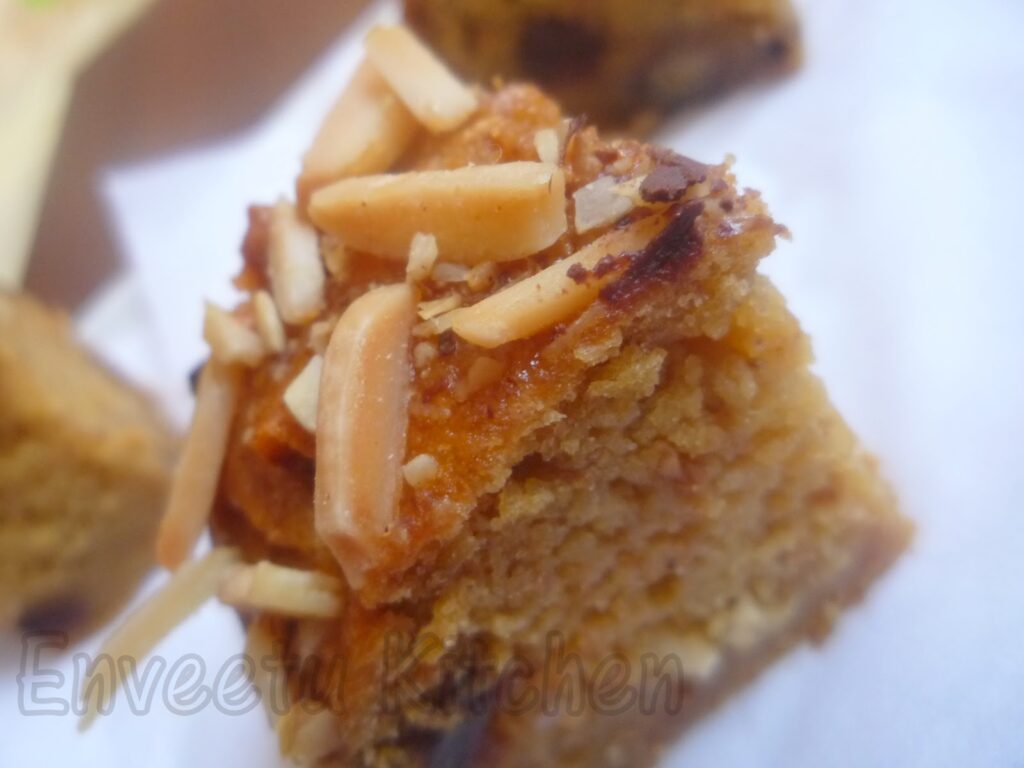 To make the bread
Preheat the Oven to 190C and Line a Loaf tin with parchment paper.

Sift all dry ingredients thrice.

Powder the sugar in a mixie and add to the oil. Cream it well.

In Same Blender in which you pureed Pumpkin, add yoghurt and blend again till its creamy and add to the sugar-oil mixture. Mix well.

Pour the sieved flour mixture to the wet ingredients and give it a nice stir. Do not overbeat. Now add the grated coconut, add nuts and half of the Choco Chips

Pour the batter to the prepared tin and sprinkle the rest of the choco-chips and nuts on top.

Bake for 30-45 minutes till its done and a tooth pick comes out clean.

Cool on a wire rack for 10 - 15 mins. Cut and serve
Note
Baking time differs from Oven to Oven, So bake accordingly