I made a batch of pumpkin puree and freezed to use it later in some dessert or atleast some soup. It totally skipped my mind and last week while organizing my freezer, i saw the 3 ziploc pouches.
I made this pumpkin chocolate cake using a batch of that puree yesterday and frosted it with our favorite peanut butter frosting. I have flavored the cake with cinnamon.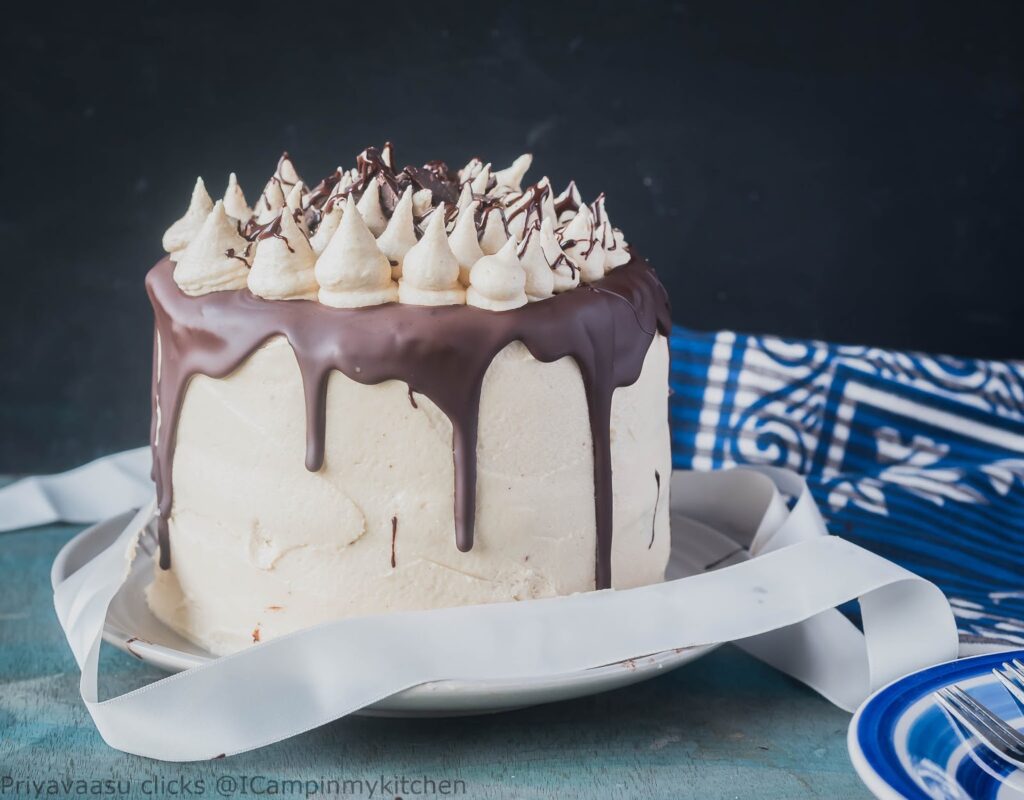 The cake again came out moist and though it tastes a bit pumpkiny, the peanut butter frosting, seals it so beautifully and gives a great taste to the cake.
My lil one loved the frosting, and licked the frosting compltley off his slice and left the cake. My elder one loved the cake and was happy to see another cake waiting for him today.
Ingredients
1.5 cups whole wheat flour
½ cup - ¾ cup pumpkin puree
1 teaspoon cinnamon powder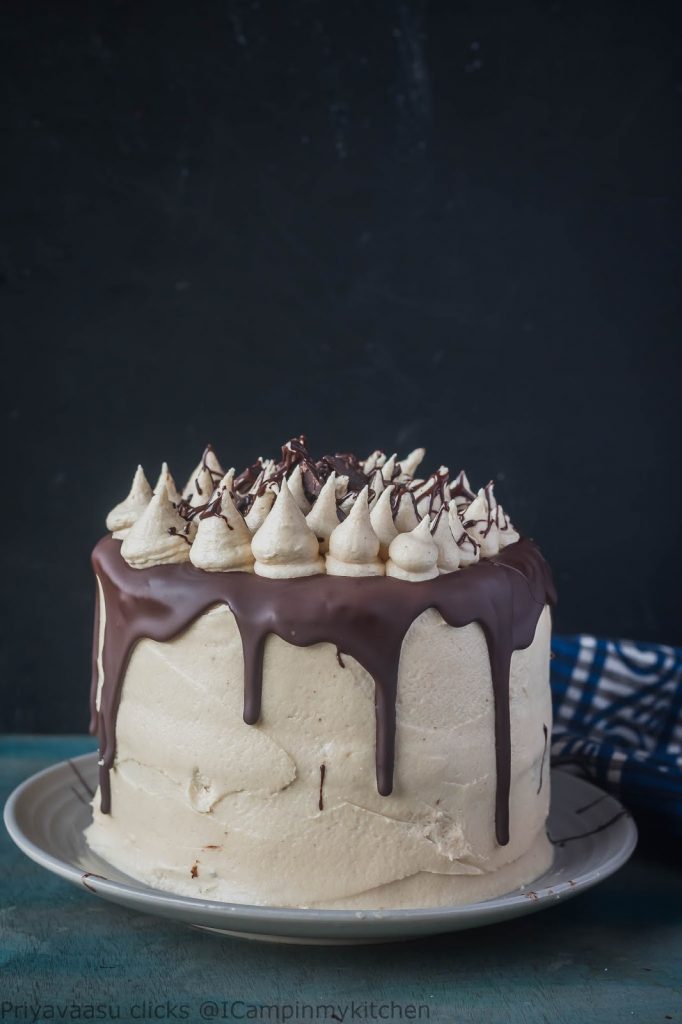 Peanut butterfrosting
2-3 teaspoon of milk
Method
Take butter and peanut butter in a large bowl. Using a electric beater, beat the until light and fluffy.

Now add 1 cup of sugar at a time and beat the mixture until light and fluffy, add 1 teaspoon of milk at time to check the consistency. I needed around 3 teaspoon of milk to get the frosting to spreadable consistency.

Cover and refrigerate until use. I normally make the frosting an hour before i frost my cakes.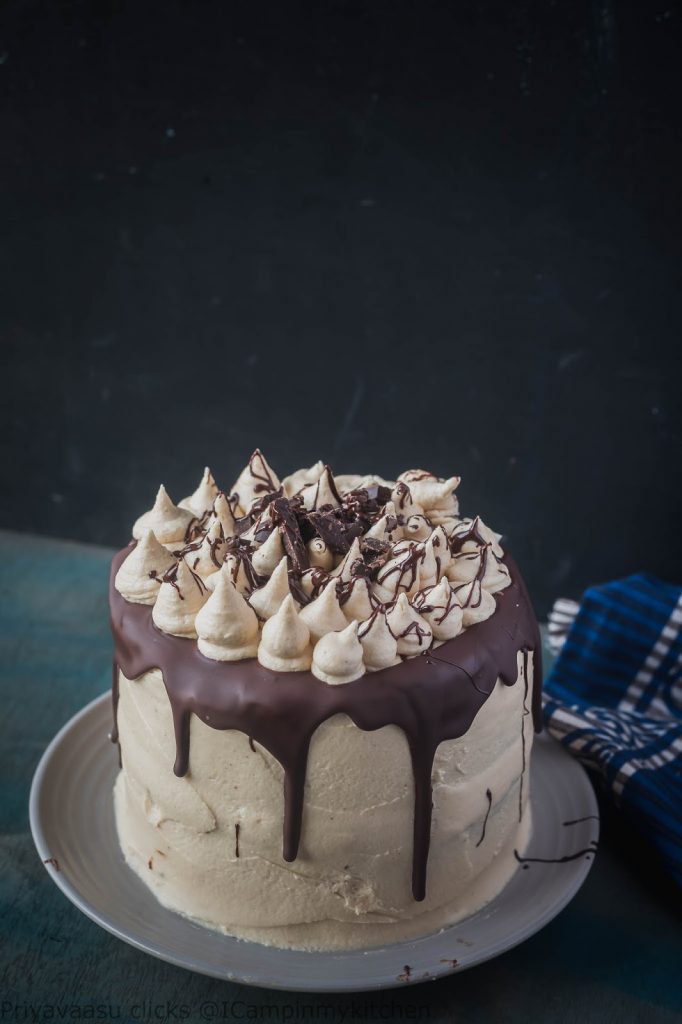 Chocolate drizzle
50 grams of lindt dark chocoalte
Method
Preheat the oven to 180c . Grease 2, 5 inch pans and lay them with parchment.

In a wide bowl take flour, baking powder, baking soda, cinnamon powder and cocoa powder together and whisk well to combine.

In another medium sized bowl, add pumpkin purée, buttermilk, and oil, mix well.

Add this liquid ingredients to the dry ingredients, using a spatula mix them together in a single direction.

Divide the batter among the 2 pans and bake them in the preheated oven for 45-50 minutes or until skewer inserted in the middle comes out clean.

Remove the pans from the oven let it sit for 5 minutes then unmould it on to a wire rack for the to cool completely.

If serving as such., slice them warm and serve Along with your evenjng the/coffee.

Since I was planning to frost them, I cooled them completely, cling wrapped them and refrigerated until frosting.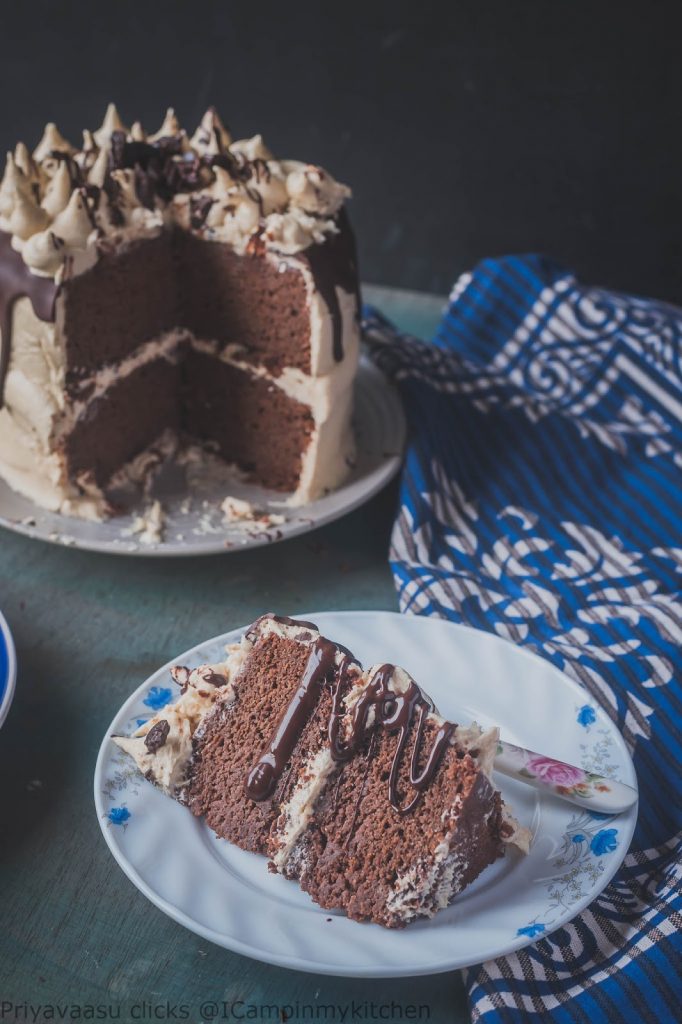 To Frost and fill the cake
Mix 3

tablespoon of icing sugar with ¼ cup of warm water and

keep ready.

Take a round cake board, add a blob of buttercream to the center and place one round cake in the middle. This blob makes sure, that the cake stays put on the board without sliding.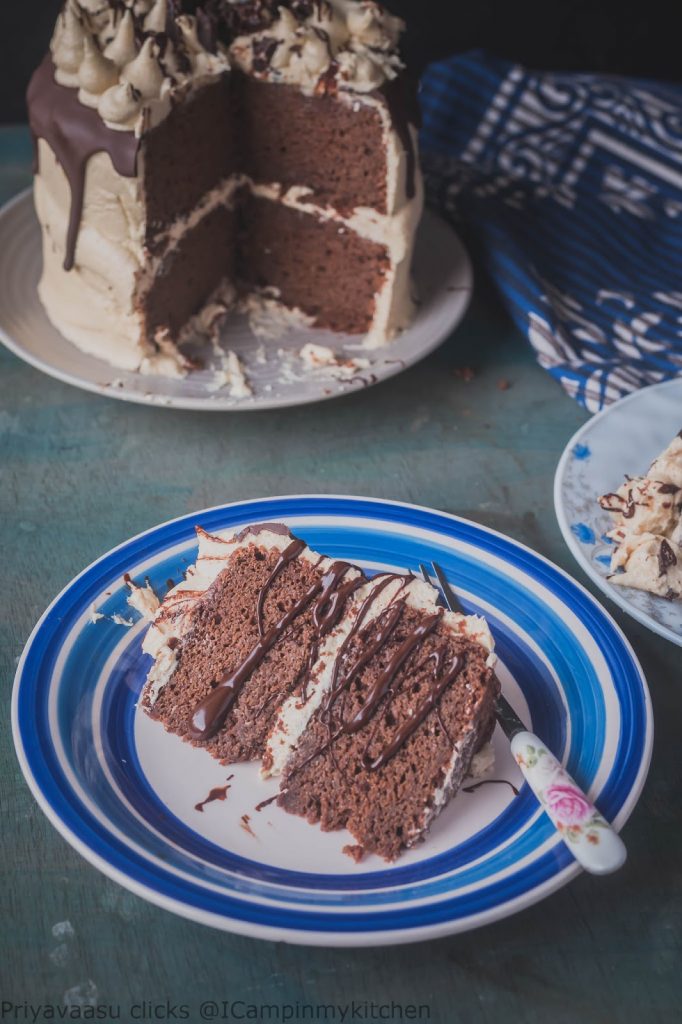 Spread half of the sugar solution on top of the sponge, this keeps the cake soft. Add a thick layer of frosting on top. Spread it to cover the entire cake surface, do not forget the edges.

Now stack the second cake on top of this with its bottom facing the top. Spread the sugar solution on top of the cake.

Now add a thick layer of frosting on top and crumb coat the sides. Place the cake in the refrigerator for 10 minutes for the crumb coat to set.

Once set, add thick layers of frosting on top and using a offset spatuala smoothen it to set. I just used the large round piping tip and squeezed some sharp swirls on top.

Chill the cake 10 minutes for it to set, Just before serving, i added some chopped cark chocolates and drizzled some chocolate sauce on top and served.