I m going on a vacation next week, so it is pantry-cleaning. After tasting Pumpkin Cupcakes, my kiddo wanted some more of it. I have 1.2kg of Baked Pumpkin in the freezer. So, currently i m cooking everything possible with them!!!!
Last time when i tried making this cake i wasn't satisfied with the result. This time, i tweaked it little more and Voila!!!! it was a success!!! Fluffy and Chocolatey Cakes, all aromatic and best part, It Vanished the moment it came out of the Oven!!! So, i got to hurry and take the pics before it was all gone, so bare with that yellow tone!!! Thanks to Reshmi of Easy Cook for suggesting these Delicious Treats for Baking Partner's Challenge.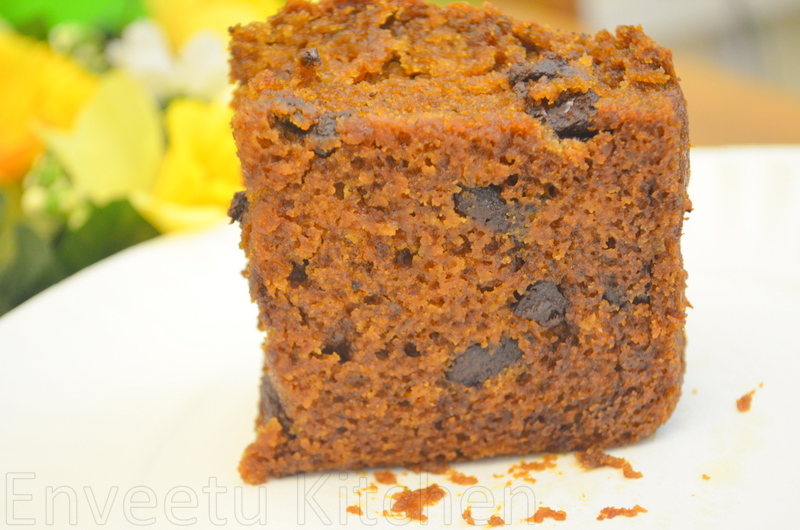 Ingredients
3/4 cups (195 grams) all purpose flour
1/2 teaspoon ground cinnamon
1/8 teaspoon ground ginger
1/8 teaspoon ground cloves
1/4 teaspoon freshly ground nutmeg
1/2 teaspoon pure vanilla extract
6 tbsp solid packed pumpkin puree
1/2Cup Roughly Chopped Dark Chocolate
Method
Preheat oven to 180C

Line a Cake tin with parchment paper. I used 2 small Square Alu-Foil Containers.

In a large bowl, sift together the flour, ground spices, and salt.

Mix together Yogurt and brown sugar, add baking soda to this mixture and let it sit for 10 minutes.
The yogurt will start doubling in volume. add oil to this and mix gently. you got to be real gentle, we dont want to mess up that fluffy texture there.

Add pumpkin puree, and flour to this and mix until combined. Add chocolate chips and give it a stir. All to be done gently and in one direction.
Bake @180C for 20minutes and reduce the temperature to 170C and bake for another 20mins. Insert a tooth-pick in the center if it comes out clean, then it is done. Take it out of the oven. Let it Cool for 10minutes. Slice it up and Serve Warm!!!