We are starting a month-long mega marathon from today. Oh yeah, another marathon, September and April are our mega marathon months or to put it in proper sense,Mega Marathon's are season's where we try to push ourselves and test our limits. This time, we are going to serve you a Virtual Buffet on Table, yes, there is going to be 5 different themes for this month.
This time, i got a bit scared and thought of dropping out. I felt it will be too tough to manage the house and this marathon. But, then my blogger buddies, came to my rescue, they pepped me up so much and thanks to our princy +Vaishali Sabnani, she gave me loads of pep talk and even suggested some dishes for the theme. A big bear hug to all of you guys!!! BM Team rocks, hope this bonding grows strong.
Ok, now coming to this week's theme : Combo meal across countries. 
As, i already
 said, we try to push our limits, i wanted to have a separate theme for myself. I have tried to present breakfast dishes for all the themes, that too in alphabetical order.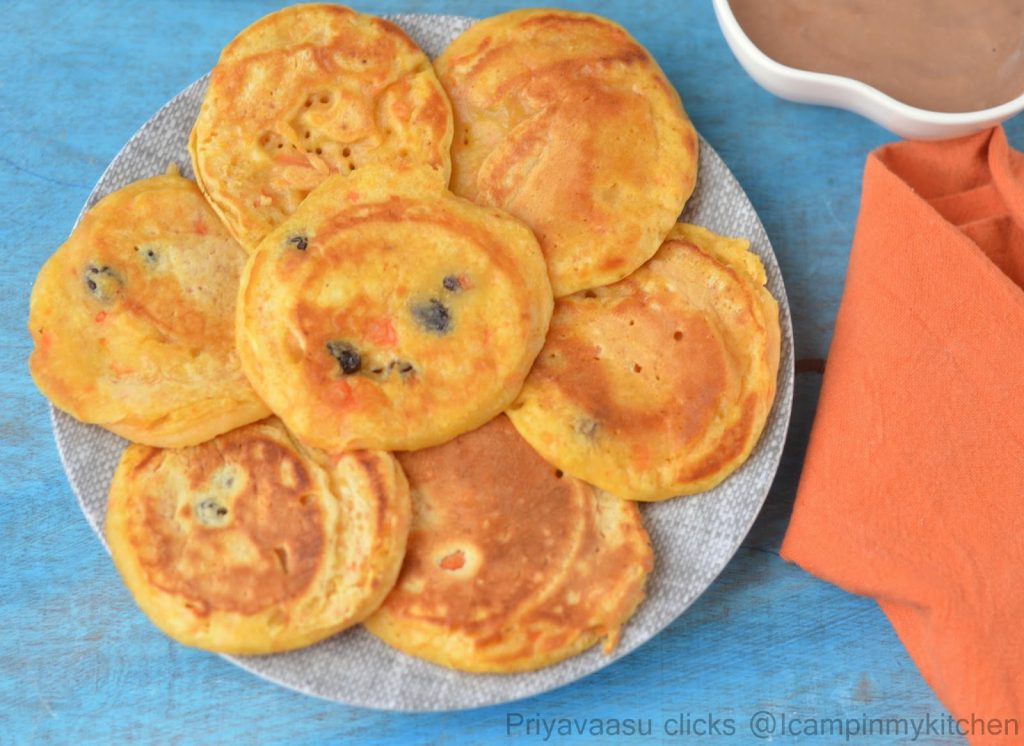 In this genre, today i present you Australian pikelets. Pikelets are small pancakes from australia/newzealand, served for breakfast/afternoon tea along with whipped cream/jam or plain butter. But then, none of my people at home will eat with plain butter, so i went for a fancy and everybody's favorite chocolate based cream cheese dip. It was a super hit and kiddo's licked the bowl clean!!!
Ingredients
a generous pinch of cinnamon
Butter for drizzling the pancakes
Method
Take shredded carrots in a bowl, add flour, baking powder, sugar, salt and raisins to it. Whisk well to a get a homogeneous mixture.

Now slowly add milk to this mixture and make a pour-able batter. Do not add more milk, this amount is enough to get a thick pour-able pancake batter.
Heat a non-stick pan, i used my Oothappam pan, as i felt it is convenient to make equal sized pancakes with it.

Add a dot of butter into pan, followed by half a ladle of batter into each mould.

Let it cook in a simmer flame for a minute or two, flip carefully to the other side and let it cook for another minute. Be patient, or else you will end up with uncooked center.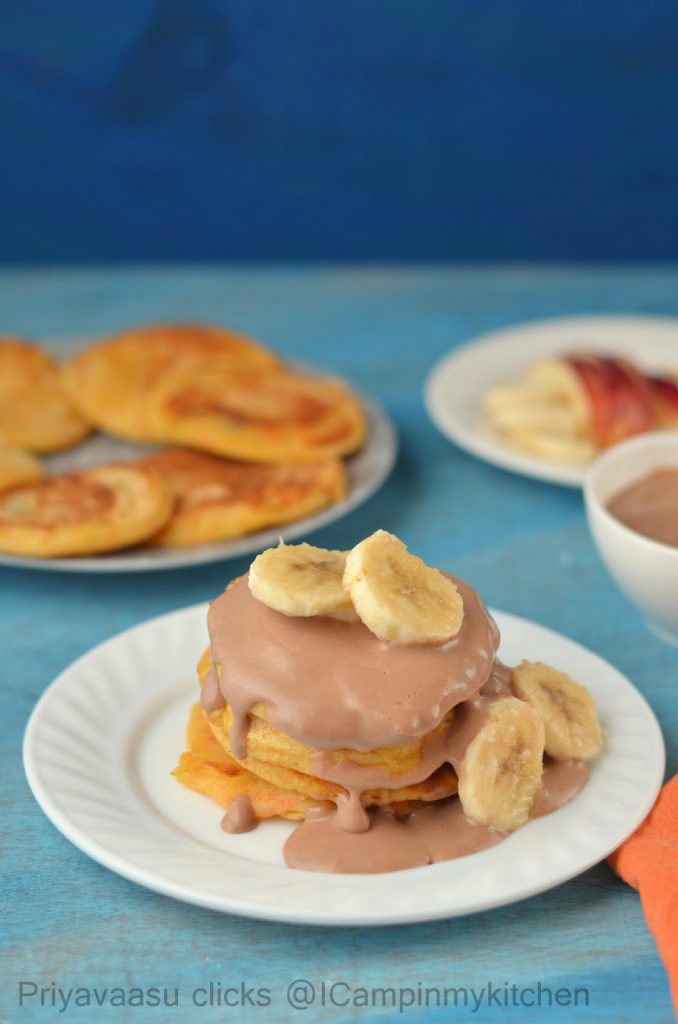 Once cooked remove it to another plate. Stack 2 or 3 pancakes on a plate, drizzle the Chocolate cream cheese sauce on top, garnish with banana slices and serve immediately.