Its been long, since i posted a Cake Recipe. I saw this cake @ Raks Kitchen.It was Love @ First Sight :)!!!!! I had some oranges @ home, so tried the cake the same day. Came out great.
Its my bestie's Birthday Tomorrow!!! Here Rem, its for you!!! Happy Birthday Girl!!!! Have a Wonderful Day!!!!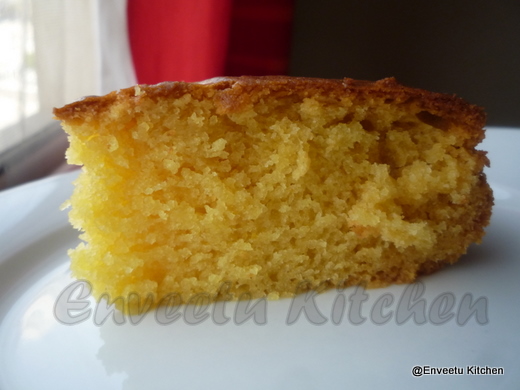 I have made small changes to the Original Recipe. Please Catch the Link for the Recipe
Ingredients
1 Cup Plain flour/Maida
1/4 Cup Wheat Flour
1 Cup Condensed milk
1/2 Cup Softened Butter
1/2 Cup Orange juice (Juice from two Mandarine Oranges)
1/4 tsp Orange zest
1 tsp Baking powder
1/2 tsp Baking soda
1 tsp Vanilla essence


Method
Pre-heat the oven to 180C. Sift together flour,baking powder,baking soda.

If using fresh orange juice, prepare it now. I got 3/4 Cup of Juice from two Mandarin Oranges. Grate the Orange Peel for some Zest.

Mix together condensed milk,orange juice, softened butter,vanilla essence.

Add the Wet ingredients to the Flour mixture. Mix well . Stir-in the Orange zest.

Grease a baking pan or line it with parchment paper. I have used 8″ round baking pan and lined with parchment paper. Pour the prepared batter in the prepared pan.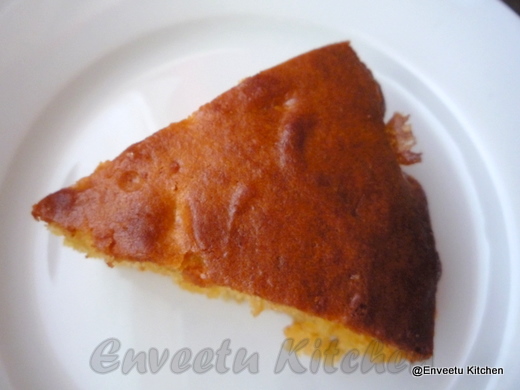 Bake it @ 180C for 10 minutes and reduce the temperature to 160C and bake for 20-25 minutes or until the toothpick inserted comes out clean.

Let it cool down for 5 minutes and then invert the cake over an wire rack and let it cool.
Bake Time differs from Oven to Oven, So Set it according to your Oven Settings.