Sweet potato chocolate cake, a luscious chocolate cake made with mashed sweet potato and topped with rich dark chocolate ganache. A cake fit for all celebrations.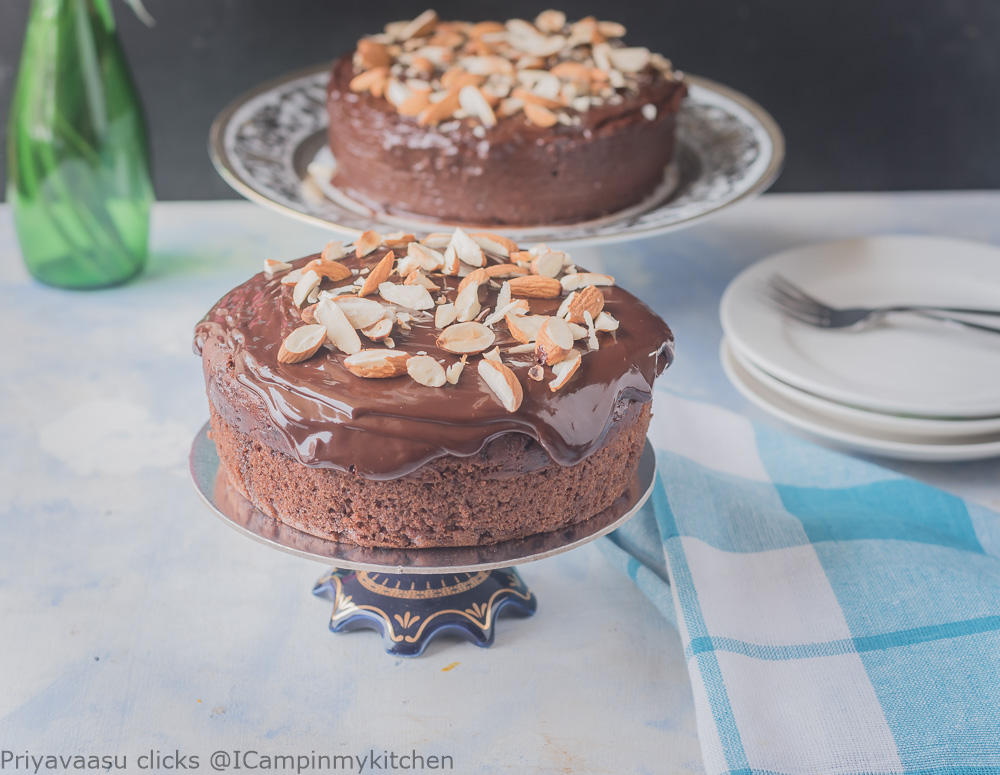 I originally planned a steamed modak for today's post.But then both my kiddos' asked for a chocolate cake. I didn't want to miss the opportunity so made a cake with sweet potatoes. Yes, a chocolate cake with sweet potatoes.
There are quite a few who hate sweet potato, for its sweet taste. Trust me, sweet potato fry with chili powder tastes out of the world, just like potato fry. Even my kiddo's hate sweet potatoes. But trust me, being a vegetarian, we can't be hating so many veggies. If you start hating, you will be left only with potatoes, you can't be eating them 365 days!!!!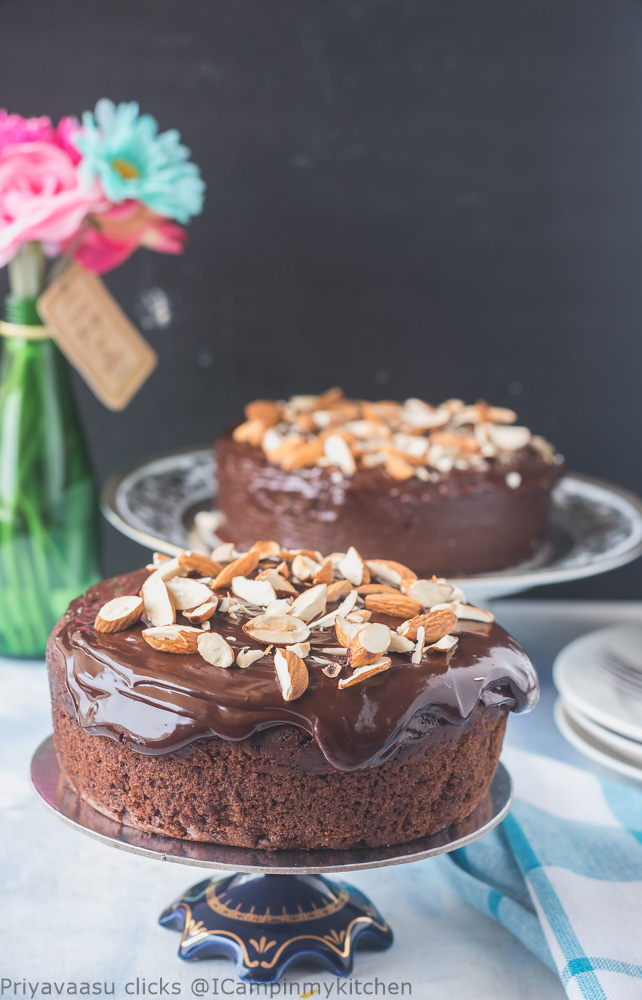 When i was clicking this chocolate cake, my lil one came running, and licked a slice straight from the board, he mopped the plate clean and didn't have a clue it has a veggie that he hates most. Magic of mommy or magic of chocolate, never bother to find out!
The Ingredients
Whole wheat flour, for personal reasons i bake only with whole wheat flour. You can use All purpose flour instead of whole wheat flour.
Buttermilk, Incase you don't have buttermilk, you can use ½ curd and ½ water and blend well.
Egg replacement powder/Flax eggs, a replacement for eggs in the recipe, if you don't have egg replacement powder, you can use Flax seed meal for the same.
Fat, i have used oil instead of butter, i have not tried using butter in the recipe yet, will update the recipe when i try it.
Sugar, baking powder and baking soda along with vanilla are the other ingredients most common to baking.
Spices, though optional, but highly recommended. i have used cardamom, nutmeg, cinnamon and ginger powder in the cake.
Make sure all ingredients are at room temperature.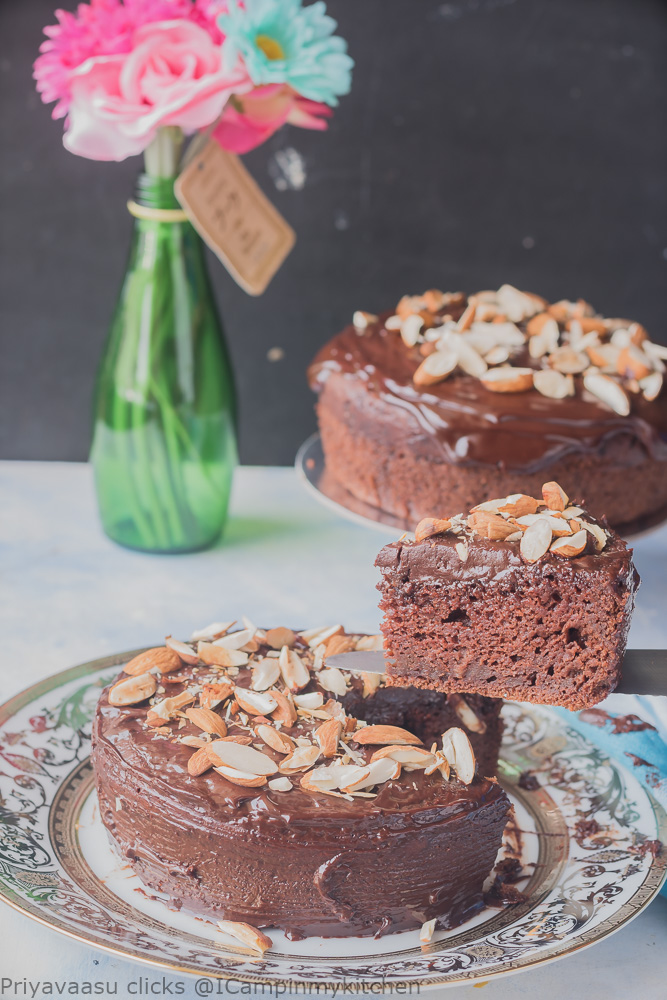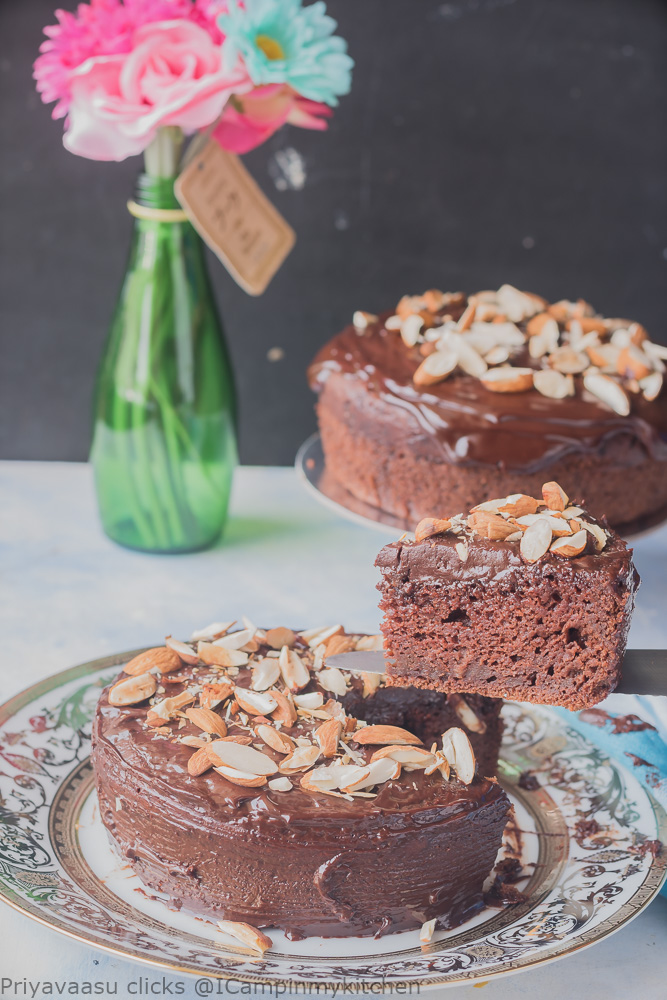 Eggless Sweet Potato Chocolate Cake
Sweet potato chocolate cake, a luscious chocolate cake made with mashed sweet potato. A cake fit for all celebrations.
Print
Pin
Rate
Equipment
Convection oven

Whisk and spatula

Measuring cups and spoons
Ingredients
For the Cake
1¼

cups

Whole wheat flour

i used aashirwad brand

¼

cup

cocoa

i used hershey's brand

½

cup

sugar

see notes

1

teaspoon

baking soda

1

teaspoon

baking powder

⅔

cup

sweet potato puree

½

cup

buttermilk/laban

see notes

½

cup

oil

any flavorless oil

2

tablespoon

Egg replacer powder mixed with ¼ cup of water, (check notes for other)

or 2 Eggs

¼

teaspoon

nutmeg powder

¼

teaspoon

cardamom powder

¼

tsp

cinnamon powder

¼

teaspoon

ginger powder

a pinch of salt
For the Chocolate Ganache
200

grams

Lindt dark chocoalte

i used 70% cocoa, @room temperature

100

ml

Whipping cream

¼

cup

icing sugar

optional
Instructions
Preparing the Sweet Potato
Before starting the cake, let us prepare the sweet potato puree, wash and peel one large sweet potato. Chop the sweet potato into big chunks.

I used Microwave to cook, In a microwave safe bowl, take the sweet potato chunks, add enough water to cover them, microwave cook for 8-10 minutes or until they are done. 

Once done, remove the bowl, strain the excess water, do not throw away the water, use it soups or making dal/sambar. Let the sweet potatoes cool completely. 

Take the cooked potatoes in a mixer grinder and blend until smooth. You can also mash it with a pototo masher, make sure the puree is smooth, without any chunks of sweet potato.
Let us bake the cake
Preheat the oven to 180C. Grease two, 4 inch bake tins, line them with parchment paper. I have used 2 pans, you can also combine and bake in one single pan.

In a large bowl, sift together whole wheat flour,cocoa,  baking soda, baking powder  and all the spice powders along with salt. To this add sugar and whisk well to combine.

In a small bowl, combine egg replacer powder and water, mix well and let it sit for a minute or two to thicken. 

In a measuring jug, take buttermilk/laban, add oil to it, whisk well to combine. (See notes)

Now to the flour mix first add the buttermilk-oil and using a electric beater/whisk combine, as you combine add the egg replacer mixture and sweet potato puree to this and whisk well to combine.

The batter might be too thick, if thick, the add another ¼ cup of water to it and combine

Divide the batter into two prepared cake tins. Bake the cake for 45-50 minutes or until a skewer inserted in the middle comes out clean.

Once done, remove the cake from the oven, let it sit for 5 minutes, then un-mould the cake onto a wire rack and let it cool completely.

Allowing the cake to rest is very important before removing the cake from the tin. Been there and done that, be patient or you will end up with half the cake in the pan and half in your hand.
Making the Ganache
Let the chocolate be at room temperature. Chop the chocolate into small chunks, Keep it ready in a bowl.  

Take cream in a microwave safe bowl/mug, heat it 30 seconds, it should just be warm to melt the chocolate.

Pour the warm cream over the chocolate and let it sit undisturbed for a minute. 

Using a whisk slowly combine the cream and chocolate until smooth. If you feel chunks of chocolate, heat the ganache in bursts of 10 seconds in a microwave and whisk smooth.

Refrigerate until use. The ganache thickens as it cools. So i always make the ganache just after making the cake, so it is all ready and in correct consistency to frost/fill the cakes.

Some might not like the taste of dark chocolate, that too 70% or 90%, in that case, once the ganache cools, whisk it with ¼ cup of icing sugar. This is purely optional, we at home love the 70% dark chocolate ganache, so i never add sugar to it.
Frosting the Cake
Once the cake is completely cool, scrap the top of the cake with a serrated knife, for a even surface. 

Add some honey or sugar syrup. i added honey to soak the cake. this step is purely optional, but it is recommended, as it keeps the cake moist and prevents from drying.

Using a spatula, add the ganache on top and spread it thick.  Garnish it with some roasted almonds, cut and serve.
Notes
I have used Bob's red mill Egg replacer powder for 2 eggs in the recipe. This can be substituted with Flaxseed/chiaseed egg.
1 egg = 1 tablespoon flaxseed meal/chiaseed meal mixed with 3 tablespoon water 

Do not throw away the Sweet potato cooked water, use it soups or making dal/sambar.

If you don't get or have buttermilk in your place, you can dilute equal amount thick curd and water, whisk well to make buttermilk. I do this at times, when i don't have enough buttermilk in hand.
The sugar used in the recipe is less, as the sweet potatoes tend to have a sweet taste, and i have topped the cake with ganache, we didnt want it to be overly sweet, if you want you can increase the sugar to ¾ cup in the recipe. 
Oven Bake timings and temperature differ from oven to oven. i have a microwave convection oven and it takes around 50 minutes for this cake to be done.  When i bake the same cake in my Gas oven it takes less than 30 minutes. Adjust timing according to your oven. 
 
Disclaimer
I m not a Doctor or a Nutritionist The Nutrition information provided above comes from the plugin and is only an estimate.
If you have tried this recipe and like it, give it a star rating or let me know in the comments below. You could also share it with me on Instagram using #icampinmmykitchen and tagging me @priyasrinivasan
You could follow me and my recipes on Facebook |Instagram | Pinterest | twitter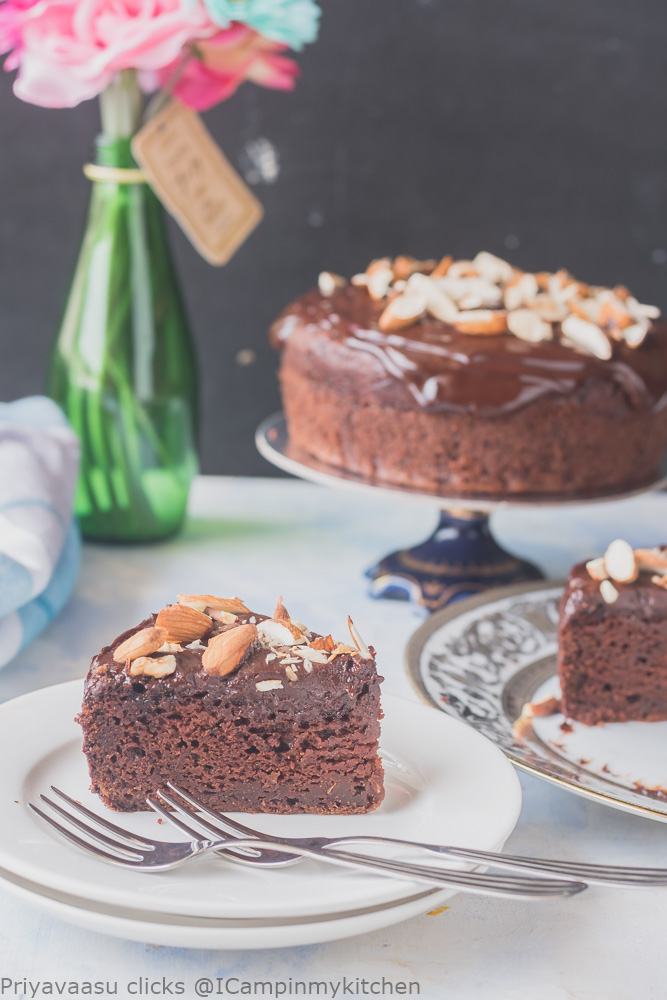 Some Fruity Muffin Recipes
Like this recipe PIN IT