I m still going with my cookie baking, the almond shortbreads i baked last week are over and my lil one asked me bake some more cookies.I remembered this walnut shortbreads post needed some decent pictures, and got it done this week.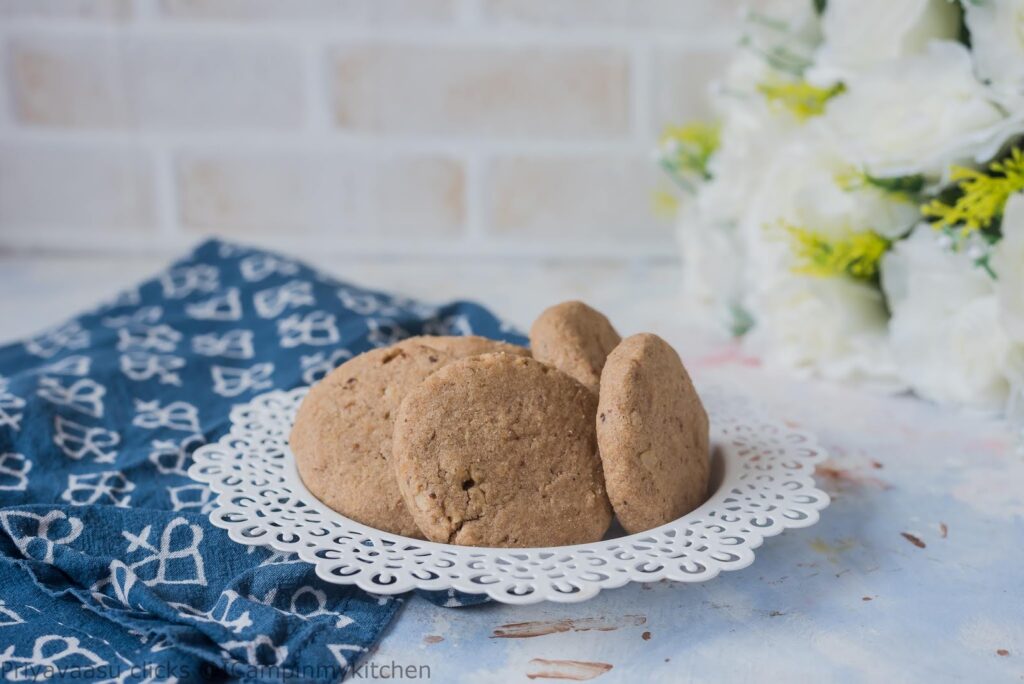 I got around 2 dozen cookies, both the kiddos are happily munching, inspite the fact the walnuts were tasting a bit old and i was worried whether they would make faces for the taste. But, they are too busy enjoying the shortbreads, they didnt give a damn about the walnuts. 
The first time i made these, i used all purpose flour and crisco, this time i have used whole wheat flour and butter, it came out perfect, again these shortbreads, make a perfect gift for this festive season. Do make and share the joy and also the calories.
Ingredients
1 cup walnuts toasted and coarsely chopped
2  cups whole wheat flour
2 tablespoon milk (optional)
¼teaspoon salt
 ⅔ cup light brown sugar
Preheat oven to 170C. Line a cookie tray with parchment paper. Toast the walnuts, either in the microwave for 90 seconds, stirring after every 30 seconds or on the stove-top. Let it cool, pulse it roughly in the processor, this way you won't have huge pieces of walnuts, which is a big no-no for my kids. 

In a medium sized bowl place the flour, cinnamon powder and salt, whisk to combine. 

In another bowl, using your electric mixer, beat the butter and sugar until light and fluffy (2-3 minutes).
Scrape down the sides of the bowl and then add the flour mixture, mixing only until incorporated.  Stir in the chopped Walnuts. After adding the walnuts,  my dough became a little crumbly, so added 2 tablespoon of milk to get it to dough consistency.

Divide the dough in half, shape each half in to logs and wrap them in plastic  and refrigerate until firm (at least one hour).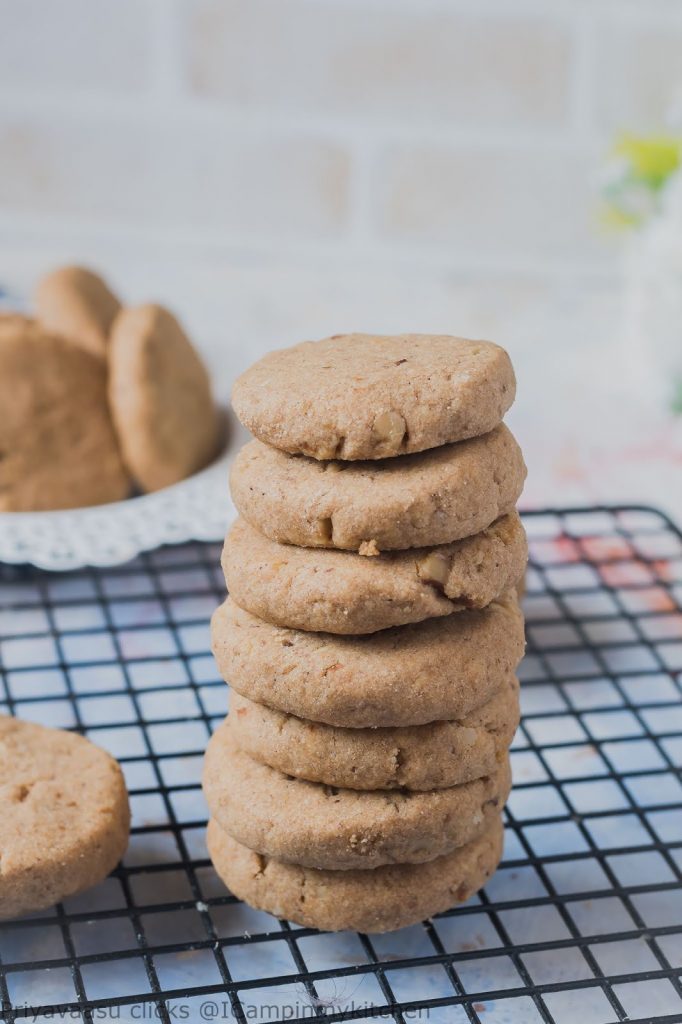 Remove one half of the dough from the refrigerator, using a sharp serrated knife, cut thick rounds and place them on the baking sheet.

The shape might little off, just adjust them in your palms to get a round shape. 

Place the cookies on the prepared baking sheets and refrigerate for 10 minutes to firm up the cookie dough. Repeat the same with rest of the dough and refrigerate until use.
Bake for approximately 25-30 minutes or until the shortbread's are a deep brown color. This ensures a crunchy and crumbly cookie. 

Remove cookies from oven and cool on a wire rack.