Walnut Shortbreads, a buttery cookie with whole wheat and walnuts. A delicious cookie for your evening tea and a wonderful gift during special occasions.
Jump to Recipe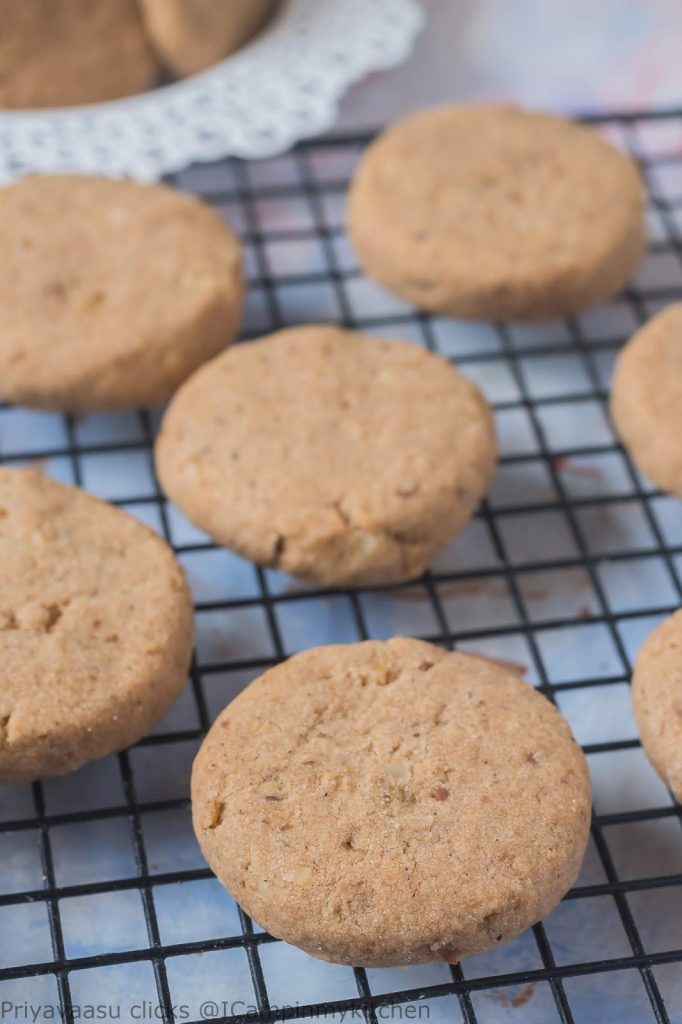 What are Shortbreads?
Shortbreads, deliciously, buttery scottish biscuits. The classic recipe of shortbreads, contains flour, sugar and butter. Cream butter and sugar until fluffy, incorporate the flour. Refrigerate the cookie dough, so it is easy to handle. Cut them into desired shapes and bake.
I bet no one can resist eating just one of these utterly buttery delicious biscuits. My lil one is a die-hard fan of shortbreads. We still love Walkers Shortbreads from the supermarket isle.
Spooky witch finger cookies is one of their favorites. Even my elder one who is in his teens now, pester to bake them with specific instructions on how i should use only peeled almonds for the nails. My husband loves these coffee cookies , his first love coffee!
More Shortbreads Recipes
Food Story : Walnut Shortbreads
These toasty walnut shortbreads are inspired from Joy of baking. I have used walntus instead of pecans in this recipe. The first time I made these, I used all purpose flour and Crisco. But this time I have made with whole wheat flour and butter, it came out perfect.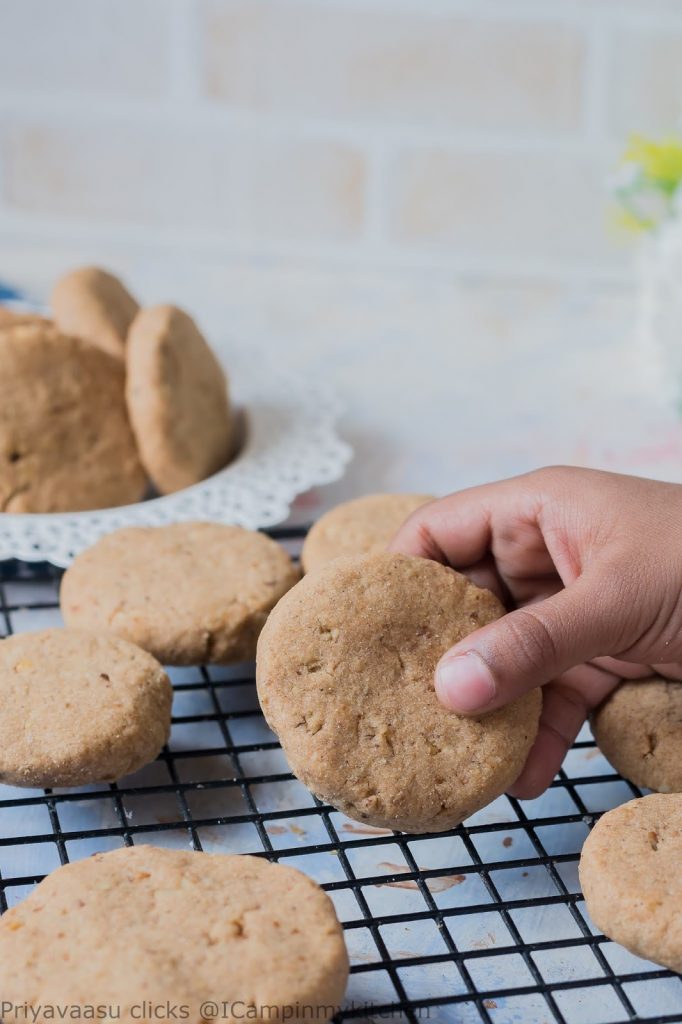 These delicious and buttery walnut shortbreads, make a perfect gift for this festive season. Do make and share the joy and also the calories.
If you have tried this recipe and like it, give it a star rating or let me know in the comments below. You could also share it with me on Instagram using #icampinmmykitchen and tagging me @priyasrinivasan.
You could follow me and my recipes on Facebook | Instagram | Pinterest | twitter
Find more cookie recipes here
Recipe for Walnut Shortbreads
Walnut shortbreads are delicious and buttery cookies made of whole wheat flour and toasted walnuts. These nutty cookies are perfect for any occasion.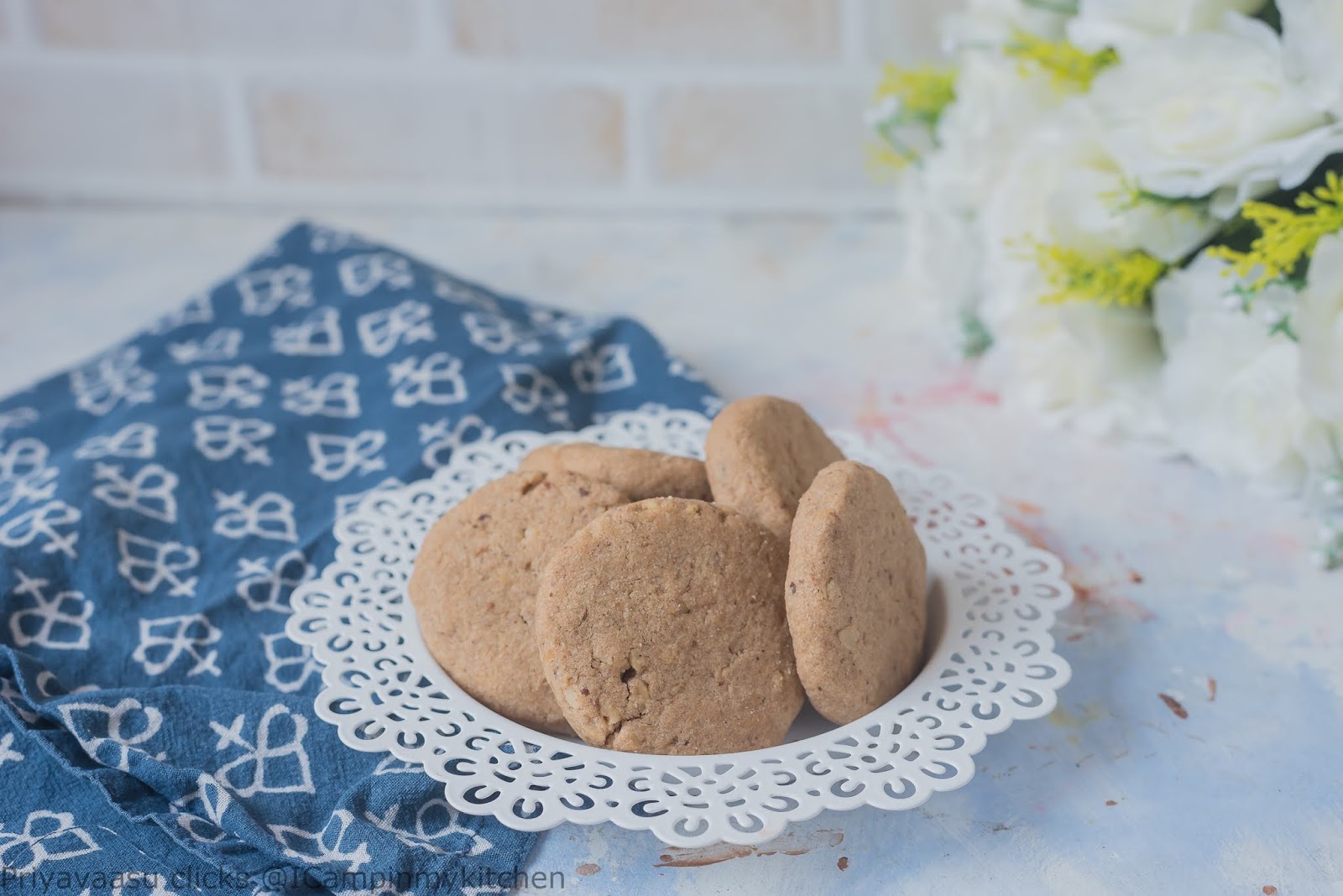 Walnut Shortbreads | Shortbread Cookies Recipe
Walnut Shortbreads, a buttery cookie with whole wheat and walnuts. A delicious cookie for your evening tea and a wonderful gift during special occasions.
Print
Pin
Rate
Equipment
Convection oven

Measuring cups and spoons

Bowls

Whisk and spatula
Ingredients
1

cup

walnuts toasted and coarsely chopped

2

cups

whole wheat flour

2

tablespoon

milk

optional

¼

teaspoon

salt

1

cup

unsalted butter

⅔

cup

light brown sugar

1

teaspoon

Cinnamon Powder
Instructions
Preheat oven to 170C. Line a cookie tray with parchment paper. Toast the walnuts, either in the microwave for 90 seconds, stirring after every 30 seconds or on the stove-top. Let it cool, pulse it roughly in the processor, this way you won't have huge pieces of walnuts, which is a big no-no for my kids. 

In a medium sized bowl place the flour, cinnamon powder and salt, whisk to combine. In another bowl, using your electric mixer, beat the butter and sugar until light and fluffy (2-3 minutes).

Scrape down the sides of the bowl and then add the flour mixture, mixing only until incorporated.  Stir in the chopped Walnuts. After adding the walnuts,  my dough became a little crumbly, so added 2 tablespoon of milk to get it to dough consistency.

Divide the dough in half, shape each half in to logs and wrap them in plastic  and refrigerate until firm (at least one hour). 

Remove one half of the dough from the refrigerator, using a sharp serrated knife, cut thick rounds and place them on the baking sheet. The shape might little off, just adjust them in your palms to get a round shape. 

Place the cookies on the prepared baking sheets and refrigerate for 10 minutes to firm up the cookie dough. Repeat the same with rest of the dough and refrigerate until use

Bake for approximately 25-30 minutes or until the shortbread's are a deep brown color. This ensures a crunchy and crumbly cookie. Remove cookies from oven and cool on a wire rack.  

I bake in an microwave convection oven, so the oven timing will be bit longer than normal gas or stand alone electric oven. If using any of the above mentioned then keep an eye on the cookie after 15 minutes.

Once cooled, store them in an air-tight container and enjoy with your evening cuppa.
Notes
Oven temperature, varies from oven to oven. If baking in a Gas oven, please keep an eye after 15 minutes, I have noticed my gas oven bakes quicker than my microwave convection oven
Disclaimer
I m not a Doctor or a Nutritionist The Nutrition information provided above comes from the plugin and is only an estimate.
Enjoy these deliciously soft, nutty walnut shortbreads with your evening cuppa. Both my kids love the home baked shortbreads.
These shortbreads were made often as gifts to my friends and family on their special occasion.
Do you like the recipe? PIN IT