Basbousa, semolina cake, mildly sweet cake made of semolina, coconut and yogurt. After baking the cake is soaked with sugar syrup, flavored with rose water or orange blossom water, making it perfectly sweet with delicate flavors.
Middle Eastern Dessert | Semolina Dessert | Eggless Cake with semolina | How to make basbousa | Egyptian Dessert with semolina | Easy dessert for a Crowd | Party dessert | How to make Basbousa | how to make semolina cake | Basbousa without condensed milk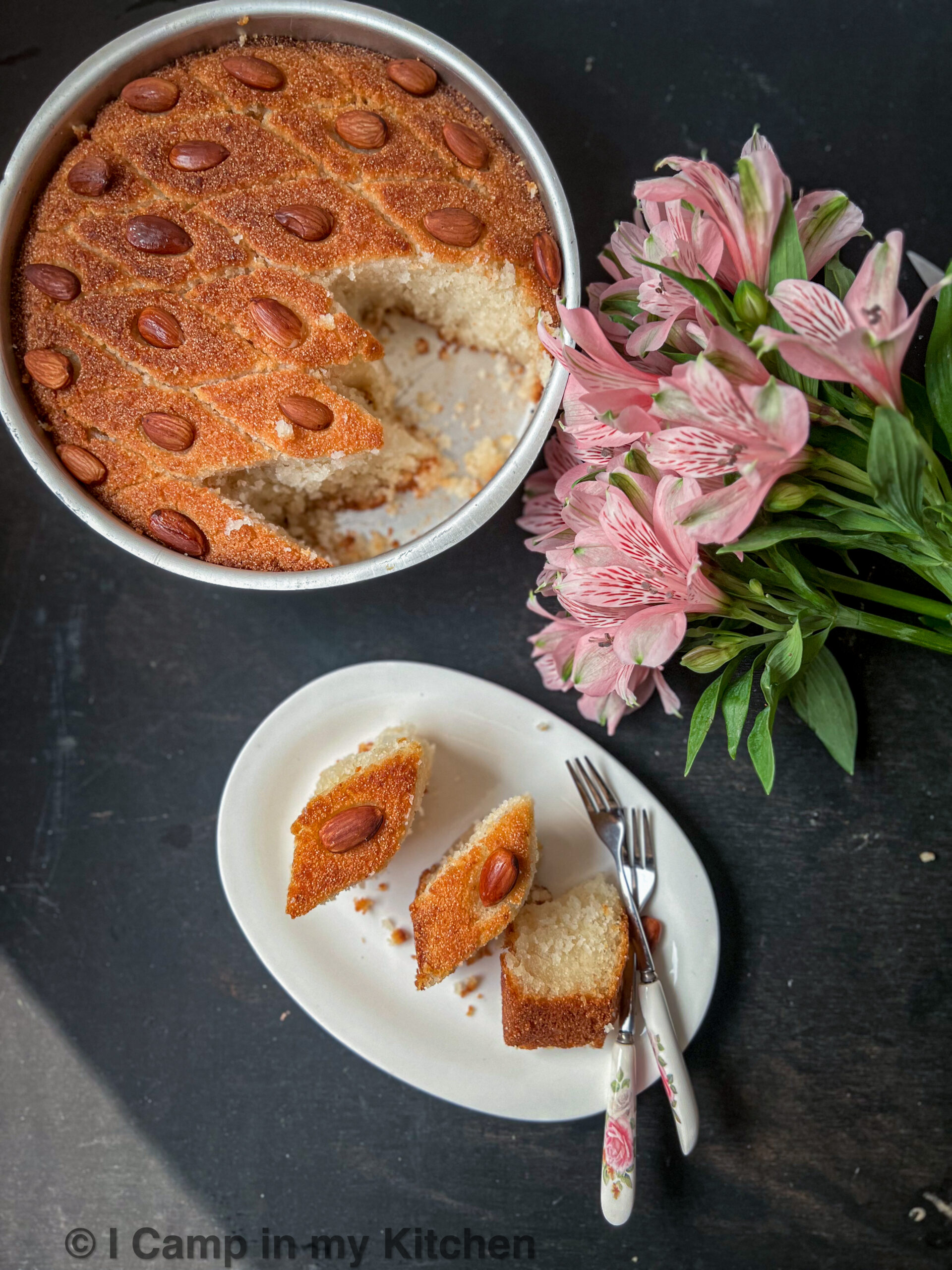 Basbousa - What is in the name?
Basbousa , aka semolina cake, one of the most popular dessert in the Middle East. It is popular throughout the Middle Eastern countries, as well as North Africa, Iran, Greece and Turkey.
This soft and mildly sweet semolina cake is known by many other names across the regions. It is called hareesa in levant, aricha or harissa hloua in Tunisia , revani/rabani in ottoman empire (greece & turkey), Qalb ellouz or heart of almonds in Algeria, pastūsha in Kuwait, namoura in African countries, shamali in Armenia.
If you love to read about cuisines, here is an article i came across talking about Indian and arab food influences
Let's Throw a Party with Middle Eastern Food
I m in UAE for almost 18 years now, this is my second home. When I chose the theme of Middle eastern cuisine for this week's blogging, I thought I will have the dishes done in a day. But to my surprise, I was still choosing what to cook.
I wanted to try this a simple spice blend like this Bezaar and something exotic like our in house favorite Baklava. I was spoilt with choices, I couldn't pick one. Then finally settled to make Falafel, an old post and a dessert basbousa.
If you wanna throw a Middle-eastern themed party, here is a list of few interesting recipes you can include
Some Dips for your Party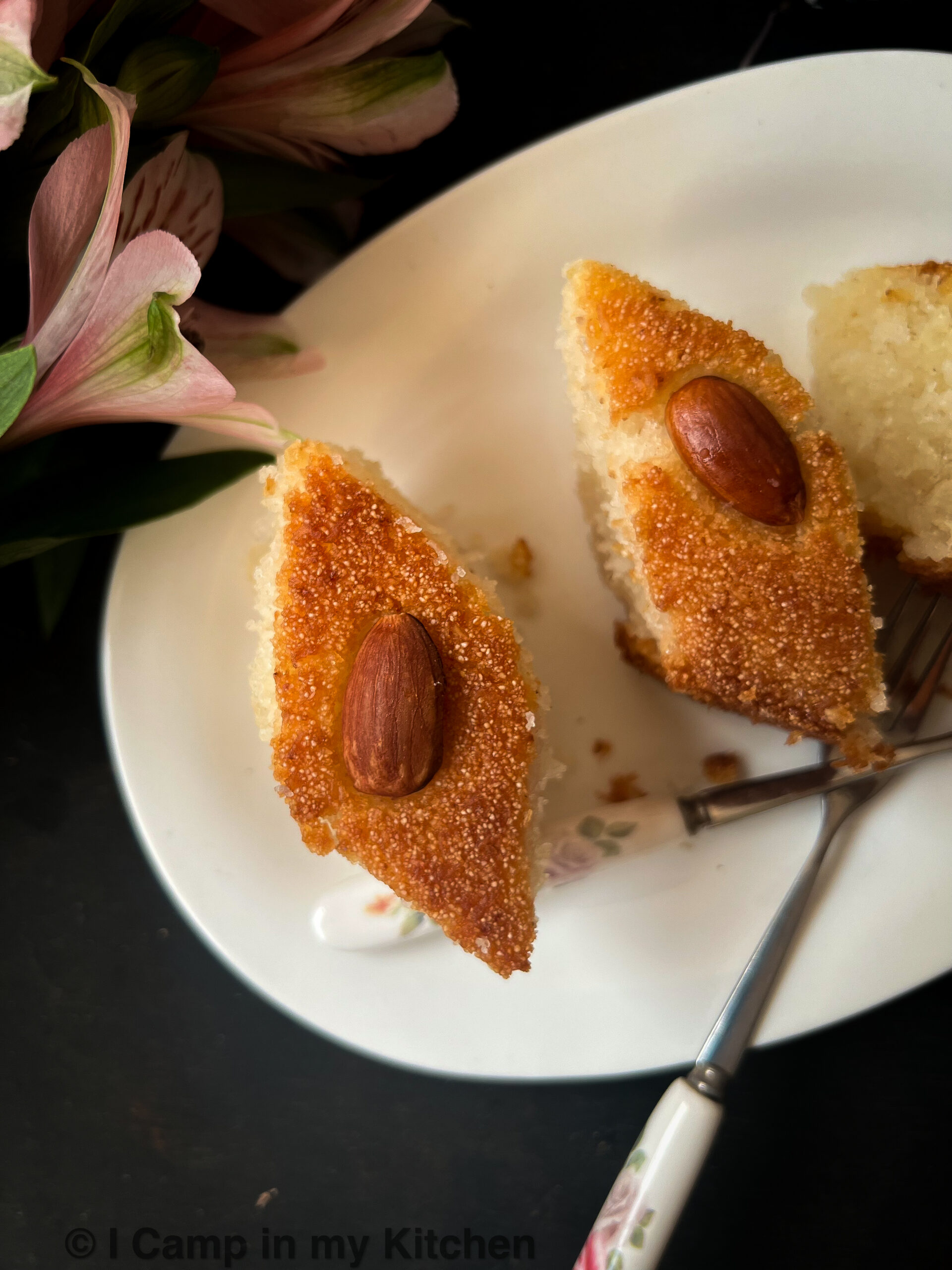 Ingredients for Semolina Cake
Semolina : Fine semolina is preferred. I even pulsed it once in the mixer to be sure of the texture.
Desiccated Coconut : Depending on the region, the recipe uses either coconut or almonds. I have used coconut in this Egyptian basbousa recipe.
Sugar : The baked cake as such uses very less sugar. The actual sugar is added as syrup once the cake is baked. For the syrup i used normal sugar, whereas for the cake, castor sugar is preferred. I pulsed the sugar along with the semolina for this.
Leavening agents : Cake doesn't use any eggs and yogurt along baking soda and baking powder does the job for a fluffy cake.
Flavors : The sugar syrup is flavored with orange blossom water or rose water. I would definitely go for orange blossom water, since i didn't have any settled with rose water.
Step wise Instructions to make Egyptian Basbousa
Please check recipe card below for exact measurements of each ingredient used and also for the detailed instructions
First and foremost we need to make the sugar syrup, as the syrup need to be cold and poured on a hot cake.
Take sugar and water in a saucepan, let it boil and sugar dissolve completely. Add lemon juice to this and let it cool completely, then add rose water to this and keep aside until the cake is ready.
Take semolina and sugar in a mixer and pulse 3-4 times to make it fine. Take this in a wide bowl.
To this add baking powder and baking soda. Mix well. Make a well in the middle, add curd and oil to this.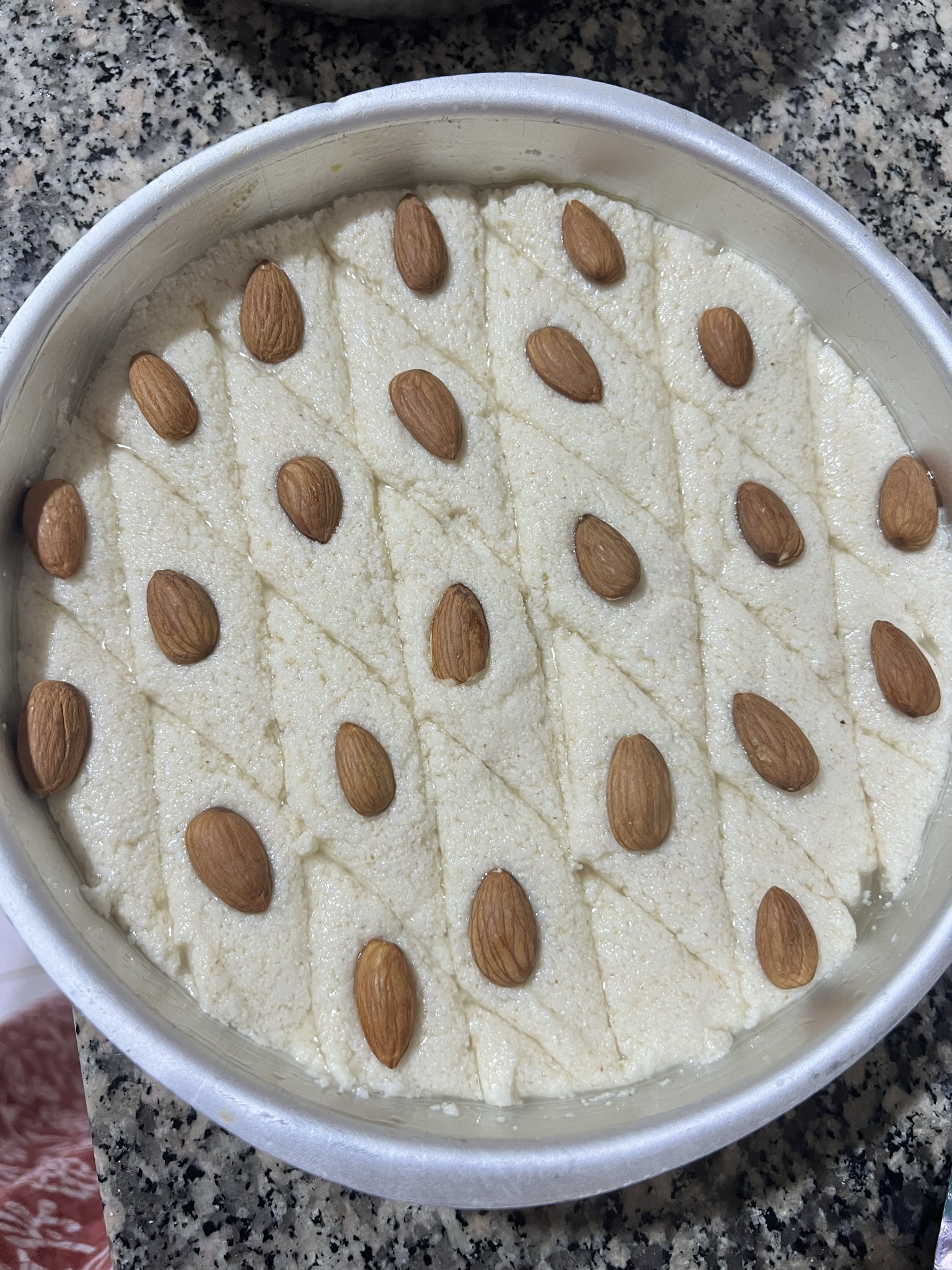 Using a spatula mix everything together. Grease a sheet pan with oil or tahini. Transfer the basbousa batter to it. Smoothen using the spatula.
Using a sharp knife, mark squares and place an almond on top of each. You can also use pisatchios.
Bake this in the preheated oven for 35-40 minutes. Once done, remove the cake from the oven.
Pour the cold sugar syrup on the hot cake. I poured half first, let it soak for 5 minutes, then poured the remaining syrup. Using a sharp knife, redraw the squares, cutting deep, to ease cutting.
Let the cake sit for an hour, soaking the syrup. Slice it along the lines and enjoy the cake.
Do you like this Cake? PIN IT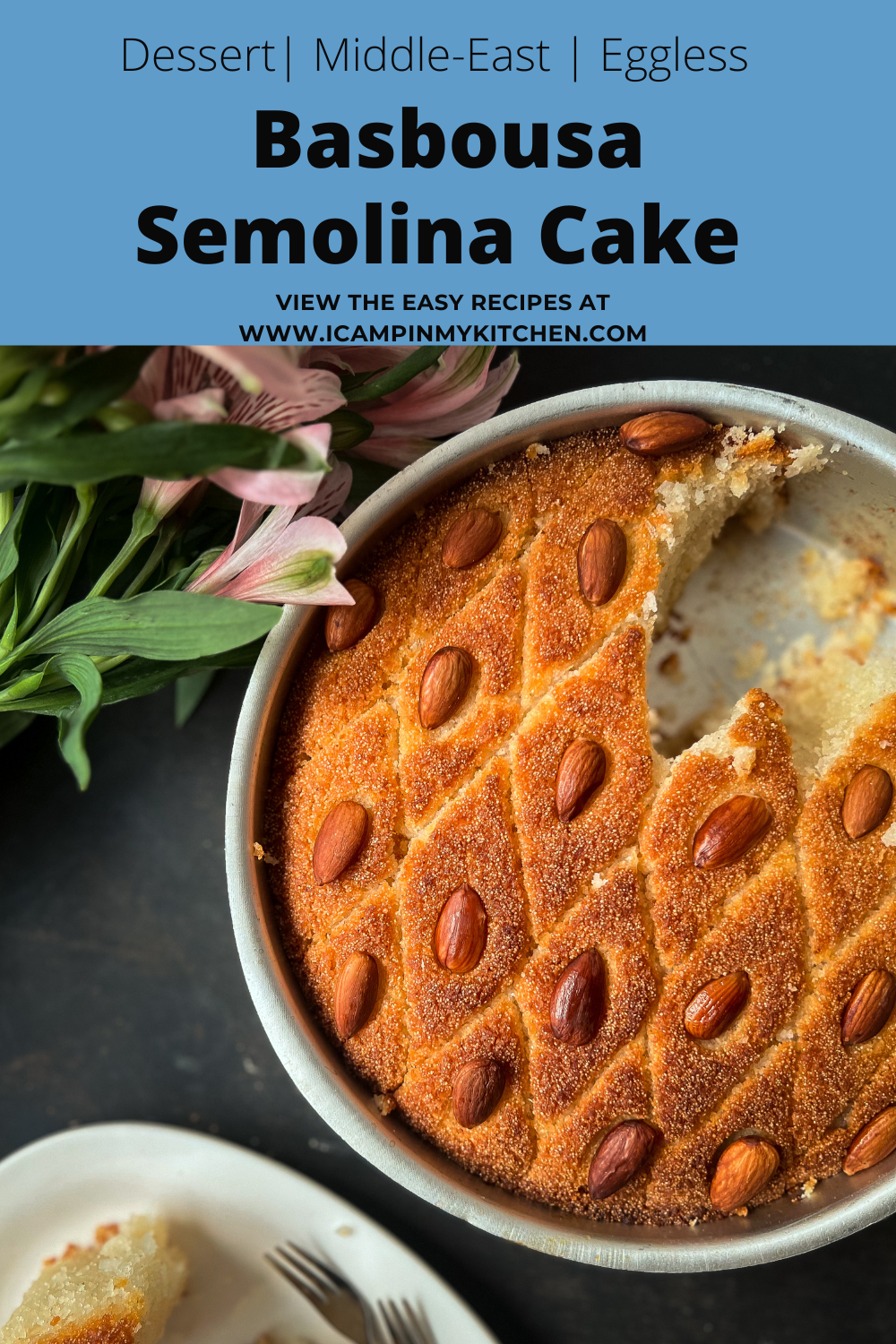 Recipe Card for Semolina Cake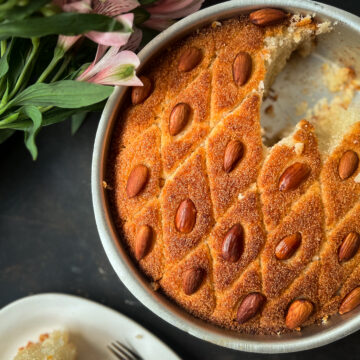 Basbousa | Semolina Cake | Middle Eastern Sweet Cake
Basbousa, semolina cake, mildly sweet cake made of semolina, coconut and yogurt. After baking the cake is soaked with sugar syrup, flavored with rose water or orange blossom water, making it perfectly sweet with delicate flavors.
Print
Pin
Rate
Equipment
Measuring cups and spoons

Whisk and spatula

Bowls for mixing the batter

Convection oven
Ingredients
For the syrup
1

cup

sugar

1

cup

water

1

tablespoons

rose water

or orange blossom water

1

tablespoons

freshly squeezed lemon juice
For the Cake
2

cups

Semolina

1

cup

Coconut desiccated

½

cup

Oil

or melted butter

⅓

cup

Sugar

1

teaspoon

Baking Powder

1

teaspoon

Baking Soda

1

cup

Plain Yogurt

Almonds
Instructions
Make the sugar syrup before you start on the cake, as it should to be chilled to soak the hot cake.
Let us make the syrup
Take water and sugar in a saucepan. Bring to a boil.

Reduce the heat and cook the syrup over low to medium heat for up to 10 minutes. Take it off the heat, add lemon juice to this.

When the syrup is completely cold, add rose water (or orange blossom water) and mix well. Keep aside until use.
Let us make the Cake
Preheat oven to 180C. Use a Sheet pan to bake the cake, grease it well with oil/butter/tahini. I used to an 8 inch round tin and the cake had a good height. I personally preferred it would have been good if it was in a sheet pan, that could the spread the batter well, and give a decent height to the cake.

I took the semolina and sugar in a blender and pulsed it 3-4 times to make sure the semolina texture is closer to fine.

In a bowl combine the pulsed semolina and sugar along with baking soda, baking powder, and coconut.

Use a whisk to combine all the ingredients or you can mix them well with your hands.

Make a well in the middle, add the yogurt and oil. combine using a spatula. This comes easily and the batter looks like a scoopable ice-cream.

Transfer the cake batter to the greased sheet pan. Spread the batter using spatula and smoothen the top.

Using a knife, score the top of the cake creating diamond shaped pieces. Push a piece of almond into each diamond shaped piece of cake batter.

Place in the oven on the middle rack for 30-35 minutes or until golden brown. Mine was done by 35 minutes.

Once done, remove the cake to the kitchen counter. Using a sharp knife cut through scored lines making sure to carve all the way to the bottom of the tray.
Let us bring the basbousa together
Pour half of cooled sugar syrup on the hot cake. Let the cake absorb it all. Pour the remaining syrup too.

Let the cake soak all the syrup and absorb all the flavors.

Slice through the scores and enjoy the cake.
Notes
This soft and delish basbousa stays good on the kitchen counter for 1-2 days. If storing for more i suggest refrigerating in an air-tight box. I prefer refrigerating as i live in warm climate and the cake contains coconut. 
This delish middle eastern semolina cake makes a great make ahead dessert for parties and get togethers. it is also easy to make this for a crowd.
Nutrition
Calories:
264
kcal
|
Carbohydrates:
37
g
|
Protein:
5
g
|
Fat:
11
g
|
Saturated Fat:
4
g
|
Polyunsaturated Fat:
2
g
|
Monounsaturated Fat:
5
g
|
Trans Fat:
0.03
g
|
Cholesterol:
1
mg
|
Sodium:
109
mg
|
Potassium:
92
mg
|
Fiber:
2
g
|
Sugar:
19
g
|
Vitamin A:
1
IU
|
Vitamin C:
0.5
mg
|
Calcium:
36
mg
|
Iron:
1
mg
Disclaimer
I m not a Doctor or a Nutritionist The Nutrition information provided above comes from the plugin and is only an estimate.