I never buy banana's!! First reason, they are very addictive, I keep peeling and eating. Though they are really good for heath, they also boost your blood sugar!!!! 🙁 so, these days if at all i buy, i buy only 3 or 4, that too for kuttu. This time kuttu also didn't have it properly, so poor thing, 2 banana's were hanging in my Mug holder, looking very sadly at me!!!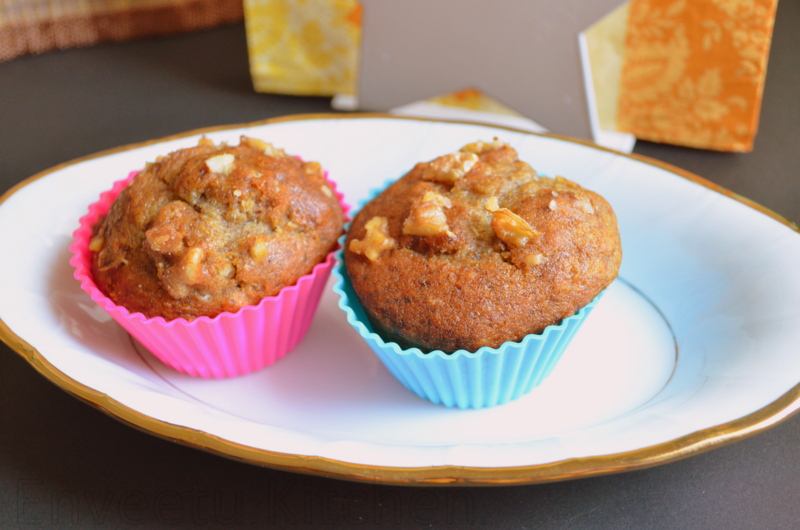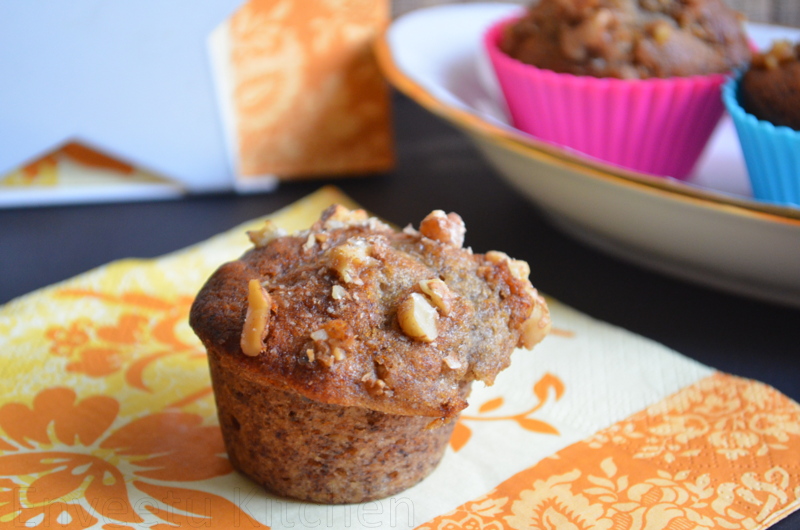 Ingredients
¾ cup  Flour 
2 nos Big Banana ( i used Dole Variety)
¼ teaspoon Cinnamon Powder
2 tablespoon finely Chopped Walnuts
Method
Preaheat oven to 190 deg C. Grease the Muffin tray. I used a Silicone Muffin tray, so i just sprayed them with little Non-Stick Cooking Spray.

Sieve maida, baking soda, baking powder and Cinnamon together.
Peel the skin of the banana, take them along with sugar in a mixer and grind them to a paste. Add oil to this Banana-Sugar Paste and Mix gently.

Add the Flour Mixture little by little to Banana-Sugar-Oil mixture and mix very gently. Stir in the walnuts and keep some for topping.
Meanwhile spoon the mixture in the muffin tray till ¾th, , add in the remaining walnuts and bake it for 20-25mins or until tooth-pick inserted in the center comes out clean.
Let it sit in the oven for a minute then cool completely on a wire rack. Enjoy Warm.