Eggless mango cake, a delicious whole wheat cake baked with mango puree and freshly pounded spices. A must bake cake for the mango season.
Jump to Recipe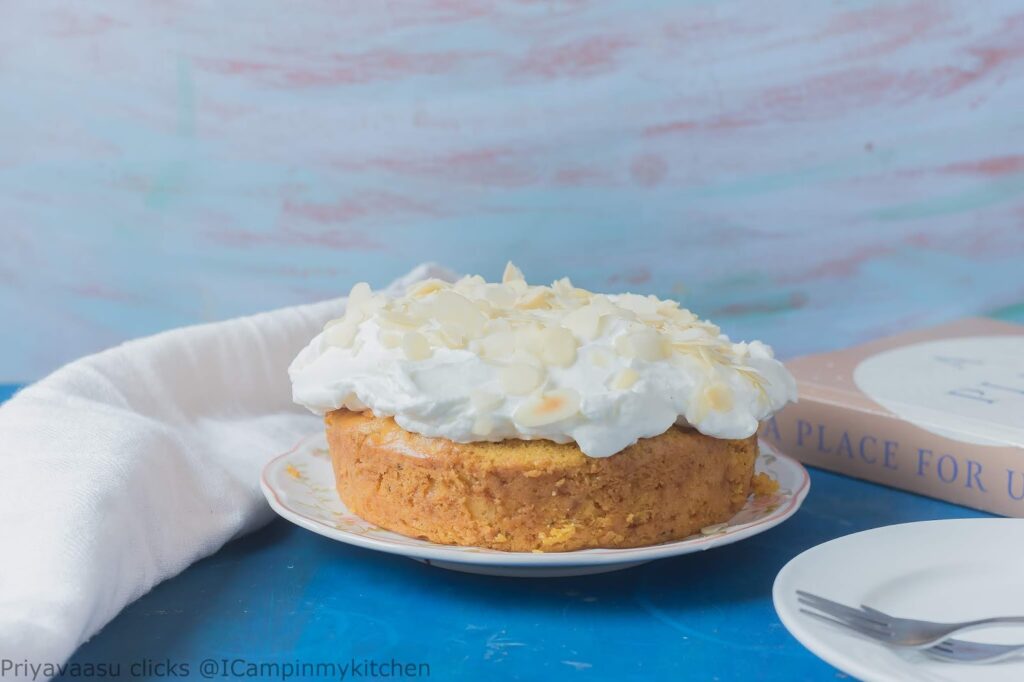 About the Recipe
My Mango muffins were such a hit with kids, in the same happy mood, I wanted to bake a cake for them. I used the same recipe, instead of buttermilk, added milk and some warm spices and crunchy almonds to the recipe.
This luscious eggless mango cake, spiced with cardamom, cloves and ginger is beautiful party pleaser. I wanted to keep the cake simple and rustic, so didn't go for any detailed frosting. It is a simple whipped cream dumped on the cake and smoothened with a spatula and garnished with crunchy almonds.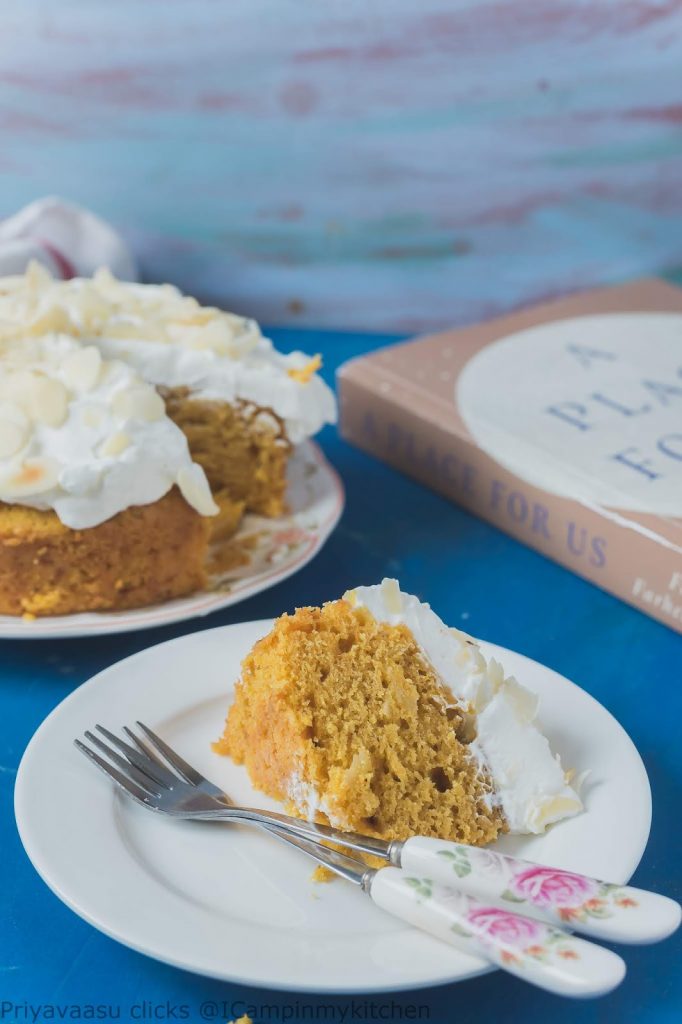 The almonds added a nice toasty crunch to the cake and the spices makes it more festive and warm. I baked 2 cakes, one cake went for my 2, who enjoyed this cake warm for their breakfast next day. I frosted the other cake with simple cream which both my kids enjoyed!
Mango Puree
I have made this cake with store-bought mango puree. i had some leftover puree after making Mango ladoos, which is another super-hit recipe in my friends circle. The store bought ones are sweetened and gives a wonderful color on the final dish.
You can definitely try this cake with homemade mango puree, I would suggest any sweet mango, i personally prefer alphonso or our recent love the mangoes from Yemen and Pakistan. These mangoes were so sweet and aromatic, they will absolutely heaven in bakes.
If using homemade mango puree, I would recommend adding yellow color or using saffron for a bright color on the cake. If you have any leftover puree, try this delicious mango & coconut rolls , you will never regret it.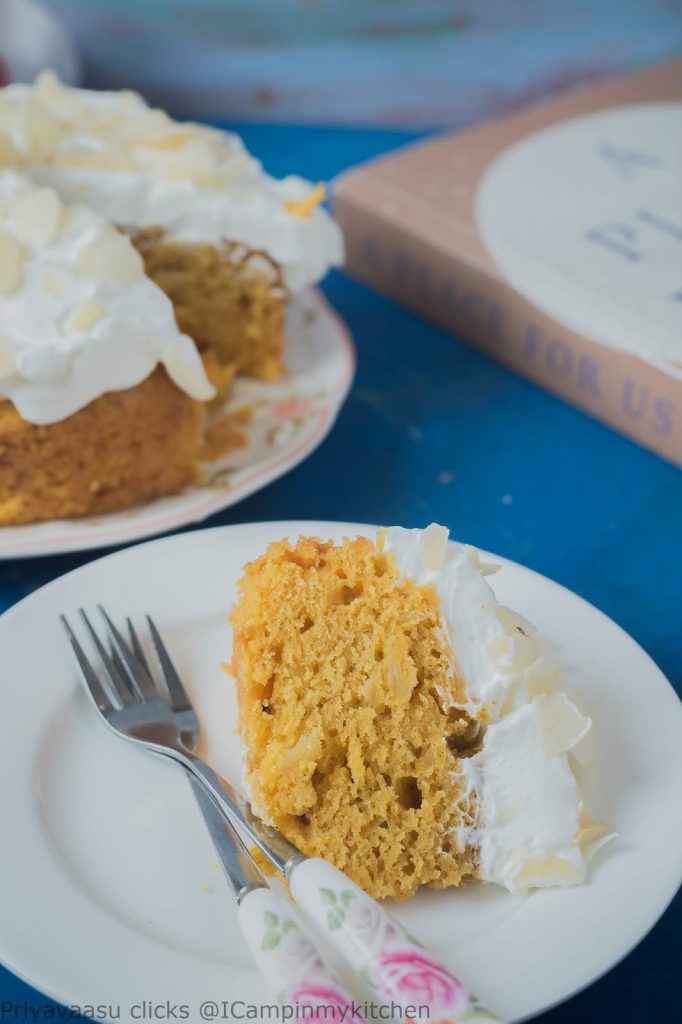 The Ingredients
Whole wheat flour, for personal reasons I bake only with whole wheat flour. You can use All purpose flour instead of whole wheat flour.
Mango Puree, I have used store bought puree, if using homemade, add few drops of yellow color or generous pinch of saffron soaked in warm milk for natural coloring.
Milk, is the liquid and also a replacement for eggs in the recipe.
Fat, i have used oil instead of butter, i have not tried using butter in the recipe yet, will update the recipe when i try it.
Sugar, baking powder and baking soda, the other ingredients most common to baking.
Spices, I have used cardamom, cloves, cinnamon and ginger powder, all freshy pounded.
Make sure all ingredients are at room temperature.
For Frosting, I have used whipping cream, cream cheese and icing sugar. If vegan, skip the cream cheese and use non-dairy whipping cream.
If you have tried this recipe and like it, give it a star rating or let me know in the comments below. You could also share it with me on Instagram using #icampinmmykitchen and tagging me @priyasrinivasan. You could follow me and my recipes on Facebook | Instagram | Pinterest | twitter
More Mango Recipes
Recipe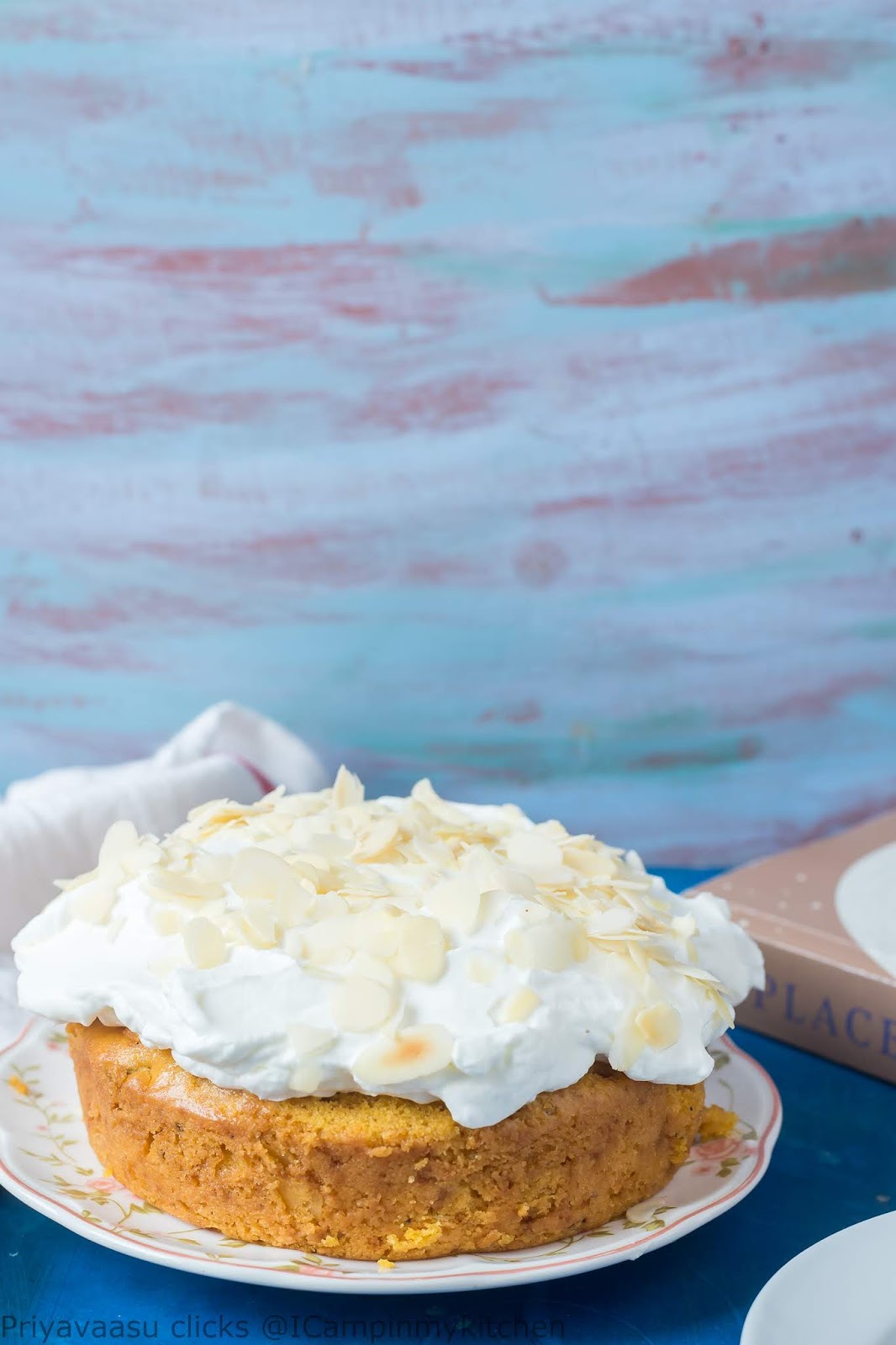 Eggless Whole Wheat Mango Cake | Spiced Mango Cake
Eggless mango cake, a delicious whole wheat cake baked with mango puree and freshly pounded spices. A must bake cake for the mango season.
Print
Pin
Rate
Equipment
Convection oven

Measuring cups and spoons

Bowls for mixing the batter

Whisk and spatula
Ingredients
1.5

cups

Whole wheat flour

¾

cup

sugar

1

teaspoon

baking powder

½

teaspoon

baking soda

½

cup

milk

1

cup

mango puree

½

cup

oil

¼

cup

almond flakes

1

teaspoon

cinnamon

4-5

nos

cloves

pounded

6-7

nos

cardamom

only seeds, pounded

½

teaspoon

dry ginger powder
For the frosting
125

ml

Whipping cream

3

tablespoon

cream cheese

¼

cup

icing sugar
Instructions
Preheat the oven to 170C. Prepare the baking pan, grease and line it with parchment paper. I used 2 5 inch pans for this. 

In a large bowl, take together flour, baking powder, baking soda together. Using a balloon whisk, whisk it all together. You can also use a sifter and sift them into a large bowl.

To this flour mix add almonds, cinnamon powder, ginger powder, pounded cardamom, pounded cloves. Whisk this well.

In another bowl, take mango puree, add sugar, oil and milk to it. Use an electric beater or whisk, mix the contents together into a uniform liquid.

To this liquid add the dry ingredients in 3batches. Use a spatula to mix the flour into the liquid in single direction. Do not mix vigorously

Pour the batter into the prepared pan, bake the cake in the preheated oven for 40-45 minutes or until a skewer inserted in the middle comes out clean.

Remove the cake from the oven, let it sit in the pan for 5 minutes. Then slowly remove the cake onto a wire rack and cool completely.

If serving without any icing, serve it warm. If planning to frost the cakes. let it cool completely. Cling wrap and refrigerate until you are planning to frost it. I baked 2 5 inch cakes, but 1 cake got over even before i could frost and click them. 
Frosting
Take together cream cheese, whipping cream in a bowl, using an electric beater, whip until you see soft peaks, add icing sugar to this and whip until you see stiff peaks. Refrigerate until use.
Frost the Cake
I simply dumped the whipped cream frosting on top of the cake, tried to level it and cover the entire cake. Sprinkled some toasted almonds and served.
Disclaimer
I m not a Doctor or a Nutritionist The Nutrition information provided above comes from the plugin and is only an estimate.
This delicious eggless mango cake can be served for any occasion and a must try during the mango season. With the rustic topping, the cake makes a wonderful center piece for your next party or celebration.
Any leftover cake can be refrigerated in an air-tight container or just cling-wrap the cake nicely and refrigerate. We have stopped using plastic wraps at home, so i prefer to store it in an air-tight container.
More Eggless Cakes
Do you like the Recipe? PIN IT