I make roti almost every other day, either for lunch or for dinner. Both my kiddos love to eat roti's anytime of the day. My lil one prefers it with labneh/curd cheese, and my elder one loves it with a spicy side. With so many roti days, i definitely have to look for different curries. My hubby is a happy soul with paneer, Lobia/black-eyed peas. But kids would definitely get bored and me too!! 
When you have interest in cooking, you have a crazy energy to try new things, with that same crazy energy i once tried something new with horsegram. My hubby begged me not to make that side again 😅. 
Poor man, he never interferes in the kitchen business, infact he comes to know the menu only when he opens his lunch/breakfast dabba.  So, when he makes such a request, than there was definitely something, more than bad about that dish!!😆😆 
So, i adhered his request and didnt try making horsegram again. But now with around 1/2 kg soaked horsegram in the freezer, everytime i open the freezer i felt such a sharp guilt pain in my gut!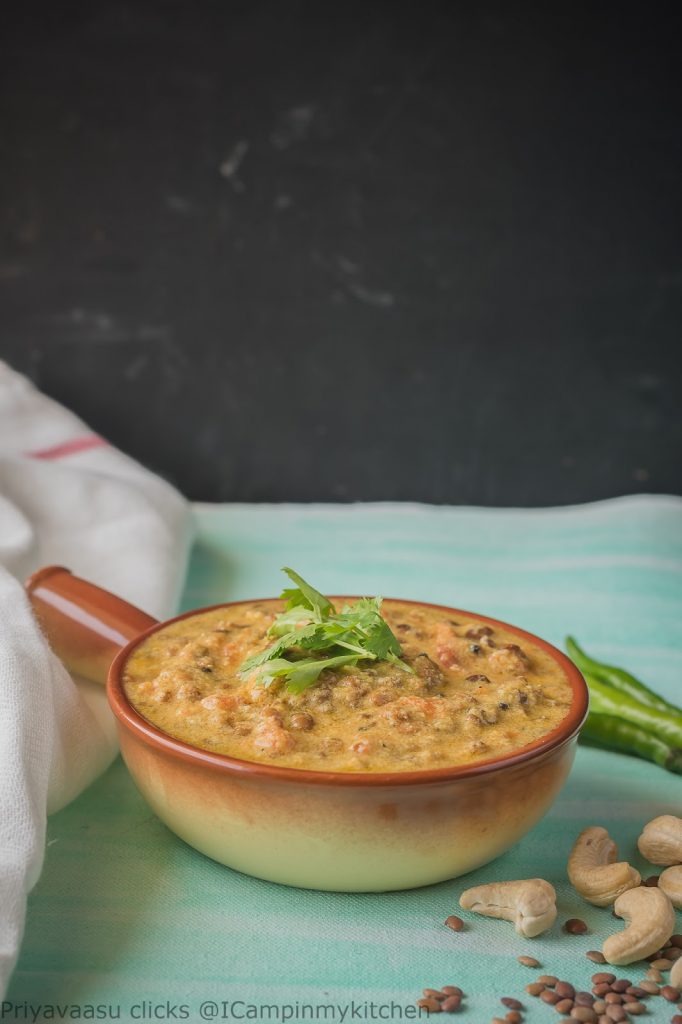 So, i was on a mission again, looking for some foolproof recipes with horsegram. While searching, i came across a blog(sorry i forgot the name), where they cooked it with baking soda first and then made it into a curry. Horsegram has different taste, more earthy, to put it decent, which many might not like. I found cooking with baking soda, cuts that sharp taste. The day i made this coconut masala for lunch, kids and my parents were at home, and they all had an extra serving of the curry, my elder one liked it so much, that he licked the bowl clean.  I had to make this again the next day for my hubby's dinner, this time he begged me to make this again for his lunch dabba. No, i m not exaggerating any part here. 😇 
This is a perfect curry that goes well with rice. It can also be paired with roti. Do try and let me know how you liked it.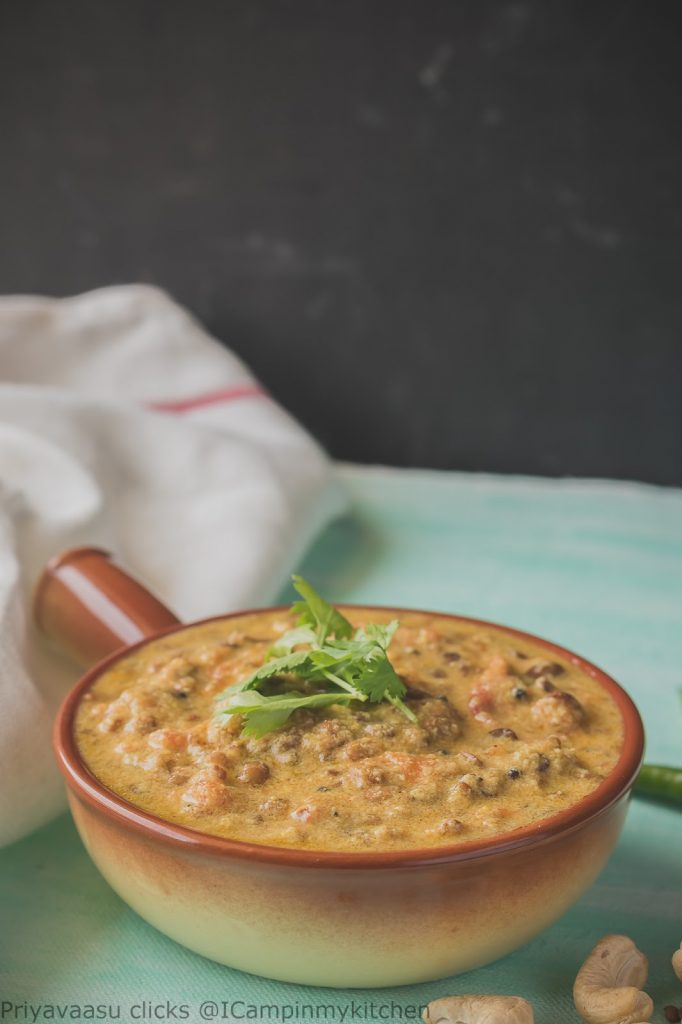 Ingredients
3/4 cup horsegram/Kulith/Kollu
2 pinches of baking soda
1/4 tsp salt or as per taste
2 pinches of turmeric powder
1 tomato, finely chopped
1/4 tsp salt for the masala


For the masala
1/2 cup freshly grated coconut
2 nos green chilies
4-5 cashewnuts
a small piece of ginger
handful of fresh coriander leaves

Tempering
2-3 tsp of oil, i prefer coconut oil
1/4 tsp mustard seeds
1/4 tsp cumin seeds
1 or 2 red chilies, broken (optional) Add according to your spice level
4-5 nos curry leaves, torn into pieces


Method
Soak the horsegram overnight in water or atleast a minimum of 8 hours. Next day, drain all the soaked water from the dal. Take it in a pressure cooker, add enough water, baking soda,salt and turmeric powder to the dal. Pressure cook for 4-5 whistles or until soft. While the horsegram is cooking, soak cashewnuts in hot water for 15 minutes.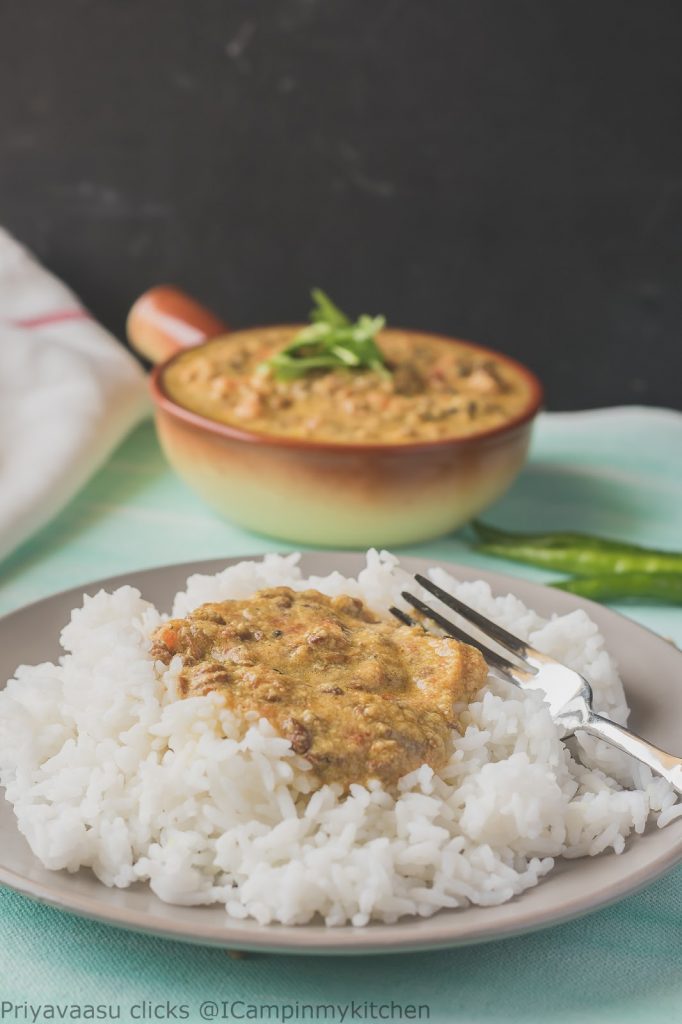 Let the pressure release on its own. Once done, drain the water. keep the dal aside. Now let us prepare the masala. In a mixer, grind together coconut, soaked cashewnuts, chilies, ginger and coriander. Add 1/4 cup of water and grind this to a smooth paste. If you need more water, add another 1 or 2 tbsp not more than that.

Heat a pan with coconut oil, splutter mustard seeds, crackle cumin seeds, add curry leaves and red chilies. Add chopped tomatoes to this and saute until they turn mushy. Now add the ground masala to this and the cooked horsegram dal. Add 1/2 cup water to this and salt. Let this simmer for few minutes, until the masala flavors blends well with the dal and the curry thickens.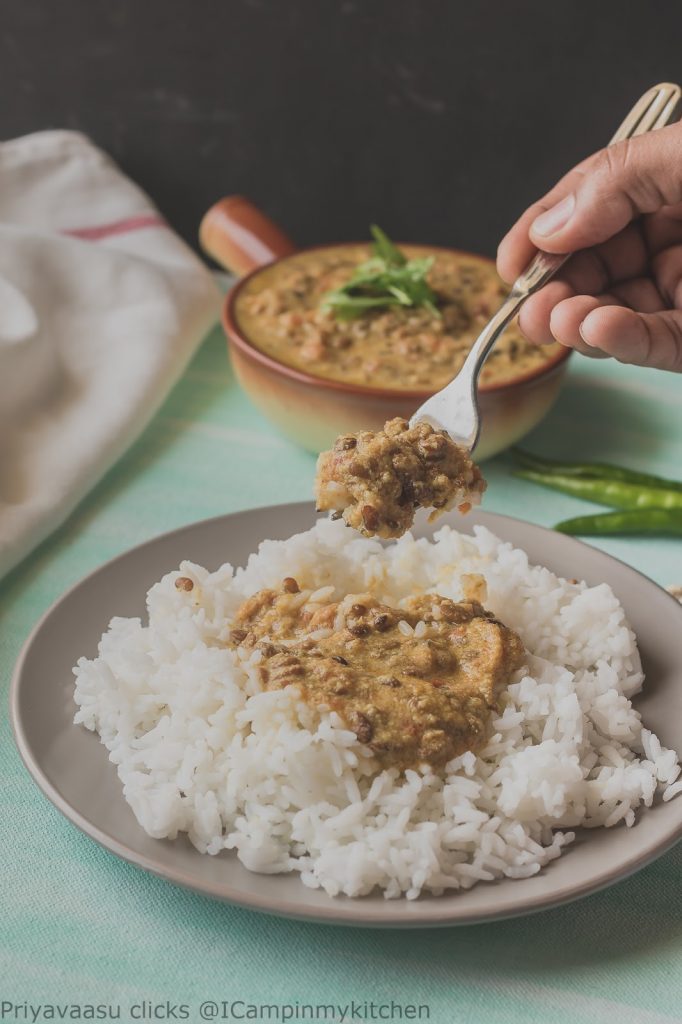 Once done, garnish with fresh corinader leaves and serve warm with steaming hot rice or alongside roti.