Breakfast, the big meal of the day should always be something filling and nutritious. But, unfortunately many miss this big meal of the day, giving various reasons. First and foremost of them is No Time. Being healthy or eating healthy is not for a day or two. It is also not a program to be followed for a month, it is a lifestyle change, you should prepare yourself to let go of all the bad eating habits you have so far considered as good or healthy. This process will take time, patience is more important, once you are aware of what is good and suitable for your body, then achieving good health is around the corner!!!!
For those, who give time as the reason for skipping breakfast, we have these super fast and delicious breakfast served in tall glasses called Smoothies. 
Smoothies with fresh fruits blended along with milk/yogurt or even non-dairy milk gives you all the energy required to breeze through the whole day.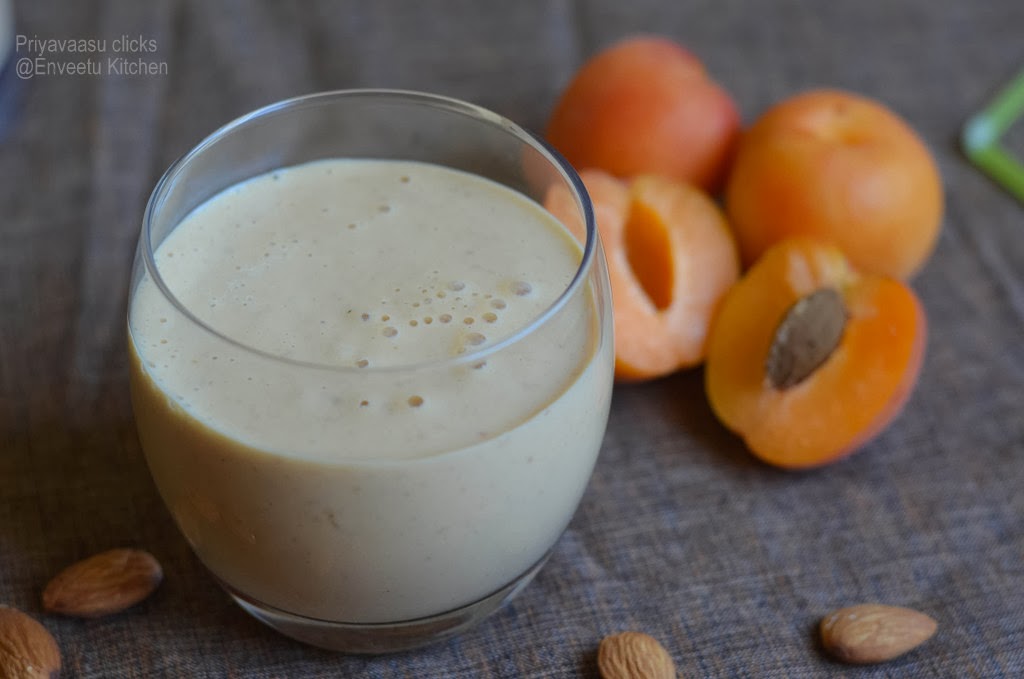 Last week i got some fresh apricots from the market. I have never tried fresh apricots until last year. The first time i bought them i was a bit hesitant to try it for myself, so i gave it to my hubby dear who is game for fresh fruits anytime, he just loved them and assured me that it is awesome. You should be lucky to get sweet apricots, coz sometimes they are a bit sour. I just hate that sour taste when i take a bite into the fruit! uhhh!  
Inspired from Someday Spoon
Ingredients (makes 2 servings)
2 tablespoon honey (optional)
Method
Remove the stones from the apricots and cut them in to small pieces. Peel and cut the banana in to chunks.

Take the cut apricots, banana, oats, almonds and yogurt in a blender and blend until smooth. 

If adding honey, add it at the end, blend once and serve immediately.
If serving later, do not add honey. Refrigerate the smoothie, tightly cling-wrapped in serving glasses. Add sweetener just before serving.