There are certain recipes which we plan to make since a long time but somehow we never make it due to less time or simply put laziness in my case. Adai Aviyal, a very popular Tiffen Combo, available in many south-indian restaurants as a weekend special menu. Hot Adai with all the spices gets balanced well when paired with Aviyal – a mildly spiced Mixed veggies soaked in yogurt and tempered with Coconut Oil. 
Though i make adai often, but never paired it with Aviyal @ home, making aviyal requires a bit more preparation with veggies. These days, i m avoiding rice and looking for some good replacement wherever possible. This recipe is actually tried by my Younger BIL's Wife. She after going GAGA over my  Multigrain Khicdi, started experimenting more with Barley!!! Thanx to SK for this recipe, we enjoyed it a lot and lot more of my friends too tried this and loved it totally. Here is the recipe for you to enjoy.
Ingredients :For Adai (i used my Katori to measure a cup)
1 Cup Barley
1 Cup Tuvar dal/Split Pigeon Peas/Thuvaram Paruppu
1 Cup Chana Dal/Gram Dal/Kadalai Paruppu
1/2 Cup Moong dal/Pasiparuppu
1/2 Cup Urad dal/Ulundu Paruppu
5-6 green Chilies
handful of Curry leaves
1 inch Ginger
Salt to taste


Method
Soak Barley and all the dals in water together for 2-3 hours. Drain the excess water and grind them together with rest of the ingredients to a slightly coarse batter. The batter should be slightly thick than the Idly batter, so do not add more water while grinding.

I always grind a smooth batter for Adai, since my kiddo prefers a smooth dosa/crepe, anything like dosa we call it dosa so please ignore the name change here. So Grind it according to your tastebuds Coarse/Smooth, Thin/thick, this makes a healthy meal/snack, so not to worry about the texture.
For Pouring the Adai, Heat a Pan, When it is hot enough, Pour a Laddle Full of batter in the center, Spread it in circular motion to make a Crepe. Adai normally will be slightly thicker than normal dosa. 
Serve hot with Aviyal or Coconut Chutney or Simply with some Jaggery.
Ingredients : For Aviyal
1 Large Potato
2 nos Raw Plantain
1 Large Carrot
1/2 Cup Green Peas, i used frozen
1 nos Drumstick, Cut into 1 inch piece
Handful of French Beans, Each cut it into 3 pieces
2 Cups of Chopped Ashgourd/White Pumpkin
2 cups of Whisked Yogurt
Salt to taste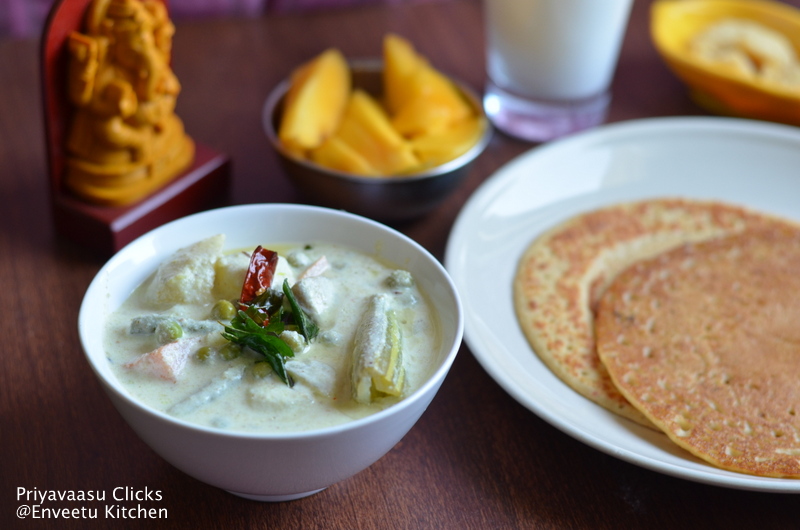 To Grind
1/2 Cup Freshly Grated Coconut
3-4 nos Green Chilies
2 sprigs of Curry leaves
1/2 tsp Cumin/jeera
1 tsp shredded ginger


Tempering
2 tsp Coconut Oil
1/4 tsp Cumin seeds
2 sprigs of curry leaves
2-3 Red Chilies, broken into two, i used long variety


Method
Wash Potato, Carrot and French Beans. Peel the Potato, Plantain and Carrot and cut them into Chunks. 

Take the Chopped Drumstick in a Microwave safe bowl with 1 cup of water, add little salt and Cook 

@ Microwave High for 8 minutes. By this time the Drumstick must be cooked. Drain the excess water and keep it aside until use.
Take rest of the veggies(Potatoes, Carrot, Beans, Plantain, Ashgourd) except peas in a Deep pan, Add water just enough for the veggies to submerge. Add the required salt to this and Cook until all the veggies are fork-tender. Take care not to overcook them, When the water starts boiling, wait for 5 minutes then Switch off the flame and keep the pan covered for 10 minutes. This will make sure the veggies are cooked. Let it cool for sometime, Drain the excess water and keep aside until use. 

While the Veggies are cooking, take the ingredients given under "

To Grind"

 in a mixer and add 1/2 cup of water and grind it to a smooth paste.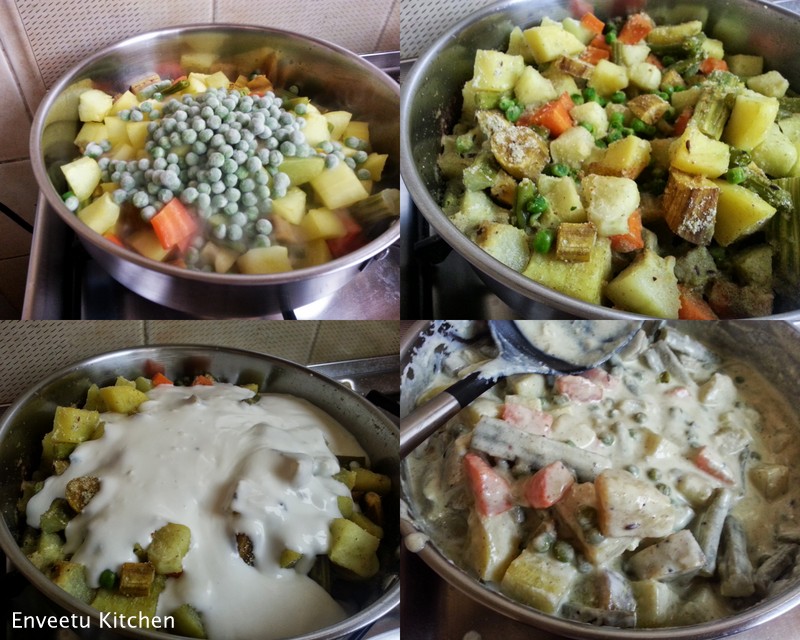 Heat 2 tsp of oil  in another pan, add all the drained veggies, cooked drumstick, peas and mix well. add the ground masala to this and 1/2 Cup water, i used the excess drained water from cooking the veggies. Mix well and let this cook for 10-15 minutes for the flavors to infuse well.
When it Aviyal comes out almost dry, Switch off the flame. Let this cool completely, then add the whisked yogurt to this and mix well.

 
For tempering, heat the oil given under "

Tempering"

 in a kadai, crackle cumin seeds, add broken red chilies, curry leaves and pour the sizzling tempering over the Aviyal and Enjoy it with Hot Adai or Have it as such as a Snack, i did both and loved it totally.