Drommekage fra Brovst aka Danish Cream Cake is what we were challenged this time for Baking Eggless  by Gayathri. The recipe was suggested by Meena of Chettinad Fiesta. It is a Vanilla Pound Cake topped with Delicious Coconut topping. I tried this cake twice. First time the cake was way too dense, i baked it in a smaller container, so thought it was the reason. Though it was dense, the taste was awesome. Second time, i got a better cake. The taste was really good, with the sweetness and aroma of Coconut mixed with butter and sugar, mmm Divine!!!
My kiddo would never try a cake that is not chocolate, but he ate a full slice of it as i was trying to take a picture and asked some more the next day. 
But i should warn you, it has loadssssss of Calories, butter and coconut, If you dont mind them or planning to make somebody else eat 😉 go ahead , bake and enjoy.
Ingredients
For the Cake 
1 Cup + 2 tablespoon All Purpose Flour. 
1 and ½ teaspoon baking powder 
½ Cup Pureed Silken Tofu (substitute for 2 eggs)
½ teaspoon vanilla extract 
For the Topping
¼  Cup butter, softened to room temperature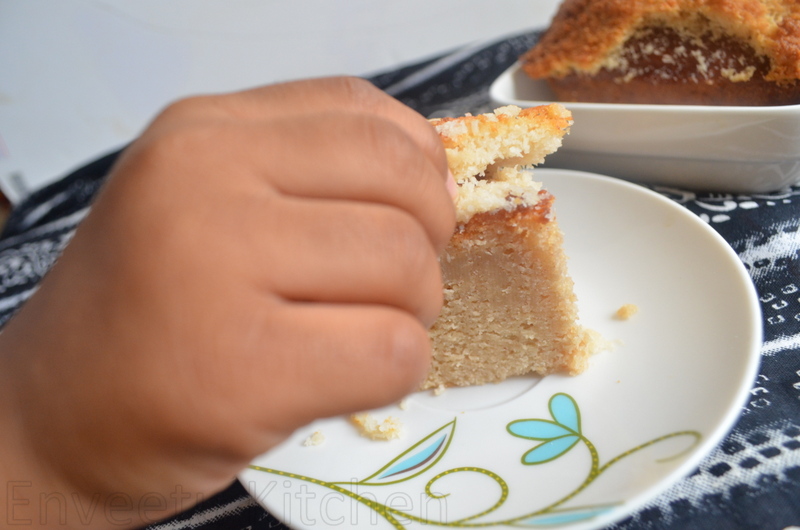 Method
For the Topping
In a mixing bowl, combine all topping ingredients. Set aside until ready to spread over cake. 
For the Cake
Preheat oven to 200 degrees C/400 degrees F. Grease an 5 inch (20-22cm) square or round baking pan. If desired, line baking pan with parchment paper, then grease paper. 

Whisk together Flour and Baking Powder. Cream together Butter and Sugar using a hand blender.  Add Silken tofu and Whisk again. 

Alternate Flour and milk little by little and mix with a spatula.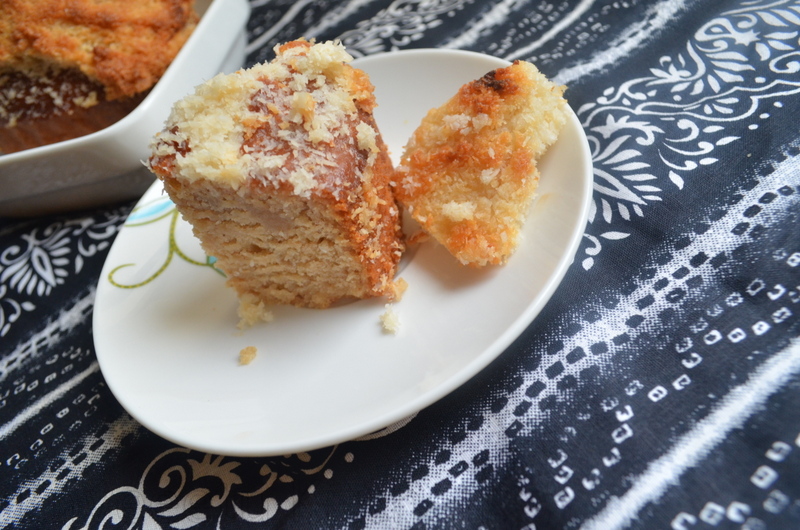 Pour the batter in the prepared baking dish and bake for 30 minutes or until a tooth pick inserted in the middle comes out clean.

Once the cake is done, take it out of the oven, spread the topping on the top and Bake again @ 200C for 10 minutes or until the top is browned.

Take it out, let it cool. Slice it up and serve.
Notes
 Baking time varies from oven to Oven, so bake accordingly. 
If you don't find Silken Tofu you can use ½ Cup Yogurt.