Who doesn't love potatoes? My kids are happy if i make them everyday. Infact i keep atleast one boiled potato handy for my lil one's lunch time tantrums! My elder one loves spicy and tangy food. His tastebuds are on a roller coaster ride recently, a child who loves only Dal-chawal and dosa wherever he goes, is now ready to try everything, but wants it all spicy.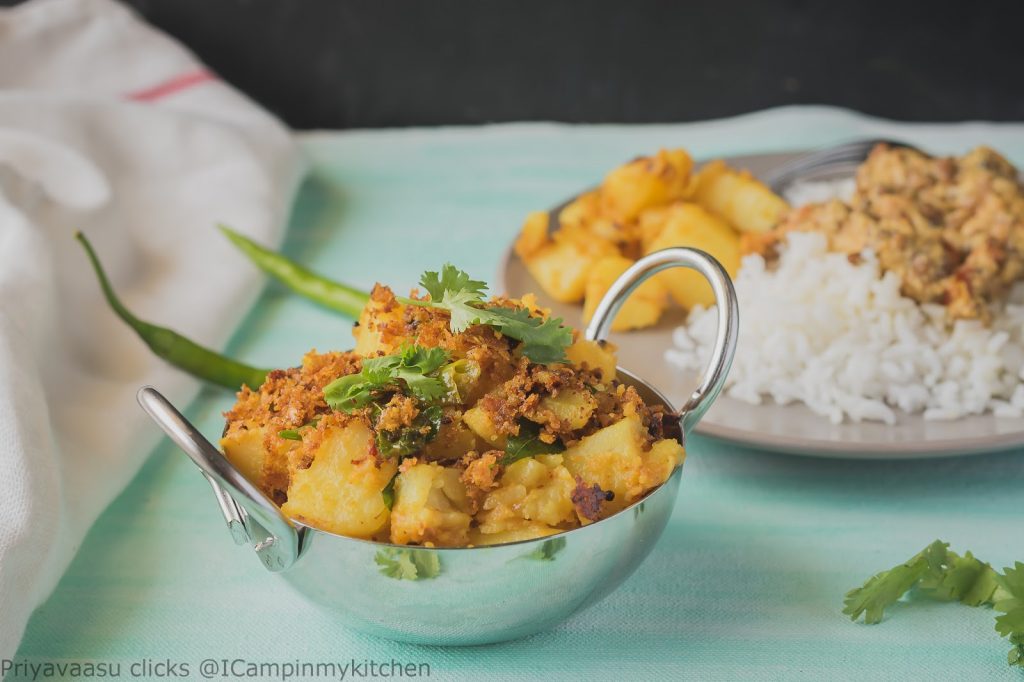 While deciding on lunch box dishes, i kept him on mind and made certain dishes. He has stay back classes for his music practice in school. So those days, i pack him another box for his lunch usually rice and curry. He prefers
jeera rice
and
dal
, if i m packing mixed rice like
tomato rice
or
mint rice
, he wants a spicy side-kick
potato
. This imli aloo is made specially for him, the day i served him this, he was licking his fingers and wondering, why is the potatoes tangy!!! This curry is in our regular menu now! 
Ingredients
300 grams of potatoes (about 4-5 medium sized potatoes
1 tbsp tamarind pulp, thick pulp or just soak little tamarind in 3 tbsp of water and extract it.
fresh coriander leaves for garnish
1 green chili, slit lengthwise
4-5 curry leaves, torn into pieces
a pinch of turmeric powder
Method
Wash and peel the potatoes. Chop them into cubes and cook them until soft. You can either use the microwave or the stove-top. I cooked on stove top, boiled the potateos and took it off the stove and keep it covered for 10 minutes. 

If making your own tamarind extract, soak a small grape size tamarind in 3 tbsp of warm water for 15 minutes and extract it. It should be thick, as we will be adding it to the cooked potatoes, if more runny, it might make the potatoes lil soggy and mashed. So keep the extract thick. 
Once the potatoes are ready, heat oil in a pan, splutter mustard seeds, add hing, curry leaves and cumin seeds. saute for a minute. Next add green chili and turmeric powder. 

Next add cubed potatoes and saute well in the oil. Now add red chili powder, coriander powder and salt. Mix the potatoes, now add the thick tamarind extract, mix once and let it cook covered for 5 minutes, until the flavors mingle. Remove the cover and cook for another 5-8 minutes, until they turn crisp. Keep the flame simmer while cooking, or else the potatoes might burn.