Wali wa Nazi (wali, cooked rice; nazi, coconut) is a Swahili dish popular on Africa's Indian ocean coast, particularly in Swahili areas like Zanzibar, Lamu, Malindi, and Mombasa.
Traditionally, this dish is made using homemade coconut milk (maziwa ya nazi in Swahili) from shredded coconut and served with a non-veg curry.
Here i have made same coconut rice with peas and carrots and used turmeric powder to give it a rich yellow hue.
It can also be done using canned coconut milk, if using canned coconut milk, shake the can well, to mix the contents uniformly and then divide the milk and use equal amounts of milk and water to cook the rice.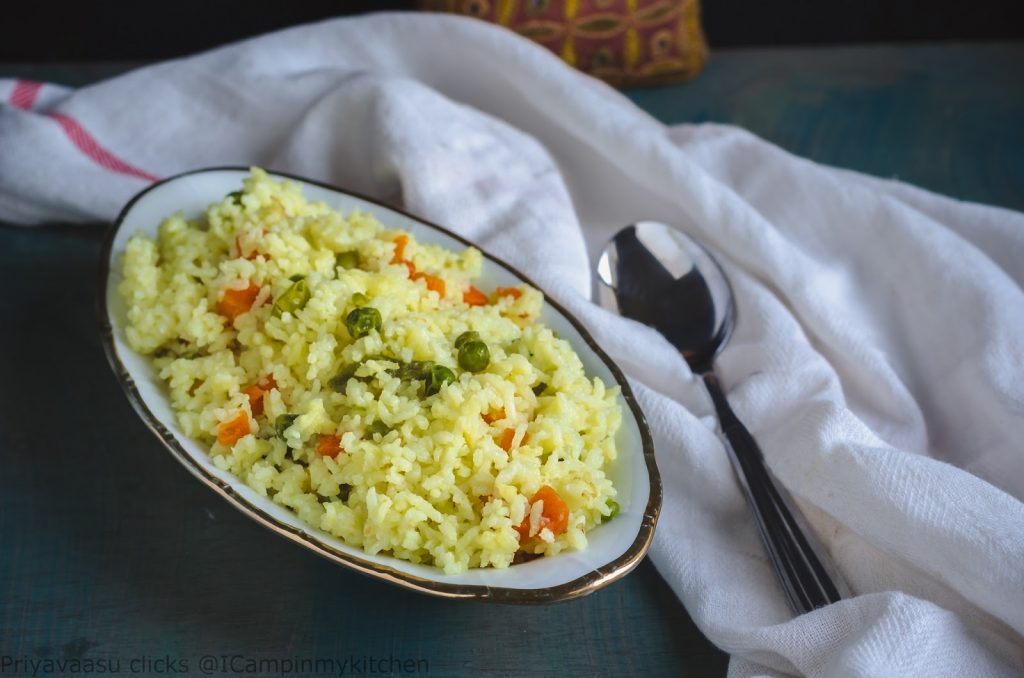 I served this rice to my hubby for a early dinner, he loved it super hot straight from the pan, the warm flavors were so apt and on the dot for this super chill weather. We didn't need any side for this while having it hot, if you prefer, serve it some spicy side.
Ingredients
1 cup rice, i used jeerakasala
1 cup thick coconut milk
1 cup warm water
1 cup of mixed carrot and green peas (i used frozen)
1/2 tsp turmeric powder
1-2 green chili, slit lengthwise (purely optional, original recipe doesn't use any spice)
3/4 tsp – 1 tsp salt or to taste
2 tsp coconut oil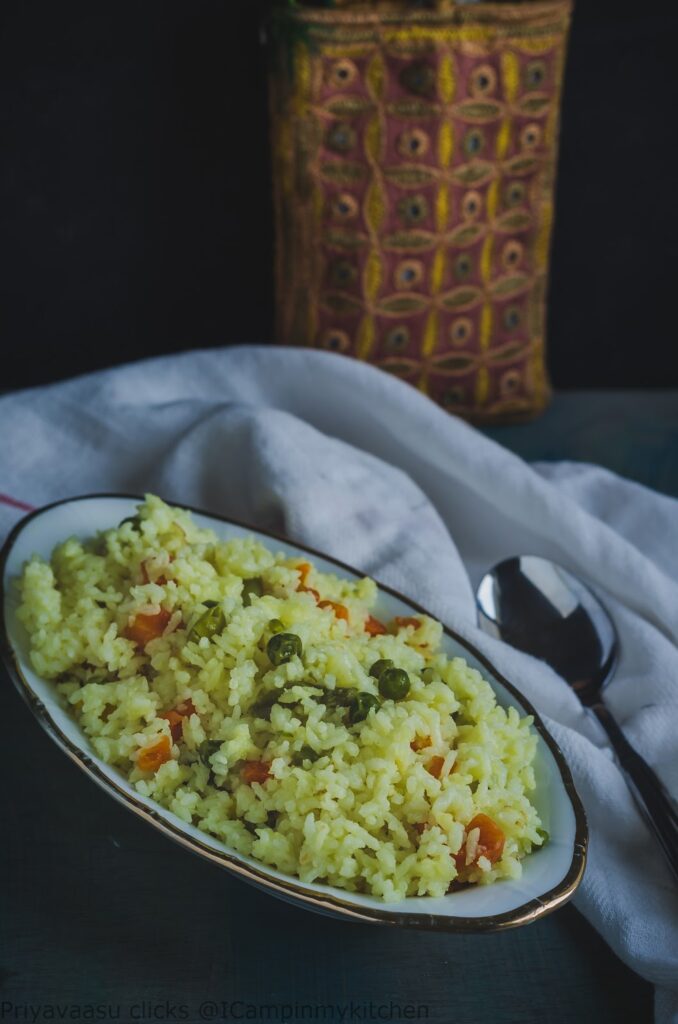 Method
Wash and soak rice for 15 minutes. Heat a pan, add coconut oil, when it is hot, add the frozen veggies, green chilies if adding,and saute for 2-3 minutes.

Now add the rice and sauce for a minute. To this now add coconut milk and warm water. Add turmeric powder and salt, mix well. Cover and cook for 10 – 15 minutes.

Stir inbetween once and check whether it needs some more liquid to cook, if yes, then equal amounts of coconut milk and water and add to the rice.

I didn't add any extra liquid, the 2 cups was good enough to cook the rice well.

Once done, remove from heat, fluff up the rice with a fork and serve it warm with a spicy side or a simple cucumber salad.