Baking Partner's Challenge for this New Year were Pie's!!!! We had 4 recipes to choose from. I choose to bake everyone's Favorite, and the recipe recommended by Gayathri The Apple Pie. I have used half the recipe, since it is only we two here who will enjoy this warm, juicy and delicious Goodness!!! The Crust was awesome, like a Shortbread!!! Why not, it is a Butter Crust, utterly Buttery Delicious Crust!!! So, Shun all that Calorie-Counting mind once in a while, and Enjoy this!!!!
For Crust
¾ Cup + 2 tablespoon All Purpose Flour
75gms of Chilled Butter (¾ of a Stick)
2 tablespoon Ice cold water
For Filling
2 Red Apples (I used the Crunchy Variety, Royal Gala)
½ tablespoon Orange Juice (i didn't have Lemons in hand, so i used Orange juice)
3 tablespoon of Brown Sugar
½ teaspoon Powdered Cinnamon
a pinch of Ginger, Clove and Nutmeg Powder
½ tablespoon of All Purpose Flour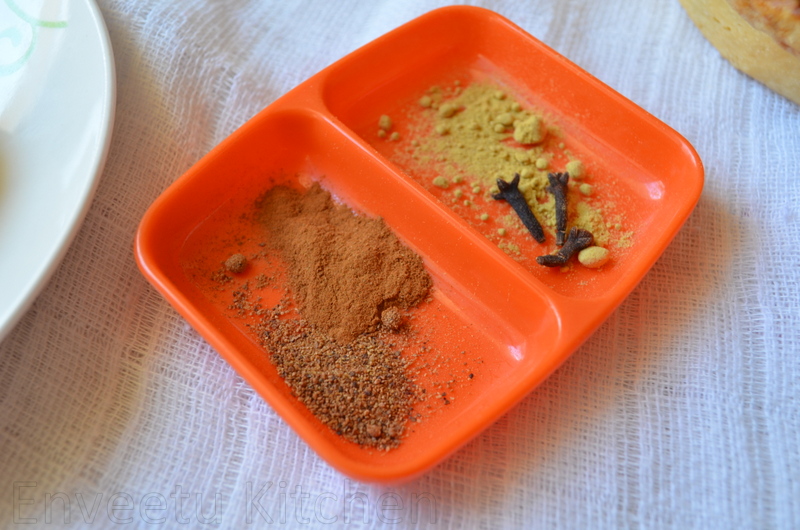 Method
In a bowl mix all purpose flour, salt, sugar. To this cut and add chilled butter, using a pastry blender or your hands(works better for me) incorporate the butter well into the flour mixture. Once done, it will have the texture of Bread Crumb's

To this gradually add ice cold water little by little and bring everything to form dough.Divide the dough into 2 equal parts and Wrap it with plastic wrap and chill the dough for about 1 hour.

While the dough is chilling make the filling, peel, core and cut the apple into small pieces. To this add orange juice, spices, salt, sugar, Flour and mix everything well and set aside for 1 hour.
After one hour of resting at room temperature you will see that apple will release the juices. Collect the juices in separate bowl and add butter and microwave for high at 2 minutes or heat it on the Stove-top to reduce the volume of juices. Once juice volume is reduced add it back to apple pieces and mix well.

Once the dough is Chilled for the required time, Take it out and roll it on a parchment paper. If rolling on a table top or rolling board, dust the top with flour generously and work. I would definitely suggest using parchment since it helps to get the rolled dough out very neatly.

Roll one portion of the dough into ⅛th inch thick and Spread it on to the baking dish you are using. Here i used a heart-shaped Silicone mold. Spread 3-4 tablespoon of Filling into it. roll the other portion of the dough as same as the first and cover the filling. Press to seal edges. I used a fork to make impressions @ the corner. Remove the remaining extra dough hanging around the mold. Using a sharp knife make some 2 or 3 slashes on top of the pie.
Since i had more dough left, i rolled it again to fill a small tart tin and used lattice to cover the top. To make lattice, Roll the dough to ½-inch thick circle and cut it into thin stripes using a sharp knife. Using these stripes form a criss-cross pattern on top of the filling and press to seal the edges. Let this chill in the refrigerator for 15-20 minutes.

Preheat oven to 190C. Bake for about 45 minutes or until top is browned and juices starts bubbling. Make sure to line the Oven using a baking sheet to prevent the dripping juice in the oven.
Allow the Pie to cool for an hour and then remove it from the mold to serving plate while it is warm. We enjoyed it warm as such.

If serving the next day, reheat it for 20 seconds in a Microwave and Serve warm with a Scoop of Vanilla Ice-Cream.