Today is the first day of Group 2 Blogging Marathon and the last week for the regular 14 day Marathon. Most of you following Valli might be knowing, BM is having a New Make-over from next month. yes, we will be doing short-marathon, every week for the whole month!!!! 
Exciting!!!!! 
For Details, please Check Srivalli's Blog.
For this Week i chose to Blog upon What Kids love for Summer!!! What did we love when we were kids in Summer???? I remember my Mom and My Paati making tins of Savory snacks Murukku, Thattai, etc during our Summer Holidays, coz we used to have big Crowd @ home, we are 8 Cousins and we come together forget summer, every weekend!!!!  It was Fun!!!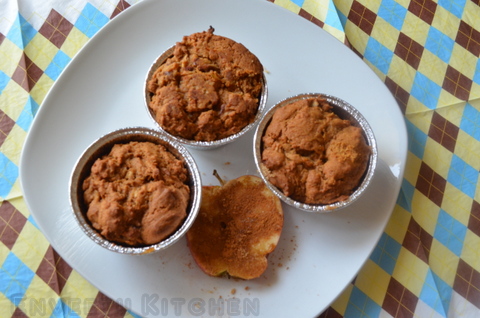 Here, in Dubai, during weekends, we plan regular get-together with our family members staying in Dubai/Sharjah.I have  2 of my cousins staying here ,my brother  and my brother-in-law too are here. So, Whenever somebody is coming home for the weekend, especially my Brother-in-law and his family with their Cute LiL Brat, i try to bake something healthy for him and kuttu. 
For One Such Get-together last week, i made them these Fruit-Power Packed Muffins, i packed some for Kuttu's School Snack Box too, he enjoyed them a lot.

Ingredients
¼ Cup Butter, @ Room Temperature
½ teaspoon Cinnamon Powder
Chopped Nuts (Optional, i didn't add)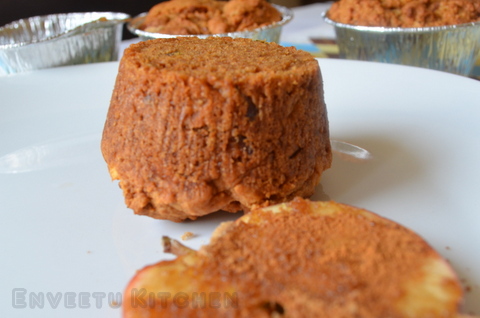 Method
To Make 1 Cup Cake Flour
Take 1 Cup All purpose Flour , remove 2 tablespoon from the Cup. Add 2 tablespoon of Corn Flour and Sift 3-4 times.
To make the Muffins
Preheat the Oven to 180C. Grease the Muffin Tray with Butter/oil. I used Alu-foil Muffin Holder. 

Sift together Cake Flour,Baking powder and Cinnamon.

Beat Butter and Sugar together. Add Flour Mix  and Milk to this little by little  and Mix until incorporated. If it is very dry add 1-2 tablespoon of milk and Mix.

Add Shredded Apple to the Cake Mix and Mix well.
Spoon the batter upto ¾th of the Muffin holders. Bake them for 18-20 minutes or until a tooth-pick inserted in the middle of a muffin, comes out clean.

Take it out of the Oven, Let it cool for 10 minutes. Unmould and Serve Warm.