Its been a Bread Baking Month, yup, i already made 2 breads, now this is the 3rd one and i have one more to go. But loving it totally. This Month for We Knead to Bake#3, Aparna chose an easy recipe, since it was croissants last month, which involved loads of butter and also lotsss of exercise, this month she thought of making it easy for us and chose to bake Hokkaido Milk Bread. 
Another bread with Tangzhong Method. The TangZhong method is to mix 1 part of bread flour with 5 parts of water (by weight) at 65°C (149 °F) to form a paste/wet dough. At 65°C, the gluten in the bread flour and water mixture would absorb the moisture and become leavened. Thus, when the TangZhong is added into other ingredients of a bread dough, it will be heightened and produce fluffier bread.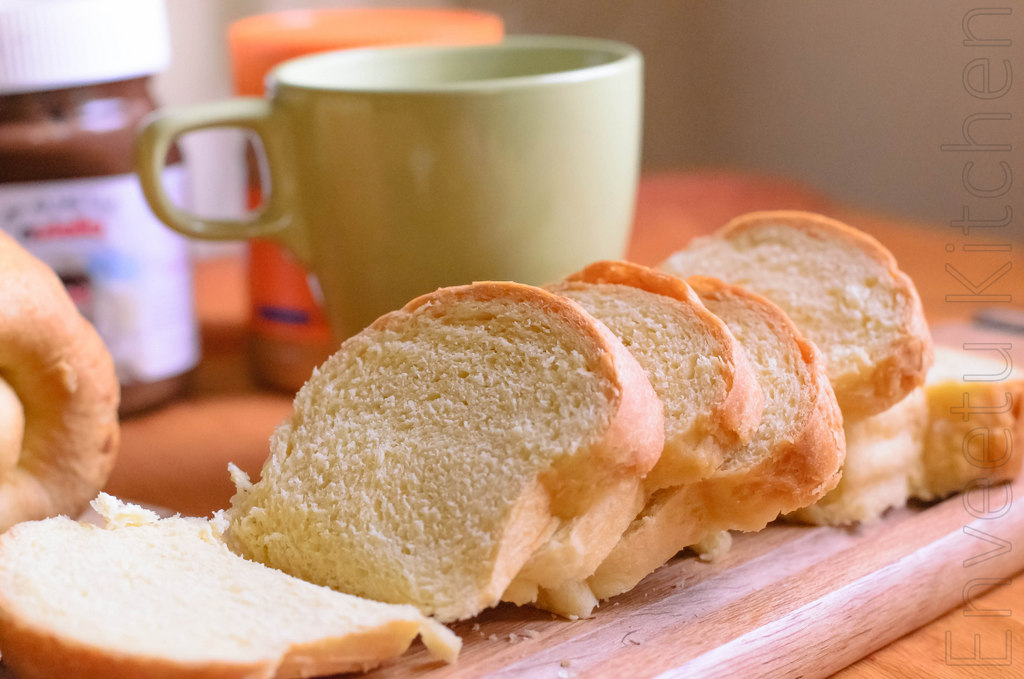 The Hokkaido Milk Bread is known for its soft cottony/ pillowy texture. Apparently it's very popular bread in South Asian bakeries across the world. It is also known as Asian Sweet Bread and Hong Kong Pai Bo. Some people say this is a Japanese bread while others say it's because the milk used in this bread is from Japan while some others have suggested its pure white colour and the texture resemble the pristineness of Hokkaido! 
The Tangzhong (Flour-Water Roux)
1and ½ Cup All Purpose Flour
2 tablespoon Custard Powder /Milk Powder (optional)
2 teaspoon instant dried yeast
2 tablespoon cream (25% fat)
⅓ cup tangzhong (use HALF of the tangzhong from above)
2tbsp / 25gm unsalted butter (cut into small pieces, softened at room temperature)
Mix flour in water and milk mixture well without any lumps. Cook over medium-low heat, stirring consistently with a wooden spoon, whisk or spatula to prevent burning and sticking while you cook along the way.
The mixture becomes thicker and thicker. Once you notice some "lines" appear in the mixture for every stir you make with the spoon. It's done. If you want to check the temperature of tangzhong it is 65 C/149 F.Remove from heat.
Put the flour, salt, sugar, powdered milk and instant yeast in a bowl and mix well with a whisk, to ensure even mixing of all the added ingredients. In another small bowl mix the milk, cream and Tangzhong till smooth and add to the Flour-Mix bowl. Start kneading the dough.  The dough will start out sticky but kneading will make it smooth. Now add the butter and process till you have a smooth and elastic dough which is just short of sticky.

If the dough feels firm and not soft to touch, add a couple of tsps of milk till it becomes soft and elastic. When the dough is done, you should be able to stretch the dough without it breaking right away.  When it does break, the break should be form a circle.

Form the dough into a ball and place it in a well-oiled bowl turning it so it is well coated. Cover with a towel, and let the dough rise for about 45 minutes or till almost double in volume.  I left it for an hour and half. (1.5hrs)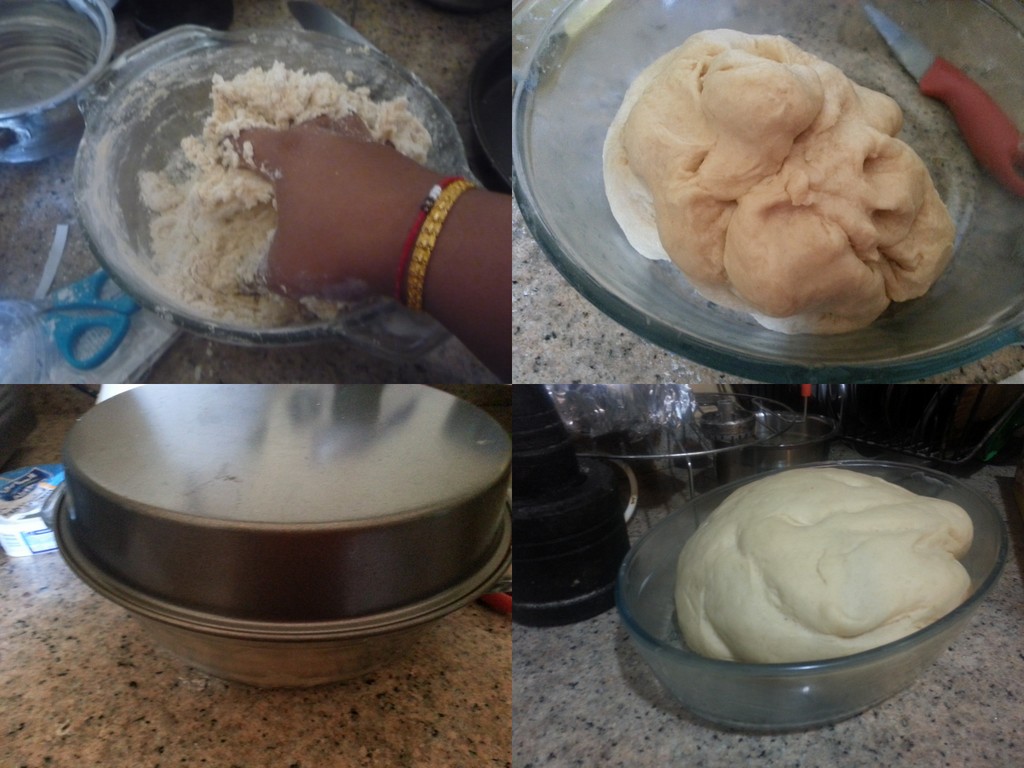 Place the dough on your working surface. You don't need flour to work or shape this dough. This recipe makes enough dough to make one loaf (9" by 5" tin), 2 small loaves (6" by 4" tins) or 1 small loaf (6" by 4") and 6 small rolls (muffin tins). Depending on what you are making, divide your dough. If you are making 1 loaf, divide your dough in 3 equal pieces. 

I made two batches of dough and made One Loaf with the first batch and 6 Stuffed buns with the next batch.
For the Loaf
Divide the dough into 3 equal portions. Roll out each portion of the dough with a rolling pin into an oval shape, about ⅛" thick. Take one end of the dough from the shorter side of the oval and fold it to the middle of the oval. Take the other end and fold so it slightly overlaps the other fold.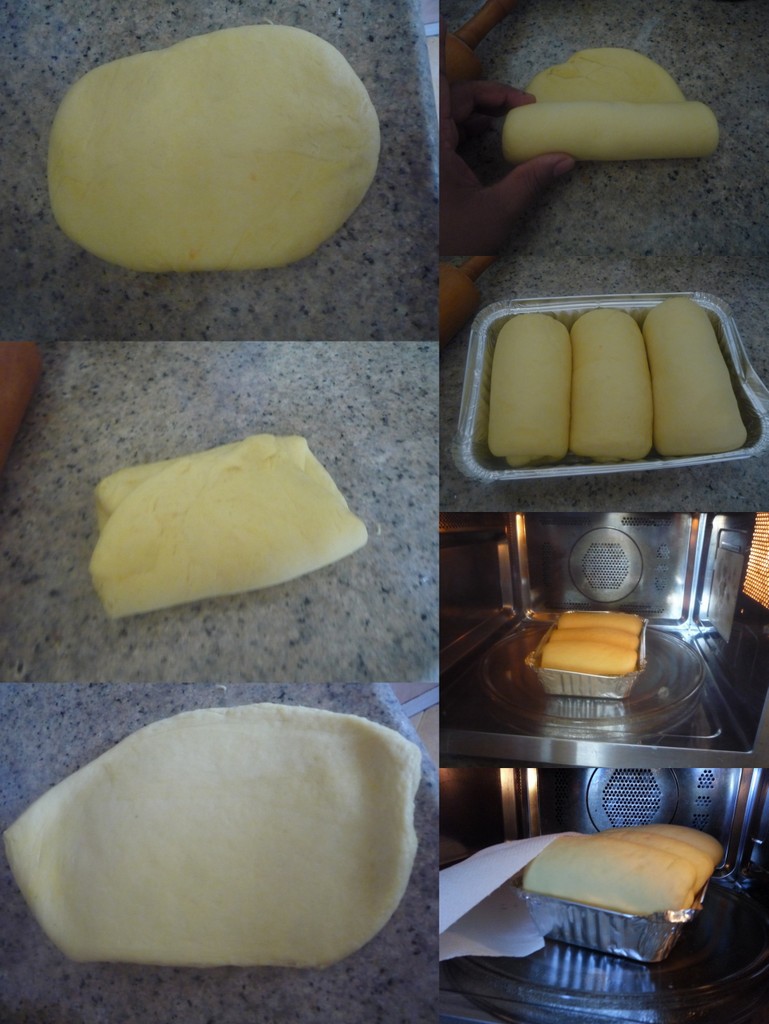 Roll this folded dough with the rolling pin so the unfolded edges are stretched out to form a rectangle. Roll the rectangle from one short edge to the other, pinching the edges to seal well. Do this with each of the three larger pieces and place them, sealed edges down, in a well-oiled loaf tin. Cover with a towel and leave the dough to rise for about 45 minutes.

i used my Aluminum-foil for baking the bread, so rolled the dough and arranged them in the foil and left it in the oven with the lights on for rising.
For the Stuffed Buns
Ingredients
1 Cup Peanut butter chips
50gms Butter
1 tablespoon Cinnamon Powder
After the first rise, Divide the dough into 6 equal portions. Flatten each portion, apply a spoon of butter,  sprinkle Cinnamon and a handful peanut butter chips.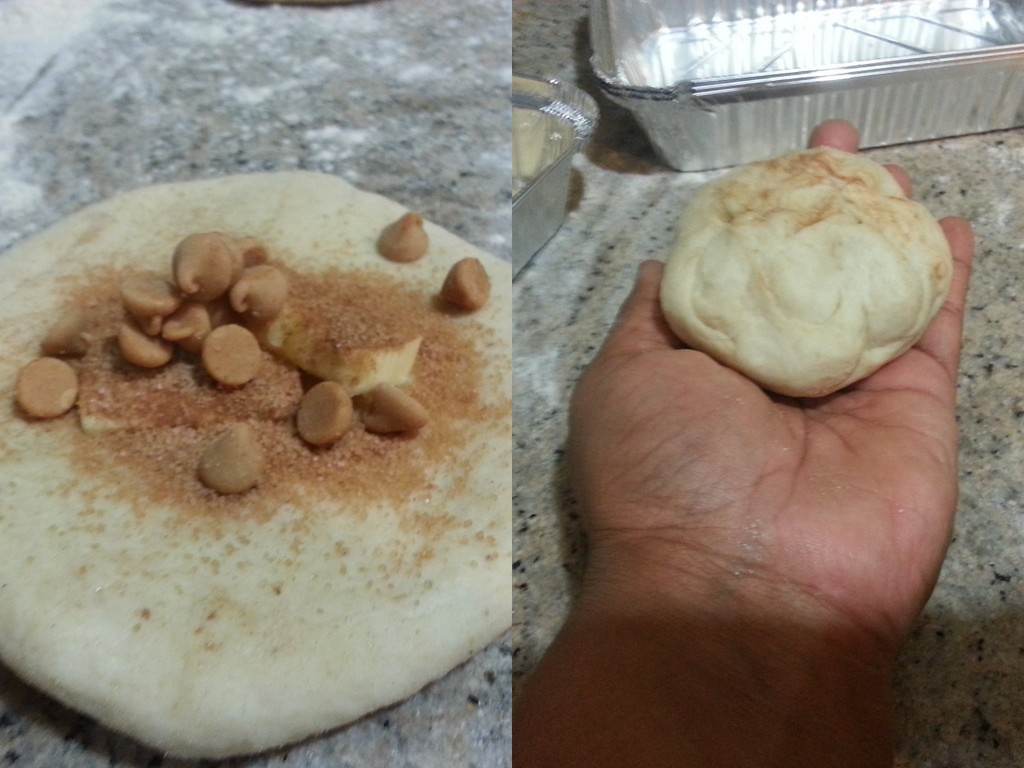 Bring the edges together and shape them into ball.Arrange them in a Baking tray, cover with a kitchen towel and leave it to rise in a warm place for 45 minutes for the second rise.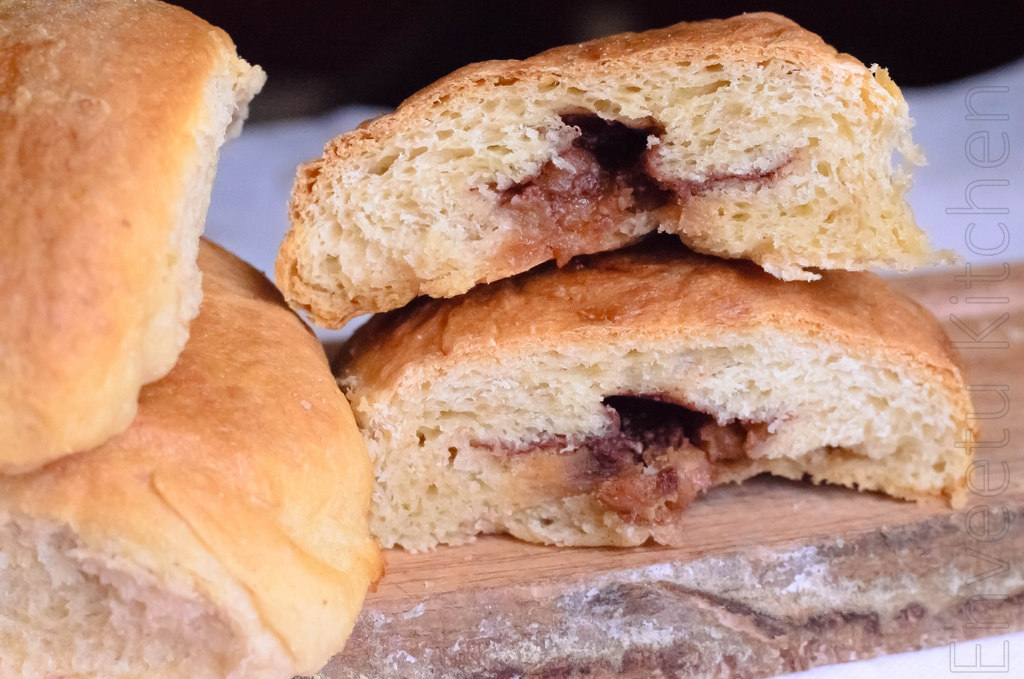 Baking the Bread/stuffed buns
After the second rise, Carefully brush the tops of the rolls and the loaf with milk/cream and bake them at 170C (325F) for about 30-40 minutes  till they are done (if you tap them they'll sound hollow) and beautifully browned on top.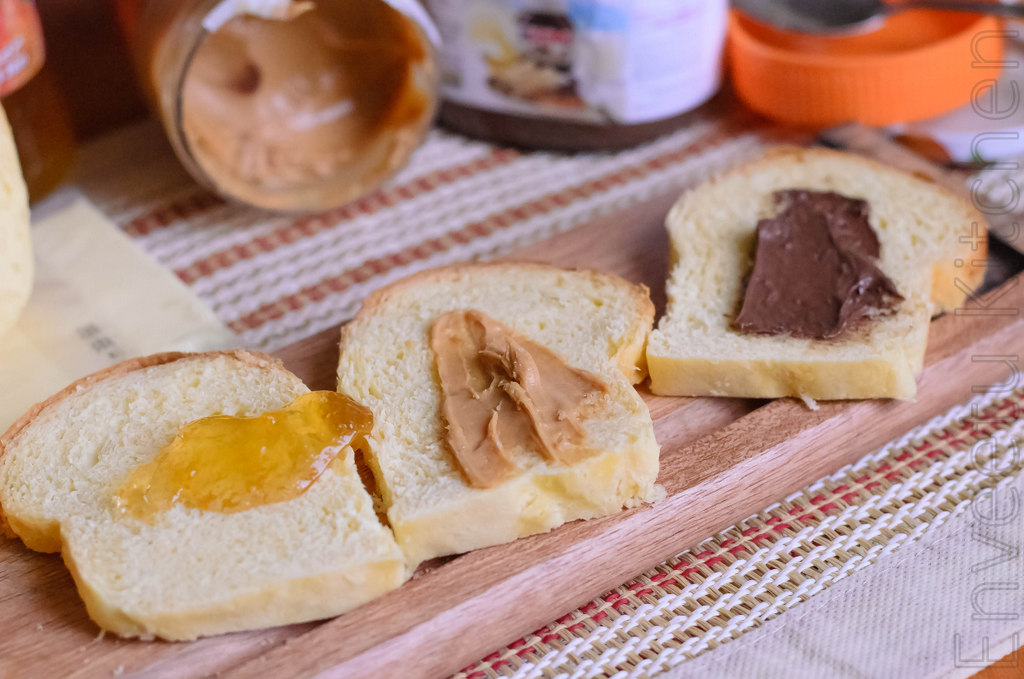 Let them cool in the tins for about 5 minutes and then unmould and transfer to a rack till slightly warm or cool. Serve or else store in a bread bin.