We love sweet potatoes at home. They make it, into our grocery basket every week. Hubby loves the curry and my elder one loves Vethakuzhambu (tamarind gravy) with it.
We used to eat boiled sweet potato as snack, when we were kids, it was our aunt, who made it as a habit, it was our sunday evening snack, sometimes we even have it for our night snack. When planning for this week theme, i wanted to do a sweet potato tikki, similar to our potato tikki, but with change of spices. Normally i use red chili powder for my aloo tikki, but here today i used fresh green chilies along with mint and coriander. The only masala powder added is the garam masala for the kick. The fresh herbs added so much difference to the tikki. The sweetness of the potato along with the fresh herbs was a lovely combo.
I have coated the tikki, with crushed poha on the outside for the crisp. We loved that coating. The tikki along with other condiments, made this burger so delicious. The cream cheese sauce is the highlight, i have made it a bit on the spicier side, it adds so much zing to the burger.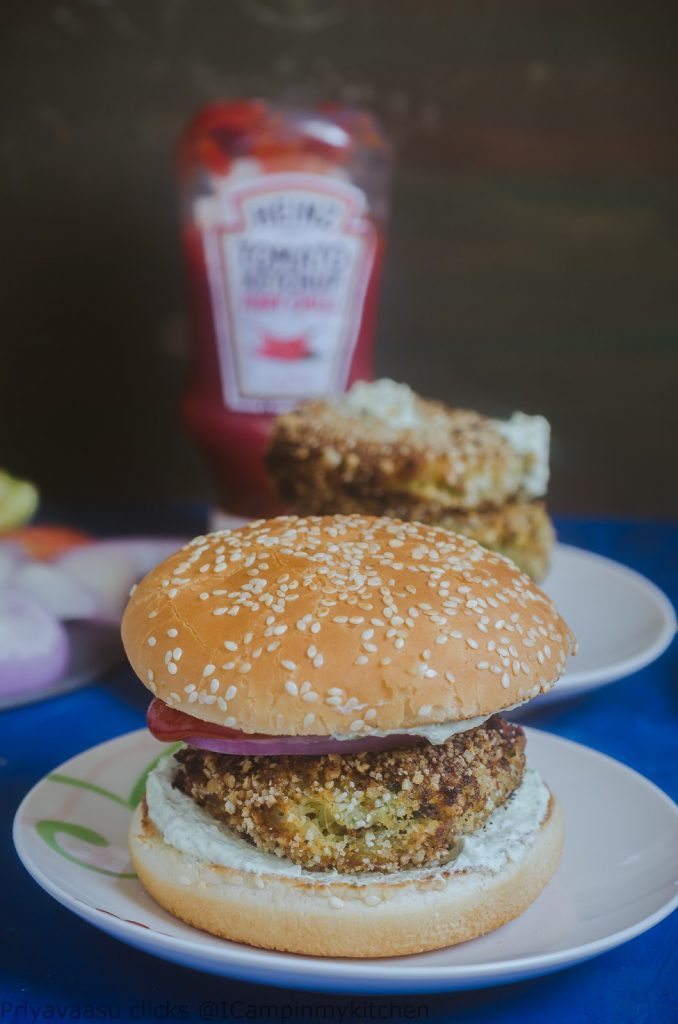 1 medium sized sweet potato, when mashed gives 1 & ¼ cup
3 tablespoon chopped coriander leaves
3 tablespoon chopped mint leaves
3 tablespoon poha, crushed
For Burger
1 onion, cut into roundels
1 tomato, cut into roundels
half a cucumber, peeled and cut into roundels
3 tablespoon cornflour mixed with ¼ cup of water to make a thin batter
For the cream cheese sauce
5 tablespoon cream cheese
2tbsp mint and coriander leaves each.
Take all the ingredients in a food processor, blend until smooth. Remove it to a serving bowl, refrigerate until use.
Peel and chop the sweet potato into 1 inch cubes and microwave cook with water for 8 minutes in a microwave-safe bowl. Drain and mash the potatoes.

In a food processor jar, take mint, coriander,green chilies and ginger, mince fine. Add this to the mashed sweet potatoes, add cornmeal, garam masala and salt to this and make a soft and stiff dough.

Mix together cornflour and water and make a batter for dipping the patties. In another flat plate keep the crushed poha ready.

Now divide the sweet potato dough inton 5 portion and shape it into a thick disc. Dip each disc into cornflour mixture first and coat it with crushed poha and set aside. Repeat the same with all the patties.
To cook the patties, heat a flat pan, add 3-4 tablespoon of oil, cook 2 or 3 patties at a time. Cook one side until Brown, flip and cook the other side until brown. Remove the pattie onto a kitchen towel. Cook all the pattie the same way.
Cut open the burger bun, spread s generous amount of cream cheese sauce on one side, place the tikki, top it with onion, tomatoes and cucumber slices. Squeeze a generous amount of sauce, add a blob of cream cheese sauce onto the other slice of burger and close it. Enjoy your mouthful!!! 😋