June starts with celebrations at home. My elder one's birthday, was little special as i baked him 3 delicious cakes. It was not an easy job for me. I couldn't think anything other than cake all this week. I know i was overly cautious, frightened, tensed, you can add some more adjectives here. But finally, i got over it, successfully. I m more than happy to perfectly slice a cake into two halves and then neatly crumb coat it, frost and present it, in a pleasing manner to all the guests.
Kids all went "ohh aunty, did you make the cake? looks awwsome" (now cut the aunty there). After the party we went to a water park nearby and had super fun. So, we were super tired, couldnt' move a muscle. So,this long story tells the reason why post for this month's Blogging marathon is late.
Ok, now for this week, i will be blogging under Holiday Dishes theme. Holidays are as much scary as fun as they are, for mommies like me. I dread the word "can i have something to eat". It is not a hungry tummy here, but a bored mind. Hmm, so we need to find activities to keep them busy.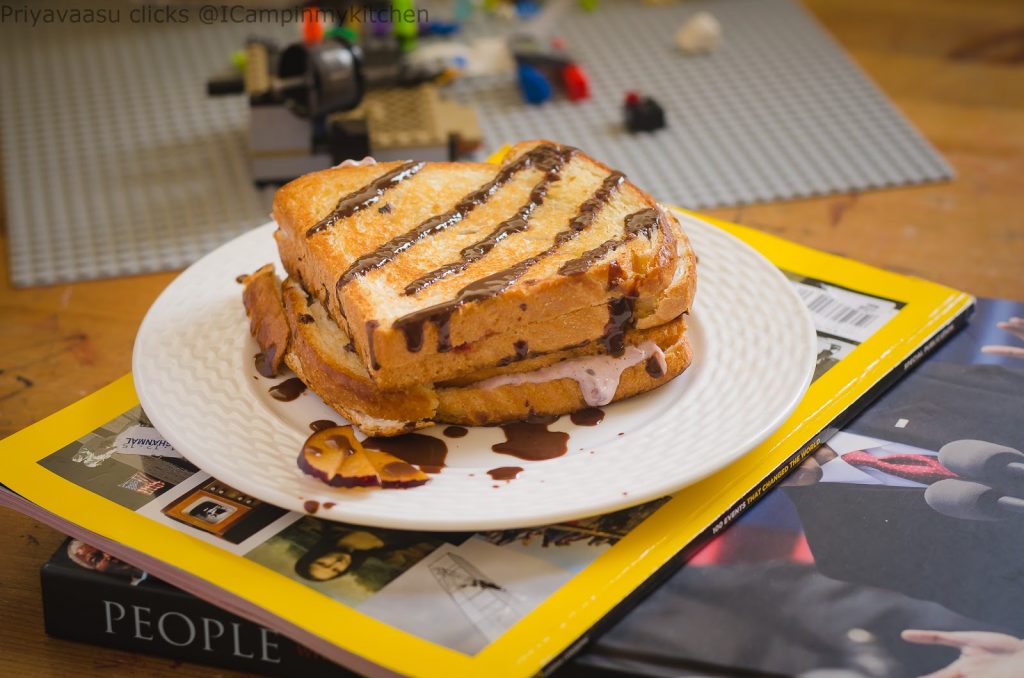 My elder one is a big fan of LEGO, he has got so many of them The Ninjago, Superman, and all the small parts that prick you everywhere. So, he keeps building, spilling and posting at LEGO site. Another activity he likes is to read, he loves books and has got few new books as his birthday. So now to satiate the hungry tummy, i made these yummilicious cheesecake sandwich for there snack. Sweet compote, mixed with cream cheese what a perfect combo on the buttery golden toasted bread. Try it and let me know how you like it.
Ingredients (Serves 1 voraciously hungry tummy and 2 "i just want a delicious snack" tummy!)
1/4 cup of fresh plum compote
2 tbsp chocolate sauce for garnich
2 tbsp butter for toasting the sandwich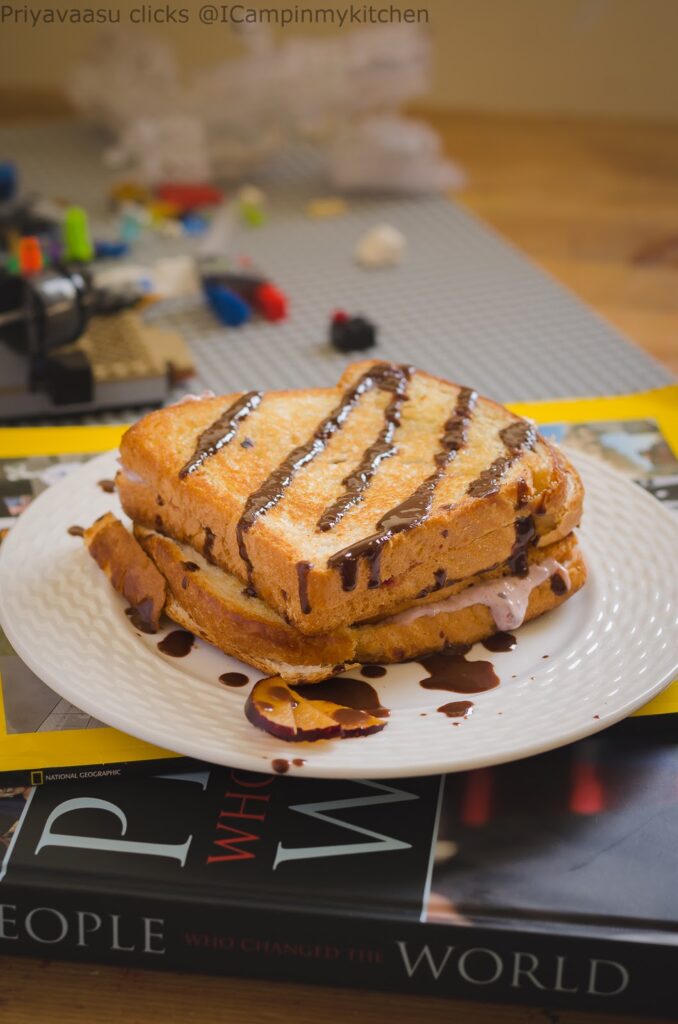 Method
I have used the leftover plum compote from Roasted Plum Ice-cream. To make plum compote, just wash 2 fresh plump plums, chop, remove the stone. Take the chopped pieces along wth 1/4 cup of water and 1/4 cup of sugar in a sauce pan, let it cook until the plums turn soft and mushy. Remove from fire and add 1/2 tsp of vanilla extract. Let it cool completely before use.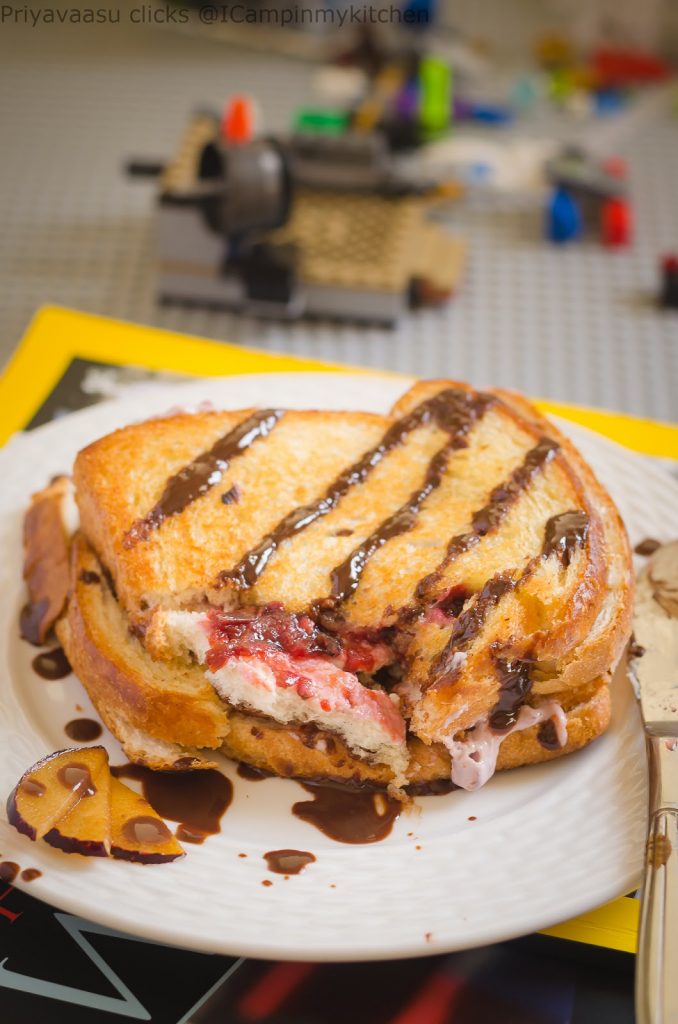 To Make Plum cheesecake sandwich
Spread 1-2 tbsp of plum compote on one side of the bread and 1-2 tbsp of cream cheese on the other. Press and close both the slices together. Repeat the same with other 2 slices.

Heat a tava/flat pan. Spread butter on both the sides of sandwich and toast until crip and golden brown. Be patient, toast on a medium flame, do not burn the sandwich, it will spoil the taste of it.

Remove the golden brown toasted sandwich on a serving plate, drizzle chocolate sauce and serve warm and see them disappear.